In this article, we will look at the Biblical benefits of fasting and praying and how this affects us as Christians.
Fasting and praying are Biblical concepts and practices that are crucial for every believer. Praying is something that most believers understand well, but fasting can be a challenge.
This leads many believers to wonder why fasting and praying are so important, what the Bible says about these practices, and what the benefits of fasting and praying are.
The purposes and benefits of praying and fasting are multi-faceted, but they are important to understand for every believer. Fasting and praying are critical and practices that every Christian should know well.
There are multiple examples of fasting and praying in the Bible, and there is no one set purpose for either, but we can draw several lessons from the Biblical examples that demonstrate the worth of fasting and praying.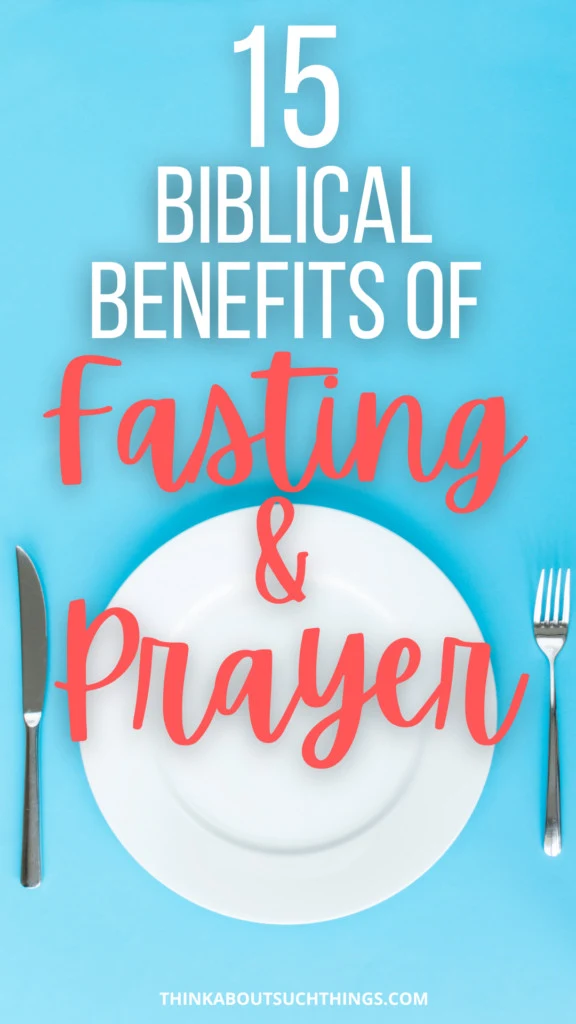 Let's explore the benefits of fasting and praying and the importance and purpose of these practices.
The Importance Of Fasting An Praying
Fasting and praying are two Biblical concepts that are often spoken of together. Fasting never happens without prayer in the Bible, so we can deduce that they are always meant to go hand-in-hand.
However, many Christians find themselves wondering if prayer and fasting are important. Is it not enough to pray only? Why are fasting and prayer so important for believers?
The truth is that God loves our prayers. He calls for us to pray without ceasing, and every believer should live a rich and full life in prayer. Daily prayer and communion with God are essential for the Christian life, but fasting is also a crucial aspect of our walk with God.
Fasting is not a continuous state as prayer is, but it is a specific time to set aside all distractions and to consecrate oneself to God.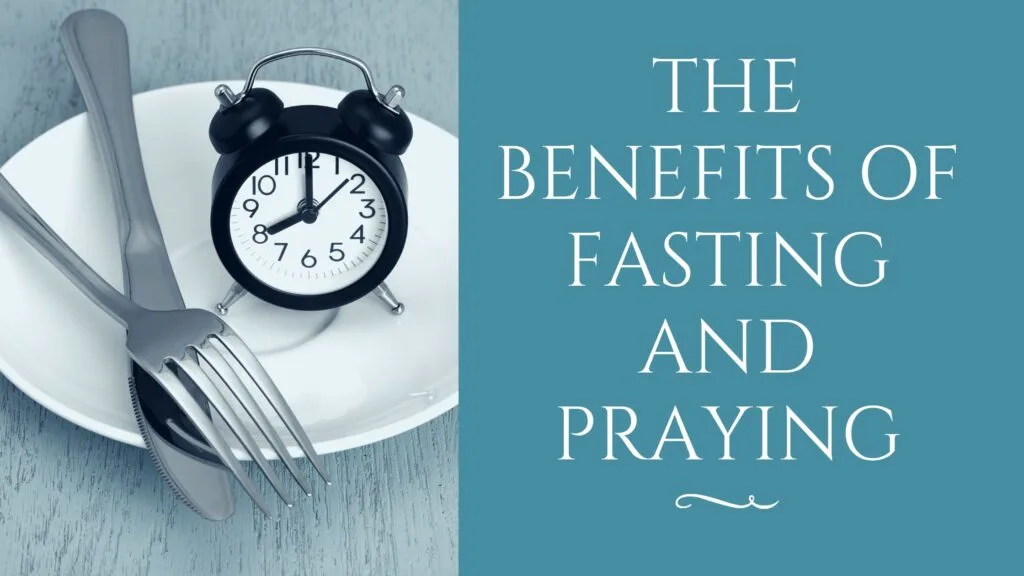 Prayer and fasting go together because it is impossible to fast well without active prayer, as fasting is not merely to stop eating but to commune more deeply with the Lord.
Fasting and prayer are, therefore, important because they teach us to deny ourselves (Matt 16:24), die to ourselves (Col 3:3), and align ourselves with the Lord and His will.
Then Jesus said to His disciples, "If anyone desires to come after Me, let him deny himself, and take up his cross, and follow Me. – Matthew 16:24 NKJV

For you died, and your life is hidden with Christ in God. – Colossians 3:3 NKJV
These practices are so important for believers because they keep us in constant communion with God, prevent us from being caught up and choked out by the troubles of the world, keep us close to the Father, and help us to maintain a heavenly perspective.
Fasting and praying are critical for every Christian, regardless of the season they are in, what they are hoping for, where they are, where they are going, and what is happening in their lives.
The Purpose Of Prayer And Fasting
The purpose of fasting and praying is multi-faceted, but there are several Biblical examples that we can draw from to find a purpose for fasting and praying.
The best place to find the purpose of fasting is to look in Isaiah chapter 58. This is a chapter where God addresses the people of Israel and reminds them what the purpose of fasting is, why it is important to Him, and how it keeps their hearts pure before Him.
In this chapter, the Lord speaks to Israel and says that fasting is to lose the bonds of wickedness, undo heavy burdens, free the oppressed, and break every yoke. He says it is to share bread with the hungry, bring in those who have been cast out, and cover those in need (Isaiah 58:6-7).
From this, we learn that the purpose of fasting is to do away with all of the things that hinder us from deepening our relationship with God, to find freedom and peace in Him, to receive His heart for other people, and to come closer to Him.
The chapter goes on to say that the result of fasting is receiving revelation from the Lord, receiving healing, walking in righteousness, receiving the protection of the Lord, hearing the voice of God, finding clarity and direction, guidance from God, new strength, and delight in the Lord (Isaiah 58:8-14).
If you are curious you can read the portion of scripture below.
"Is this not the fast that I have chosen:
To loose the bonds of wickedness,
To undo the heavy burdens,
To let the oppressed go free,
And that you break every yoke?
7 
Is it not to share your bread with the hungry,
And that you bring to your house the poor who are cast out;
When you see the naked, that you cover him,
And not hide yourself from your own flesh?
8 
Then your light shall break forth like the morning,
Your healing shall spring forth speedily,
And your righteousness shall go before you;
The glory of the Lord shall be your rear guard.
9 
Then you shall call, and the Lord will answer;
You shall cry, and He will say, 'Here I am.'

"If you take away the yoke from your midst,
The [e]pointing of the finger, and speaking wickedness,
10 
If you extend your soul to the hungry
And satisfy the afflicted soul,
Then your light shall dawn in the darkness,
And your [f]darkness shall be as the noonday.
11 
The Lord will guide you continually,
And satisfy your soul in drought,
And strengthen your bones;
You shall be like a watered garden,
And like a spring of water, whose waters do not fail.
12 
Those from among you
Shall build the old waste places;
You shall raise up the foundations of many generations;
And you shall be called the Repairer of the Breach,
The Restorer of Streets to Dwell In.

13 
"If you turn away your foot from the Sabbath,
From doing your pleasure on My holy day,
And call the Sabbath a delight,
The holy day of the Lord honorable,
And shall honor Him, not doing your own ways,
Nor finding your own pleasure,
Nor speaking your own words,
14 
Then you shall delight yourself in the Lord;
And I will cause you to ride on the high hills of the earth,
And feed you with the heritage of Jacob your father.
The mouth of the Lord has spoken."

Isaiah 58:6-14
All of these are the core purposes of fasting and praying, but there are other purposes that we can find in the book of Acts, the gospel of Matthew, several New Testament Epistles, and even in Old Testament books such as Ezra.
These purposes include fasting for the sake of receiving clarity, guidance, and direction from God, fasting to receive more of God, fasting to find strength in God, fasting to understand the will of God, fasting for the sake of protection and receiving answers to questions, and even fasting to simply wait on the Lord.
15 Biblical Benefits Of Fasting And Praying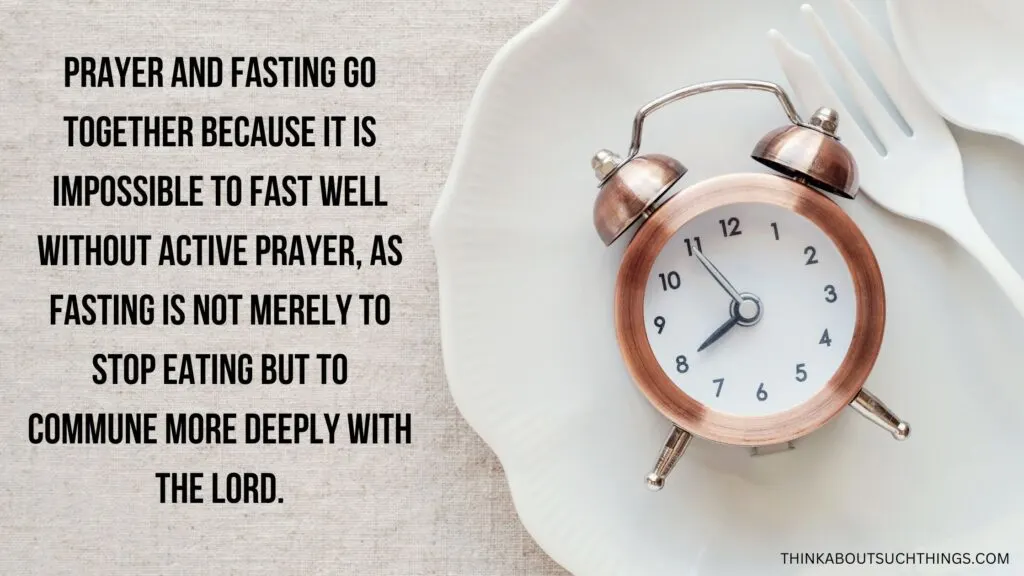 We have learned the purposes and importance of praying and fasting, but it is good to realize that there are several real, tangible, evident, Biblical benefits that come from these practices that can be of great delight to all Christians.
Fasting and praying come with many benefits for believers, but here are fifteen of the most tangible and prevalent benefits:
A deeper relationship with God.

A better understanding of who God is.

Receiving the will of God for your life.

Receiving answers to questions.

Guidance, direction, and clarity from God.

Walking in the righteousness of Jesus.

Peace and freedom from the Holy Spirit.

Stronger faith.

Conquering temptations.

Receiving revelation from God.

Freedom from addictions.

Freedom from heavy burdens.

Hearing the voice of God.

Receiving comfort from the Holy Spirit.

The denial of self and the flesh.
Taking real time to fast and pray before the Lord will yield these fruits in your life and many others. If nothing else, fasting will bring you closer to the Almighty, and there is nothing better you can do with your life than be with Him.
If all you get from prayer and fasting is closer to God, your prayer and fasting are successful.
More on Fasting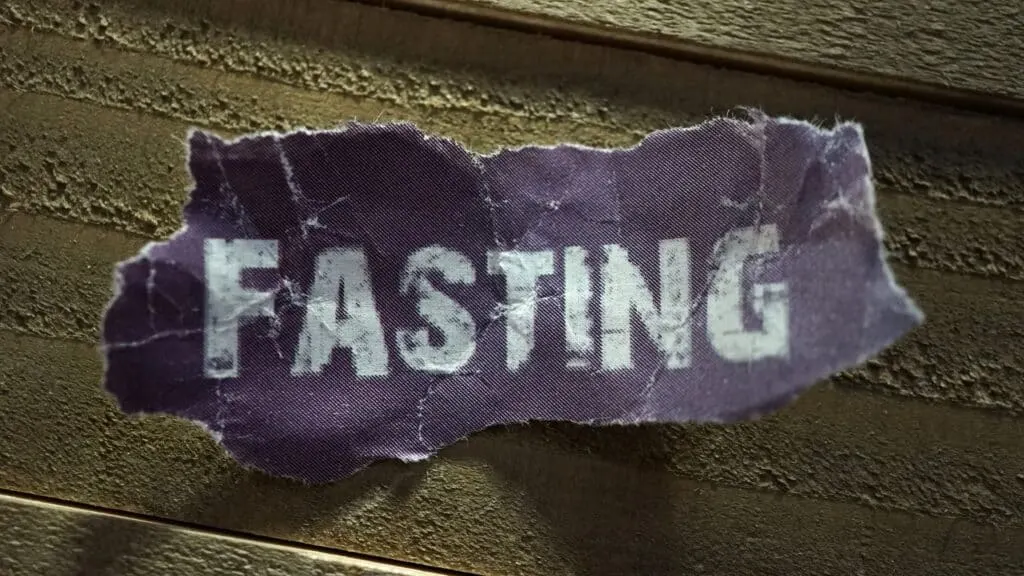 There are many benefits to prayer and fasting, but the most crucial aspects of it are the denial of self and the removal of distractions to focus entirely on God. This is a form of consecration. This leads to a deeper revelation of Jesus, a deeper and easier relationship with the Holy Spirit, and a better understanding of who God is.
Fasting always leads to more of God. He loves it when we separate ourselves from everything else and bring ourselves closer to Him. Take time to pray and fast well, and you will find yourself closer to God than ever before.
And if you would like learn more on the topic of fasting then I encourage you to check out the posts below: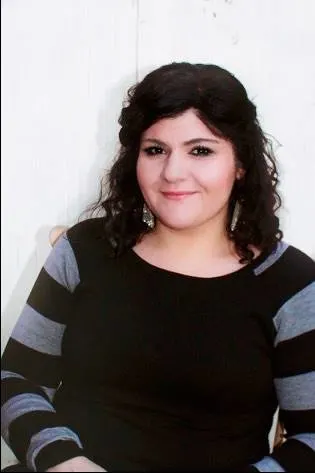 Melissa is a passionate minister, speaker and an ongoing learner of the Bible. She has been involved in church and vocational ministry for over 18 years. And is the founder of Think About Such Things. She has the heart to equip the saints by helping them get into the Word of God and fall more in love with Jesus. She also enjoys family, cooking, and reading.
She has spoken in churches in California, Oregon, Texas, and Mexico and has been featured in Guidepost Magazine and All Recipes Magazine. Read More…