In this article, we will explore 17 interesting facts about the birth of Jesus. We will go deep into the nativity story and learn some new things that will help you understand and see a clearer picture of what Christmas is all about.
I recently took a few hours out of my day to dig deep into the Christmas story we read in the gospels of Matthew and Luke. And during this study, I pulled out a ton of interesting facts about the nativity story.
After my study was done I thought it would be fun to share what I learned with my readers. I wanted this to be along the lines of my post about interesting facts about the magi. My heart is this would answer questions you have had about Jesus' birth and make the Christmas story come alive.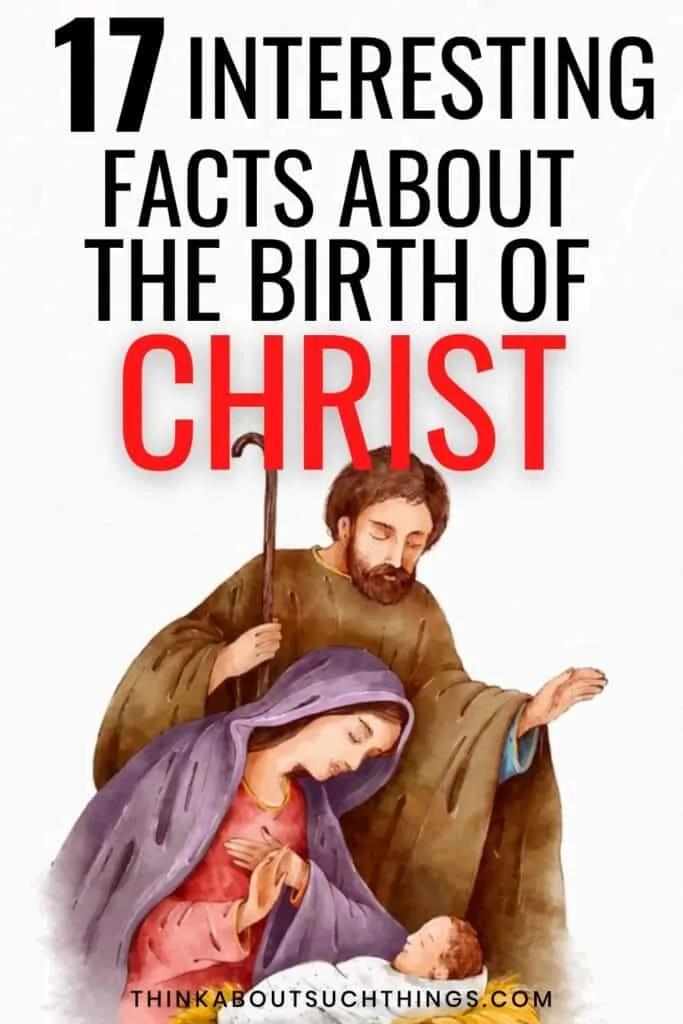 Now, some of these facts are leading up to the birth of Jesus, others are smack dab in the middle of it, and some are little after His birth. So, let's get started!
Facts About the Birth of Jesus
FACT 1 – JOSEPH AND MARY WERE MARRIED NOT ENGAGED
Now the birth of Jesus Christ was as follows: when His mother Mary had been betrothed to Joseph, before they came together she was found to be with child by [the power of] the Holy Spirit – Matthew 1:18
Many of our English translations say that Joseph and Mary were betrothed or engaged. And in our modern world, that means that they have intentions to get married.
The problem is that this poorly translated and understood. In Jewish culture to be betrothed or engaged was actually to be married. It just meant you had not consummated the marriage yet. There were preparations that needed to be done before that phase of the marriage took place.
A clear point to show is that when Joseph found out that Mary was with child he considered legally divorcing her.
FACT 2 – BETHLEHEM WAS NOT JUST THE BIRTHPLACE OF JESUS
"But as for you, Bethlehem Ephrathah,
Too little to be among the clans of Judah;
From you One shall come forth for Me [who is] to be Ruler in Israel,
His goings forth (appearances) are from long ago,
From ancient days." – Micah 5:2
Bethlehem is famous for being the birthplace of Jesus, but it was also the same site where Rachel was buried and was also known as the city of David because if was the birth place of King David. See the connection?
FACT 3 – THE GIFTS OF THE MAGI WERE PROPHETIC
And after entering the house, they saw the Child with Mary His mother; and they fell down and worshiped Him. Then, after opening their treasure chests, they presented to Him gifts [fit for a king, gifts] of gold, frankincense, and myrrh. – Matthew 2:11
These gifts that were given to Jesus were not just some nice little present. They were highly symbolic and useful. I won't go into super detail since I did that already in my post on the Symbolic Meaning of Gold, Frankincense, and Myrrh. I highly recommend you check it out!
But here is a little nugget:
The gold is a symbol of Christ's kingship on earth.
The frankincense is a symbol of Christ's deity.
The myrrh as a symbol of death. (Myrrh was traditionally used as an embalming oil)
FACT 4 – DECEMBER 25th IS NOT THE ACTUAL DAY JESUS WAS BORN
I can't go into huge details on this fact because really it deserves its own post! But Jesus' birthday is NOT December 25th. Many historians and scholars can give a rough estimate of when Jesus was born based on the timing of John the Baptist's birth and historical accounts of Herod's death.
They believe Jesus was born between Rosh Hashanah (Feast of Trumpets) and Sukkot (Feast of Tabernacle). In our Gregorian calendar that would be between September to October.
FACT 5 – THE WISE MEN MISSED THE BIRTH OF CHRIST
When they saw the star, they rejoiced exceedingly with great joy. 11 And after entering the house, they saw the Child with Mary His mother; and they fell down and worshiped Him. Then, after opening their treasure chests, they presented to Him gifts [fit for a king, gifts] of gold, frankincense, and myrrh. – Matthew 1:10-11
This is one of those earth-shattering, "SAY WHAT?!" That's right…all those nativity sets you have seen are technically not accurate. It says that the wise men entered a house and saw the child. Some scholars believe that Jesus could have still been an infant up to 2 years old.
FACT 6 – JOHN AND JESUS WERE COUSINS
And listen, even your relative Elizabeth has also conceived a son in her old age; and she who was called barren is now in her sixth month. 37 For with God nothing [is or ever] shall be impossible." Luke 1:36-37
John the Baptist is actually 6 months older than Jesus. They are cousins and you would be surprised how many of the disciples were related to Jesus! (source)
FACT 7 – THE WISE MEN WERE LIKE THE PROPHET DANIEL
I have seen many places that people believe that the magi (wise men) were magicians or sorceries because that's what they believe the word magi. And yes, it does include those things.
But many scholars and historians believe that the wise men were rabbinic sages, much like the prophet Daniel. He and Shadrach, Meshach, and Abednego were all "magi." Yet they served the One True God!
Read more on this here: 11 Unusual Facts About The Magi
FACT 8 – NO ONE KNOWS HOW MANY WISE MEN THERE WERE
I mention this in my wise men post, but I feel like I should share it here also. The Bible actually doesn't mention how many wise men went to visit Jesus. The idea of 3 wise men comes from the 3 gifts they brought. But the reality is there could have been 5, 7, 12, or even more who came to worship the Lord.
All we do know is that the word magi is plural. So, we know without a doubt more than one magus (singular) was there.
FACT 9 – MARY'S FIRST TRIMESTER WAS SPENT WITH ELIZABETH
And Mary stayed with Elizabeth for about three months, and then returned to her home. – Luke 1:56
I can only imagine the amazing conversations Elizabeth and Mary had during those 3 months. They both had supernatural pregnancies and encountered the Lord. This time must have deepened both of their faith in what God was doing through them.
FACT 10 – MARY WAS A VIRGIN
"Behold, the virgin shall be with child and give birth to a Son, and they shall call His name Immanuel"—which, when translated, means, "God with us." – Matthew 1:23
I know this fact probably seems common knowledge, but I thought it important to state it. Mary was a virgin when she conceived and was a virgin when she delivered. Many false teachings are out there stating that Mary wasn't a virgin. If this is the case then Jesus was just a mere man for could never fulfill Old Testament prophecies that the Messiah must come from a virgin.
Therefore the Lord himself will give you a sign: The virgin will conceive and give birth to a son, and will call him Immanuel. – Isaiah 7:14
FACT 11 – THE ANGEL GABRIEL IS MENTIONED
Now in the sixth month [of Elizabeth's pregnancy] the angel Gabriel was sent from God to a city in Galilee called Nazareth, to a virgin betrothed to a man whose name was Joseph, a descendant of the house of David; and the virgin's name was Mary. – Luke 1:26-27
The Bible mentions four angels with names. Gabriel is one of these angels and he specifically mentioned as the angel that went to Zechariah and to Mary.
FACT 12 – THERE WAS NO INNKEEPER
This may be a shock to you if the only nativity story you ever heard was from a children's book or a tv show. But in the Bible, there is actually no account of an innkeeper in the nativity story.
FACT 13 – THE INN WAS NOT A HOTEL
When we see the word inn, it paints this image of a hotel, or even a bed and breakfast. But that's not exactly what Luke was stating.
Dr. Gary Byers has a great teaching on this. He states, "Luke 2:7 said "there was no room for them in the inn." The text doesn't say there was not "a room" available in the inn, just no available space (topos). The Greek word translated "inn" (Kataluma) is used in only one other New Testament event. In Luke 22:11 (and its parallel in Mark 14:14), the same writer used the same word and for the upstairs Last Supper chamber ("guest room") of a house in Jerusalem."
So, what is being said is that it wasn't really an inn as we know it, but a home where the guest room (upstairs) was already filled. Meaning Mary and Joseph must stay down in the living quarters. These living quarters at night would sometimes bring in the animals that could be at danger at night, but during the day it was used as part of the home.
FACT 14 – THERE WAS NO ANIMALS AT THE BIRTH OF CHRIST
This is another mind-blowing fact! No mention of animals during the birth of Jesus. We see that shepherd went, but no mention of sheep, cows, donkeys, ducks, etc was there. This idea has been ingrained in our heads that Jesus was born in some kind of barn, but that wasn't the case at all.
FACT 15 – JESUS WAS PUT IN A MANGER
and she gave birth to her Son, her firstborn; and she wrapped Him in [swaddling] cloths and laid Him in a manger, because there was no [private] room for them in the inn. – Luke 2:7
A manger was basically a feeding trough for the animals. In Bible times they were made from a mix of clay and hay or stones with mud mortar. They would even use the carved stone to make these mangers.
So, those nice wood mangers you see during Christmas time is not exactly what it looked like.
FACT 16 – THE WORDS NATIVITY & CHRISTMAS ARE NEVER MENTIONED IN THE BIBLE
The word "Christmas" and "nativity" have become common words we use during the Holiday season to celebrate the birth of Christ. But these words can not be found anywhere in Scripture.
According to Eythomoly.com The word nativity showed up in the 12 century and alludes meaning "to be born" You can read more below…
Nativity (n.) early 12c., Nativite, "feast-day celebrating the birth of Christ, Christmas," from Old French nativité "birth, origin, descent; birthday; Christmas" (12c.), from Late Latin nativitatem (nominative nativitas) "birth," from Latin nativus "born, native" (see native (adj.)). Late Old English had nativiteð, from earlier Old French nativited. From late 14c. as "fact of being born; circumstances attending one's birth."
As for Christmas, it came around the mid-14th century. It's actually a combining of two words… Christ and Mass. It's pretty self-explanatory what the first part means, but what about mass? I found this be interesting:
"eucharistic service," Middle English messe, masse, from Old English mæsse, from Vulgar Latin *messa "eucharistic service," literally "dismissal," from Late Latin missa "dismissal," fem. past participle of mittere "to let go, send" (source N2)
FACT 17 – DREAMS PLAYED A KEY ROLE IN THE PROTECTION OF JESUS
And having been warned [by God] in a dream not to go back to Herod, the magi left for their own country by another way. – Matthew 2:12
I love that God communicates through dreams and the birth of Jesus is filled with dreams. We see God speaking to the magi and warning them to go another way back home, and twice we see an angel visiting Joseph in a dream. God could have used a different form of communication, but He chose to speak in dreams.
The Nativity Story – Where Can I Read It
The nativity story can only be found in two places. This is the Gospel of Matthew and the Gospel of Luke. Below I have broken down the section where you can read certain parts of the story. You can click on the Bible reference and you can read that portion of scripture.
I will not I did go past the Lord's birth a bit and included when Jesus was presented at the temple as well.
THE CHRISTMAS STORY BIBLE REFERENCE
*All scripture portions were selected from the Amplified Version (AMP)
Quick Recap of All 17 Fact About Birth of Christ
If you are looking to look through the facts or be able to jot them down real quick. Here is an easy bullet list for you to read through. I sometimes like to have a simple list…so I hope you find it helpful as well.
Fact 1 – Joseph and Mary Were Married Not Engaged

Fact 2 – Bethlehem Was Not Just the Birthplace of Jesus

Fact 3 – The Gifts of the Magi Were Prophetic

Fact 4 – December 25th Is Not the Actual Day Jesus Was Born

Fact 5 – The Wise Men Missed the Birth of Christ

Fact 6 – John and Jesus Were Cousins

Fact 7 – The Wise Men Were Like the Prophet Daniel

Fact 8 – No One Knows How Many Wise Men Their Were

Fact 9 – Mary's First Trimester Was Spent With Elizabeth

Fact 10 – Mary Was a Virgin

Fact 11 – The Angel Gabriel Is Named

Fact 12 – There Was No Inn-Keeper

Fact 13 – The Inn Was Not a Hotel

Fact 14 – There Was No Animals at the Birth of Christ

Fact 15 – Jesus Was Put In a Manger

Fact 16 – The Words Nativity & Christmas Are Never Mentioned in the Bible

Fact 17 – Dreams Played a Key Role in the Protection of Jesus
Holy Land Christmas Fun Facts
I recently came across some neat facts about the Holy Land during Christmas time from the wonderful company Artza. So, I thought I would share them with you! I hope you enjoy them.
Did you know? It would have taken Mary and Joseph 4 days to 1 week to walk from Nazareth to Bethlehem

"Bethlehem" is Hebrew for "house of bread"

There are HUGE Christmas festivals in several cities, including Nazareth, Haifa, and Bethlehem

You can actually ski in Israel! (this one was so interesting to me since I didn't think it snowed in Israel or if it did, it was rare!)
More Nativity-Related Bible Studies
Christmas Bible Study Articles
Learn 11 interesting facts about the magi in the Bible that will intrigue you to learn more about the Christmas story. It will blow you mind what scripture and history has to say.
A study on the gifts of Jesus from the wise men. We will look at the natural and symbolic meaning of Gold, Frankincense, and Myrrh.
---
There is so much we can learn when we slow down and study God's Word. And I hope these facts about the birth of Jesus Christ have blessed you and taught you something new.
If this post has touched or inspired you, consider leaving me a comment below. I would love to hear from you and please let me know what God is doing in your life.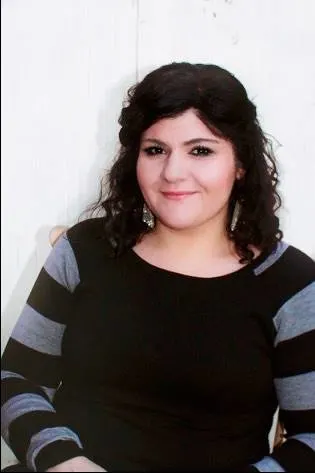 Melissa is a passionate minister, speaker and an ongoing learner of the Bible. She has been involved in church and vocational ministry for over 18 years. And is the founder of Think About Such Things. She has the heart to equip the saints by helping them get into the Word of God and fall more in love with Jesus. She also enjoys family, cooking, and reading.
She has spoken in churches in California, Oregon, Texas, and Mexico and has been featured in Guidepost Magazine and All Recipes Magazine. Read More…