In this article we are going celebrate and honor a dad in your life. These Father's Day Bible verses will bless any kind of father you have in your life. Whether it is your biological father, spiritual father, or father-in-law. Let's start!
June 21st is coming up soon and you are looking for a way to bless your father with an encouraging Bible verse. And I hope I can help you out!
I also, have a post on 7 Ways to Bless your Dad if you are looking for more ideas!
A good dad brings so much love, protection, and blessing to a family and Father's day is one of those days that we get to celebrate him for all those things.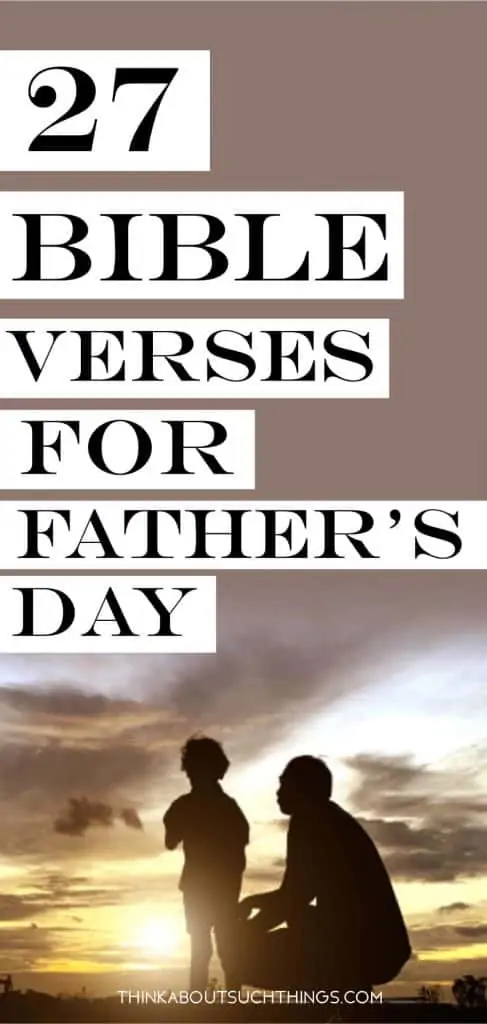 Treasure these moments with him and let him know to feel how much you appreciate and love him. I lost my dad and I wish I could have said and done more. I know he knew I loved him, but still, I wish I did more.
If you are stuck on how you should
Ways to Share Bible Verses for Father's Day
Father's Days Card
Text Message – Email
Social Media Post or Shout Out
In a gift
In person
A few gift ideas for Dads who love Jesus….
If your dad's birthday is coming up then head over to my Bible Verses for Birthdays for more scriptures to celebrate him!
Try to be sensitive to the Holy Spirit as you read through these verses. See if He highlights one of them for your father!
Bible Verses for Father's Day
All verses below are from the NKJV. You can hover over the reference and you can check out the Amplified translation of the Bible verse. If you would like to check out other translations then head over to Bible Gateway.
These scriptures can be used for wives to their husbands, daughters, sons, and more. And sometimes God blesses us with a spiritual father, these would work great for him as well. Some will focus on a father's role in relationships, others will be more for encouragement.
I have created some Father's Day scripture images. This way you can share them on your dad's Facebook page or other social media platform or just send them a txt.
---
Psalm 128:3-4 NKJV – 3 Your wife [shall be] like a fruitful vine In the very heart of your house, Your children like olive plants All around your table. 4 Behold, thus shall the man be blessed Who fears the LORD.
3 John 1:4 NKJV – 4 I have no greater joy than to hear that my children walk in truth.
Psalm 37:23 NKJV – 23 The steps of a [good] man are ordered by the LORD, And He delights in his way.
James 1:12 NKJV – 12 Blessed [is] the man who endures temptation; for when he has been approved, he will receive the crown of life which the Lord has promised to those who love Him.
Proverbs 20:7 NKJV – 7 The righteous [man] walks in his integrity; His children [are] blessed after him.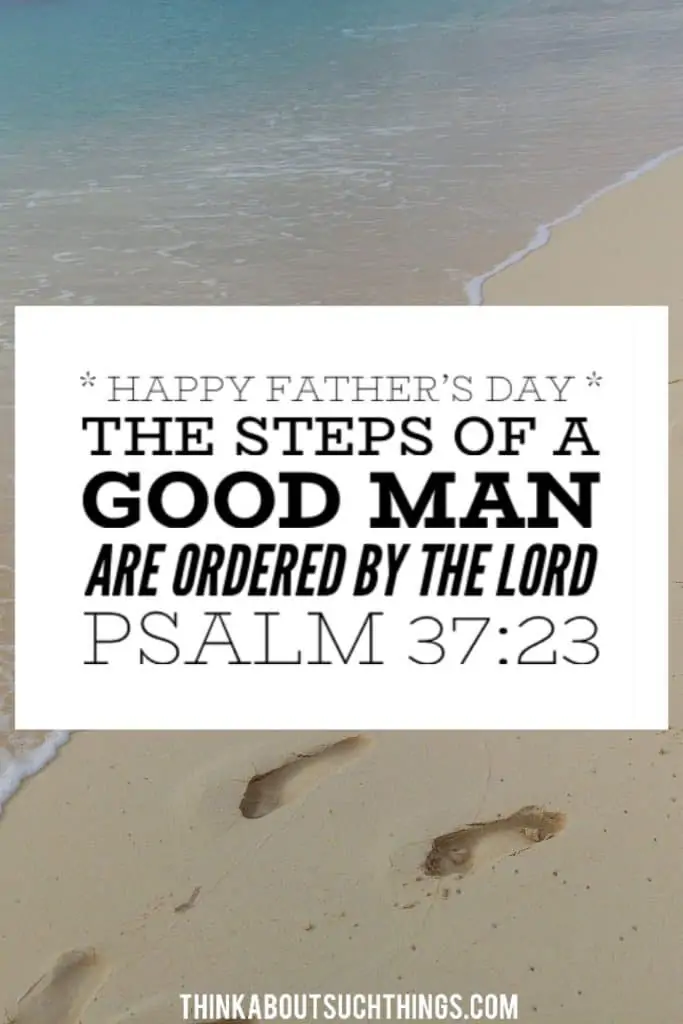 2 Timothy 2:15 NKJV – 15 Be diligent to present yourself approved to God, a worker who does not need to be ashamed, rightly dividing the word of truth.
Proverbs 3:3-4 NKJV – 3 Let not mercy and truth forsake you; Bind them around your neck, Write them on the tablet of your heart, 4 [And] so find favor and high esteem In the sight of God and man.
Proverbs 14:26 NKJV – 26 In the fear of the LORD [there is] strong confidence, And His children will have a place of refuge.
Psalm 103:13 NKJV – 13 As a father pities [his] children, [So] the LORD pities those who fear Him.
Deuteronomy 6:6-9 NKJV – 6 "And these words which I command you today shall be in your heart. 7 "You shall teach them diligently to your children, and shall talk of them when you sit in your house, when you walk by the way, when you lie down, and when you rise up. 8 "You shall bind them as a sign on your hand, and they shall be as frontlets between your eyes. 9 "You shall write them on the doorposts of your house and on your gates.
1 Thessalonians 2:4 NKJV – 4 But as we have been approved by God to be entrusted with the gospel, even so we speak, not as pleasing men, but God who tests our hearts.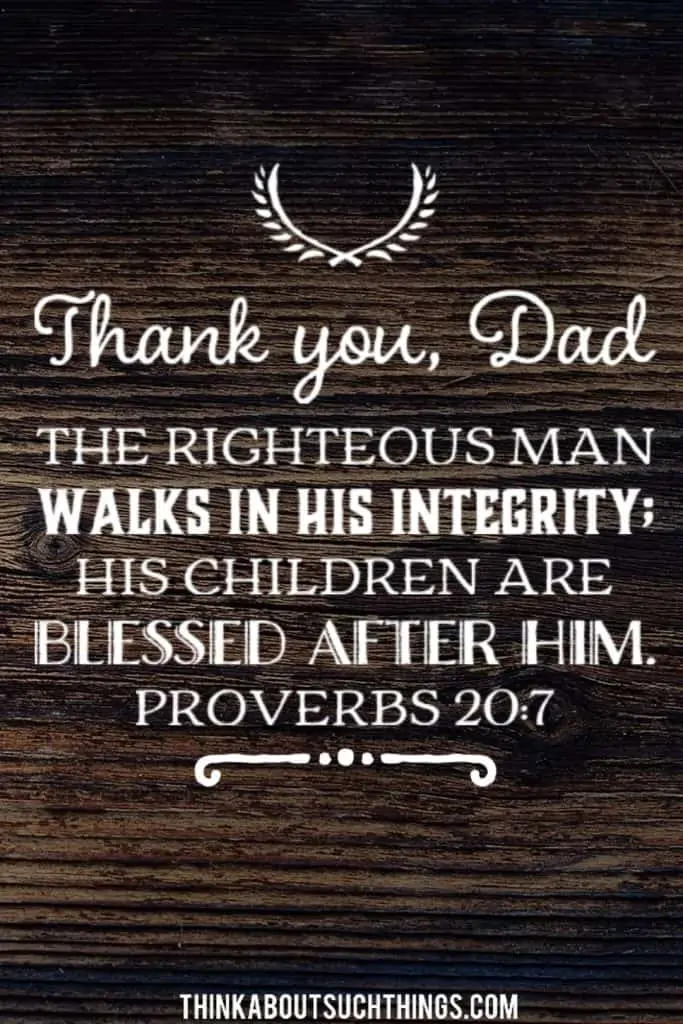 Genesis 18:19 NKJV – 19 "For I have known him, in order that he may command his children and his household after him, that they keep the way of the LORD, to do righteousness and justice, that the LORD may bring to Abraham what He has spoken to him."
Proverbs 4:1-4 NKJV – 1 Hear, [my] children, the instruction of a father, And give attention to know understanding; 2 For I give you good doctrine: Do not forsake my law. 3 When I was my father's son, Tender and the only one in the sight of my mother, 4 He also taught me, and said to me: "Let your heart retain my words; Keep my commands, and live.
Luke 15:20 NKJV – 20 "And he arose and came to his father. But when he was still a great way off, his father saw him and had compassion, and ran and fell on his neck and kissed him.
Hebrews 12:7 NKJV – 7 If you endure chastening, God deals with you as with sons; for what son is there whom a father does not chasten?
Proverbs 17:6 NKJV – 6 Children's children [are] the crown of old men, And the glory of children [is] their father.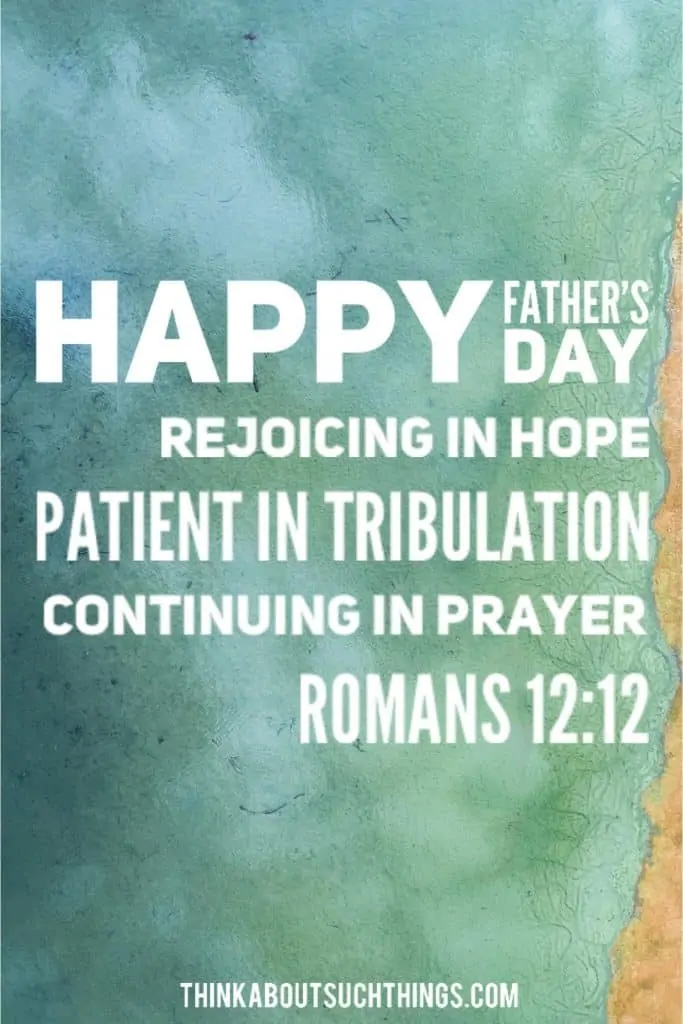 Romans 12:12 NKJV – 12 rejoicing in hope, patient in tribulation, continuing steadfastly in prayer;
Ephesians 6:4 NKJV – 4 And you, fathers, do not provoke your children to wrath, but bring them up in the training and admonition of the Lord.
1 Corinthians 16:13 NKJV – 13 Watch, stand fast in the faith, be brave, be strong.
1 Timothy 4:8 NKJV – 8 For bodily exercise profits a little, but godliness is profitable for all things, having promise of the life that now is and of that which is to come.
Proverbs 23:24 NKJV – 24 The father of the righteous will greatly rejoice, And he who begets a wise [child] will delight in him.
Ephesians 6:11-18 NKJV – 11 Put on the whole armor of God, that you may be able to stand against the wiles of the devil. 12 For we do not wrestle against flesh and blood, but against principalities, against powers, against the rulers of the darkness of this age, against spiritual [hosts] of wickedness in the heavenly [places]. 13 Therefore take up the whole armor of God, that you may be able to withstand in the evil day, and having done all, to stand. 14 Stand therefore, having girded your waist with truth, having put on the breastplate of righteousness, 15 and having shod your feet with the preparation of the gospel of peace; 16 above all, taking the shield of faith with which you will be able to quench all the fiery darts of the wicked one. 17 And take the helmet of salvation, and the sword of the Spirit, which is the word of God; 18 praying always with all prayer and supplication in the Spirit, being watchful to this end with all perseverance and supplication for all the saints–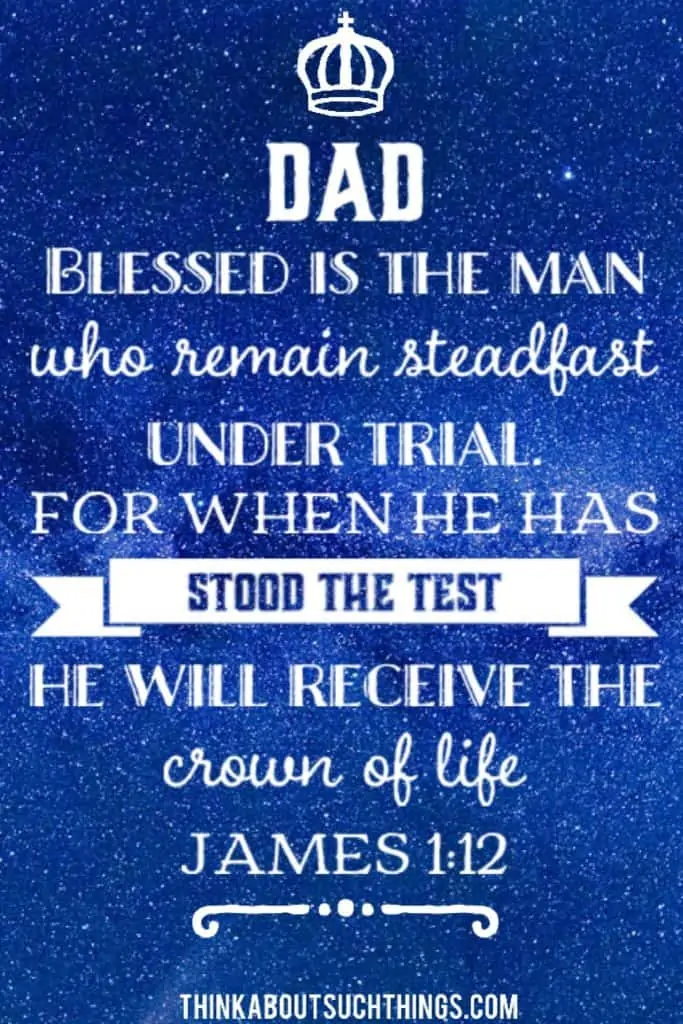 Philippians 4:6 NKJV – 6 Be anxious for nothing, but in everything by prayer and supplication, with thanksgiving, let your requests be made known to God;
Malachi 4:6 NKJV – 6 And he will turn The hearts of the fathers to the children, And the hearts of the children to their fathers, Lest I come and strike the earth with a curse."
Proverbs 3:11-12 NKJV – 11 My son, do not despise the chastening of the LORD, Nor detest His correction; 12 For whom the LORD loves He corrects, Just as a father the son [in whom] he delights.
Joshua 24:15 NKJV – 15 "And if it seems evil to you to serve the LORD, choose for yourselves this day whom you will serve, whether the gods which your fathers served that [were] on the other side of the River, or the gods of the Amorites, in whose land you dwell. But as for me and my house, we will serve the LORD."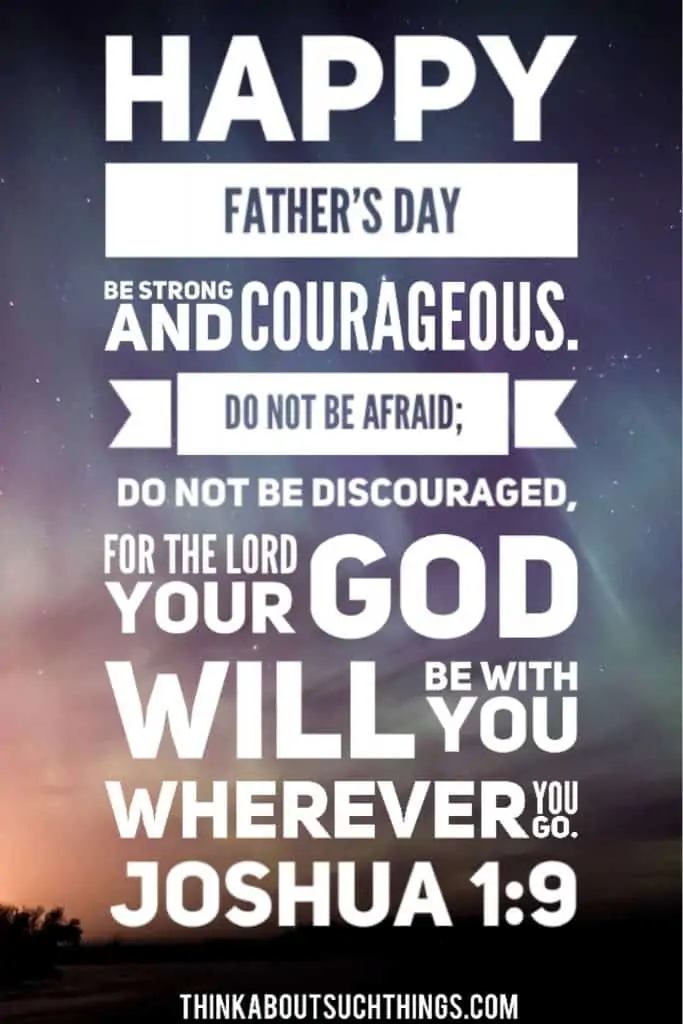 Joshua 1:9 NKJV – 9 "Have I not commanded you? Be strong and of good courage; do not be afraid, nor be dismayed, for the LORD your God [is] with you wherever you go."
1 Corinthians 13:4-8 NKJV – 4 Love suffers long [and] is kind; love does not envy; love does not parade itself, is not puffed up; 5 does not behave rudely, does not seek its own, is not provoked, thinks no evil; 6 does not rejoice in iniquity, but rejoices in the truth; 7 bears all things, believes all things, hopes all things, endures all things. 8 Love never fails. But whether [there are] prophecies, they will fail; whether [there are] tongues, they will cease; whether [there is] knowledge, it will vanish away.
Quick Reference List of Scriptures for Father's Day
Here is a simple reference list of the verses above. I hope this makes it easy for you to jot down these verses in your journal or Bible for future use or occasion.
List of Father's Day Bible Verses
Genesis 18:19
1 Corinthians 13:4-8
Psalm 103:13
Psalm 128:3-4
Psalm 37:23
James 1:12
Proverbs 20:7
3 John 4
Proverbs 14:26
2 Timothy 2:15
Proverbs 3:3-4
Deuteronomy 6:6-9
Ephesians 6:4
1 Thessalonians 2:4
Proverbs 4:1-4
Luke 15:20
Proverbs 14:26
Hebrews 12:7
Romans 12:12
1 Corinthians 16:13
1 Timothy 4:8
Proverbs 23:24
Ephesians 6:11-18
Proverbs 3:11-12
Philippians 4:6
Malachi 4:6
Proverbs 17:6
Deuteronomy 6:6-9
Joshua 24:15
Joshua 1:9
---
I hope you have found some scripture that will let your dad feel appreciated and loved during Father's Day.
Feel free to drop me a comment below! I would love what God is doing in your life!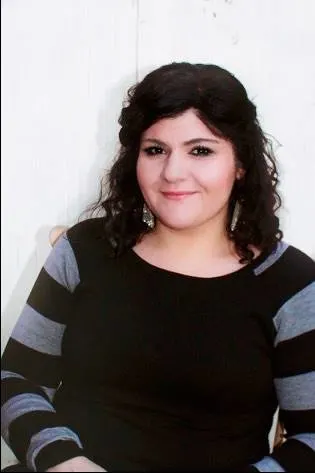 Melissa is a passionate minister, speaker and an ongoing learner of the Bible. She has been involved in church and vocational ministry for over 18 years. And is the founder of Think About Such Things. She has the heart to equip the saints by helping them get into the Word of God and fall more in love with Jesus. She also enjoys family, cooking, and reading.
She has spoken in churches in California, Oregon, Texas, and Mexico and has been featured in Guidepost Magazine and All Recipes Magazine. Read More…