In this post we will look at a collection of comforting Bible verses for funerals and loved ones that have passed away. All verses can be used during eulogy or any part of a funeral service.
If you are here it's most likely because you have lost someone you loved. My deepest condolences go out to you and your family. I am so sorry you are going through this time. I pray God comforts you and gives you peace in your heart and mind.
I wanted to share Bible verses for funerals, not because I just thought it would be a good idea. But because I lost my daddy a couple of years ago and it broke my heart. I'm thankful I got to spend 33 years with him, but I wanted a lot more.
I remember as we prepared for his funeral I wanted scripture verses to be read during the service and in the funeral program. I wanted verses that I know would have meant something to my dad and to us as a family.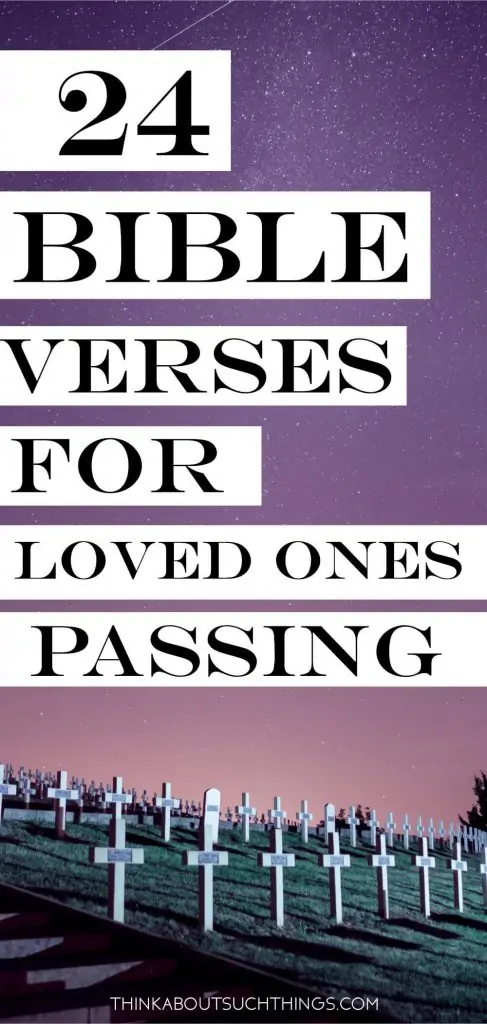 So, I want to share with you some verses you can use as well whether it's for the service or something you want to write in a card.
I don't really have much to say since this is still a hard thing for me, but I hope the Bible verses bring you and your family comfort as they do for me. I do recommend checking out these 25 Christian songs for funerals and hymns if finding music has been difficult as well.
Bible Verses for Funerals
All verses below are from the NKJV. You can hover over the reference and you can check out the Amplified translation of the Bible verse. If you would like to check out other translations then head over to Bible Gateway.
---
Psalm 23:1-6 NKJV – 1 A Psalm of David. The LORD [is] my shepherd; I shall not want. 2 He makes me to lie down in green pastures; He leads me beside the still waters. 3 He restores my soul; He leads me in the paths of righteousness For His name's sake. 4 Yea, though I walk through the valley of the shadow of death, I will fear no evil; For You [are] with me; Your rod and Your staff, they comfort me. 5 You prepare a table before me in the presence of my enemies; You anoint my head with oil; My cup runs over. 6 Surely goodness and mercy shall follow me All the days of my life; And I will dwell in the house of the LORD Forever.
Romans 6:3-9 NKJV – 3 Or do you not know that as many of us as were baptized into Christ Jesus were baptized into His death? 4 Therefore we were buried with Him through baptism into death, that just as Christ was raised from the dead by the glory of the Father, even so we also should walk in newness of life. 5 For if we have been united together in the likeness of His death, certainly we also shall be [in the likeness] of [His] resurrection, 6 knowing this, that our old man was crucified with [Him], that the body of sin might be done away with, that we should no longer be slaves of sin. 7 For he who has died has been freed from sin. 8 Now if we died with Christ, we believe that we shall also live with Him, 9 knowing that Christ, having been raised from the dead, dies no more. Death no longer has dominion over Him.
Romans 8:14-23 NKJV – 14 For as many as are led by the Spirit of God, these are sons of God. 15 For you did not receive the spirit of bondage again to fear, but you received the Spirit of adoption by whom we cry out, "Abba, Father." 16 The Spirit Himself bears witness with our spirit that we are children of God, 17 and if children, then heirs–heirs of God and joint heirs with Christ, if indeed we suffer with [Him], that we may also be glorified together. 18 For I consider that the sufferings of this present time are not worthy [to be compared] with the glory which shall be revealed in us. 19 For the earnest expectation of the creation eagerly waits for the revealing of the sons of God. 20 For the creation was subjected to futility, not willingly, but because of Him who subjected [it] in hope; 21 because the creation itself also will be delivered from the bondage of corruption into the glorious liberty of the children of God. 22 For we know that the whole creation groans and labors with birth pangs together until now. 23 Not only [that], but we also who have the firstfruits of the Spirit, even we ourselves groan within ourselves, eagerly waiting for the adoption, the redemption of our body.
Matthew 5:4 NKJV – 4 Blessed [are] those who mourn, For they shall be comforted.
2 Corinthians 5:1 NKJV – 1 For we know that if our earthly house, [this] tent, is destroyed, we have a building from God, a house not made with hands, eternal in the heavens.
John 5:24-29 NKJV – 24 "Most assuredly, I say to you, he who hears My word and believes in Him who sent Me has everlasting life, and shall not come into judgment, but has passed from death into life. 25 "Most assuredly, I say to you, the hour is coming, and now is, when the dead will hear the voice of the Son of God; and those who hear will live. 26 "For as the Father has life in Himself, so He has granted the Son to have life in Himself, 27 "and has given Him authority to execute judgment also, because He is the Son of Man. 28 "Do not marvel at this; for the hour is coming in which all who are in the graves will hear His voice 29 "and come forth–those who have done good, to the resurrection of life, and those who have done evil, to the resurrection of condemnation.
Psalm 116:15 NKJV – 15 Precious in the sight of the LORD [Is] the death of His saints.
1 Thessalonians 4:14-17 NKJV – 14 For if we believe that Jesus died and rose again, even so God will bring with Him those who sleep in Jesus. 15 For this we say to you by the word of the Lord, that we who are alive [and] remain until the coming of the Lord will by no means precede those who are asleep. 16 For the Lord Himself will descend from heaven with a shout, with the voice of an archangel, and with the trumpet of God. And the dead in Christ will rise first. 17 Then we who are alive [and] remain shall be caught up together with them in the clouds to meet the Lord in the air. And thus we shall always be with the Lord.
Philippians 1:21-23 NKJV – 21 For to me, to live [is] Christ, and to die [is] gain. 22 But if [I] live on in the flesh, this [will mean] fruit from [my] labor; yet what I shall choose I cannot tell. 23 For I am hard-pressed between the two, having a desire to depart and be with Christ, [which is] far better.
Matthew 11:28-30 NKJV – 28 "Come to Me, all [you] who labor and are heavy laden, and I will give you rest. 29 "Take My yoke upon you and learn from Me, for I am gentle and lowly in heart, and you will find rest for your souls. 30 "For My yoke [is] easy and My burden is light."
John 14:27 NKJV – 27 "Peace I leave with you, My peace I give to you; not as the world gives do I give to you. Let not your heart be troubled, neither let it be afraid.
Romans 14:7-9 NKJV – 7 For none of us lives to himself, and no one dies to himself. 8 For if we live, we live to the Lord; and if we die, we die to the Lord. Therefore, whether we live or die, we are the Lord's. 9 For to this end Christ died and rose and lived again, that He might be Lord of both the dead and the living.
Philippians 3:20-21 NKJV – 20 For our citizenship is in heaven, from which we also eagerly wait for the Savior, the Lord Jesus Christ, 21 who will transform our lowly body that it may be conformed to His glorious body, according to the working by which He is able even to subdue all things to Himself.
Psalm 27:4-5 NKJV – 4 One [thing] I have desired of the LORD, That will I seek: That I may dwell in the house of the LORD All the days of my life, To behold the beauty of the LORD, And to inquire in His temple. 5 For in the time of trouble He shall hide me in His pavilion; In the secret place of His tabernacle He shall hide me; He shall set me high upon a rock.
2 Timothy 2:8-13 NKJV – 8 Remember that Jesus Christ, of the seed of David, was raised from the dead according to my gospel, 9 for which I suffer trouble as an evildoer, [even] to the point of chains; but the word of God is not chained. 10 Therefore I endure all things for the sake of the elect, that they also may obtain the salvation which is in Christ Jesus with eternal glory. 11 [This is] a faithful saying: For if we died with [Him], We shall also live with [Him]. 12 If we endure, We shall also reign with [Him]. If we deny [Him], He also will deny us. 13 If we are faithless, He remains faithful; He cannot deny Himself.
1 John 3:1-2 NKJV – 1 Behold what manner of love the Father has bestowed on us, that we should be called children of God! Therefore the world does not know us, because it did not know Him. 2 Beloved, now we are children of God; and it has not yet been revealed what we shall be, but we know that when He is revealed, we shall be like Him, for we shall see Him as He is.
Hosea 13:14 NKJV – 14 "I will ransom them from the power of the grave; I will redeem them from death. O Death, I will be your plagues! O Grave, I will be your destruction! Pity is hidden from My eyes."
1 Corinthians 15:20-23 NKJV – 20 But now Christ is risen from the dead, [and] has become the firstfruits of those who have fallen asleep. 21 For since by man [came] death, by Man also [came] the resurrection of the dead. 22 For as in Adam all die, even so in Christ all shall be made alive. 23 But each one in his own order: Christ the firstfruits, afterward those [who are] Christ's at His coming.
Isaiah 61:1-3 NKJV – 1 "The Spirit of the Lord GOD [is] upon Me, Because the LORD has anointed Me To preach good tidings to the poor; He has sent Me to heal the brokenhearted, To proclaim liberty to the captives, And the opening of the prison to [those who are] bound; 2 To proclaim the acceptable year of the LORD, And the day of vengeance of our God; To comfort all who mourn, 3 To console those who mourn in Zion, To give them beauty for ashes, The oil of joy for mourning, The garment of praise for the spirit of heaviness; That they may be called trees of righteousness, The planting of the LORD, that He may be glorified."
Psalm 139:7-12 NKJV – 7 Where can I go from Your Spirit? Or where can I flee from Your presence? 8 If I ascend into heaven, You [are] there; If I make my bed in hell, behold, You [are there]. 9 [If] I take the wings of the morning, [And] dwell in the uttermost parts of the sea, 10 Even there Your hand shall lead me, And Your right hand shall hold me. 11 If I say, "Surely the darkness shall fall on me," Even the night shall be light about me; 12 Indeed, the darkness shall not hide from You, But the night shines as the day; The darkness and the light [are] both alike [to You].
Matthew 5:8 NKJV – 8 Blessed [are] the pure in heart, For they shall see God.
John 14:1-3 NKJV – 1 "Let not your heart be troubled; you believe in God, believe also in Me. 2 "In My Father's house are many mansions; if [it were] not [so], I would have told you. I go to prepare a place for you. 3 "And if I go and prepare a place for you, I will come again and receive you to Myself; that where I am, [there] you may be also.
1 Corinthians 15:51-57 NKJV – 51 Behold, I tell you a mystery: We shall not all sleep, but we shall all be changed– 52 in a moment, in the twinkling of an eye, at the last trumpet. For the trumpet will sound, and the dead will be raised incorruptible, and we shall be changed. 53 For this corruptible must put on incorruption, and this mortal [must] put on immortality. 54 So when this corruptible has put on incorruption, and this mortal has put on immortality, then shall be brought to pass the saying that is written: "Death is swallowed up in victory." 55 "O Death, where [is] your sting? O Hades, where [is] your victory?" 56 The sting of death [is] sin, and the strength of sin [is] the law. 57 But thanks [be] to God, who gives us the victory through our Lord Jesus Christ.
Ecclesiastes 3:1-11 NKJV – 1 To everything [there is] a season, A time for every purpose under heaven: 2 A time to be born, And a time to die; A time to plant, And a time to pluck [what is] planted; 3 A time to kill, And a time to heal; A time to break down, And a time to build up; 4 A time to weep, And a time to laugh; A time to mourn, And a time to dance; 5 A time to cast away stones, And a time to gather stones; A time to embrace, And a time to refrain from embracing; 6 A time to gain, And a time to lose; A time to keep, And a time to throw away; 7 A time to tear, And a time to sew; A time to keep silence, And a time to speak; 8 A time to love, And a time to hate; A time of war, And a time of peace. 9 What profit has the worker from that in which he labors? 10 I have seen the God-given task with which the sons of men are to be occupied. 11 He has made everything beautiful in its time. Also He has put eternity in their hearts, except that no one can find out the work that God does from beginning to end.
Recap Reference List of Scriptures for Funerals.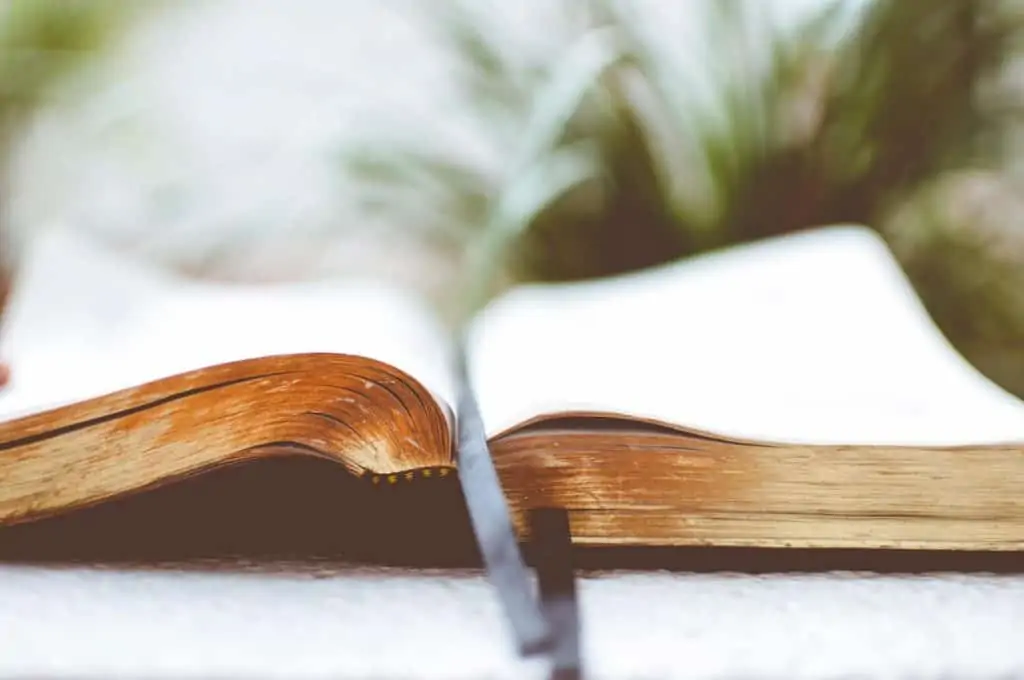 Here is a simple reference list of the Bible verses for the loss of a loved one. I hope this makes it easy for you to jot down these verses quickly.
List of Bible Verses for Funerals
Psalms 23
Romans 6:3-9
Romans 8:14-23
Matthew 5:4
2 Corinthians 5:1
John 5:24-29
Psalm 116:15
1 Thessalonians 4:14-17
Philippians 1:21-23
Matthew 11:28-30
John 14:27
Romans 14:7-9
Philippians 3:20-21,
Psalm 27:4-5
2 Timothy 2:8-13
1 John 3:1-2
Hosea 13:14
I Corinthians 15:20-23
Isaiah 61.1-3
Psalm 139:7-12, 23-24
Matthew 5:8
John 14:1-3
I Corinthians 15:51-57
Ecclesiastes 3:1-11
---
>> If your dad has passed away, please check out these prayers to help you through your time of grief.
I hope these scriptures bring comfort and peace to your heart during this hard time. I also recently shared a post on fishermen's prayers that work quite lovely for funerals. So, if your loved one loved to fish, please take a look at them.
For more articles that help you grow on your walk with the Lord, check out my Faith Page. And like always I would love to hear from you so feel free to leave me a comment below.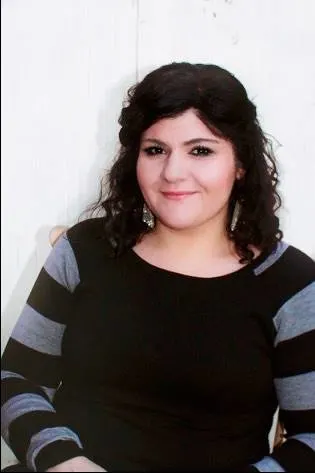 Melissa is a passionate minister, speaker and an ongoing learner of the Bible. She has been involved in church and vocational ministry for over 18 years. And is the founder of Think About Such Things. She has the heart to equip the saints by helping them get into the Word of God and fall more in love with Jesus. She also enjoys family, cooking, and reading.
She has spoken in churches in California, Oregon, Texas, and Mexico and has been featured in Guidepost Magazine and All Recipes Magazine. Read More…