In this article, we will continue our study and focus on the fruit of the Spirit: Faithfulness. We will be looking at the joy and how, as Christians, we can learn about this attribute of the fruit of the Spirit.
The Fruit of the Spirit reminds us, as Christians, that we can live a godly life through the power of the Holy Spirit. This Spirit that lives within believers helps us in so many ways like overcoming sin's temptations.
The fruit of the Spirit are the attributes that are Christlike, and when we walk in faithfulness, God's light shines through us.
The cornerstone of Christianity is having faith in God the Creator, His son Jesus the Messiah, and the Holy Spirit that resides within every Christian believer.
To have faith and be faithful is to have a relationship with God our Father and live according to His will. When we commit ourselves to God, we trust Him, obey Him, and have faith. We become faithful to Him!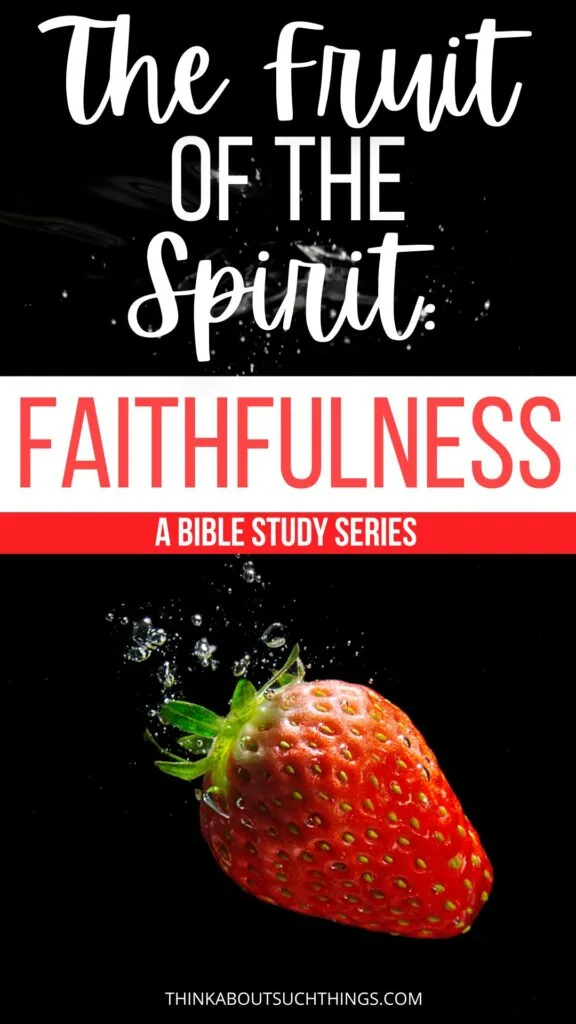 The Meaning Of Fruit Of The Spirit: Faithfulness
In the Bible, The Fruit of the Spirit can be found in Galatians 5:22-23, and faith is one of the nine attributes of the Spirit. The fruit refers to the qualities that are important for every Christian to walk in as it is the characteristics of Christ.
In this Biblical passage, the apostle Paul reminds us that the attribute of faith or faithfulness is God-given and is not produced by our own abilities but by the Holy Spirit that lives within them.
When we commit our life to God and grow in faith, we begin to live the way God wants us to live (Colossians 1:10). This can be seen through our deeds and how we treat and interact with others.
As we grow in faith, our hunger to serve God and to commit to His teachings allow us to become even closer to Him.
Faith or Faithfulness?
When we look at Galatians 5, we see that different translations will either render this attribute as faith or faithfulness. Below are two examples:
22 But the fruit of the Spirit is love, joy, peace, longsuffering, gentleness, goodness, faith, Meekness, temperance: against such there is no law. – Galatians 5:22-23 KJV
22 But the fruit of the Spirit is love, joy, peace, forbearance, kindness, goodness, faithfulness, gentleness and self-control. Against such things there is no law. – Galatians 5:22-23 NIV
The word faith or faithful is translated from the Greek word "pístis" which means to be persuaded.
STRONG'S CONCORDANCE
πίστις pístis, pis'-tis; from G3982; persuasion, i.e. credence; moral conviction (of religious truth, or the truthfulness of God or a religious teacher), especially reliance upon Christ for salvation; abstractly, constancy in such profession; by extension, the system of religious (Gospel) truth itself:—assurance, belief, believe, faith, fidelity.
This divine persuasion is not produced by us but is received from our Heavenly Father. To have faith in something we are unable to see with our human eyes, but we put our complete trust in God and His word (Hebrews 11:1).
How Is God Faithful To Us?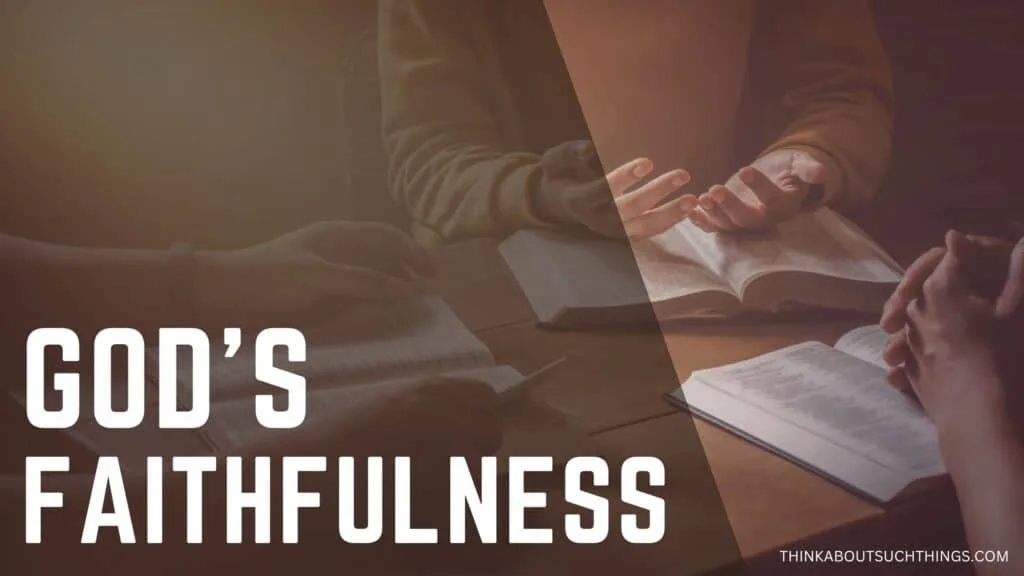 When looking at faithfulness, there is one who is truly perfect at it, and that's our wonderful Lord!
God shows His faithfulness to us by keeping His promises. If we have faith, God promises that He will:
Be our strength in guiding and protecting us from the enemy and helping us when we grapple with sin. God is faithful and will never let things happen to us that we cannot bear. And He will be with us whenever we need Him. (1 Corinthians 10:13)
Provide for us in all circumstances and when we are worried or anxious about our financial constraints in supporting ourselves and our families (Matthew 6:25-26).
The promise of salvation, eternal life, and that Jesus will return. This is one of the greatest promises God gives to Christian believers. It is a promise of hope in a world that has become cruel and unjust and has forgotten about God and His word. (John 14:3).
And those are just a few out of tons of other promises we can stand on and pray.
Biblical Examples Of Faith – The Fruit Of The Spirit
In the bible, there are many men and women who are perfect examples of how the Holy Spirit produces a deep reliance, trust, and steadfast faith in God.
These are just a few people that were faithful to God and His call on their lives. There are so many others.
David: The Shepherd Boy
In blind faith, David, who was just a young teen, faced the mighty giant Goliath during the battle between the Philistines and the Israelites.
David believed God would help him defeat the giant with a sling and a rock. This is because David already experienced God's faithfulness when he fought the lion and the bear. God was with David, and David had the faith to to fight and see the victory.
Joshua And The Walls Of Jericho
The Israelites were again in battle and had to face the massive and thick wall built around Jericho. There was no way to penetrate the wall, but God told Joshua to march his army around the city for 7 days.
Joshua had faith that God would provide and make a way, so after the 7th day, the army would blow their trumpets and give a victory shout. That's not your typical military strategy, but they had faith in what God said to do and knew He was faithful to fulfill it.
The walls of Jericho did collapse, and the city was taken. With just the trumpets and shouts! Go…God!
God is faithful and true to those who have faith and believe in Him.
The Faith Of Abraham
When we think of people of faith, Abraham comes to mind.
Abraham was a man of true faith and trusted God. So, when God asked him to sacrifice his son, Isaac, on the altar, he never faltered. He was obedient to God, and because of this obedience and his faith, God sent an angel to stop him from offering his son.
Let's look at Issac for a moment. There is a lot of debate on Issac's age, but many theologians and historians but many believe he was between his late teens and 20's. This paints a different picture and shows Issac's willingness and trust in God.
And God showed Himself faithful. He saw Abrahams's heart and provided a ram.
Mary & Joseph
Mary was a young woman, a virgin when the angel appeared before her and told her she would bear a son. Even though she would bring shame to her family, she trusted God and had faith that He would deliver on His promise to her. And so it was that she gave birth to the Messiah.
Joseph is another one who is a great example of faithfulness. Not only was he faithful to God by believing the angel that was sent to him, but he was also faithful to Mary—taking her as his wife and raising Jesus.
Other Biblical Examples Of Faithfulness In Action
We have covered some individuals above, but I wanted to share quickly some other great men and women that showed their faithfulness to God and/or faithfulness to others.
The Apostle Paul – We know he was a man of faith, but he was also extremely faithful to the work of God. He traveled hundreds of miles risking his life to minister to believers and reach unbelievers. He spent time writing letters and was even willing to go to Rome.

Daniel, Shadrach, Meshach, and Abednego – These wise men who worked in the courts of Babylon were not willing to follow the pagan Kings rules but stood faithful to the ways of God. To the point of risking their lives. And each time, God rescued them.

Hanani and Hananiah – These two became leaders in the book of Nehemiah because they were considered faithful and feared God.

Timothy – He was considered a faithful son to the Apostle Paul.

Epaphras – Was a fellow minister that was also considered faith by the Apostle Paul in Colossians.
How Does Faith Function In Our Lives Today
Through our actions and words, we show the world that we live by faith and trust God to guide us. God is faithful if we are steadfast in our faith, no matter the circumstances or the hardships or if things are not going our way God will see us through.
God is faithful when we allow Him into our lives and to take control so that His Spirit may flow through us. We are reminded of this in John 15:7-8, where Jesus tells His disciples that a life filled by the Spirit is fruitful. But the key is abiding with Him. It's only by spending time in His presence that we can bear good fruit.
If you abide in Me, and My words abide in you, you will ask what you desire, and it shall be done for you. 8 By this My Father is glorified, that you bear much fruit; so you will be My disciples. – John 15:7-8
We Must Believe
We read in Hebrews 11:6 that to have faith in God, we must first believe even though we cannot see Him with our eyes. By trusting Him, God forgives us of our sins and promises us eternal life. We can only receive this grace by faith, which is believing in God the father, the son, Christ Jesus, who died on the cross for our sins, and the Holy Spirit who lives within us.
Even though your life might feel unfulfilled and things aren't going your way, keep praying and believing that God will change your circumstances. Have faith that God will intervene at the right time, and you will be amazed at the blessing you will receive. Submit to the Holy Spirit and let Him guide you through troubled waters.
Keep The Faith Even In Difficult Times
There might be many times when you have experienced difficulties in your life. Despite continually praying, things just aren't getting better. Still, we must persevere in prayer, have faith, and believe in a positive outcome. Our Heavenly Father hears our prayers and will answer in His time, not our time.
I know a lot easier said and done, but this is how our faith is tested. Abraham and Sarah waited 25 years to have their promise fulfilled by having their son Isaac.
We must always be faithful and obedient to God and let His Spirit shine through us. When we do this that God can move in our lives and let our life be a testimony of God's goodness and faithfulness.
---
The attribute of faith is produced by the Holy Spirit that lives within us. It is pleasing to God when Christians live according to His word. Having faith is to believe in our Heavenly Father and to trust His will in our lives. It's being faithful to one another as well.
Faith is living a good and moral life so His Spirit can shine and work through us. Our Faith is nourished by persevering in prayer, reading God's word, and worshipping Him with other Christians.
When we commit our lives to God, He promises to protect us from the enemy and temptation that can sometimes threaten to overwhelm us. God will always be near us if we trust and rely on Him. He will never place us in circumstances that we cannot bear. If we have faith, God will be faithful and keep His promises.
The Fruit Of The Spirit Series
Do you want to learn more about the other attributes of the Holy Spirit? Then I encourage you to check out the posts below: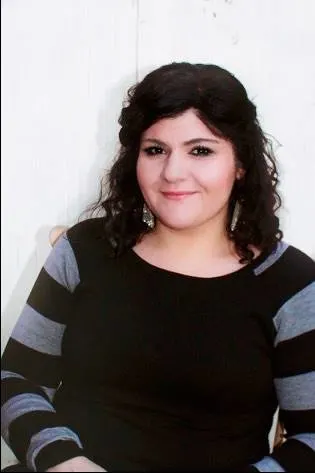 Melissa is a passionate minister, speaker and an ongoing learner of the Bible. She has been involved in church and vocational ministry for over 18 years. And is the founder of Think About Such Things. She has the heart to equip the saints by helping them get into the Word of God and fall more in love with Jesus. She also enjoys family, cooking, and reading.
She has spoken in churches in California, Oregon, Texas, and Mexico and has been featured in Guidepost Magazine and All Recipes Magazine. Read More…