In this article, we will continue our study and look at the fruit of the Spirit: Kindness. We will examine this attribute and see how it applies to our lives as Christians. So, grab your Bible, and let's dig in…
We read in the Holy Bible in Galatians 5:22-23 about kindness, which is one of the attributes of the Fruit of The Spirit. Kindness is a huge character trait in God the Father, in Jesus, and in the Holy Spirit. And as Christians, we should try to portray this sincere kindness and caring about others in our daily lives.
But on our own, we do not possess this character trait of genuine Godly kindness. Only by our faith in God and acceptance of His Son does the Holy Spirit dwelling within us allow us to become more Christlike and show kindness at a supernatural level.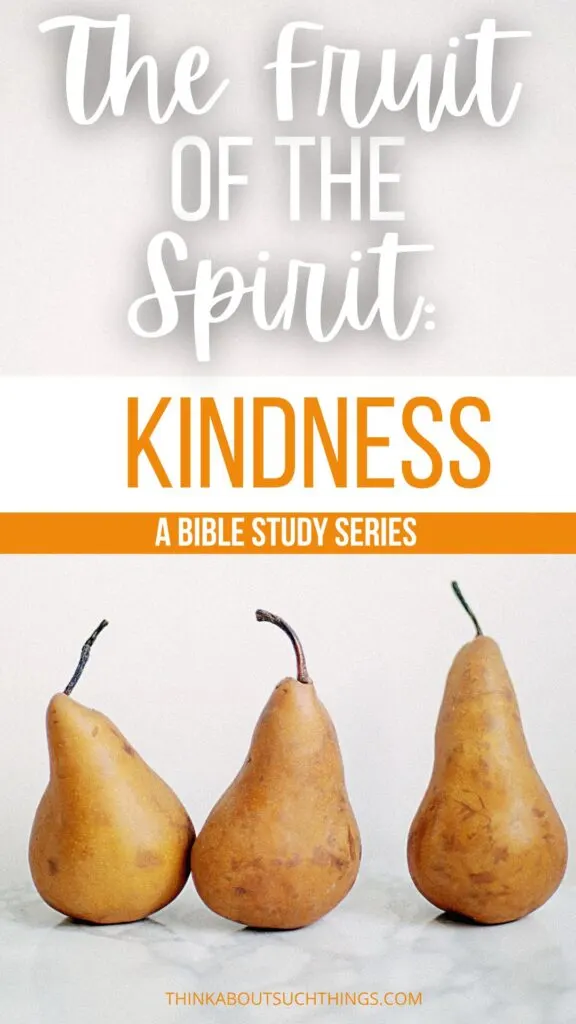 The Meaning Of Kindness: An Attribute Of The Fruit Of The Spirit
From a young age, we are taught by our parents to have manners by being nice, friendly, and kind to other people. But the kindness that is an attribute of the Fruit of the Spirit comes from the heart and flows from deep within us. And is supernatural in nature. If it comes from His Spirit, then it's supernatural and surpasses our human ability.
Kindness is a sincere feeling to treat everyone with respect, concern and tenderness. We only need to look to the cross to see how God shows us His ultimate love and kindness through the crucifixion of Jesus, who died so that our sins may be forgiven.
In the Bible, the Greek word for kindness is 'chrestotes,' which translates as a goodness of heart, honesty, and kindness. In the KJV kindness is translated as gentleness.
STRONGS CONCORDANCE – GREEK
χρηστότηςchrēstótēs, khray-stot'-ace; from G5543; usefulness, i.e. morally, excellence (in character or demeanor):—gentleness, good(-ness), kindness.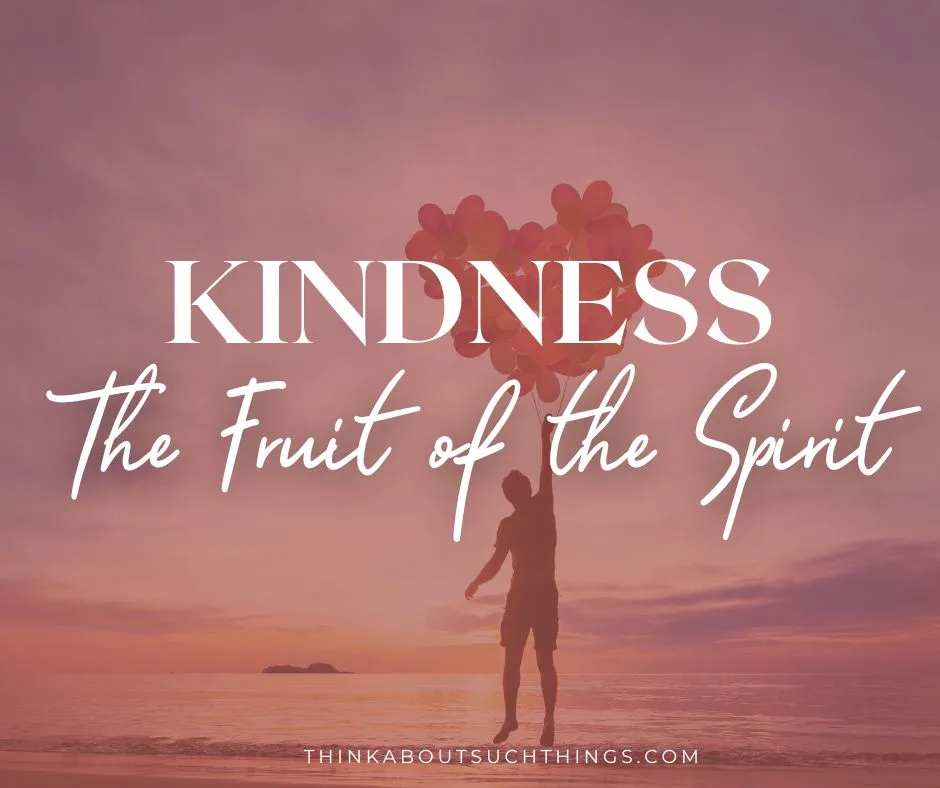 Kindness is a way of doing thoughtful deeds in goodness and gentleness for others without asking for anything in return.
In Ephesians 4:32, God tells us to be kind and compassionate to others and forgive those who do us wrong as God forgives us. We must reflect these Christlike traits in our lives to please God.
People From The Bible Who Showed Kindness
There are many ways that God shows his lovingkindness to all believers. He gives us His word and the Holy Spirit to guide us to make the right decisions and help us in difficult times. Through God's mercy and absolute love for us, we can have everlasting life through His Son, who was crucified for our sins.
If we believe, have faith in His promises, and live according to His word, others will see His light shine through us.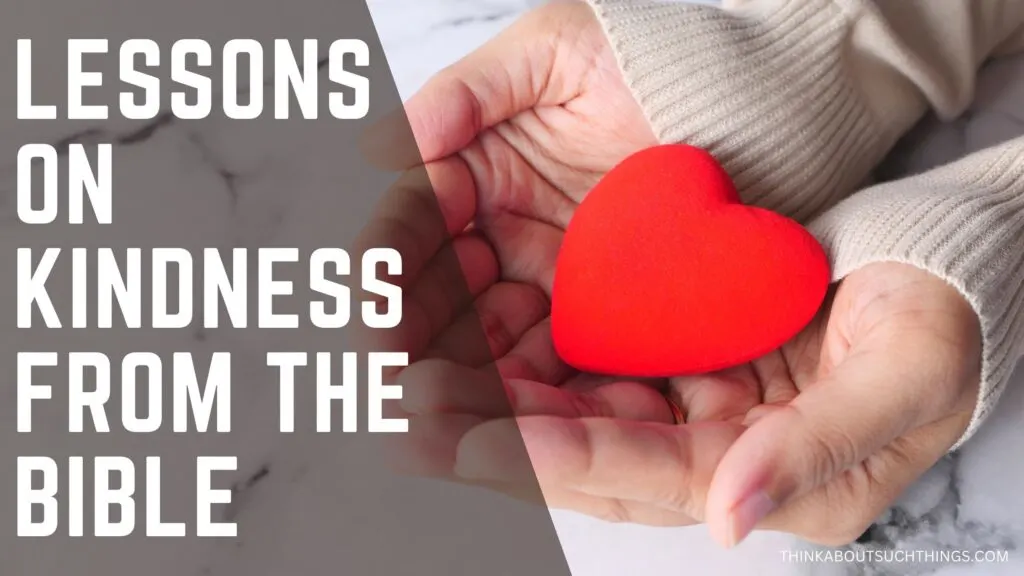 Here are more biblical examples of people who portrayed kindness:
Joseph Showed Kindness To His Brothers
In Genesis 37, we read about Joseph, one of Jacob's 12 sons. He was favored by his father. His brothers were jealous of Joseph and sold him into slavery and told Jacob that his son was dead. Joseph was taken to Egypt, where he worked for Potiphar, one of Pharoah's officials. Pharoah was the ruler of Egypt at that time.
God blessed Joseph with the gift of being able to interpret dreams. When Pharoah could not find anyone to interpret his dreams, he was told about Joseph. The ruler was pleased with Joseph, and he was tasked to oversee preparations for storing food for the coming famine. His brothers were sent by his father, Jacob, to come to Egypt to ask for food. They did not recognize Joseph when they saw him.
But Joseph recognized them, and he tested them to see if they had changed their wicked ways, which they had. He revealed himself to them, showed them kindness, and forgave them for what they did to him. This is a wonderful example of showing sincere kindness and forgiveness.
Ruth And Boaz
When Naomi's husband and her two sons are killed, she releases her two daughters-in-law from their obligation to stay with her. Orpah, the one daughter-in-law, went home to her people, but Ruth showed kindness to Naomi and would not leave her. She traveled with her to Bethlehem, where she worked on the land gathering gleaning after the harvest so that they could have food to eat.
Boaz was a wealthy man in Bethlehem, and he heard about Ruth, who was collecting food for her mother-in-law in his fields. Boaz showed her kindness by ensuring she had more than harvest gleanings. Boaz, a relative of Ruth's deceased husband, was then allowed to marry her.
By staying faithful to God's teachings and showing great acts of kindness, God was pleased with Ruth and Boaz, and they were blessed. Ruth and Boaz showed the true meaning of kindness as a beautiful attribute of the Fruit of the Spirit.
The Widow Of Zarephath And The Prophet Elijah
God sent the prophet Elijah to Zarephath, a town outside of Israel (1 King 17:10-12). There was a famine in the land, but God told Elijah that a widow would provide food for him. When Elijah finds the woman, she has only enough food for a last meal for her and her son. But Elijah tells her that God will provide for her and that she will always have food after this day.
Because of her faith in God, the woman showed great kindness to Elijah and made him something to eat. God was faithful to His promise, and from then on, God always provided for her table.
David Shows Kindness To Jonathan's Son
In the Bible, we read in Samuel 1 and 2 about the friendship between David and Jonathan, King Saul's son. David was anointed to become king, but King Saul was jealous of the people's love for David and planned to kill him. But Jonathan warned David of Saul's intention. In a battle against the Philistines, King Saul, Jonathan, and his brothers were all killed.
David became king, and when he heard that Jonathan's son was alive, he sent for him. Mephibosheth was afraid that David would kill him, but we read in 2 Samuel 9:3 that David wanted to show him the kindness of God. He gives Mephibosheth all of Saul's fields and allows him to eat with his sons at his table. A remarkable act of one human showing another the greatest kindness.
How Can We Show Kindness In Our Daily Lives
Showing kindness expresses our love for God; doing kind deeds makes others happy and makes us feel good inside. We can show kindness to others in our daily lives by:
Having a good relationship with God the Father. Seek him in prayer, get into His Presence, read and obey His word, and allow the Holy Spirit within us to guide and show others through us the Christlike attributes of the Fruit of the Spirit.
Show kindness and be considerate to all people so that others may see God's kindness through our actions and deeds. Show compassion and understanding without expecting any benefits.
Show kindness by listening to the needs of others and helping wherever we are needed.
Do not hold any grudges but forgive others as God forgives us. If someone is unkind, do not judge but show kindness so that others may see God's light in us.
Treat others with kindness the way we would want to be treated and be encouraging and uplifting to others with our kind words.
---
Kindness is an attribute of the Fruit of the Spirit, a remarkable character trait of God the Father and Jesus. We as Christians must strive to be more Christlike, and through the Holy Spirit that lives within us, we can show the attribute of kindness to others. This sincere kindness should flow from deep within us, and it should be an act of showing kindness and compassion to all people.
God wants us to show kindness in our lives every day. To do this, we must seek a meaningful relationship with God, heed His word, and pray with Him. We must forgive others as God forgives us so that God's light may be seen in us and our kind deeds will please God.
If you have enjoyed this study on The Fruit Of The Spirit: Kindness, then please let me know down below in the comments! I would love to hear from you, and don't forget to check out more on the fruit of the holy spirit in these other articles.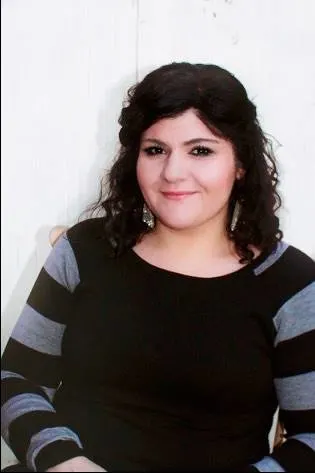 Melissa is a passionate minister, speaker and an ongoing learner of the Bible. She has been involved in church and vocational ministry for over 18 years. And is the founder of Think About Such Things. She has the heart to equip the saints by helping them get into the Word of God and fall more in love with Jesus. She also enjoys family, cooking, and reading.
She has spoken in churches in California, Oregon, Texas, and Mexico and has been featured in Guidepost Magazine and All Recipes Magazine. Read More…