A study into the gifts of healing in the Bible. We will look at what healing gift means and how the believer can use this gift of the Holy Spirit.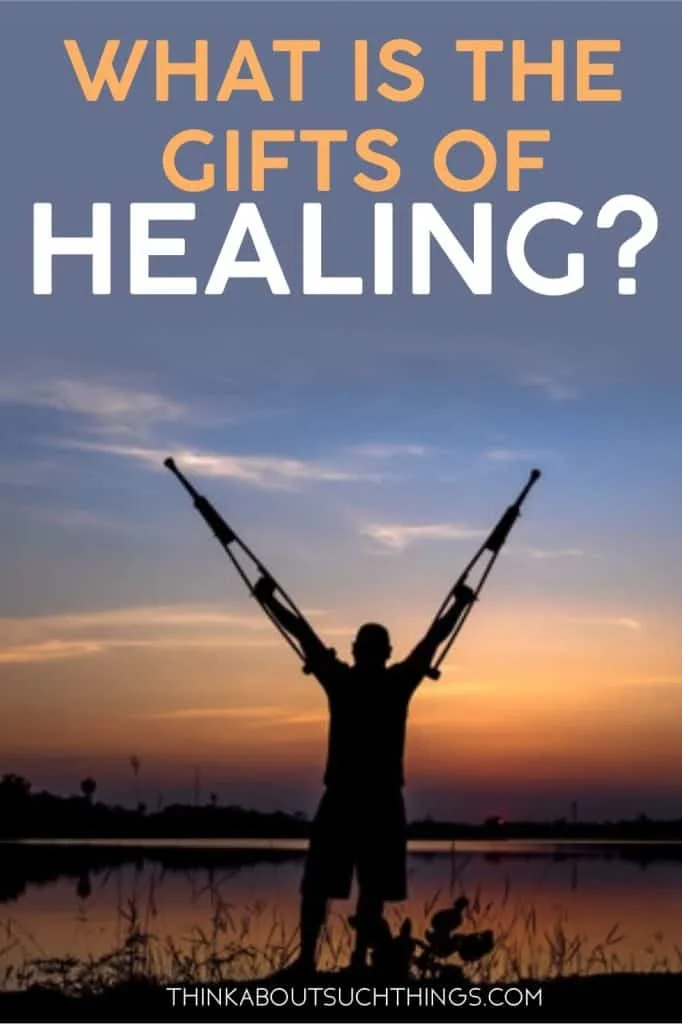 One time or another we have all prayed for healing. It could be for yourself, a loved one, or someone you don't even know. We serve a God who heals. One of His many names is Jehovah Rapha, the Lord is my Healer!
And one of the ways He heals is through the gift of healing.
The healing gift can manifest in numerous ways and look different than we expect. We will look into scripture and get an overview on this awesome gift.
Curious about all the gifts? Don't forget to check out the other posts below:
STUDY THE GIFTS OF THE HOLY SPIRIT
Click on the links below to learn more…
To make things easier you can use the table of contents below to jump to certain topics or you can scroll through like usual. If you are new the gifts I encourage you to read through it.
The Gift of Healing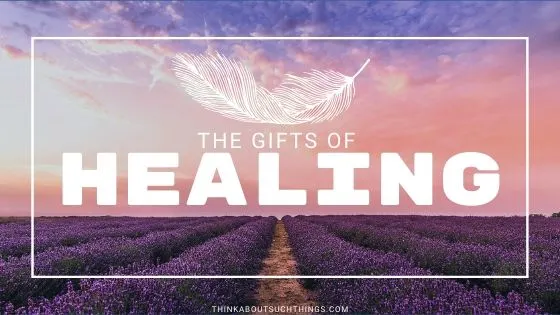 7 But the manifestation of the Spirit is given to each one for the profit of all: 8 for to one is given the word of wisdom through the Spirit, to another the word of knowledge through the same Spirit, 9 to another faith by the same Spirit, to another gifts of healings by the same Spirit, 10 to another the working of miracles, to another prophecy, to anotherdiscerning of spirits, to another different kinds of tongues, to another the interpretation of tongues. 11 But one and the same Spirit works all these things, distributing to each one individually as He wills. – 1 Corinthians 12:7-11 NKJV (emphasis added in bold)
When writing on the gifts I thought it might be easier to break up information by answering the 5 W's. If you are not familiar with the 5 W's it basically means, who, what, when, where, and why.
The w's below might not go in that order but I will be answer each one according to the gifts of healing. And for now I have skipped out on "when."
If in the future I come up for a when question or a helpful reading has some suggestions…I'll add it to the post. But I sure hope this structure helps to make things clear and easy to digest.
What Are the Gifts of Healing?
The Greek word for healing is "iama" meaning cure.
ἴαμα íama, ee'-am-ah; from G2390; a cure (the effect):—healing.
The gifts of healing is the supernatural ability to minister healing through the power of God.
I like how one minister calls it… "It's the power of God to destroy the work of the devil in the body"
Out of all the gifts mentioned in 1 Corinthians healing is plural. It's not the gift of healing but the gifts of healing. The gifts of healing is plural meaning diverse healings.
We fully don't understand this. We do know that not all healing is physical, there is mental, spiritual and emotional healing that also happens. God does heal and touch these as well.
We also have countless stories of ministers and christian who will have a special anointing on a specific illness, like blindness or cancer. And there are numerous ways recorded how healings take place in the New Testament:
Lay of hands
Peter's Shadow
Angel Stirring The Water
etc…
We don't fully understand this but makes sense when you see Paul use the plural and not the singular.
Some healings are gradual and some healings are instantaneous. We see this in scripture as well:
Instant Healings
Then Jesus put out His hand and touched him, saying, "I am willing; be cleansed." Immediately his leprosy was cleansed. – Matthew 8:3
31 So He came and took her by the hand and lifted her up, and immediately the fever left her. And she served them. – Mark 1:31
Gradual Healings
Then he inquired of them the hour when he got better. And they said to him, "Yesterday at the seventh hour the fever left him." – John 4:52
22 Then He came to Bethsaida; and they brought a blind man to Him, and begged Him to touch him. 23 So He took the blind man by the hand and led him out of the town. And when He had spit on his eyes and put His hands on him, He asked him if he saw anything.
24 And he looked up and said, "I see men like trees, walking."
25 Then He put His hands on his eyes again and made him look up. And he was restored furthermore saw everyone clearly. 26 Then He sent him away to his house, saying, "Neither go into the town, nor tell anyone in the town." – Mark 8:22-26
What the Gifts of Healing Are Not?
Medicine
Medicine whether it's natural or conventional is not to be mistaken as the gifts of healing. God does inspire people to find remedies, surgeries, and medicines but that is not this gift. The gifts of healing go beyond natural means and bring healing.
This does not mean that God doesn't use doctors or medicine to heal. He does but that is outside of this gift.
What Is the Purpose of the Gift of Healing?
The purpose of healing is pretty self-explanatory. It's to make people well and set free from the bondage of sickness. So, they can live and pursue God's plans for them on this earth.
It builds up the church, gives testimonies of God's power and goodness, and brings the lost to God. It shows that Jesus is alive and is moving in His church! We see all of this throughout the New Testament!
What Are Some Examples of the Healing Gift in the Bible?
Healings are a lot like miracles in scripture! They are everywhere especially physical healing in the Bible. From Genesis to Revelation we see God's hand moving in healing. God never intended for us to experience sickness and to experience death. All that happened because of the fall.
Here are just a few passages in the Bible about healing:
Luke 4:40- Jesus laying hands and healing the sick
Acts 28:8 – Paul healed the father of Publius
Matthew 14:14 – Jesus compassion led Him to heal the sick
Acts 3:1-10 – Peter and John heal the man at the gate Beautiful
Acts 5:15-16 – Peter's shadow bringing healing to those sick
Acts 9:33-34 – Peter heals Aeneas of a palsy
Who Is the Gift of Healing For?
Pursue love, and desire spiritual gifts, but especially that you may prophesy. – 1 Corinthians 14:1
I say this on my posts about the gifts of the Spirit, but it's important! Paul the apostle clearly states that we should pursue love (very important) and desire spiritual gifts. That word desire actually means to be zealous or passionate.
Like the gift of miracles we tend to place the gifts of healing in this place where it's only for special anointed people who work in the ministry. But the truth of the matter is that any believer in Christ can move in the gifts of healing. We just need to ask the Lord for it.
There are countless testimonies of Christians praying for their fellow sister or brother in Christ and witness a healing. My uncle Joe had a growth in his throat. He had it removed but months later still was having issues. At a church service he asked for prayer and little boy around 10 years old went up to and laid hands on his throat and prayed. He was instantly healed and that was 19 years ago. Still no problems! Praise God!!
God used a little boy to heal my uncle!
Why Is This Gift of Necessary for Today?
I say this with all the gifts of the Spirit. But if it was necessary for the church in the past, it's necessary for us now!
Even with our awesome advancements in medicine we still deal with sickness and pain from injuries. This means we are still in need of God's healing power. We should be praying for the sick and believing God to touch and heal them.
He paid for all of this on Calvary!
But He was wounded for our transgressions,
He was bruised for our iniquities;
The chastisement for our peace was upon Him,
And by His stripes we are healed. - Isaiah 53:5 
Where Can I Find It in the Bible?
Stories of healing are everywhere in scripture. And we explored some of the stories above. But I wanted to share also some verses that mention the healing in ministry and as a gift.
I hope as you read these verses that you are encouraged to ask God for the gifts of healing. If you would like to read more scriptures on healing, please check out my post: Bible Verses About Healing.
Gift of Healing Scriptures
1Co 12:9 NKJV – 9 to another faith by the same Spirit, to another gifts of healings by the same Spirit,
Mat 8:16 NKJV – 16 When evening had come, they brought to Him many who were demon-possessed. And He cast out the spirits with a word, and healed all who were sick,
Mat 9:35 NKJV – 35 Then Jesus went about all the cities and villages, teaching in their synagogues, preaching the gospel of the kingdom, and healing every sickness and every disease among the people.
Luk 17:15-19 NKJV – 15 And one of them, when he saw that he was healed, returned, and with a loud voice glorified God, 16 and fell down on [his] face at His feet, giving Him thanks. And he was a Samaritan. 17 So Jesus answered and said, "Were there not ten cleansed? But where [are] the nine? 18 "Were there not any found who returned to give glory to God except this foreigner?" 19 And He said to him, "Arise, go your way. Your faith has made you well."
Mar 1:34 NKJV – 34 Then He healed many who were sick with various diseases, and cast out many demons; and He did not allow the demons to speak, because they knew Him.
Jas 5:13-16 NKJV – 13 Is anyone among you suffering? Let him pray. Is anyone cheerful? Let him sing psalms. 14 Is anyone among you sick? Let him call for the elders of the church, and let them pray over him, anointing him with oil in the name of the Lord. 15 And the prayer of faith will save the sick, and the Lord will raise him up. And if he has committed sins, he will be forgiven. 16 Confess [your] trespasses to one another, and pray for one another, that you may be healed. The effective, fervent prayer of a righteous man avails much.
My Conclusion and Summarization About the Gifts of Healing
Jesus Christ is the same yesterday and today and forever. -Hebrews 13:8
I firmly believe God is still healing today! And one of the ways He is doing it is through the gifts of healing. If you want to learn more about how Jesus is our healer…please check out F.F Bosworth's book Christ the Healer.
I hope this post has brought some clarity and hunger to you. And I encourage you when someone you know is sick. Pray for them to be healed. Let the Holy Spirit use you! You don't have to be in ministry or some well-known preacher to be used by God.
Feel free to drop me a comment below. I would love to hear from you and if you have a testimony of healing please share it below!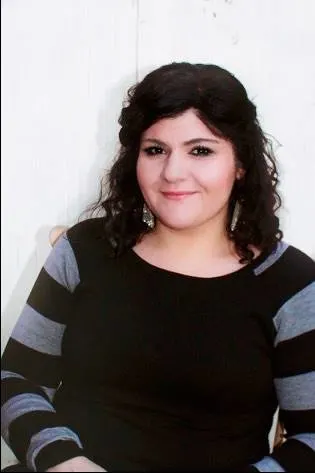 Melissa is a passionate minister, speaker and an ongoing learner of the Bible. She has been involved in church and vocational ministry for over 18 years. And is the founder of Think About Such Things. She has the heart to equip the saints by helping them get into the Word of God and fall more in love with Jesus. She also enjoys family, cooking, and reading.
She has spoken in churches in California, Oregon, Texas, and Mexico and has been featured in Guidepost Magazine and All Recipes Magazine. Read More…