In this article, we will continue our study of the names of God. This time we will be looking at Jehovah Rapha, what it means, and how we can learn that Lord is our healer. So, grab your Bible, and let's jump in…
Have you ever looked up at the skies at night to see the thousands of stars? You may even know the names of a few of the constellations. Do you know that God knows each one of the stars by name?
That is mind-boggling. There are many more stars than we can count, yet God has named each one. And if we look all throughout scripture, we will see that names are significant to God.
We also see a few instances where God sent messengers to earth to tell parents they will have a child and what to name this child. Names have meaning to God, so when He gives us a new name to call Him by, we must understand this name. One such name is revealed to the Israelites during their journey in the wilderness. This name was Jehovah Rapha.
With miraculous intervention from God, Moses led the Israelites through the red sea, and a few days later, the nation needed another miracle. They had no water! This happens in Exodus 15.
They wandered for three days without water. They were about to give up when they found a water source, but alas, the water was bitter and of no use to them.
Anger, fear, and frustration took hold of them. Their situation was desperate.
Again, the nation witnesses a miracle as God shows Moses a tree to throw into the water, and the water is restored.
The water is more than just palatable. The Bible tells us it is made sweet!!
What a faithful God we have. He didn't only make the water to be so-so drinkable. He made it delicious! In this setting, God reveals Himself as the God that heals or Jehovah Rapha!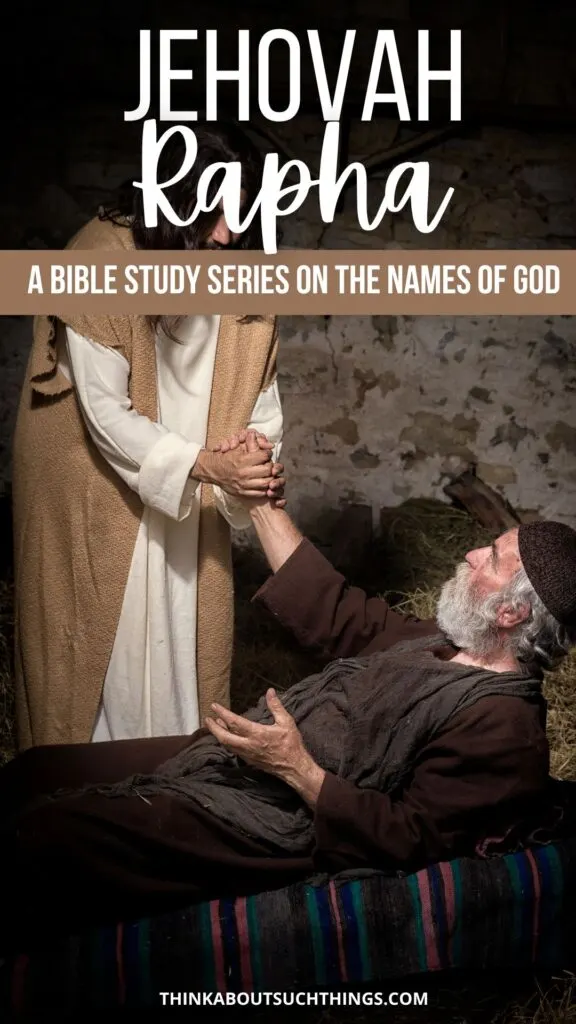 What Does Jehovah Rapha Mean In Hebrew?
In this account, we see how God heals the water by removing the bitterness, but there is so much more to learn about who Jehovah Rapha is!
But let's first just look at the name Jehovah. Did you know that Jehovah, also known as Yahweh, is believed to be God's personal name?
The Bible often translates it as "LORD," but it actually means "I am."
In Hebrew, Rapha or rāp̄ā' means to heal, to be a physician, to make whole, or to cure.
STRONGS CONCORDANCE

רָפָא râphâ', raw-faw'; or רָפָה râphâh; a primitive root; properly, to mend (by stitching), i.e. (figuratively) to cure:—cure, (cause to) heal, physician, repair, × thoroughly, make whole. See H7503.
It applies not only to the physical but also to emotional and spiritual healing. Rapha even refers to the restoration of a nation. God is the healer of all things!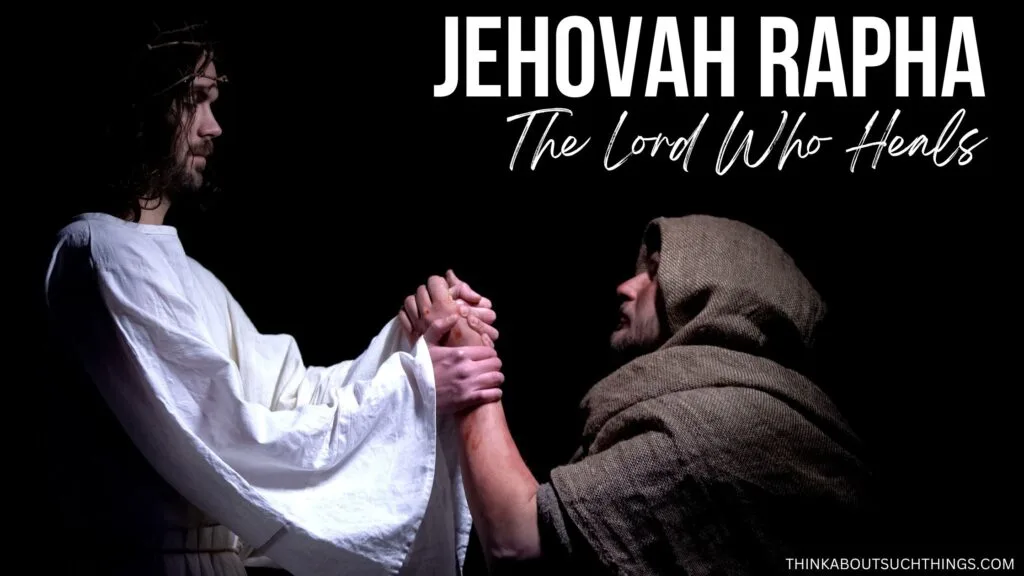 This one account in Exodus 15 is where God refers to Himself as Jehovah Rapha, but it is by no means the only place we learn about God's desire for us to be healed and well.
We read the word Rapha in various forms more than sixty times in the Old Testament. The Bible shows us a number of ways in which God would like to heal us. Then in the New Testament, we see Jesus and works of healing all throughout the scripture.
Areas In Our Lives Jehovah Rapha Heals
The Bible speaks about many aspects of healing when God's heart for healing is described. In Gen 20:17, we read about healing that entailed the restoration of fertility to Abimelech and his family.
When we think about healing, it is mostly healing of a physical nature. Healing from sickness, disease, and plagues. These forms of healing often entailed the use of herbs or anointing oils.
These medicines were created for us by the Great Physician to provide health and healing, as we can see in Ezekiel 47:12, where trees are described as providing food and medicine.
But I also believe that God can supernaturally heal people from sickness and disease, as we see all throughout the scriptures and in church history. We even see healings happening today!
But it's important to note that not all Illness is not always physical in nature, and Jehovah Rapha is also the answer to emotional pain.
In Psalm 147:2-3 David praises God for healing broken hearts and physical wounds. All of Psalm 147 sings God's praises for restoring Jerusalem.
The Lord builds up Jerusalem;
He gathers together the outcasts of Israel.
3 He heals the brokenhearted
And binds up their wounds. – Psalm 147:2-3
This is yet another aspect of Jehovah Rapha's healing nature.
He restores cities, countries, and nations. Healing and restoration are truly part of God's nature!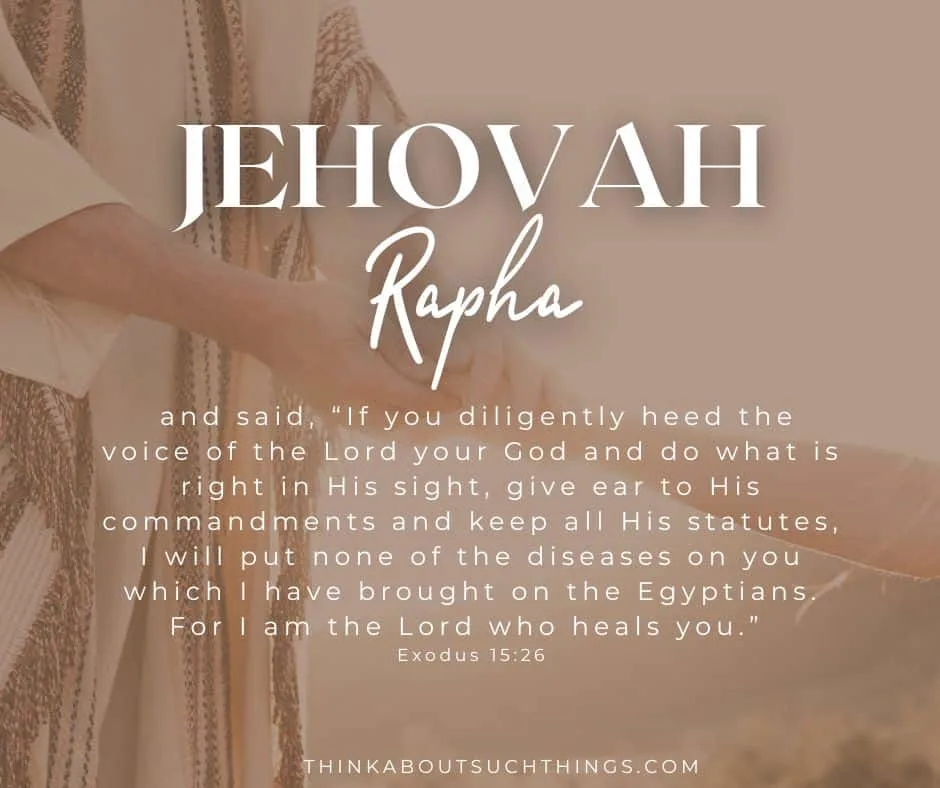 We read on two occasions how God restores water to good health. The first occasion is in the wilderness, where the bitter water is restored. The other instance is when God restores the water of Jericho to health through Elisha. (2 Kings 2:21-22)
Healing the water also restored the fruitfulness and productivity of the land. It is difficult to separate one aspect of healing from all its added benefits when healing comes from God.
Jehovah Rapha provides spiritual healing as well. We read in Jeremiah how false prophets teach a false sense of peace. By contrast, Isaiah foretells the true spiritual healing God would provide through His Son Jesus.
But he was wounded for our transgressions, he was bruised for our iniquities: the chastisement of our peace was upon him; and with his stripes we are healed. – Isa 53:5
Peter affirms this after Christ has paid the price for sickness and sin on the cross. Peter points out that Jesus' victory restored or healed our relationship with God. Hallelujah!!
Psalm 107:20 tells us that God sent His word and healed His children. We also learn that we are healed through prayer. Living according to God's guidelines also keeps us in good health. God truly provided healing in all aspects of life in a multitude of ways as our Jehovah Rapha.
So, just to recap, Jehovah Rapha heals:
Our Bodies Physically

Our Emotions

Our Spirit

Our Cities, Nations, and Countries

Jesus Showed The Nature Of Jehovah Rapha
In Colossians, Paul tells us that Jesus is the exact image of His Father in flesh form.
Jesus also tells us that He only does what He saw His Father do.(John 5:19) During His ministry on earth, Jesus performed many miracles.
He compassionately healed the sick, raised the dead, restored hope to the brokenhearted, and gave hope of the Good News to all.
He proclaimed His mission statement in Luke 4:18 when He reads from Isaiah.
"The Spirit of the Lord is upon Me,
Because He has anointed Me
To preach the gospel to the poor;
He has sent Me to heal the brokenhearted,
To proclaim liberty to the captives
And recovery of sight to the blind,
To set at liberty those who are oppressed;
Jesus set forth to show everyone His Father's true nature as a loving, caring God who wants to heal and restore all aspects of our lives. Jesus gave hope and healing to those with whom he came in contact while on earth.
In a sense, Jesus was a personification of Jehovah Rapha while He walked the earth. Jesus healed so much more than just the multitudes He ministered to two thousand years ago, though.
Jehovah Rapha In Our Lives Today
Let us return to the Israelites in the wilderness again for a moment. God teaches us a bigger lesson than just our need to trust Him when reading the account of the bitter waters of Mara.
We often have areas of bitterness in our lives that also need to be healed. Our relationship with God is marred by bitterness, just as the water at Mara was unpalatable and even bad for you.
Only through our Spiritual healing and restoration can our relationship with God be sweet and nourishing. The tree that restored the water in the wilderness symbolizes the tree that Jesus would be nailed upon.
The Blood Jesus shed on Calvary was to ensure we do not need to live in the wilderness without the Living Water of God in our lives!
By the Blood of Jesus, we have forgiveness for our sins. Sin is the cause of division between God and us, but Jesus healed that breach. While we may have temporary healing on earth because of Jesus' victory, we now also have the promise of eternal life.
Jesus provided the hope of good health here on earth, but now our souls may also prosper so that we may be in good spiritual health.
---
The Bible shows us the healing nature of God. From the first surgery in the garden of Eden, where God made a heavy sleep fall over Adam while He removed a rib, to the resurrection of Jesus and all the promises that accompany His victory over death.
God desires us to be well in every aspect, body, soul, and spirit. He wants us to have a close relationship with Him eternally.
While healing on earth is temporary because we live in temporary bodies, our Jehovah Rapha desires that we may have eternal life. To that end, He sent His son to die for our sins and the health of our eternal life with Him.
He promises us a future with no more death (physical illness) and no sorrow (emotional illness) or pain of any kind. Jehovah Rapha is our Healer yesterday, today, and forever.
More On The Names Of God Series
With so many names used to describe God throughout the Bible, it can be really interesting to delve into their deeper meaning. I've been digging in and studying this topic. And I have created a series of articles. I hope you enjoy them!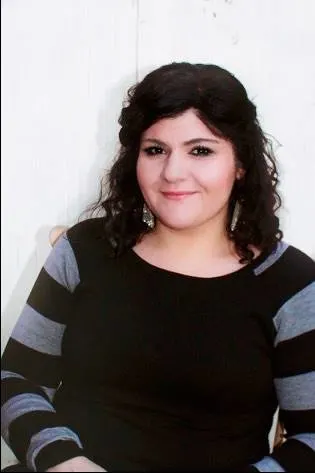 Melissa is a passionate minister, speaker and an ongoing learner of the Bible. She has been involved in church and vocational ministry for over 18 years. And is the founder of Think About Such Things. She has the heart to equip the saints by helping them get into the Word of God and fall more in love with Jesus. She also enjoys family, cooking, and reading.
She has spoken in churches in California, Oregon, Texas, and Mexico and has been featured in Guidepost Magazine and All Recipes Magazine. Read More…