In this post, I have created a selection of goodnight blessings you can share with a family member or friend. It's a great way to encourage someone and help strengthen their relationship with Jesus.
I love the idea of encouraging others with a quick quote or image. It's a simple way to share God's love and build someone up. And today we will look at some goodnight blessings! I have written these and created the graphics for you to share.
You can share them for personal use. This means on you can share them via social media, email, text, and such. If you would like to use one of my images or blessing quotes for commercial use on a website please contact me for permission and my policy.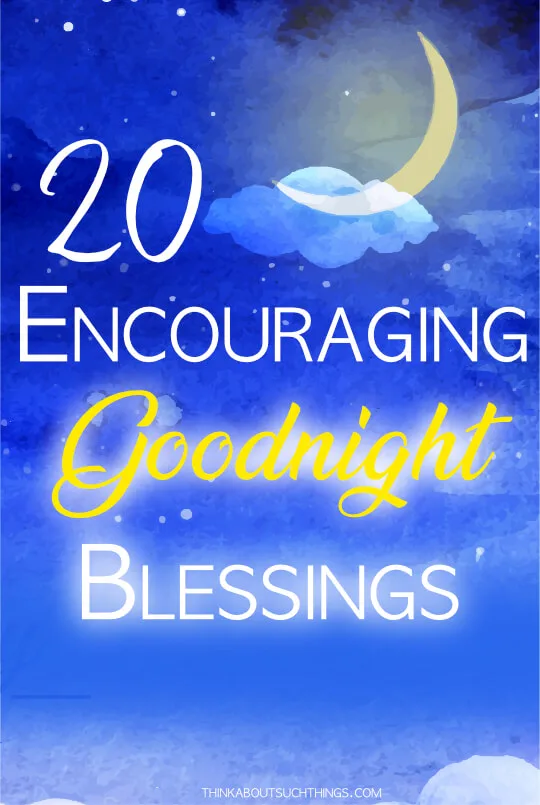 Don't forget to check out my Morning Prayers and Blessings as well!
Goodnight Blessings
Below you will find good night blessings quotes and images. To make things easier I have broken them up into sections. You can use this handy dandy table of contents to help you jump to the sections you want to check out.
Side Note: These are blessings so they will be religious and since I am a Christian they will have Biblical themes in them.
Good Night Blessing Quotes
Good night dear one, may the Lord bless you and keep you always.
May the Lord bless you with peaceful sleep and sweet dreams.
May you have a sweet night, full of peaceful rest in the Lord.
Jesus said, "come to me, all you who are weary and burdened, and I will give you rest." I pray that tonight you will experience His supernatural rest. (Matthew 11:28)
Good night, may the Lord give rest and peace of mind as you sleep.
May the Lord lie you down in peace and sleep, for He alone, makes you dwell in safety. (Psalm 4:8)
God bless you as you go to bed tonight. May you dream of His goodness and love.
Many many blessings for He grants sleep to those He loves. (Psalm 127:2)
As the day ends, I pray that the Lord richly blesses you. That all your worries and cares would be left at the feet of Jesus so that you may walk in God's peace.
May the Lord sing over you as you sleep. God bless…
Have a blessed evening and night. May tomorrow be filled with joy and laughter.
Many blessings to you tonight, may all the stresses of the day be laid at the feet of Jesus and that you will find your strength in Him.
Good night my beloved may tomorrow be filled with God's blessings.
Goodnight sweet one, may God wrap you in His arms as you sleep.
Many blessings to you my (noun). May you sleep in peace and find comfort in Jesus.
Goodnight Blessing Images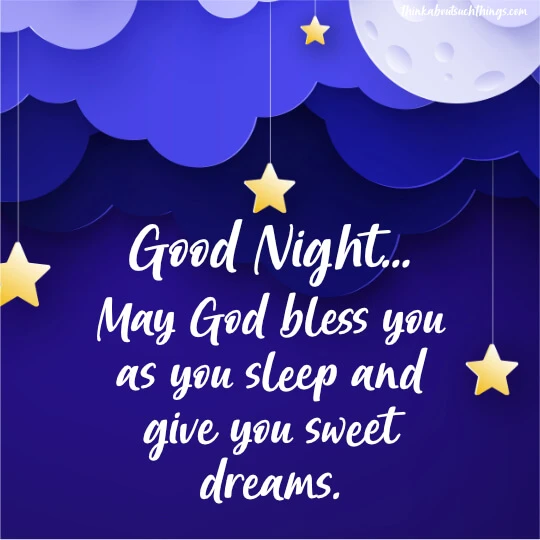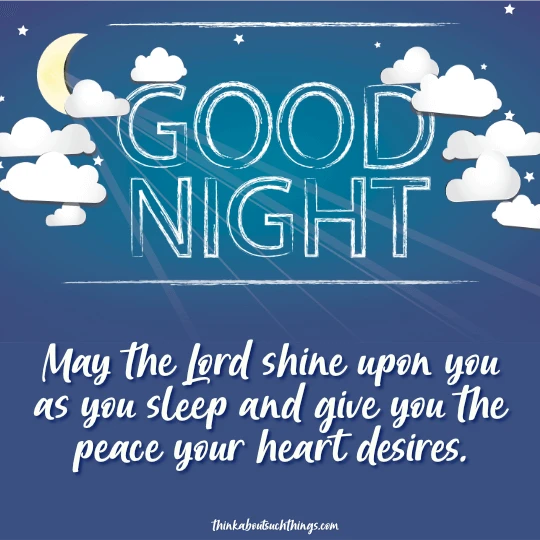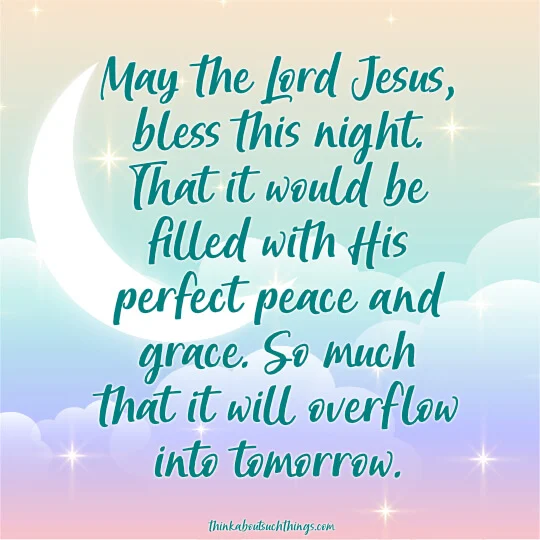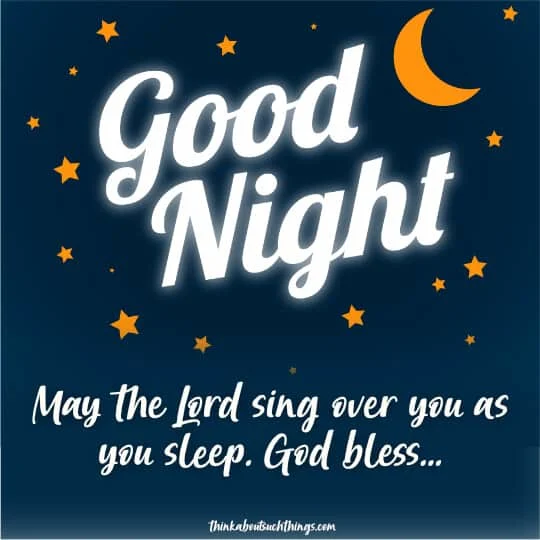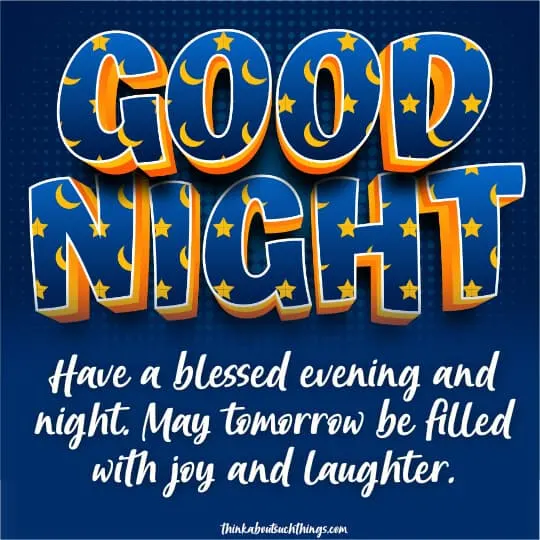 Goodnight Blessing For Family and Friends
May all your family have a splendid evening and a peaceful night.
May the Lord surround your family with His angels to protect and watch over them. Many Blessings.
Precious Jesus, let this family sleep in peace and awake with peace in their hearts and minds.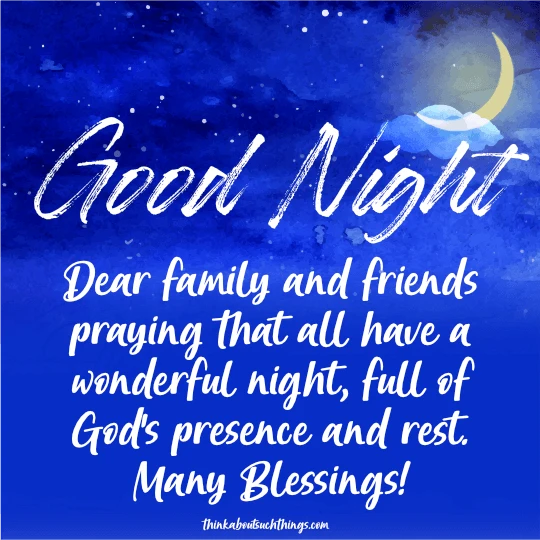 Blessings tonight! May God keep your family in perfect peace.
Family and friends praying that all have a wonderful night, full of God's presence and rest. Many Blessings!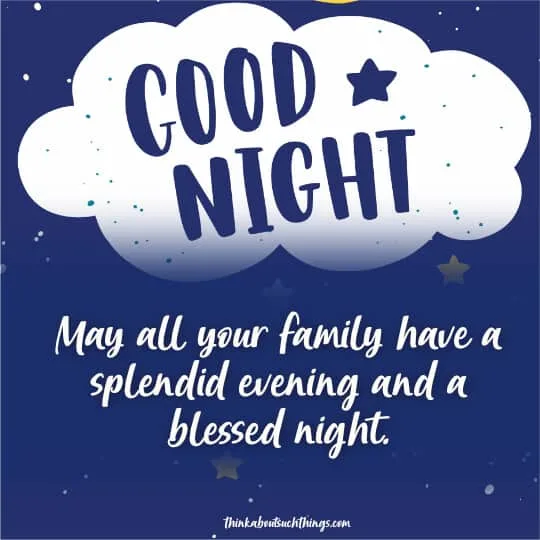 Bible Verses for Goodnight Blessing
Sometimes the best way to bless someone is straight out of the Word of God! Here are several scriptures you can share with those you pray to have a good night.
---
Psalm 127:2 NIV – 2 In vain you rise early and stay up late, toiling for food to eat–for he grants sleep to those he loves.
Psalm 4:8 NIV – 8 In peace I will lie down and sleep, for you alone, LORD, make me dwell in safety.
Isaiah 26:3-4 NIV – 3 You will keep in perfect peace those whose minds are steadfast, because they trust in you. 4 Trust in the LORD forever, for the LORD, the LORD himself, is the Rock eternal.
Proverbs 3:24 NIV – 24 When you lie down, you will not be afraid; when you lie down, your sleep will be sweet.
Psalm 91:1-2, 4 NIV – 1 Whoever dwells in the shelter of the Most High will rest in the shadow of the Almighty. 2 I will say of the LORD, "He is my refuge and my fortress, my God, in whom I trust." … 4 He will cover you with his feathers, and under his wings you will find refuge; his faithfulness will be your shield and rampart.
2 Timothy 1:7 NIV – 7 For the Spirit God gave us does not make us timid, but gives us power, love and self-discipline.
James 4:8 NIV – 8 Come near to God and he will come near to you. Wash your hands, you sinners, and purify your hearts, you double-minded.
John 14:27 NIV – 27 Peace I leave with you; my peace I give you. I do not give to you as the world gives. Do not let your hearts be troubled and do not be afraid.
Philippians 4:6-7 NIV – 6 Do not be anxious about anything, but in every situation, by prayer and petition, with thanksgiving, present your requests to God. 7 And the peace of God, which transcends all understanding, will guard your hearts and your minds in Christ Jesus.
Psalm 121:1-8 NIV – 1 A song of ascents. I lift up my eyes to the mountains–where does my help come from? 2 My help comes from the LORD, the Maker of heaven and earth. 3 He will not let your foot slip–he who watches over you will not slumber; 4 indeed, he who watches over Israel will neither slumber nor sleep. 5 The LORD watches over you–the LORD is your shade at your right hand; 6 the sun will not harm you by day, nor the moon by night. 7 The LORD will keep you from all harm–he will watch over your life; 8 the LORD will watch over your coming and going both now and forevermore.
---
"Laugh and the world laughs with you, snore and you sleep alone." – Anthony Burgess
I had to throw in that quote, I just love it! Anyways…
I sure hope that these blessings were exactly what you were looking for! And if you would like you can leave me a comment below. I would love to hear how you used one of these good night blessings.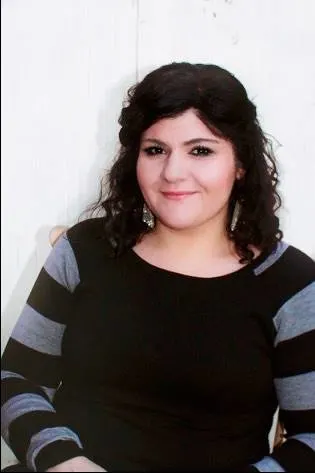 Melissa is a passionate minister, speaker and an ongoing learner of the Bible. She has been involved in church and vocational ministry for over 18 years. And is the founder of Think About Such Things. She has the heart to equip the saints by helping them get into the Word of God and fall more in love with Jesus. She also enjoys family, cooking, and reading.
She has spoken in churches in California, Oregon, Texas, and Mexico and has been featured in Guidepost Magazine and All Recipes Magazine. Read More…