In this post, I will share a collection of Monday blessings. You can use these written blessings for Monday or images to share with loved ones or you can even use them personally in prayer.
Do you ever find yourself feeling discouraged or struggling in your Christian walk? We've all been there, but don't give up! God is with you and wants to build you up.
He wants to pour out His blessings upon you. So, take a moment to go through these beautiful blessings and share them with someone who might be going through a difficult time right now.
Sometimes a small gesture like sharing a blessing can really make a difference in their day.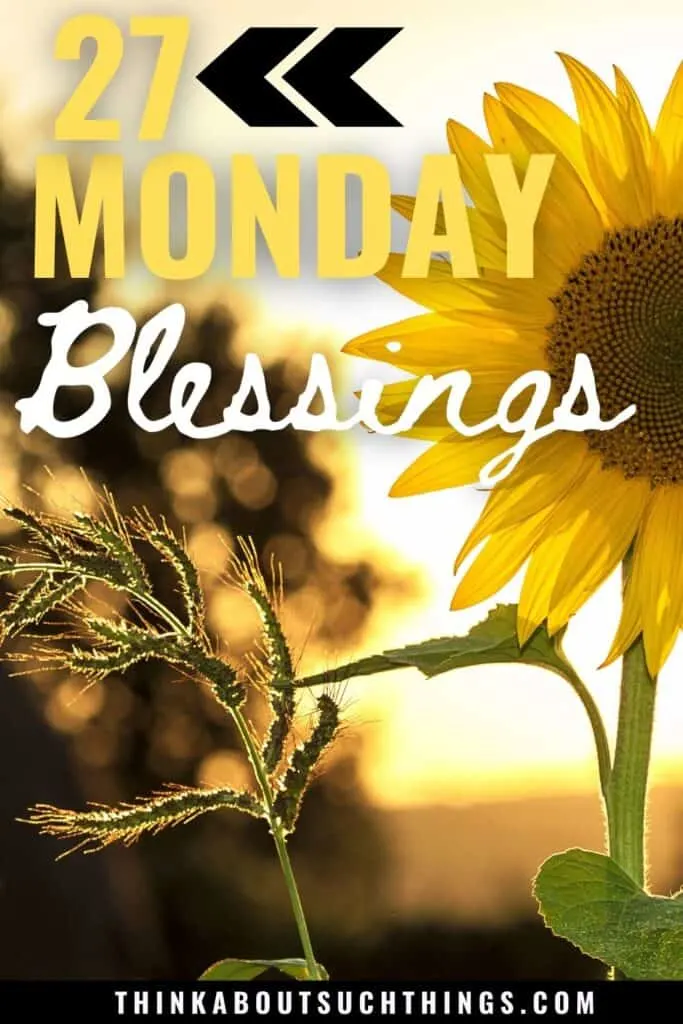 But before we dive into the blessings I want to share some fun ways you can use and share them.
5 Ways to Share Monday Blessings
You might have come across this post knowing exactly how you are going to use these Monday blessings. But I still think it's nice to stir the creative pot on different ways you use these. So, here are my top 5 favorite ways to use these blessings. Give one or more of these a whirl.
Share these Monday blessings via social media to a friend or family member. Go ahead and share any of these written blessings or images on your Facebook, Instagram, etc… They were created to bring encouragement.

Send a blessing via email or text. This can really lift someone up and brighten their day.

Write a blessing out on a card or sticky note. (for Birthday blessings please click here)

Use these blessings in your prayer time. Even though they are short they can stir you up to pray. (Click here for Monday prayers)

Write a blessing out on a gift. These would work great in a journal, book, Bible, or artwork.
Monday Blessings (General)
Below is a collection of what I call general blessings. These Monday Blessings can be used for any time of the day. If you would like to check out prayers…click –> Monday Prayers
I pray God blesses you this Monday with comfort and protection. That He would hear your prayers and swiftly answer them.
This Monday, I pray God blesses you with joy that overflows. That it would be filled with laughter and His grace.
Blessing to you this Monday! May the Lord bless you with His love and mercy more than ever. Today, I pray He showers you with His goodness as a gift of grace.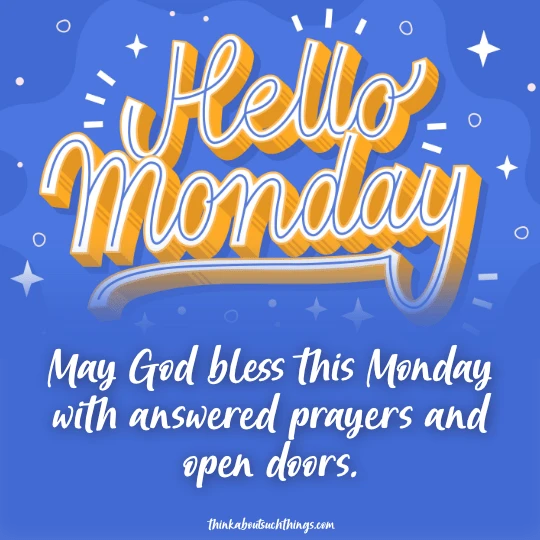 May God bless this Monday with answered prayers and open doors.
I pray that God blesses you with a tender spirit, soft heart, and gentle hands to touch others this Monday.
May the Lord hear your request this Monday. That His will would be done in your life and that you would experience His perfect peace.
Blessing to you this Monday! May God give you favor today and all days ahead. That He would guide you through any obstacle with wisdom and strength. May
God bless you with peace and joy from above this Monday.
May the Lord bless you with His perfect love this Monday! That you would know Him more and have His grace in abundance every hour today.
God bless you this Monday! That He would give you an unshakeable peace and a steadfast hope. May God's favor be upon your life today.
Blessing to you this Monday! I pray the Lord blesses you with His tender mercies, grace, and love. May His presence be felt through our prayers today and always.
God bless you this Monday and your loved ones who mean so much to you. That God would protect you from all harm. May His angels watch over you all.
Monday Morning Blessings
Below is a collection of Monday morning blessings. For more morning blessings please visit: Uplifting Morning Blessings
May God bless you this Monday morning with His love, favor, and grace.
Happy Monday Morning! May the Lord grant you the grace you need this day. May He guide you and give you wisdom. Happy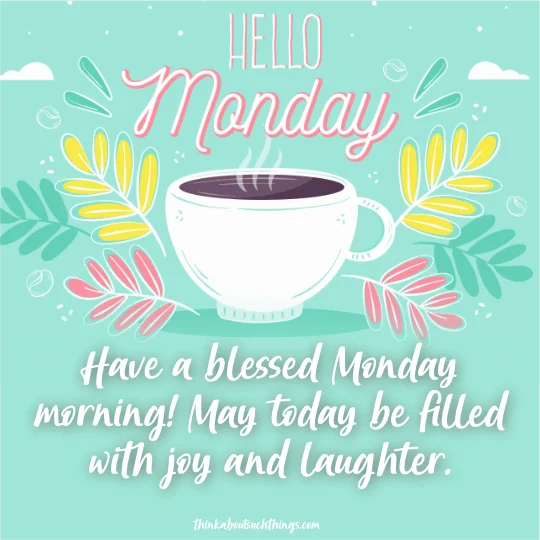 May the Lord bless you and keep your heart. May He shine upon you with His love, grace, and goodness. Happy Monday Morning!
May God bless this Monday morning and as you go through each day of this week. May His great love, kindness, and blessings be poured out upon us all.
Good Morning! Many blessings to you this Monday morning. May His peace and grace be with you as you have a blessed and productive day. May He bless you beyond measure.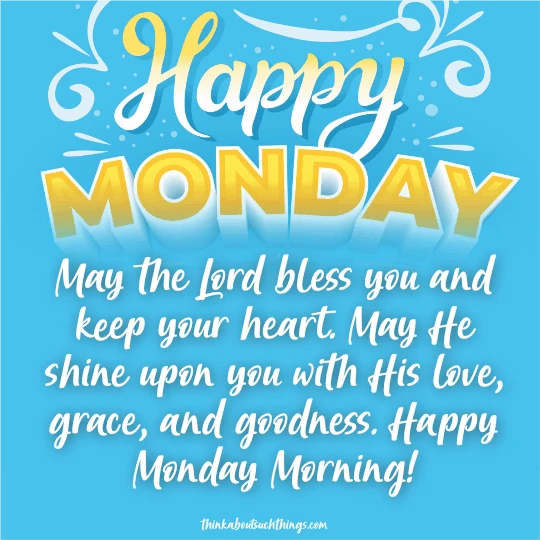 This Monday morning, I pray that Jesus will give you favor and increase your faith in Him.
Let this Monday morning be blessed by God. May your mouth be filled with praise and worship towards our Lord and Savior.
Monday Night Blessings
Below is a collection of Monday night blessings. For more night blessings please visit: Inspirational Morning Blessings
This Monday night, I pray God blesses you and protects you as you rest in Him.
May the Lord bless you this Monday night with His sweet love and grace.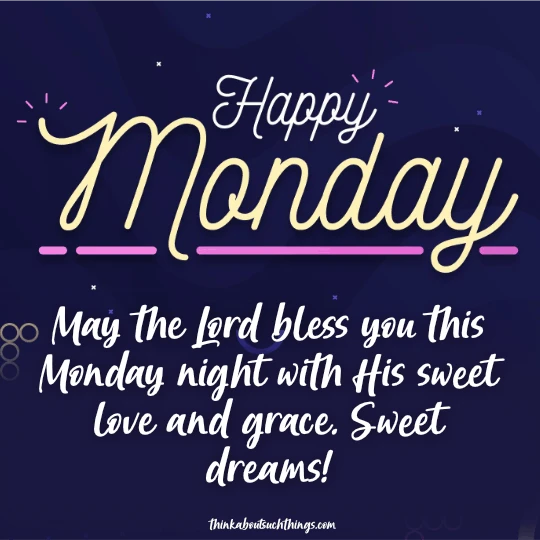 May God bless this Monday night with perfect peace and rest in Christ Jesus.
I pray that the Spirit of God will comfort, heal and strengthen you during this Monday night.
I pray that the Lord will surround you with His presence, love, and grace this Monday night.
God is always by your side to guide you through the storms of life. I know He has got a plan to turn every difficulty into something wonderful in your life.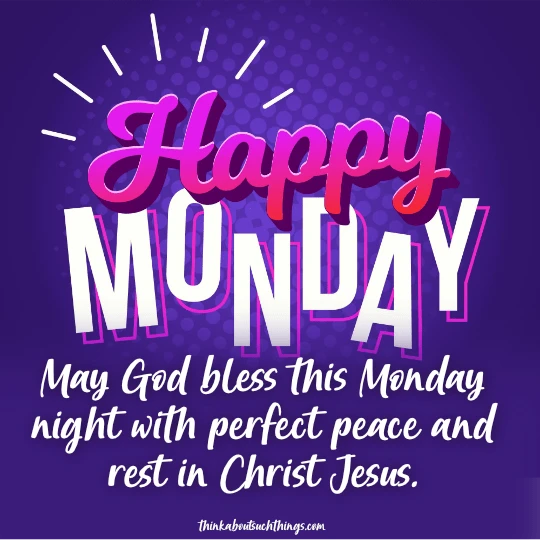 May our Lord Jesus bless you this Monday night and your week with renewed faith in Him.
I pray that as you rest in the Lord, He will fill you with His peace and joy this Monday night. Amen.
More Daily Blessings
Need a little inspiration throughout the whole week? Well, now you can check out blessings for any day of the week! And make sure to bookmark this page! This way you can quickly find the right blessing you want to share whenever.
---
I hope these Monday blessings bless you and bring encouragement to whoever you share them with. And If this post has helped you do just that please feel free to leave me a comment below.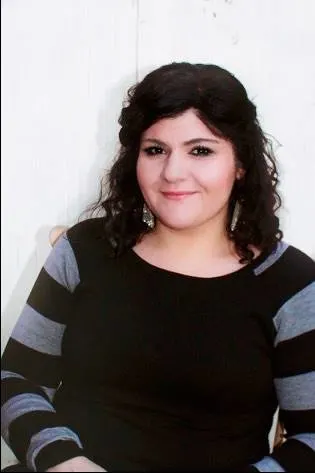 Melissa is a passionate minister, speaker and an ongoing learner of the Bible. She has been involved in church and vocational ministry for over 18 years. And is the founder of Think About Such Things. She has the heart to equip the saints by helping them get into the Word of God and fall more in love with Jesus. She also enjoys family, cooking, and reading.
She has spoken in churches in California, Oregon, Texas, and Mexico and has been featured in Guidepost Magazine and All Recipes Magazine. Read More…