Inspirational Morning Prayers to help inspire your morning with Jesus.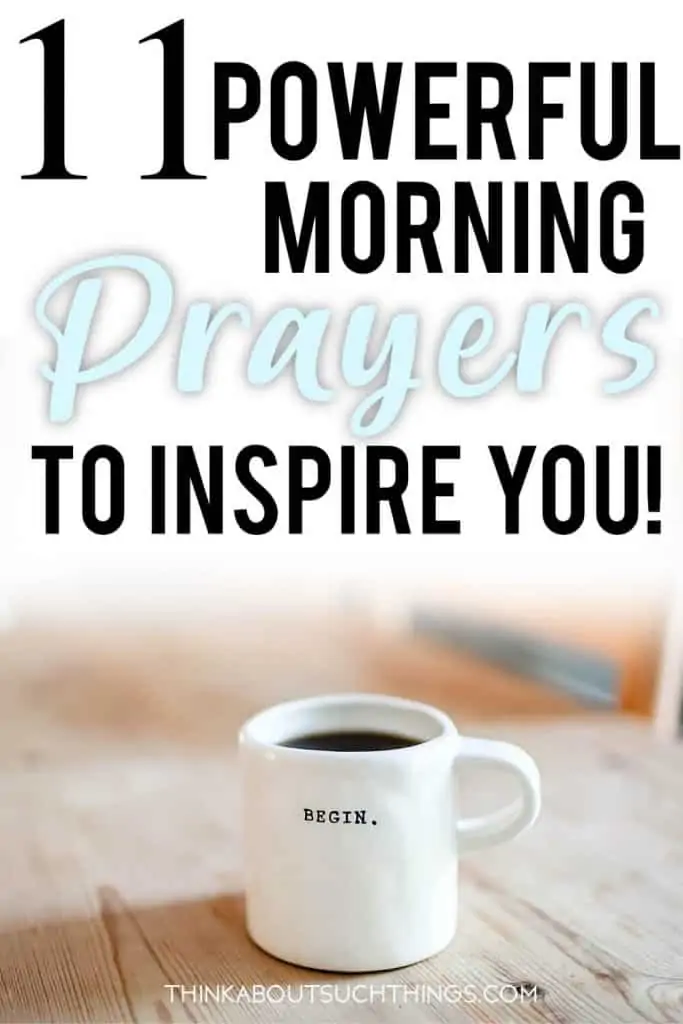 Every morning is a blessing from God. It's a fresh start of the day and it's an opportunity to partner with the Lord. And one way we can initiate it is by having a morning prayer time.
But there are times when we are not sure what to pray or we feel like we are stuck in a routine. Always praying the same things every day.
One of the ways we can get out of that rut or cure not knowing what to pray is by stopping and listening to the Holy Spirit. Many times He will bring someone or something to your remembrance and you can pray from that starting point.
And another way is by reading the prayers of other saints! So, today I want to share 11 morning prayers with you.
Below is a table of content sharing the prayers. You can click to the prayer that stands out to you or read through a few to them. They do range in topic.
My prayer is that they inspire and bless your daily morning prayer with the Lord.
Morning Prayers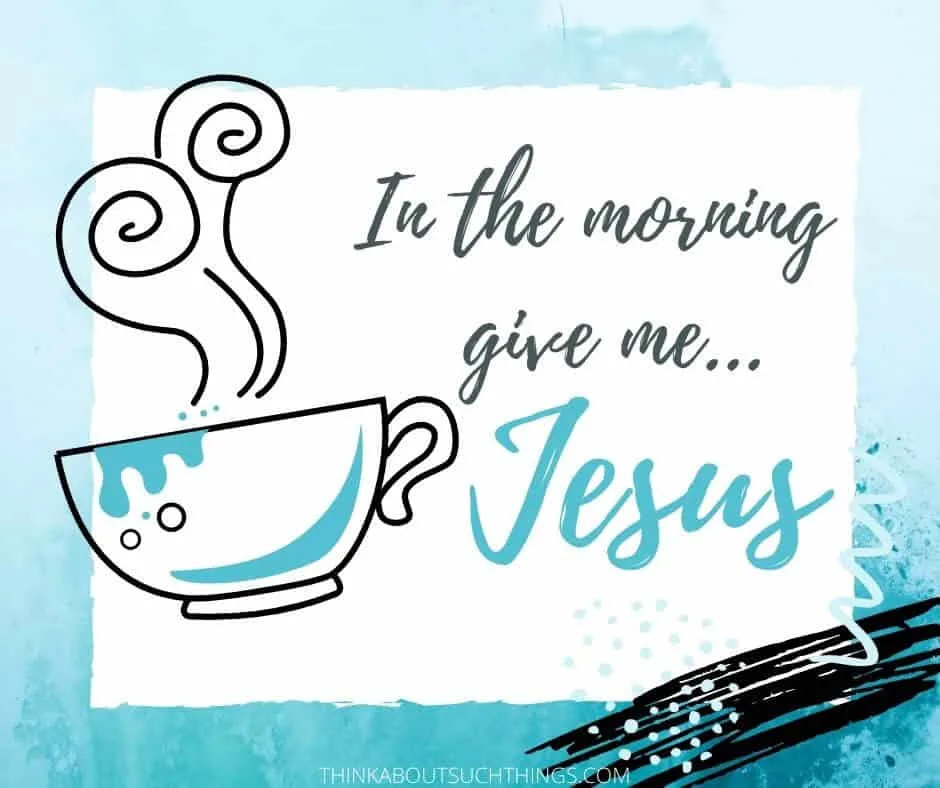 Before starting I do want to share a couple things. If you have been around Think About Such Things you will know I am not a big fan of just reciting someone else's prayer.
I firmly believe prayer should be personal (from the heart) and unique between you and the Lord. But you can use these prayers a spring board for your own personal prayers. Let the Holy Spirit lead you and your prayer time will be filled with His presence and goodness.
By the way all the prayers below are from individuals I personally know and feel that they have something to impart to the body of Christ. I share a morning prayer I have written in my article: Good Morning, God: The Power Of Praying In the Morning.
Morning Prayer For New Mercies Every Morning
Dear God, thank You for your new mercies every morning. You are so compassionate and kind, it is beyond measurable to grasp the greatness of your love over our family. We declare Your promises and blessings over our family — promises to prosper us and not harm us; blessings to give us hope and a great future.
You never fail and we worship Your goodness in our lives. We ask for blessings in our finances, blessing in our health, blessing in our family unity, blessing in our relationship with friends and most importantly, blessing in our relationship with You.
May all of these blessings be a reflection of Your goodness to those around us. That they may see how real and beautiful You are. In You loving name we pray, Amen.
Jeremiah 29:11 New International Version (NIV)
For I know the plans I have for you," declares the Lord, "plans to prosper you and not to harm you, plans to give you hope and a future.
Lamentations 3:22-23 Amplified Bible (AMP)
It is because of the Lord's loving kindnesses that we are not consumed, Because His [tender] compassions never fail. They are new every morning; Great and beyond measure is Your faithfulness.
Prayer by Ana Yokota (anayokota.com)
Morning Prayer of Surrender and Protection
Lord, thank You for this day. I exalt You above everything this world has to offer me. I exalt You above my schedule, my plans, above my husband, above my children and above myself. I surrender my plans to You and surrender my day to you.
Have Your way and may Your will be done and accomplished on earth as it is in heaven. Thank You for being with me. Holy Spirit, lead me and guide me in your ways today. I put on the full armor of God to protect me from the enemy: the helmet of salvation, and the breastplate of righteousness, the belt of truth, and the shoes to walk in the Good News. I hold up the shield of Faith and the sword of your Word, In Jesus name.
Give me wisdom in my decision making and conversations. I ask that you would give me patience with my children and lead me and guide me in my relationship with them. Help me to be kind and gentle and to discipline and teach according to Your ways.
I cover my home, family, and marriage with the blood of Jesus. I thank You for being with my kids and my husband. Thank You for protecting each one of us today. I love You and I praise You and I thank You for what You've given me and what You have withheld from me. In Jesus name I pray, amen."
Prayer by Braden Dresbach (brayrenee.com)
Asking Jesus To Fill My Heart
Jesus, I love you. Fill my heart with everything I need for today.
If its strength, strength…
Courage, courage…
Peace, peace…
Safety, safety…
Comfort, comfort…
You know all the unknown unseen things that lay ahead. I trust you with my future. In Jesus Name, Amen.
Prayer by Natalie Mayer (ohheydating.com)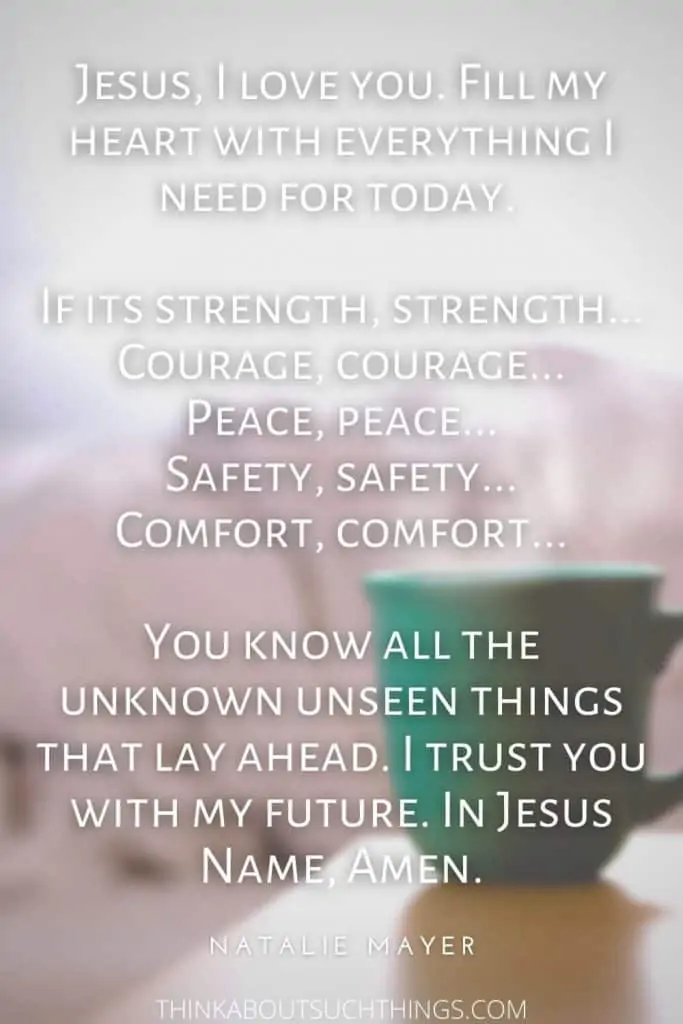 Morning Prayer for Hope To Arise
Lord, today I choose to trust you and not my own understanding. You are my everlasting rock, my stronghold, and my dwelling place. Thank you that I get to abide in your Presence each and every day. You are better than life itself. I wait on you.
Let hope arise in my heart, my community, and this world. Let truth be known, but most of all – let love triumph over hate. You are the good news that the world needs to hear. Show me how to be your vessel today, to bring your love wherever I am and whoever I'm with. I praise you for the great things you've done and the great things you're now doing. I know and choose to believe that good things are ahead. Thank you for being INCREDIBLE at making lemonade out of lemons. I love you with all my heart. Be lifted high in my life today.
Prayer by Stephanie Foster, Worship Pastor at Life Church (lifechurchsalem.com)
Morning Prayer For A Good Day
God, I look to you this morning. This is the day you have made and I will rejoice and be glad in it! Thank you for another beautiful day, for grace, and this life. Please come and pour out your Spirit on me. Saturate my mind, heart and body with your presence and truth. Be my rock and peace throughout the day.
Jesus, what do you want to do today? Where will we go and what will we do? I know you have good plans for me and have called me by your name. Help me to walk in love and be a blessing to everyone I encounter today. Thank you that you are with me and I have everything I need! I love you God. It's going to be a good day.
Prayer by Gabriella Harper
Morning Prayer for Your Husband
Dear Lord, I pray for my lover, my best friend, my husband. Thank You for the promises You have over our marriage. Promises to prosper us, give us hope and a bright future.
I pray that our relationship will sprout together towards You. Just like an isosceles triangle where my husband and I start on each corner of the base and you are at the top, may we grow stronger in love towards you as we grow stronger in love towards each other.
May the foundation on love be as strong as our foundation in You. Lord, I pray that you will give my husband strength as the leader of our household. I declare your favor and grace upon him at his workplace, social groups, and relationship with You. I declare this prayer for my man in the mighty name of Jesus, Amen.
Jeremiah 29:11-13 New International Version
For I know the plans I have for you," declares the Lord, "plans to prosper you and not to harm you, plans to give you hope and a future. Then you will call on me and come and pray to me, and I will listen to you. You will seek me and find me when you seek me with all your heart.
Prayer by Ana Yokota (anayokota.com)
Morning Prayer to Invite Holy Spirit In Your Day
Holy Spirit you are welcome in my day. No matter what it brings, I thank you that your peace rests on me. May I find you in my thoughts and feel you near. Thank you for your comfort and friendship. Thank you that your thoughts are great towards me! May my thoughts be great towards you!
Prayer by Natalie Mayer (ohheydating.com)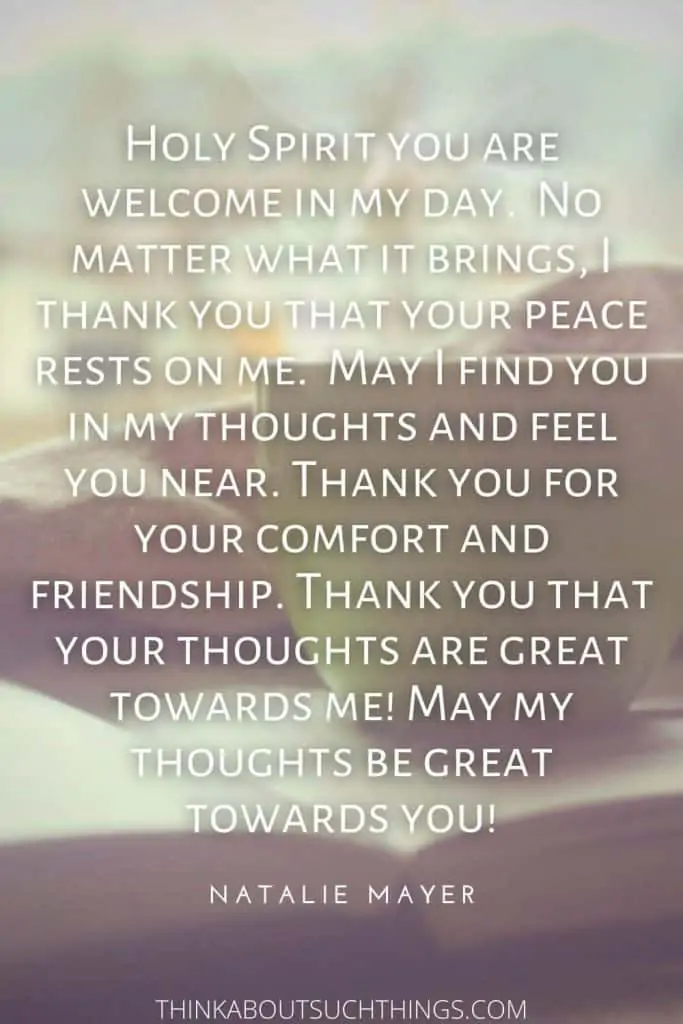 A Morning Prayer Of Thanksgiving
Holy Spirit, I invite you into this moment. I invite you into my day. Thank you for your presence. Thank you for your goodness. Thank you for being my helper, my comforter, my healer, my hope, and my strength. Thank you that you never leave me or forsake me- you are so faithful. Holy Spirit, what's on your heart today? (Listen). Holy Spirit, help me to partner with you today. Help me to hear your voice louder than any other voice. Thank you that I can rest in you. Thank you for your peace, your presence, and your overwhelming love. I love you Lord. Amen
Prayer by Vicky Sjolander
A Morning Prayer for Our Nation
Dear Father in Heaven, thank you for being who you are: holy, just, true, and perfect love. Thank you for what you are doing on this earth and thank you for taking care of me. I say yes to you and come into agreement and alignment with your plans and purposes. Use me, Lord, to bring heaven to earth. And now, Lord, I ask that you would speak through me to prophesy your purposes into existence.
Your light pierces the darkness. In your presence, darkness must flee. I invite your presence to dwell in my heart, home, sphere of influence, and every place that my feet touch the ground. I call for every evil thing in my country to be brought to light, for it to be confronted, dismantled, and its power over people to be dismantled. I command all lies, manipulations, and schemes of the enemy in the virus situation to be exposed, confronted, and dismantled.
I release repentance, first over the people who are called by your name and second, over the people who are not yet called by your name. I call for many sons and daughters to be awakened to your spirit and truth and to repent and turn to you. I call for wholehearted allegiance to you and for righteousness and truth to be established in my country. I call for evil leaders to be exposed and to be moved to repentance or be removed from office. I call for righteous leaders to be established.
We turn to you with all of our hearts, souls, minds, and strength. We commit all of our ways to you. We dedicate our children to you. We dedicate our homes to you. We dedicate our schools to you. We dedicate our country to you. We welcome you into our public squares and into all areas of society: government, media, education, art, entertainment, science, and technology. We ask that you would purge wickedness from each of these institutions and would establish righteousness. We call for oppressive governmental leaders hand the reigns over to you and righteous leaders. We call for oppressed people to be set free.
We call for the slaughter and exploitation of our children to end. We hear their blood crying from the ground. We repent for allowing this evil in our land. We say, "Not on our watch." We unite and say, "We return to you, our God, and in partnership with you, we will drive this evil out of our land." We ask that you would remove the curse from our land and that you would establish your blessing. We commit to stewarding your blessing in accordance with your will. Amen
Prayer by Marlene Slabaugh
A Morning Prayer To Be Aware Of God's Voice
Father God, I just thank you for what you have planned for me today, I pray for protection over myself and those around me in this chaotic time. I pray your presence surrounds me and speaks to me throughout the day, help me be more aware of your voice when I feel overwhelmed or sad or even angry throughout the day.God I just thank you in advance for the blessing you have planned for me. Help me radiate your love and goodness.
Prayer by Giovanni Tumino (ohvannimedia.com)
A Morning Prayer Reminding You Who You Are
Father, my king, I wake up every morning to your smile a me over me and through me. I am your beloved. I'm your redeemed. You call me by name. I am yours, my closest friend, my sweet love. You know me, all of me. You make me safe, comforted, and I know all your promises are yes and amen for my kids and grandkids.
In Jesus mighty name I pray for the release of heaven to fight all the battles over my family. Your kingdom come, Your will be done in my family, peace, truth and power for each person. Thank you for heaven's power. Amen.
Prayer by Lyndi Jenkins
More On Mornings with God
If you are on a journey to grow in your morning routine with Jesus. Then I encourage you to check out my other articles on the topic! I hope they bless you!
---
There you have it! My hope is that these morning prayers have blessed you and caused a hunger to stir in your heart to pray in the morning. God desires to meet with you and pour out His blessings upon you.
Feel free to drop me a comment. I would love to hear all about what God is doing in your life and what you are learning about morning prayer.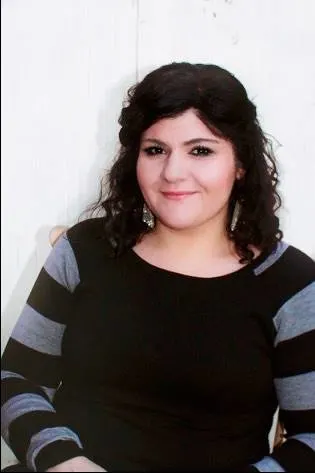 Melissa is a passionate minister, speaker and an ongoing learner of the Bible. She has been involved in church and vocational ministry for over 18 years. And is the founder of Think About Such Things. She has the heart to equip the saints by helping them get into the Word of God and fall more in love with Jesus. She also enjoys family, cooking, and reading.
She has spoken in churches in California, Oregon, Texas, and Mexico and has been featured in Guidepost Magazine and All Recipes Magazine. Read More…