In this guest article we will hear from Maree Dee. She is going to share practical was you on How to trust god in difficult times and seasons. So, come with an open heart and Bible! Let's get started…
When life starts spinning out of control, and painful unanticipated circumstances begin to weigh you down, do you struggle to rely on the Lord?
Do you fret and worry?
Or perhaps, like me, you jump in eager to fix the hardship and attempt to take on the role of savior, only to bring about more disappointment and pain. Discover today how to trust God in difficult times and seasons.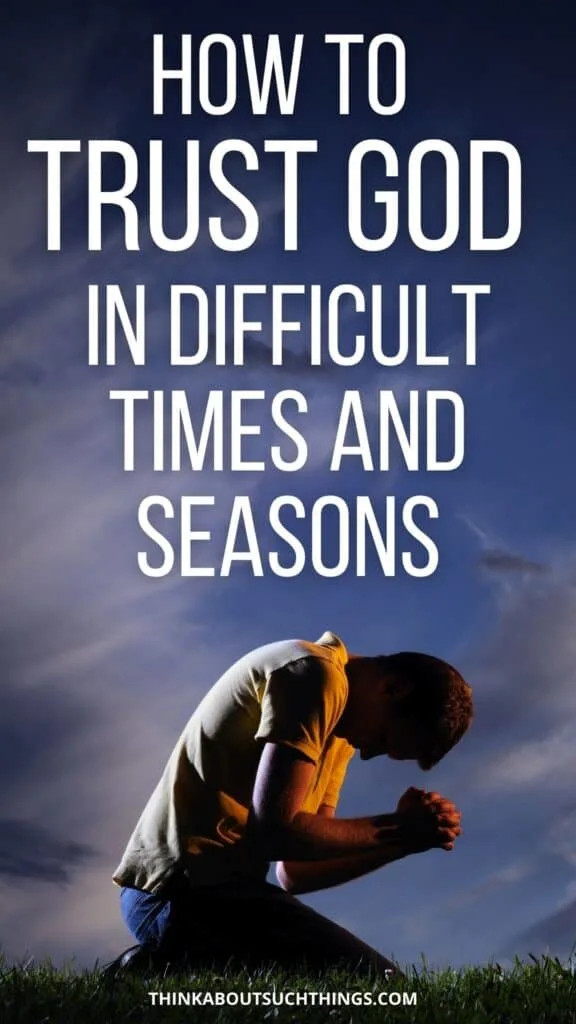 When I Learned How to Trust God
I remember the day well as I drove to church with tears streaming down my face, stunned over our family's current circumstances. Thoughts were swirling in my head so quickly it was hard to follow them.
Had I been a bad mom?
Did God not care?
How could I hang on to my faith if God chose not to answer my prayer?
Tormented by fear, guilt, and dread, the fight to survive had left me weary. Yet, it wasn't my survival that was the concern. My precious child had been diagnosed with a mental illness and every day brought more suffering, and the future looked dire. My strength was bleeding out of me.
In Need of Help
Desperate for help and support, I parked the car, swallowed my pride, and stepped out of my car. Slowly I shuffled towards the office of my pastor and his wife. Since my child was involved, I had moved way past wanting to look good as a parent and was willing to lay it all out in hopes that something they said would give me the strength to keep moving forward.
Plus, I believed in the power of prayer. And the more people willing to pray, the better. Right? My words spilled out as I shared the ugly hard truth. It felt as though I was sitting with Jesus as they compassionately nodded and validated my feelings.
Then, my words stopped, and our meeting took a surprising turn. After listening intently, our Pastor John leaned in and spoke without wavering, "Maree, you have to decide upfront if you will trust God."
At first, John's words seemed absurd. After all, he knew my faith was strong, and it had carried me this far. Of course, I trusted God. But then he went on.
Trust is a Decision
"Maree, you have to decide—will you trust God and rely on your faith even if the results are not what you want? Will you trust Him if illness remains? How about if death occurs?"
Yikes, perhaps my trust was not complete. John didn't want me to answer on the spot. Instead, my Pastor suggested that I ponder my willingness to put my complete trust in God? I contemplated, had I put my trust in God, or did I solely have faith if He did it my way.
Try asking yourself those questions; they might help you see where your conviction stands. That night, through anguished pleas, I uttered the painful words that came from my heart and mind–
"I will trust you, God, if healing comes, if illness remains, and even if death occurs."
Of course, our stories will vary, but the choice remains. Will we put our trust in God one hundred percent regardless of the outcome? Will we have faith in His way and not ours? It isn't always easy putting our complete trust in God. Most likely, like me, you will waiver from time to time. Below are six steps to help you trust God in difficult times and seasons.
How to Trust God in Difficult Times and Seasons: Six Steps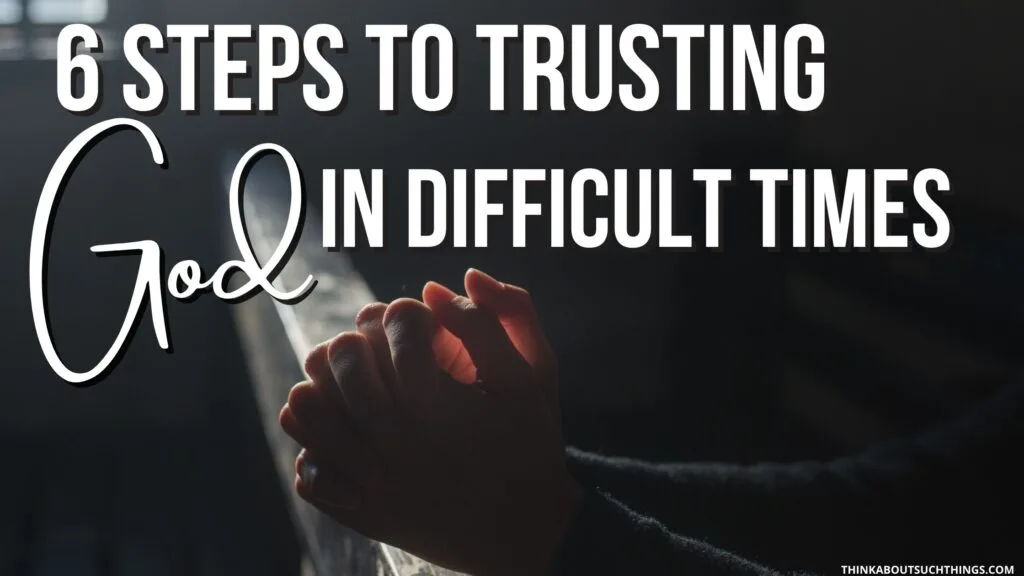 1. Make a Decision to Trust God
We must choose to trust God no matter what, believing He will be with us every step of the way. Our decision is not contingent on the outcome. Nor do we have to like our circumstances. However, we decide up front that we will trust His plan, strength, and timing, not our own. For we walk by faith, not by sight. (2 Corinthians 5:7 ESV) It helps to say it aloud, "I will put my trust in God."
2. Draw Close to God
Find ways to deepen your connection with God. Invest time pouring out your heart, learning about His character, and listening for His voice. Don't be afraid to open up and divulge your innermost feelings of disappointment, anger, and pain. The Lord can handle all of our emotions, and it will draw us closer to the one who can help. Plus, don't forget He already knows what's in our hearts. God can handle our brutal honesty. He is big, powerful, and gracious enough to absorb any emotion we might express. O my people, trust in him at all times.
Pour out your heart to him, for God is our refuge. (Psalm 62:8 NLT) Sometimes in a tough season, we may not feel the presence of Jesus, and we must rely on what we know—we are not alone.When we know the Lord intimately, a trusting relationship will form, and it will be easier to put our faith in Him. After all, isn't that how it is in relationships? Aren't acquaintances hard to trust?
3. Remember What God Has Done
Recall all the ways God has shown up for you in the past. Where did He answer prayers? When did He help someone you love? Sometimes, it is hard to remember when we are deep in our pain. Keeping a record of God's faithfulness can serve as a great tool. At the top of your paper, write "I will remember…" and let your mind wander as you jot down the ways God has helped. Psalm 77 is a great place to see how Asaph grapples with God.
He starts by crying out to God and ends with him not only remembering what God has done but putting his trust in the Lord, even amid arduous circumstances.
"I will remember the deeds of the Lord; yes, I will remember your miracles of long ago." -Psalm 77:11 NIV
4. Surrender Your Burdens
Sometimes we hold so tight to the pain and the struggle we carry that we fail to recognize we haven't released control. If we don't let God have the responsibility, our faith is not in Him; perhaps it is in ourselves.
Letting go is a hard step and must be frequently evaluated; after all, a burden released is easy to snatch right back up.
Cast your burden upon the Lord, and He will sustain you; He will never allow the righteous to be shaken. – Psalm 55:22 NASB
Put Your Cares in the Moses Basket
My sweet friend frequently asks me, "Did you put your cares in the Moses basket?" Jochebed carefully placed her baby Moses in a basket and sent him floating down the Nile river.
She trusted God would provide, and He did. It might help to visualize placing your difficulties in a basket and floating them down the river with God in control.
>> Learn how to Let Go, and Let God…
5. Recognize Our Limited Perspective
Only the Lord knows what tomorrow brings. Our snapshot of life is limited, and God has a broader perspective—nothing takes Him by surprise. He knows the plan and has our best interest in mind.
"For I know the plans I have for you," declares the Lord, "plans to prosper you and not to harm you, plans to give you hope and a future. – Jeremiah 29:11 NIV
Frequently, I say, "Lord, I have no idea why you would allow such pain, I don't like it, but I will choose to put my trust in you.
6. Remain Confident in God
God will protect, defend, deliver, and most important, He will never leave us alone. Stay confident with eyes fixed on Jesus and remember—God will fight for us!
I remain confident of this: I will see the goodness of the Lord; in the land of the living. – Psalm 27:13 NIV
When Our Trust Slips Away
All too often, as we walk through the unthinkable, we find ourselves clenching our hands tight, worried about tomorrow, or taking on the role of savior. These are signs that perhaps our trust is wavering. When this happens, it is time to go back to step one and remind ourselves we already chose long ago to put our trust in God. We all will face challenges we never envisioned—no one is immune.
However, those who put their assurance in the Lord will find an unexplainable peace that transcends all understanding. Yes, the hardship may remain; love and peace will flow to us right in the middle of our difficult time and season. However, don't let me convince you; go ahead and give trust a whirl.
And the peace of God, which transcends all understanding, will guard your hearts and your minds in Christ Jesus. – Philippians 4:7 NIV
Although we are humanly limited, we are not powerless in our difficult seasons. We have a choice on how we will persevere through the unthinkable. Will you decide to trust God with all of your heart and mind?
Trust in the Lord with all your heart; do not depend on your own understanding. Seek his will in all you do, and he will show you which path to take. – Proverbs 3:5-6 NLT
What helps you to trust God in difficult times and seasons?
Maree has a gift for you—a powerful prayer workbook that includes worksheets using the acronym T.R.U.S.T. and more. Visit Embracing the Unexpected | Maree Dee to request your copy.
About the Author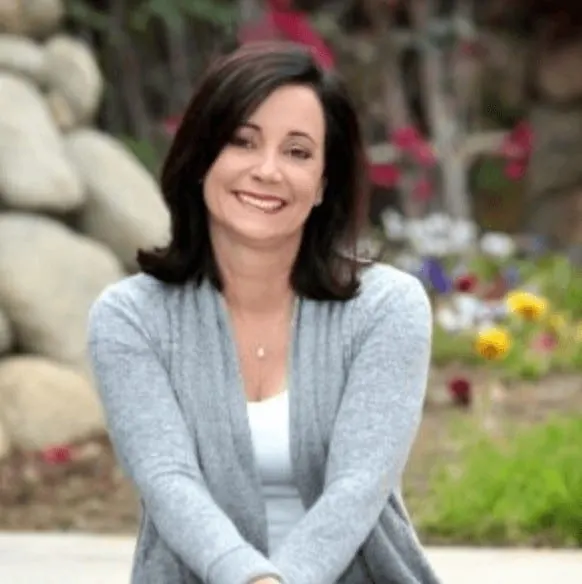 Maree Dee is a Writer | Speaker | Mental Health Advocate | Ministry Leader—passionate about encouraging and equipping others to embrace life in the midst of the unexpected. She is a warrior who doesn't give up when life gets tough. Maree believes, together with God, we can all find incredible joy along the way, even when surrounded by tremendous pain.
Drop by and visit Maree's on Embracing the Unexpected. You can also connect with her on Facebook, Instagram, Pinterest, Twitter, and Embracing Faith and Mental Illness.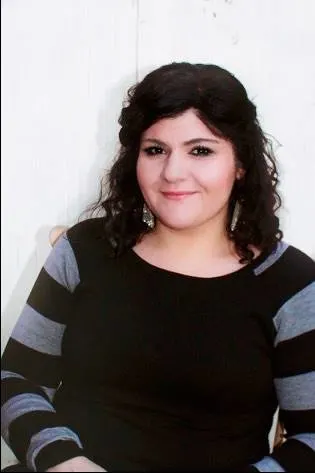 Melissa is a passionate minister, speaker and an ongoing learner of the Bible. She has been involved in church and vocational ministry for over 18 years. And is the founder of Think About Such Things. She has the heart to equip the saints by helping them get into the Word of God and fall more in love with Jesus. She also enjoys family, cooking, and reading.
She has spoken in churches in California, Oregon, Texas, and Mexico and has been featured in Guidepost Magazine and All Recipes Magazine. Read More…