In this article, we will explore ways you can draw closer to God and grow in your relationship with Him. These ways are easy and can be applied to your life today!
It is our desire as believers to draw closer to God, and develop our relationship with Him. Our faith grows and becomes stronger when we are closer to God, and this helps us live a victorious Christian life. There are different ways you can get to know your Father better, and trust Him with your life.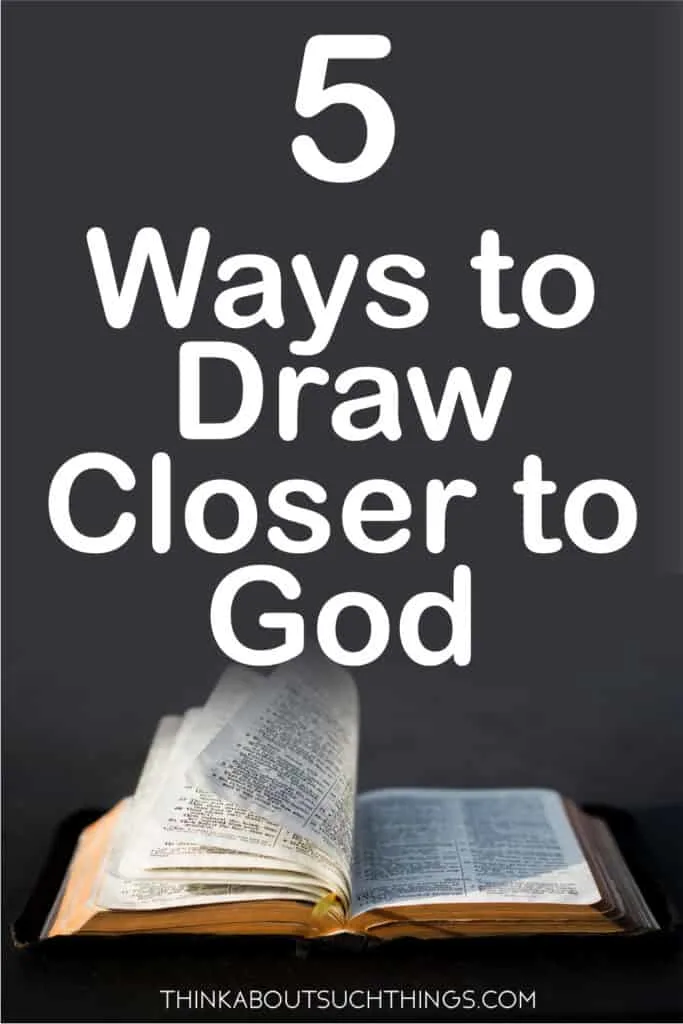 We cannot live as infant Christians all our lives, and at some point we have to let go of spiritual milk and begin to consume the meat.
Growth in our faith is an important part of our Christian life because it helps us to see things from God's perspective, and not from that of the world. Our minds become focused on the things of God.
Below are 5 ways you can draw closer to God, and develop your relationship with Him. I have also added additional resources under each topic to help further your hunger to come near to God.
Drawing Closer to God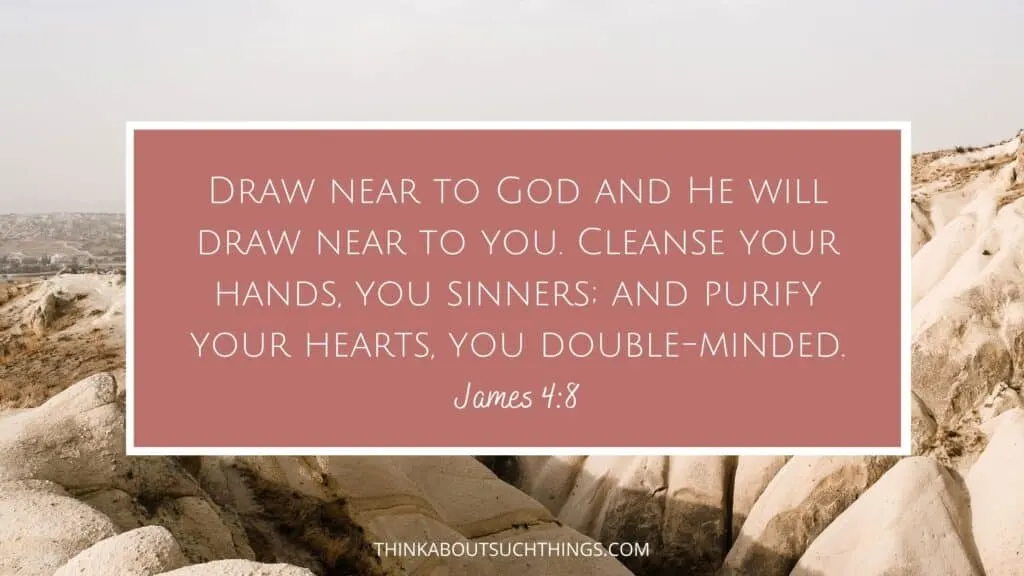 1. Reading the Bible
This Book of the Law shall not depart from your mouth, but you shall meditate in it day and night, that you may observe to do according to all that is written in it. For then you will make your way prosperous, and then you will have good success. – Joshua 1:8 NKJV
God gave us the Bible so that we would know His will and ways, and live by them. The Bible has stories of how various people developed their relationship with God, and we can learn from them.
When you read the Bible, you will see the things that bring you closer to God, and you can begin putting those things into action. You also get to see those things that push you further away from God so that you can stop or avoid them.
The Bible has shown us that when we focus on God, and not on our problems or other distractions, we are able to get closer to Him. Reading God's Word draws us closer to Him because we fall in love with Him more when we get to know His attributes and His love for us.
When you read and meditate on God's Word, you will be careful to do as it says, and this will only bring you closer to God. He wants us to be obedient to Him, and learn His way of doing things.
RESOURCES TO HELP YOU GET INTO THE WORD:
2. Prayer
Be anxious for nothing, but in everything by prayer and supplication, with thanksgiving, let your requests be made known to God; 7 and the peace of God, which surpasses all understanding, will guard your hearts and minds through Christ Jesus – Philippians 4:6-7 NKJV
Prayer is the avenue through which we communicate with the Lord. We tell Him what is in our hearts, and He tells us what is in His heart.
When we pray, we are trusting that God will respond to our prayers, and grant our requests. Seeing answers to our prayers and spending time in His presence draws us closer to Him, because we know that He cares about us and our needs.
Prayer is not only about asking God for things but their are so many types of prayer. We tell Him how much we love Him, and how we cannot live without Him. Prayer connects us to the heart of God in a special way, and relieves the tension, heartache, and stress especially when life doesn't go our way.
When we pray, we experience the peace of God instead of dwelling in our anxiety over the issues of life (Philippians 4:6-7).
He calms our hearts and reminds us that He is in control over our situation, and we have nothing to worry about. There is nothing as refreshing as hearing the voice of God responding to our prayers, it draws us closer to Him always.
RESOURCES TO HELP DEVELOP YOUR PRAYER TIME
3. Listening to Worship Music
Enter into His gates with thanksgiving, And into His courts with praise. Be thankful to Him, and bless His name. – Psalm 100:4 NKJV
A powerful way we can draw closer to God is through listening to worship music. When we worship God, we invite His presence into our lives and surroundings, and we experience His presence.
God is enthroned in our praises (Psalm 22:3) as we worship Him through song and dance.
Worshipping God focuses your heart and mind on Him, and you can experience Him in a powerful way in that moment. God also brings healing and deliverence as we worship, and sets us free from anything that hinders us from drawing closer to Him. It's like taking shower. Worship brings you into the presence of God and it cleanses you.
In this day and age it's super easy to listen to some anointed worship music! I personally love Rick Pino, LIST OTHERS
I encourage you to take some time to be alone with God and worship Him in Spirit and truth (John 4:24).
And as a reminder worshipping God is not limited to music, you can also go to a quiet place and worship Him by letting Him know how much you love Him and how awesome He is.
RESOURCES TO HELP DEVELOP YOUR WORSHIP TIME
4. Christian Resources
And you will seek Me and find Me, when you search for Me with all your heart. – Jeremiah 29:13 NKJV
There are many Christian resources on the internet that can help you draw closer to God! My site Think About Such Things is one of those places.
But their are tons of other amazing Christian ministers that have produced videos or written blog articles on how to develop your relationship with God. Use these resources and learn more about God by hearing their perspectives.
We are not short on information that will help us draw closer to God, and we can make use of all these resources! These resources also help you understand the Bible better and in doing so, you see God for who He really is.
It is easier to get closer to someone you know as opposed to one you don't. When you know God more, you will get closer to Him, and He will reveal Himself to you.
When we seek God with all our hearts, we will find Him. We can use the Christian resources at our disposal to seek God, and learn more about Him from those who are more mature in the Christian faith.
CHRISTIAN RESOURCES TO HELP YOU DRAW CLOSER TO THE LORD
5. Reading Christian Books
Many Christian authors have written books that help us draw closer to God. These books include revelation from God to the Body of Christ. There are all kinds of Christian books but you can read those that are specific about developing your relationship with God.
Nowadays, we have access to these books in print and digital form. If you are not able to get a copy from your local bookstore, you can order one online or read the digital version.
SOME OF MY FAVORITE BOOKS THAT WILL HELP YOU TO DRAW NEAR TO GOD
---
These are just 5 ways to get close to God but you can also ask God to show you more ways that you can draw closer to Him. We each have a personal relationship with Him, and He knows what best works for us.
Being close to God will leave you feeling fulfilled in life, and your heart will be satisfied by His presence in your life. This is the beauty of being a child of God. Draw closer to God today and experience a vibrant relationship with Him that will leave you with everlasting joy.
Well, I hope this article has helped you. Feel free to leave me comment below. I would absolutely love to know what God is doing in your life.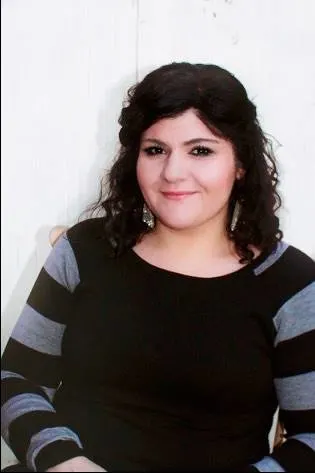 Melissa is a passionate minister, speaker and an ongoing learner of the Bible. She has been involved in church and vocational ministry for over 18 years. And is the founder of Think About Such Things. She has the heart to equip the saints by helping them get into the Word of God and fall more in love with Jesus. She also enjoys family, cooking, and reading.
She has spoken in churches in California, Oregon, Texas, and Mexico and has been featured in Guidepost Magazine and All Recipes Magazine. Read More…