In this article, we will look into how we can let go and let God and walk in freedom as we give it to God.
It's amazing how little phrases become popular in Christianity. We all remember, the WWJD bracelets (what would Jesus do) and "God works in mysterious ways".
And another super popular phrase in Christendom is "Let Go and Let God." This little phrase has been used for decades, but do we fully grasp it? And is it even Biblical?
Well, today we are going to dig into God's Word and see what and how we can apply this little phrase to our daily lives.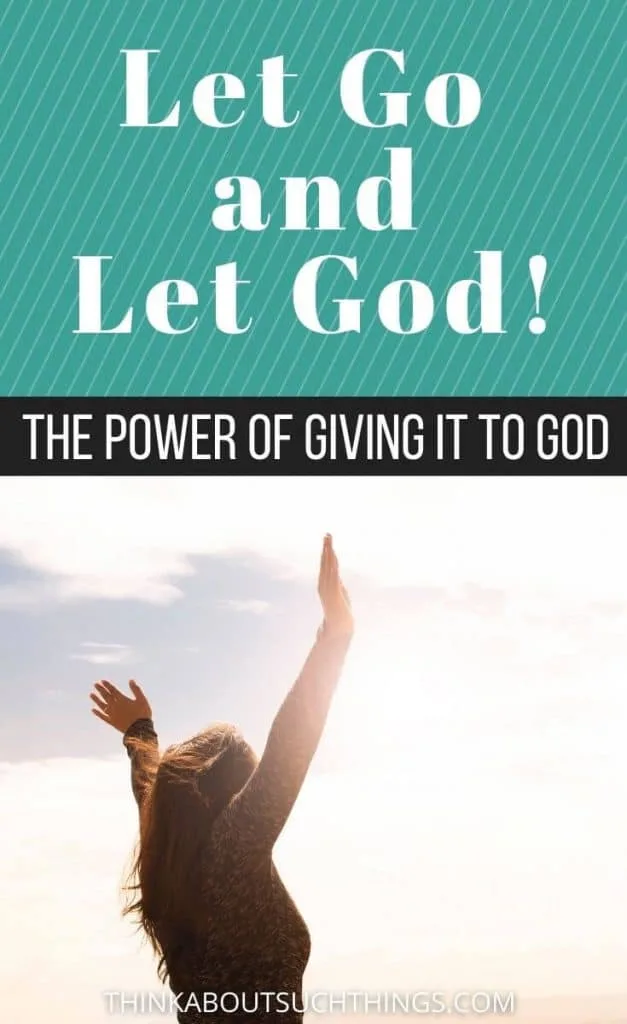 Here is a handy dandy little table of content that you can use to skip around or just scroll and read like usual!
What Does It Mean to Let Go and Let God?
This powerful little phrase is nowhere to be found in scripture. But if understood correctly it does carry a Biblical principle of Surrendering to God. (Check Bible Verses about Surrender here)
Let's break up the phrase and take a look at it's meaning:
Let Go – Let go of the circumstance, things that are hindering you, or things you are holding on too tightly. This can pertain to anything going into your life.
Let God – Let God take those things and show you He is faithful to see you through. It's about giving God control of your life.
Over all it's about relinquishing your control and having God handle your problems.
Easier said than done, but when done. Oh, the freedom and peace in Christ!
The Right and Wrong Way to Let God and Let God
Now, you may be thinking… "How in the world can their be anything wrong with let go and let God??"
Well, if taken to the extreme it can lead to a life of laziness, excuses, and carelessness. See, we are to let go of things that are hindering us, but we can't use it as an excuse to not do things we should be doing.
Faith is proactive! James makes this clear when he talks about faith without works is dead. (James 2:14-26)
Here is an example:
You have become stressed out trying to find a job. So, you decided to "let go and let God." You stop looking for a job and figure if God wants you to work He will find you a job.
That is an unhealthy way of going about it. You would want to let go of your striving and fear of finding a job, and "let" God give you peace and wisdom on where to apply.
See the difference?
I love this quote. It conveys exactly what we need to hear.
Read more quotes on letting go here
Our faith must remain active. Our letting go is not about being stagnant but learning to trust God in the midst of a situation or circumstances and let Him take care of it.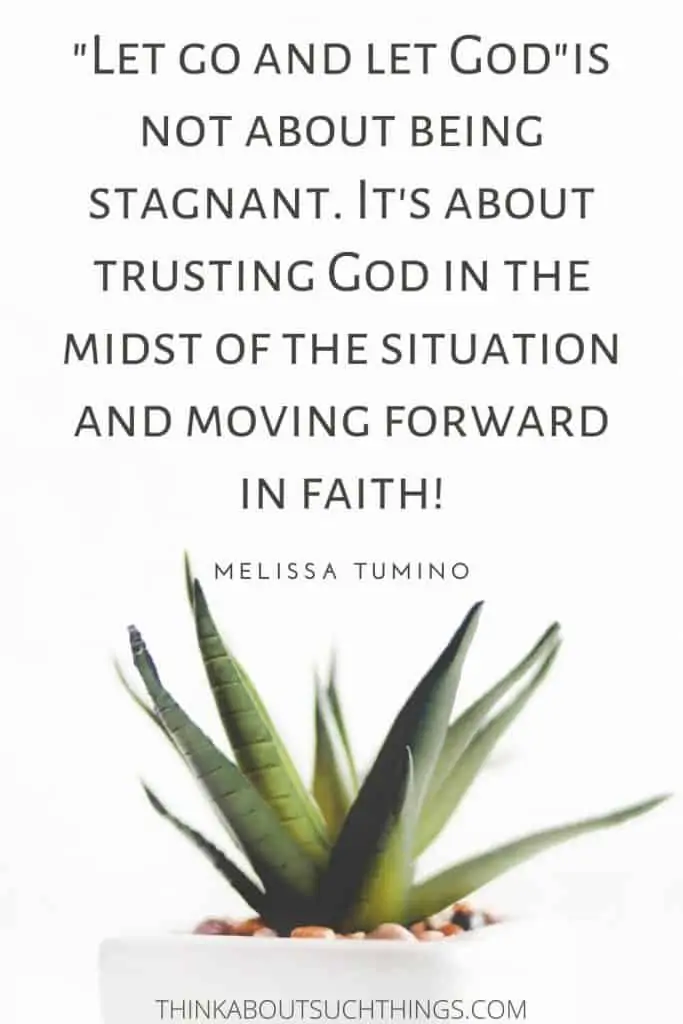 How to Give It To God
Giving things up is not always easy. Even when things are bad for us and we know they are bad we have a hard time letting go. We see this with issues of addiction.
So, how can we let go and truly give it to God?
Well, here are 5 steps I have used to give things to God. I hope they are helpful for you as well.
Step 1: Pray it Out
Giving it to God doesn't mean you make a mental note and decide to just stop. You need to bring God into the mix.
King David is an awesome example of this. Throughout the psalms (David and others) you see him express his raw feelings towards God. He doesn't hold back, and he doesn't sugar coat it.
If there is something you need to give up and let go. Then talk to God about. Tell Him how it makes you feel. Ask Him to help you let go. Ask for grace, wisdom, and mercy.
I remember when I was 18 years old (going to ministry school and still living at home) wanting to go on this ministry trip to South Africa. I wanted to go sooooooo bad. I prayed and prayed. I then went to my parents and asked for their permission to go. They flat out said, "NO!" I was upset. I went again and prayed. Then asked them again later…. "No!"
At this point I was mad, frustrated, confused why they wouldn't let me go. I felt called to go to the nations and minister. Like…hellooo here is an opportunity! Plus I was 18…I can go! But I wanted their blessing.
I figured if anyone could help me change their minds it was, God. So, I went before the Lord and I begged Him to change their hearts. Then I heard the Lord as clear as day say to me, "honor your mother and father…"
I wish I could say I heard that and was filled with joy and that was that. But nope. I cried and cried… I really wanted to go on that ministry trip. It broke my heart. I told the Lord I would obey Him, but asked that He would be kind enough to remove the desire in my heart for the trip.
And the next morning when I woke up it was like I never wanted to go on the trip in the first place. All my desire for it just lifted off of me. I'll never forget it. It was such a huge change of heart, that only God could have done it. Even to this day I have zero regrets that I didn't go.
The Secret Sauce: His Presence
This is something I have noticed in my walk with the Lord. If I am trying to let go of something while in prayer. I can easily and routinely say a prayer and done, but I notice when I do that I am quick to pick it right back up.
But when I pray and wait on the Lord until I feel His presence. Then a shift happens. It's hard to describe it's like you are aware of what your letting go and how small it is compared to the Lord. Yet at the very same time you feel refreshed, peace, love and the grace to give it up.
In Psalm 73 Asaph is having an extremely hard time trying to figure out why wicked people seem to have it so good. He even gets upset or annyoyed by it and says…
Surely in vain I have kept my heart pure
    and have washed my hands in innocence.
All day long I have been afflicted,
    and every morning brings new punishments. Psalm 73: 13-15
I think it's safe to say that Asaph is having a bad day. But what is so powerful is verse 17:
till I entered the sanctuary of God;
    then I understood their final destiny.
It wasn't until Asaph entered the sanctuary of God; the place of His presence. That he was able to see and know the truth. He was able to let go his anger, and confusion and was able to hold on to God's truth!
This is the power of going before God and getting into His presence. It changes us! It transforms and renews our minds. We can't expect to let go and let God if we don't go before Him.
Step 2: Leave it At the Feet of Jesus
Once you have prayed it out and got into God's presence it. It's time to leave it at the feet of Jesus. You can do this in prayer, and some people like to write it out and rip it up or put a big X over it. Like a statement saying it no longer has control over me.
Do what fits you and the situation. For me I always like to combine things with prayer, even if I write it out.
Step 3: Resist Picking It Back Up
Thoughts, and situations will happen where you will want to pick up the very thing you have laid down before the Lord.
The enemy loves this. Be on guard and be wise. And learn to use your sword! (Ephesians 6:17)
If you are trying to let go of fear… start to memorize scriptures like,
"For God has not given us a spirit of fear, but of power and of love and of a sound mind." – 2 Timothy 1:7
So, every time a fearful thought comes in your fight it with God's truth.
Another way to resist picking something up is flat out rebuking the thought. I will get random thoughts that I know the enemy is trying to derail me and I will say out loud. "I rebuke that thought and I will not entertain that lie in Jesus name."
Also, if you have a prayer language you can use that during those times.
Step 4: Get Accountability
It's always good to share with a fellow brother or sister in Christ on what is going on in your life. So, find a friend you can trust and share with them the area you trying to give to God. Ask them to keep you accountable and be a safe place for you to discuss it with them.
Step 5: Repeat Steps 1 thru 4
If you are still struggling after step 1-4. Then I would encourage you to repeat all the steps. I have done it before with certain things and most of the time they are strongholds in life that need to be broken.
So, don't feel defeated that you tried to give it to God and failed. Go back and try again. Even if you have to remove that stronghold brick by brick. Sooner or later it will weaken it and cause it to fall. And then you will have victory and freedom in that area! Hallelujah!
6 Areas We Need to Let Go and Let God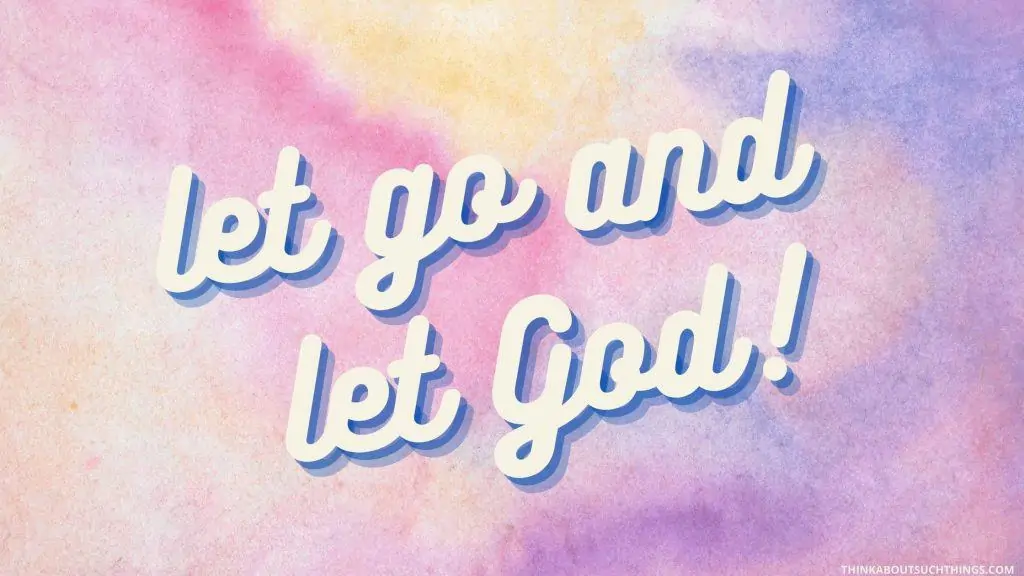 There are numerous areas in our lives that we try to keep control over. But I wanted to share 6 very common areas that most believers struggle in.
I encourage you to bring these up in prayer and see if the Holy Spirit highlights any of them.
Give God Your Relationships
Our whole life is surrounded by relationships. God, family, friends, romantic, church, work…close and distant….you name it and people are involved.
It's easy to want to control these relationships out of fear, greed, pride, hurt, and anger. And most of the time we don't even realize we are doing it. It's a way of self-preserving.
But it hinders us from experiencing God's best for us in our relationships and tells God that we need to rely on ourselves to be "safe."
Give God Your Finances
Giving God your finances can be extremely hard. Most people keep a tight hand on their wallet. And this can look different for everyone.
Here are a few areas that we can struggle with and need God's help with.
Not wanting to give
Striving to make more
Never satisfied
Experiencing lack or poverty
Uncontrollable spending
Don't want to work
Desire for easy money
And the list goes on…
Give God Your Fears
Most if not all of these areas will have some form of fear connected with them.
Here are two example:
Relationships: The fear your husband/wife is cheating on you, which causes you to question him/her every time they come home late from work.
Money: The fear of experiencing lack which causes you to stay long hours at work and neglect your family.
Fear can destroy your life and become the god you serve. It will lock you up in a cage and taunt you with a stick. We must be alert and aware when fear tries to come in and dismantle it before it tries to grow roots in our mind and heart.
Give God Your Dreams
Remember the song from Tangled, I've Got a Dream?
It conveys some truth that we all have dreams. Not matter if we are a rough burly guy in a saloon or a 5 year old girl twirling in font of the tv in her ballerina outfit.
We all have dreams! Things we would like to do, become, and have.
But dreams can become a stumbling block when they hinder us from what God has for us in the here and now.
There are times God will ask us to lay down a dream, like my trip to South Africa. We may understand the why soon after and sometimes we won't until we go to be with Jesus. We have to be ok with that.
Give God Your Future
Many people have fears about the future (both personal and in the world). And these can cause you to make poor decisions in the here and now, and/or try to control situations in a way that you believe will make your future better.
God knows our future and it says in His Word that He has good plans for us. (Jeremiah 19:11)
Give God Your Calling
If you have felt God call you to a certain career, location, or people. It can be easy to get caught up on that call that we forget the One who called us. We can also get into a place of striving to achieve our call out of our own strength. When it always was meant to be a partnership with God.
Then there is the flip side of fearing your call and running from it. These are all things we need to give up to God.
The Benefit of Giving it to God
Oh the benefits! To let go and let God…is to GAIN! It's to win! It's to be free!
When we give it all to God it puts God in His rightful place in our lives. It puts Him as our Lord. The one we can trust everything to. This will cause your relationship with Him to deepen and strengthen.
But It gets better…
For My yoke is easy and My burden is light. – Matthew 11:30
Jesus makes it clear that when we give God our problems, control, stress, fear or whatever He will remove it from us and give us His yoke. This means He removes heaviness in our life. The things that bring us down, hinder, and tire us.
But he doesn't leave us with no yoke. It says He gives us His yoke. His yoke is easy and light. Full of peace, grace, and ease!
So you can strive, control or hold on to fear. Or you can truly apply to your life the phrase "let go and let God." And experience God's fullness in your life.
>> Learn What the Oil of Gladness in the Bible is
---
I hope this article has helped you learn to let go and let God. But I also hope it encouraged you that when giving it to God we can trust Him. And that He is faithful to see us through!
If you would like to learn more on this topic. Please check out these posts:
Feel free to drop a comment below. It would bless me to hear what the Lord if doing in your life.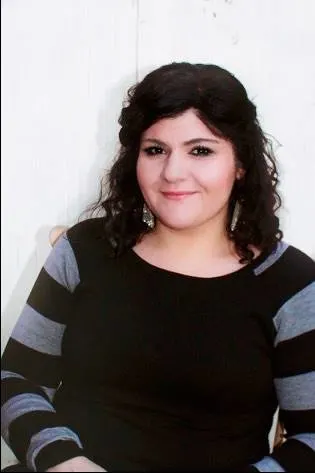 Melissa is a passionate minister, speaker and an ongoing learner of the Bible. She has been involved in church and vocational ministry for over 18 years. And is the founder of Think About Such Things. She has the heart to equip the saints by helping them get into the Word of God and fall more in love with Jesus. She also enjoys family, cooking, and reading.
She has spoken in churches in California, Oregon, Texas, and Mexico and has been featured in Guidepost Magazine and All Recipes Magazine. Read More…