On My Bookshelf: I Love You, Funny Bunny
This post may contain affiliate links. Please read my disclosure policy for more info.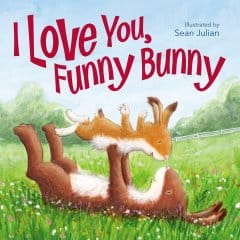 About the Book
Together, parents and children will giggle their way through I Love You, Funny Bunny as they discover the fun and loving parts of their own relationship. Illustrated by Sean Julian, I Love You, Funny Bunny is a picture book perfect for sharing at bedtime or any time of day. With read-aloud rhymes and adorable illustrations, readers will have fun turning the pages to discover all the ways this parent bunny loves little funny bunny.
I love you, Funny Bunny, from your whiskers to your toes.
I love the way you hop around and wiggle your cute nose.
I love the way you make me laugh, then melt me with your smile.
And no one in this great big world can match your sense of style.
Ideal for baby showers, birthdays, or Easter baskets, this jacketed hardcover book adorned with spot gloss and foil is the perfect gift for the funny bunny in your life.
(From www.booklookblogger)
My Review – I Love You, Funny Bunny
Too CUTE! I Love You, Funny Bunny is a sweet book that shares the love of a momma bunny has with her baby bunny. It has cute little rhymes and Sean Julian's illustrations are bright and colorful. They tell a deeper story then that actual writing, which I love since you can go off and talk with your child about what they are seeing. Overall a really sweet book that conveys the beauty of mom and baby relationship.
I received a copy of this book in exchange for my honest opinion.
For other book reviews click here: BOOK REVIEWS