A large collection of Bible verses about friendship. This will help you in doing a topical bible study or if you are just wanting to share a verse with a good friend. No matter what these friendship Bible verses will teach you a lot.
First off I am glad you are here! If you are looking to study on the topic of friendship or wanting a Bible verse to share with a friend. I hope this post will give you the information that you are looking for.
There are a couple of things I want to point out if you are here for the purpose of studying.
When it comes to topical studies, just doing a quick Bible search for "friendship" will only give you bits and pieces of the whole picture.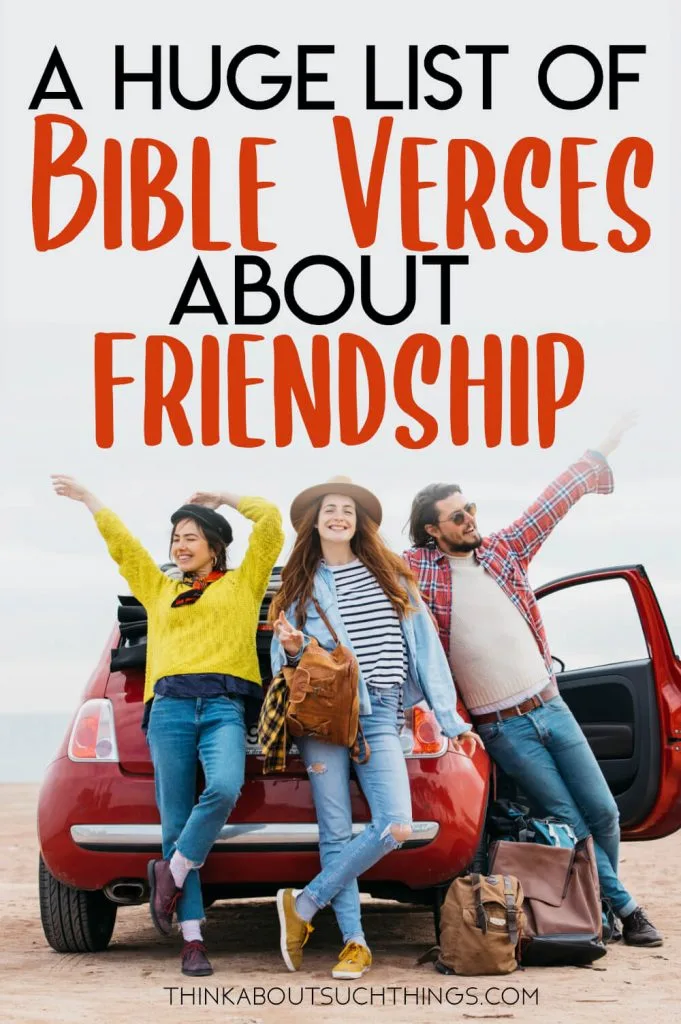 A lot of what we can learn about friendships is by reading the Bible as a whole or in sections (stories.) Also, some scriptures overlap in topics and some don't reference to word "friend." Just the word "friend" shows up 99 times in the KJV.
Some verses will overlap in the sections. I tried my best to put them in the section which makes the most sense.
So, please let these Bible verses about friendships be a guide to deepen your understanding. And if you would like to grow more in on this topic please check out my posts below:
*All verses will be taken from the NIV unless otherwise noted.
If you would like to check these verses out in other translations I highly recommend Biblegateway.com
Bible Verses about Friendship
Like I mentioned earlier because the Bible is filled with verses on friendship I thought it would be good to break them up into sections. You can either scroll through each section or feel free to use the table of contents above to hope to subjects you want to read more on.
And here is a quick video of 5 key friendship bible verses and what you can learn from them to become a better friend.
Proverbs About Friendship
When it comes to learning about friendship in the Bible…Proverbs is a GOLD MINE. I thought it would be good to give a section to strictly proverbs about friendship.
Later on in the Bad Friendship section, you will see a slew of proverbs on friendships as well. I felt it best to place those in that section. Below you will find friendship references that are either beneficial or neutral in nature.
No matter how you slice it proverbs will give you wisdom with your relationships.
---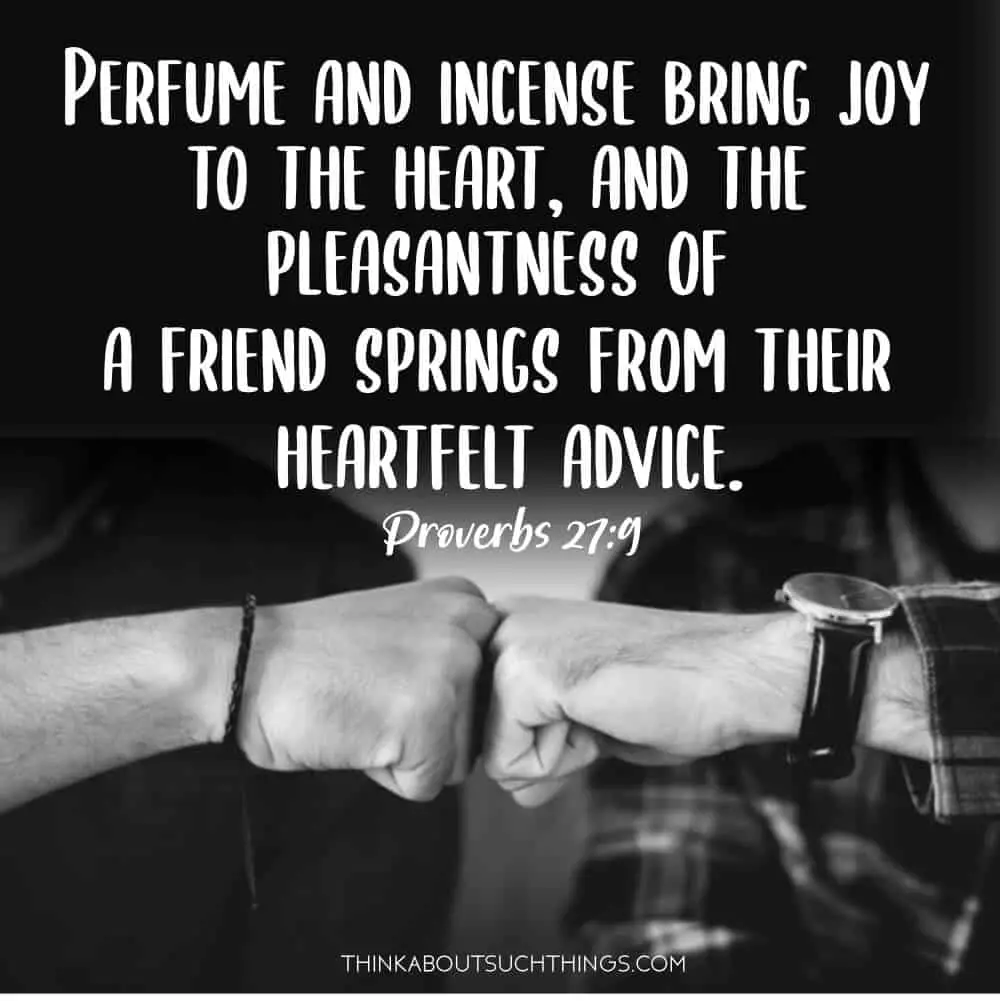 The righteous choose their friends carefully, but the way of the wicked leads them astray. – Proverbs 12:26
Wounds from a friend can be trusted,
but an enemy multiplies kisses. – Proverbs 27:6
One who has unreliable friends soon comes to ruin,
but there is a friend who sticks closer than a brother – Proverbs 18:24
Whoever would foster love covers over an offense,
but whoever repeats the matter separates close friends. – Proverbs 17:9
The poor are shunned even by their neighbors, but the rich have many friends. – Proverbs 14:20
One who loves a pure heart and who speaks with grace will have the king for a friend. -Proverbs 22:11
Many curry favor with a ruler, and everyone is the friend of one who gives gifts. – Proverbs 19:6
Perfume and incense bring joy to the heart, and the pleasantness of a friend springs from their heartfelt advice. – Proverbs 27:9
Do not forsake your friend or a friend of your family, and do not go to your relative's house when disaster strikes you— better a neighbor nearby than a relative far away. – Proverbs 27:10
Bible Verses on All Kinds of Friendship
Here you will find a selection of verses that I felt needed to be in a more general section. They still carry some powerful truths.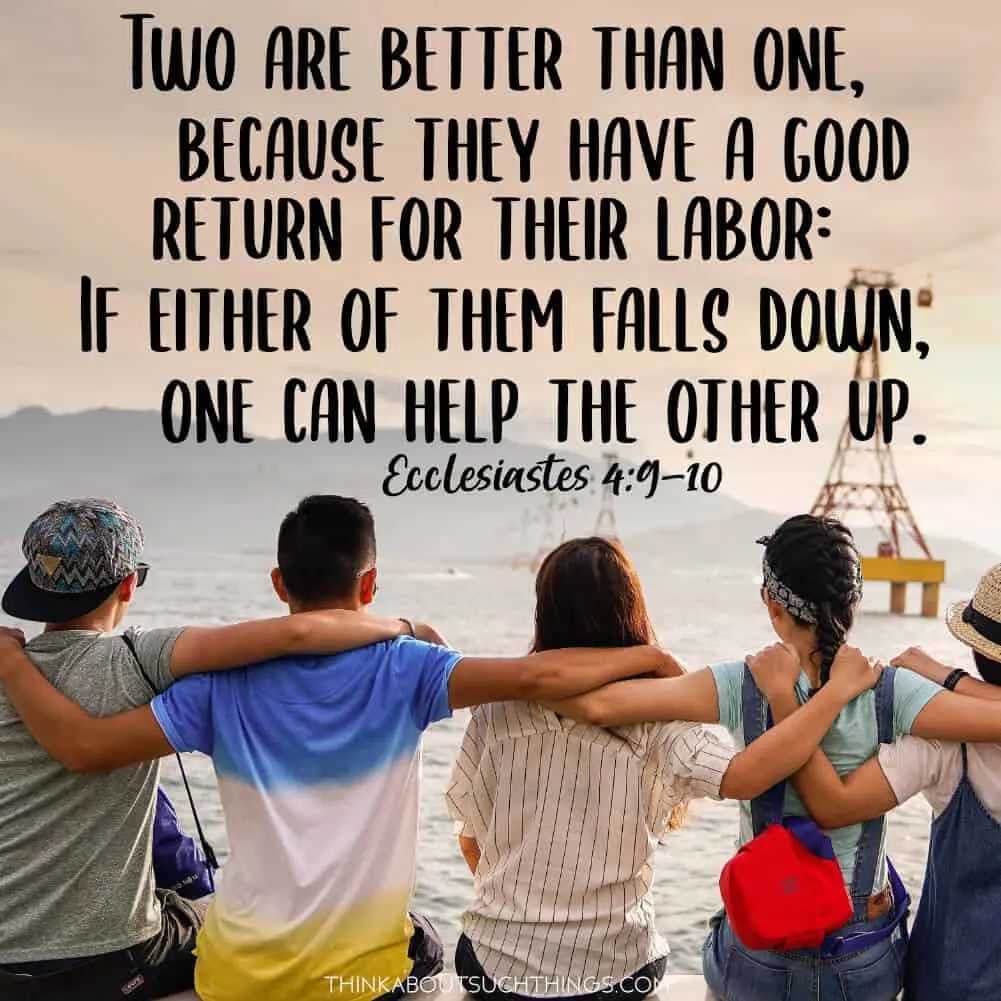 ---
Two are better than one,
because they have a good return for their labor:
If either of them falls down,
one can help the other up.
But pity anyone who falls
and has no one to help them up. – Ecclesiastes 4:9-10
Anyone who withholds kindness from a friend forsakes the fear of the Almighty. – Job 6:14
Then Jesus said to them, "Suppose you have a friend, and you go to him at midnight and say, 'Friend, lend me three loaves of bread; a friend of mine on a journey has come to me, and I have no food to offer him.' And suppose the one inside answers, 'Don't bother me. The door is already locked, and my children and I are in bed. I can't get up and give you anything.' I tell you, even though he will not get up and give you the bread because of friendship, yet because of your shameless audacity he will surely get up and give you as much as you need. "So I say to you: Ask and it will be given to you; seek and you will find; knock and the door will be opened to you. – Luke 11:5-9
Bible Verses about Good Friends
Like I mentioned above some of these topics can't be just cut and paste verses. They are stories of real people, having a good friendship. For example:
Ruth and Naomi
David and Jonathan
Paul and Silas
I encourage you to dig into the word and read about these biblical friends!
Below is just a couple of scriptures of displaying a "good" friendship.
---
Greater love has no one than this: to lay down one's life for one's friends. – John 15:13
And Jonathan made a covenant with David because he loved him as himself.4 Jonathan took off the robe he was wearing and gave it to David, along with his tunic, and even his sword, his bow and his belt. – 1 Samuel 18:3–4
But Ruth replied, "Don't urge me to leave you or to turn back from you. Where you go I will go, and where you stay I will stay. Your people will be my people and your God my God. – Ruth 1:16
Bible Verses about Bad Friendships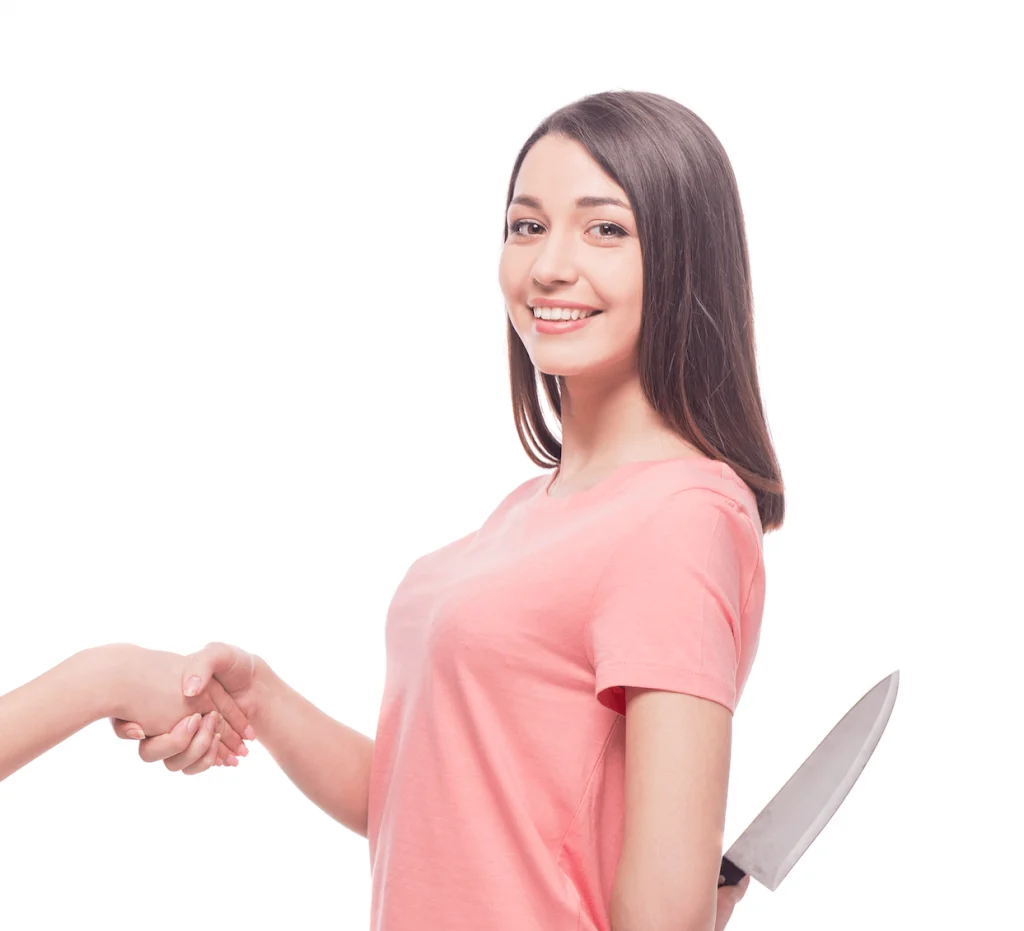 Do not be misled: "Bad company corrupts good character. – 1 Corinthians 15:33
A perverse person stirs up conflict,
and a gossip separates close friends. – Proverbs 16:28
You have taken from me my closest friends and have made me repulsive to them. I am confined and cannot escape; – Psalm 88:8
Whoever would foster love covers over an offense,
but whoever repeats the matter separates close friends. – Proverbs 17:9
My companion attacks his friends;
he violates his covenant.
His talk is smooth as butter,
yet war is in his heart;
his words are more soothing than oil,
yet they are drawn swords. Psalm 55:20-21
In return for my friendship they accuse me, but I am a man of prayer. They repay me evil for good, and hatred for my friendship. – Psalm 109:4-5
Do not make friends with a hot-tempered person,
do not associate with one easily angered,
or you may learn their ways
and get yourself ensnared. – Proverbs 22:24-25
All my intimate friends detest me; those I love have turned against me. – Job 19:19
He has alienated my family from me;
my acquaintances are completely estranged from me.
My relatives have gone away;
my closest friends have forgotten me. – Job 19:13-14
;2Walk with the wise and become wise,
for a companion of fools suffers harm. – Proverbs 13:20
Wealth attracts many friends, but even the closest friend of the poor person deserts them. – Proverbs 19:4
You adulterous people, don't you know that friendship with the world means enmity against God? Therefore, anyone who chooses to be a friend of the world becomes an enemy of God. – James 4:4
Beware of your friends; do not trust anyone in your clan. For every one of them is a deceiver, and every friend a slanderer.
Friend deceives friend, and no one speaks the truth. They have taught their tongues to lie; they weary themselves with sinning. – Jeremiah 9:4-5
All my enemies whisper together against me;
they imagine the worst for me, saying,
"A vile disease has afflicted him;
he will never get up from the place where he lies."
Even my close friend,
someone I trusted,
one who shared my bread,
has turned against me. – Proverbs 41:7-9
Do not trust a neighbor; put no confidence in a friend. Even with the woman who lies in your embrace guard the words of your lips. -Micah 7:5
My friends and companions avoid me because of my wounds; my neighbors stay far away. – Psalm 38:11
A discerning son heeds instruction,
but a companion of gluttons disgraces his father. – Proverbs 28:7
If someone asks, 'What are these wounds on your body?' they will answer, 'The wounds I was given at the house of my friends.' -Zechariah 13:6
Those who flatter their neighbors
are spreading nets for their feet. – Proverbs 29:5
Bible Verses About Friendship With God
A lot of times when we think of friends we think of someone we hang out with or grew up with. But we can have an even greater friendship…and that's the one we can have with God. He longs for us to be friends with him and you will see that with the verses below.
And the scripture was fulfilled that says, "Abraham believed God, and it was credited to him as righteousness," and he was called God's friend. – James 2:23
I no longer call you servants, because a servant does not know his master's business. Instead, I have called you friends, for everything that I learned from my Father I have made known to you. – John 15:15
When they had finished eating, Jesus said to Simon Peter, "Simon son of John, do you love me more than these?" "Yes, Lord," he said, "you know that I love you." Jesus said, "Feed my lambs." – John 21:15
You are my friends if you do what I command. – John 15:14
The Lord would speak to Moses face to face, as one speaks to a friend. Then Moses would return to the camp, but his young aide Joshua son of Nun did not leave the tent. – Exodus 33:11
"But you, Israel, my servant, Jacob, whom I have chosen, you descendants of Abraham my friend. – Isaiah 41:8
Oh, for the days when I was in my prime, when God's intimate friendship blessed my house, – Job 29:4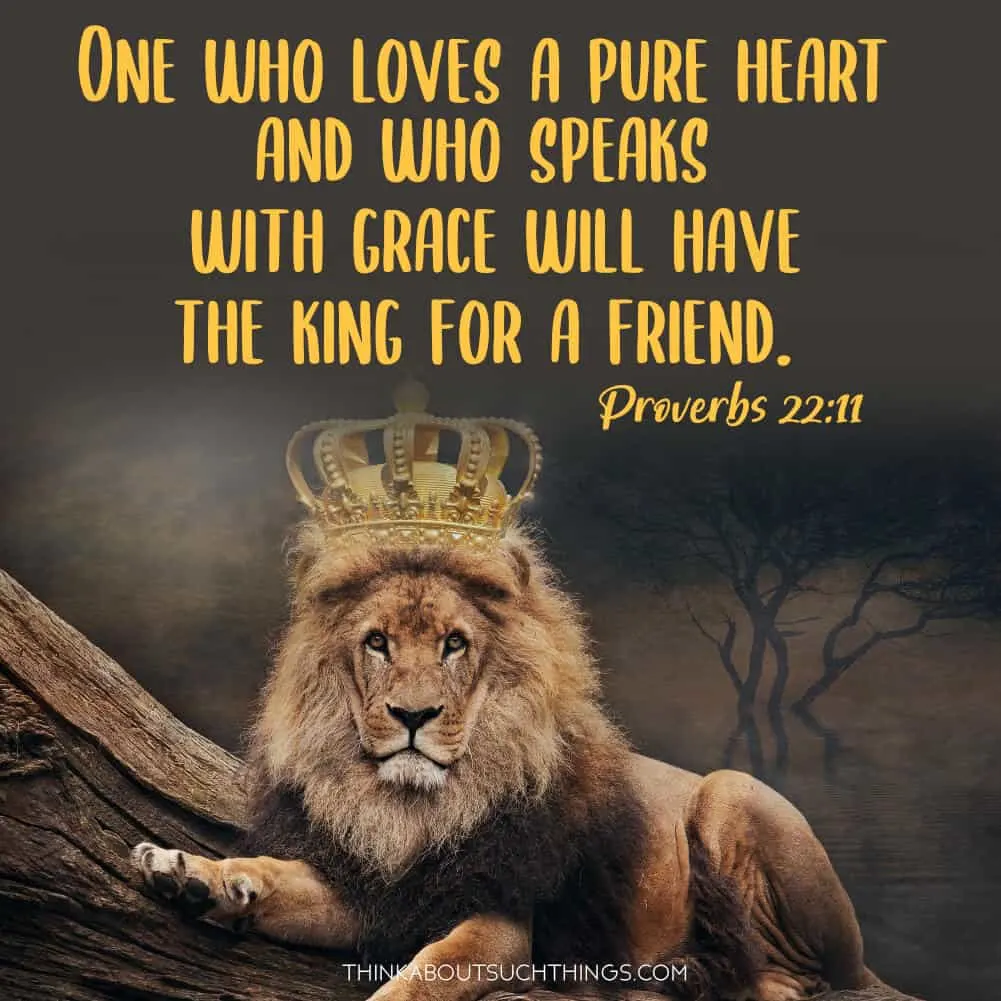 Bible Verses About Friendship and Trust
Jonathan said to David, "Go in peace, for we have sworn friendship with each other in the name of the Lord, saying, 'The Lord is witness between you and me, and between your descendants and my descendants forever.'" Then David left, and Jonathan went back to the town. – 1 Samuel 20:42
But Ruth replied, "Don't urge me to leave you or to turn back from you. Where you go I will go, and where you stay I will stay. Your people will be my people and your God my God. – Ruth 1:16
Be devoted to one another in love. Honor one another above yourselves. – Romans 12:10
Many a man proclaims his own loyalty and goodness,
But who can find a faithful and trustworthy man? – Proverbs 20:6
Scripture On Fellowship And Friendship
A new command I give you: Love one another. As I have loved you, so you must love one another. By this everyone will know that you are my disciples, if you love one another. – John 13:34-35
Beloved, you are acting faithfully in what you are providing for the brothers, and especially when they are strangers; and they have testified before the church of your love and friendship. You will do well to [assist them and] send them on their way in a manner worthy of God. – 3 John 1:5-6 Amp
When Job's three friends, Eliphaz the Temanite, Bildad the Shuhite and Zophar the Naamathite, heard about all the troubles that had come upon him, they set out from their homes and met together by agreement to go and sympathize with him and comfort him. – Job 2:11
We proclaim to you what we have seen and heard, so that you also may have fellowship with us. And our fellowship is with the Father and with his Son, Jesus Christ. – 1 John 1:3
Scripture About Friendship and Forgiveness
When Jesus saw their faith, he said, "Friend, your sins are forgiven." -Luke 5:20
Then came Peter to him, and said, Lord, how oft shall my brother sin against me, and I forgive him? till seven times? Jesus saith unto him, I say not unto thee, Until seven times: but, Until seventy times seven. – Matthew 18:21-22
After the Lord had said these things to Job, he said to Eliphaz the Temanite, "I am angry with you and your two friends, because you have not spoken the truth about me, as my servant Job has. 8 So now take seven bulls and seven rams and go to my servant Job and sacrifice a burnt offering for yourselves. My servant Job will pray for you, and I will accept his prayer and not deal with you according to your folly. You have not spoken the truth about me, as my servant Job has." 9 So Eliphaz the Temanite, Bildad the Shuhite and Zophar the Naamathite did what the Lord told them; and the Lord accepted Job's prayer. After Job had prayed for his friends, the Lord restored his fortunes and gave him twice as much as he had before. – Job 42:7-10
Bear with each other and forgive one another if any of you has a grievance against someone. Forgive as the Lord forgave you. – Colossians 3:13
Bible Verses on Friendship and Love
True divine friendship always includes love. So, for me personally, all the verses you have looked over show some form of love (John 15:13) or even lack of love (in the bad friendship section)
As for romantic love and friendship then there is one big place to look and that is Song of Songs. I would basically have to cut and paste the whole book here.
But this book shares not just the friendship/romance between the bride and bridegroom but also how their friends rejoice in their love and union. Apparently, the Shulamite didn't have any jealous cousins.
Also, keep in mind that the Song of Songs is also a picture of our marriage (the Church) to Jesus.
---
His mouth is sweetness itself; he is altogether lovely. This is my beloved, this is my friend, daughters of Jerusalem. – Song of Songs 5:16
Take me away with you—let us hurry! Let the king bring me into his chambers. [ Friends ] We rejoice and delight in you; we will praise your love more than wine. [ She ] How right they are to adore you! – Song of Songs 1:4
To this John replied, "A person can receive only what is given them from heaven. You yourselves can testify that I said, 'I am not the Messiah but am sent ahead of him.'The bride belongs to the bridegroom. The friend who attends the bridegroom waits and listens for him, and is full of joy when he hears the bridegroom's voice. That joy is mine, and it is now complete. – John 3:27-29
---
Well, there you have it! I hope these scripture verses on friendship have inspired and taught you about what it means to be a good friend.
For more topical bible verses please click the image below!

Please drop me a comment below. I would love to hear you thoughts.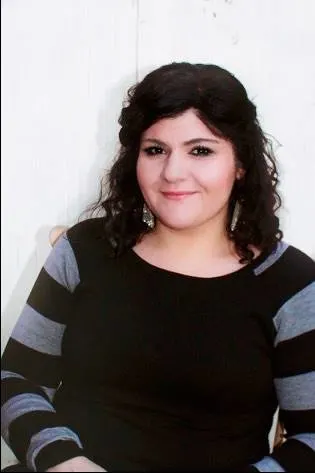 Melissa is a passionate minister, speaker and an ongoing learner of the Bible. She has been involved in church and vocational ministry for over 18 years. And is the founder of Think About Such Things. She has the heart to equip the saints by helping them get into the Word of God and fall more in love with Jesus. She also enjoys family, cooking, and reading.
She has spoken in churches in California, Oregon, Texas, and Mexico and has been featured in Guidepost Magazine and All Recipes Magazine. Read More…