In this series on the Judges, we will explore the life of the minor judge Ibzan in the bible. So grab your Bible and let's dig in…
In the book of Judges we discover 12 Judges in total, but 6 of them are known as the minor judges. This is because not much is stated about their life or what they did for Israel. Ibzan falls into that category.
But this doesn't mean we should by pass looking at his life and seeing what we can learn! If you have been around my site for awhile, you will know how much I love studying small characters of the Bible, like Barabbas, and King Uzziah. And today we are going to do our best with Ibzan!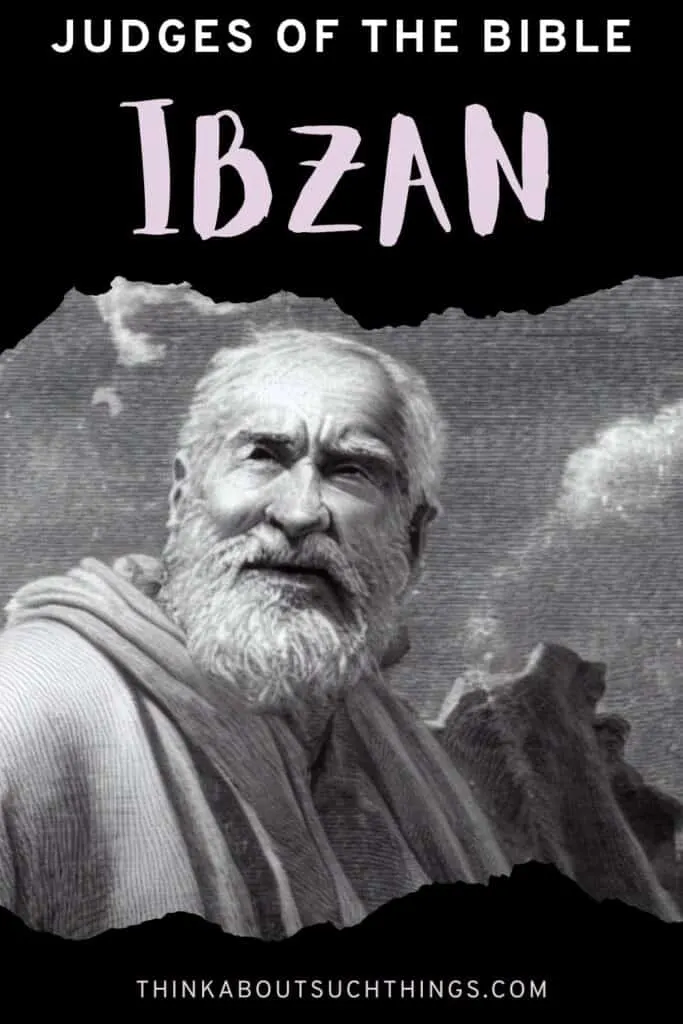 Ibzan in the Bible: He Had A LOT of Kids
As we dive into Judges 12 we see that Ibzan is the 9th judge after Jephthah. His few verses in the chapter are very interesting. No mention of war, bondage, or military adventures. We also don't see any mention of idolatry, or wickedness taken place in the land.
And after him Ibzan of Bethlehem judged Israel. 9 He had thirty sons, and thirty daughters whom he gave in marriage outside the family, and he brought in thirty daughters [-in-law] from outside for his sons. He judged Israel for seven years. 10 Then Ibzan died and was buried at Bethlehem. – Judges 12:8-10 AMP
What we do see is that Ibzan had a LOT of kids. Scripture states he had 30 sons and 30 daughters. This means that Ibzan practiced polgamy. And according to many historians it was for a very distinct reason.
His children all had arranged marriages, but to who? We don't know the Bible doesn't say. But scholars and historians believe it was to those outside his clan. The goal was to extend and strengthen his influence among the tribes of Israel by creating family ties. This in turn would strengthen Israel and make it stronger. There is power in unity! This would also lead to a LOT of grandbabies.
Ibzan reign didn't last long though. He ruled for 7 years and passed the torch to Elon.
It's also interesting to note that many historians don't believe that Bethlehem mentioned in Ibzan is not the Bethlehem we all know of in Judea.
His tribe or family is not mentioned. His city was probably not the Beth-lehem in Judah, because the Bk of Judges is not concerned with Judah; but the Beth-lehem in Zebulun (Joshua 19:15), now Bçt-laḥm, 7 m. N.W. of Nazareth. (source)
FAQ on Judge Ibzan
Alright, now that we have covered the basics of Ibzan's story, let's look at some fun FAQ about him!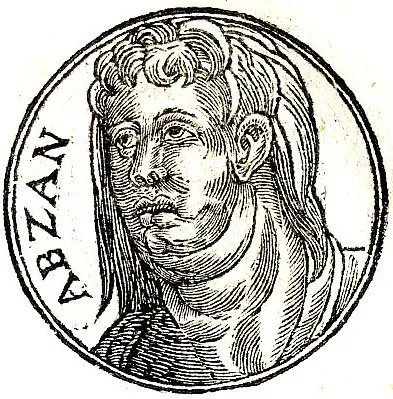 What tribe is Ibzan from?
No, tribe is mentioned. So, we do not know which tribe Ibzan was from.
What does Ibzan mean in the Hebrew?
It means splendid or illustrious.
How many children did Ibzan have?
The Bible says that Ibzan had 30 sons and 30 daughter, making him having a total of 60 Children.
How long did Ibzan judge Israel?
He led Israel for 7 years
Who was Ibzan predecessor and successor?
Predecessor: Jephthah and Successor: Elon
Free Ibzan Bible Study PDF
With each Judge I have been creating a character sheet. If you would like to grab Ibzan's you can do so below by signing up for my mailing list. This will also give you access to tons of other Christian free printables!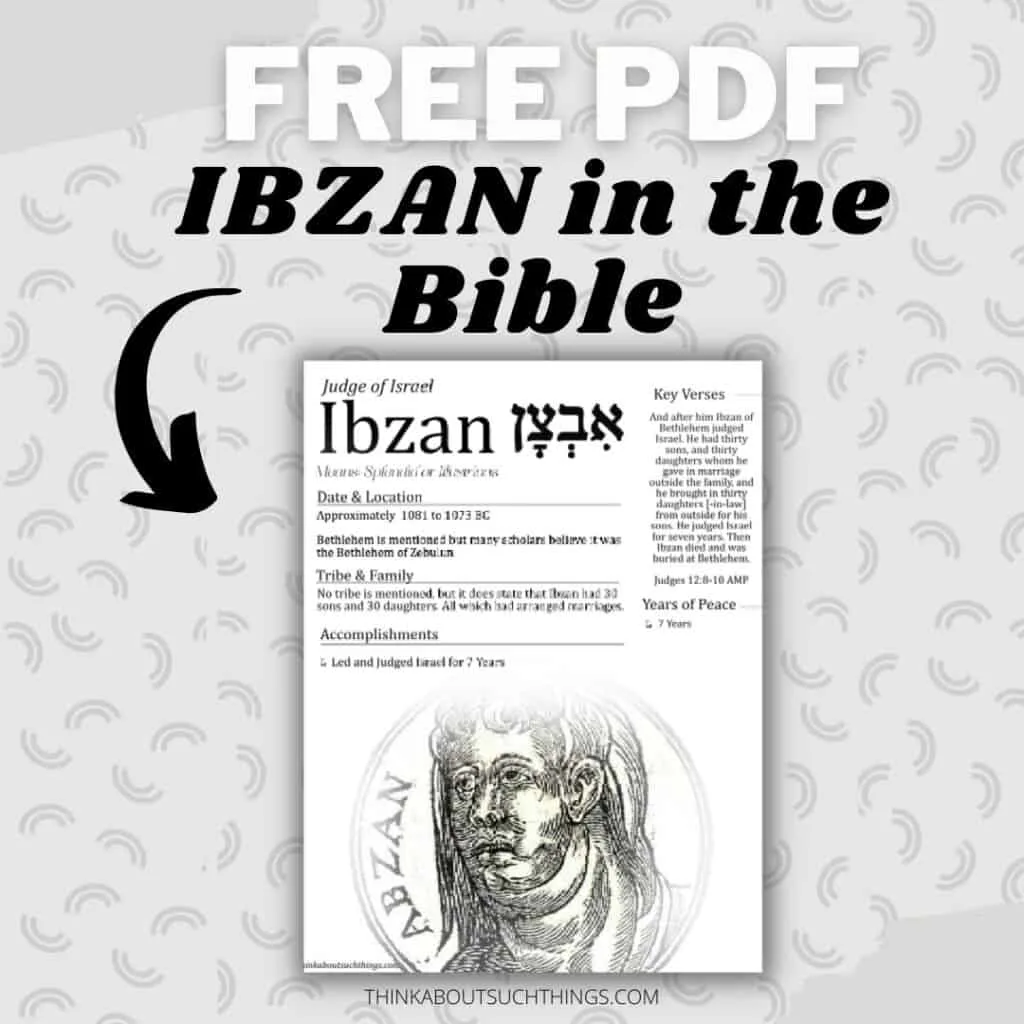 The Many Judges in the Bible
As I have mentioned earlier in this article I have been working on writing on all the judges of the Bible. If you would like to check out someone else out please feel free to click a link below.
---
Well, there you have it! We have explored the life of Ibzan in the Bible! Who would have thought having 60 kiddos was a political move! I hope you have enjoyed learning about his life and that it stirs your faith to dig even deeper into God's Word. If you would like you can leave me a comment below. I would love to hear from my readers.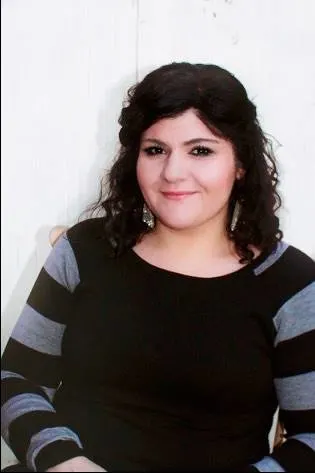 Melissa is a passionate minister, speaker and an ongoing learner of the Bible. She has been involved in church and vocational ministry for over 18 years. And is the founder of Think About Such Things. She has the heart to equip the saints by helping them get into the Word of God and fall more in love with Jesus. She also enjoys family, cooking, and reading.
She has spoken in churches in California, Oregon, Texas, and Mexico and has been featured in Guidepost Magazine and All Recipes Magazine. Read More…