In this article, we will look at 9 different prayers for pets. We will even explore some ancient prayers for animals and pets.

The Bible says that the Lord cares for all of His creatures and this includes our beloved pets.
Look at the birds of the air; they do not sow or reap or store away in barns, and yet your heavenly Father feeds them. Are you not much more valuable than they? – Matthew 6:26
As a pet owner, you know how important it is to take care of your furry loved one. When you're looking after them, remember not only to feed them and give them water but also pray for them!
This is why I have 9 prayers for pets that you can use when you want to pray for them. These work for most pets: dogs, cats, hamsters, fish, reptiles, etc…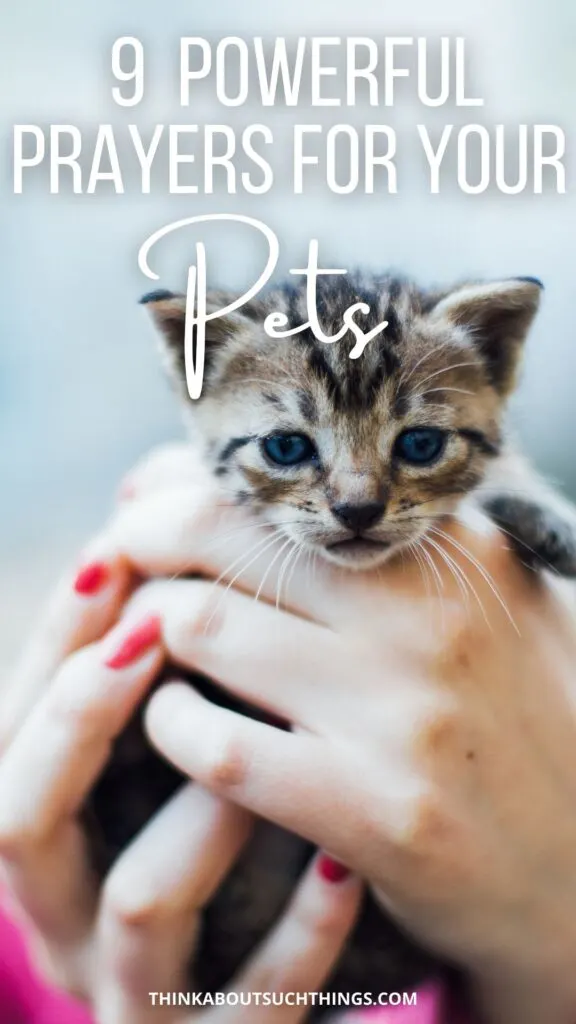 Tips for Prayers for Pets
I share this in all my written prayers and it's important even when we are using pet prayers. You always want to make sure your prayers come from the heart. The Lord wants to hear from you, and not just some written prayer.
So, when praying for your pet make it personal adding specific details and information. If your cat is having a allergy problem specifically pray for that not just some generic prayer for healing. This will help your prayer become personal and genuine before the Lord.
Prayers for Pets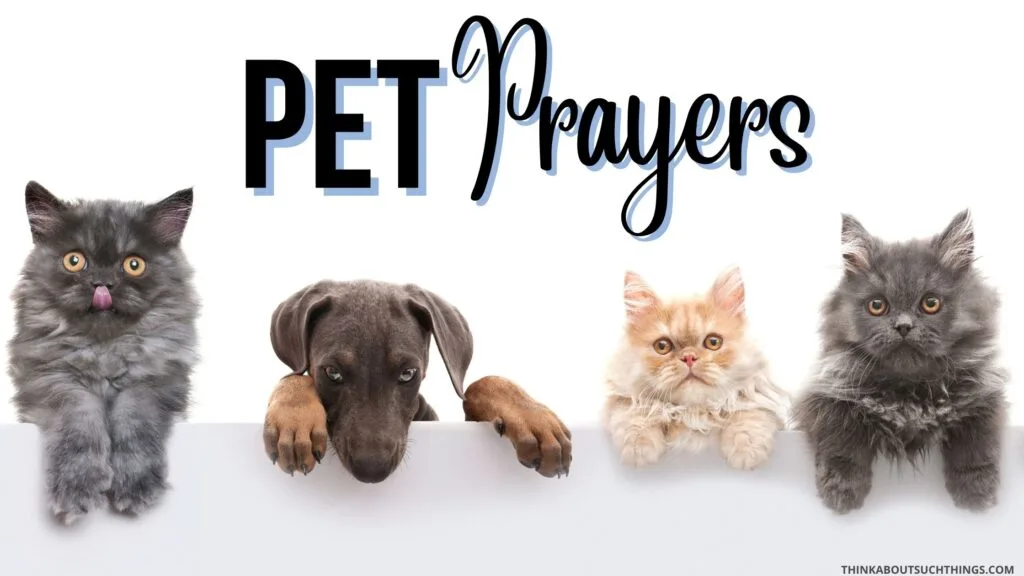 Prayers for Sick Pet
Lord, I come before You asking that You would heal my pet. Take away the pain they are experiencing and help their body to be restored to full health. And I pray that they would sleep peacefully and restfully. And please give the vet wisdom as they examine him/her. I ask these things in Your Son's name, Jesus Christ, amen!
Prayers for Pet's to Stay Healthy
Father, I come before You this day and ask that you would protect my pets from any harm or danger whether it's another animal or sickness. I pray that their bodies would be kept strong and healthy that no weapon formed against them would prevail. In the name of Jesus, amen!
Prayers for Pet's Protection
Lord God Almighty, we come before you today asking your protection over our pets as they spend time outside. We thank you for putting a protective shield around them that they wouldn't eat anything that would cause them to get sick. Or run into animals that would attack them. We thank you for keeping them safe. In Jesus' name, Amen!
Prayers for Pet's Obedience
Heavenly Father, I ask that you would help our pets be obedient to our commands. That they would easily understand what we are requesting from them and understand we do it for their good. We ask that You would help them to respect and trust us as their owner. In Jesus' name, amen!
Prayer for Lost Pets to Come Home
Lord, I miss my pet. I don't know where they are. Please help him/her come back home safely. Give them the wisdom they need to be able to find their way. And please send signs to let me know where they are. In Jesus' name, amen.
>> Prayer for a Lost Pet: Hope in Times of Despair
Prayer for Pet's to Find Good Homes
Father, I come before you today asking that You would find good homes for all the lost and abandoned animals struggling. May they be adopted into loving families who will cherish them forever as members of their family. Open doors for these little cats, dogs, and more. In the name of Jesus, amen!
St. Francis Prayers for Animals and Pets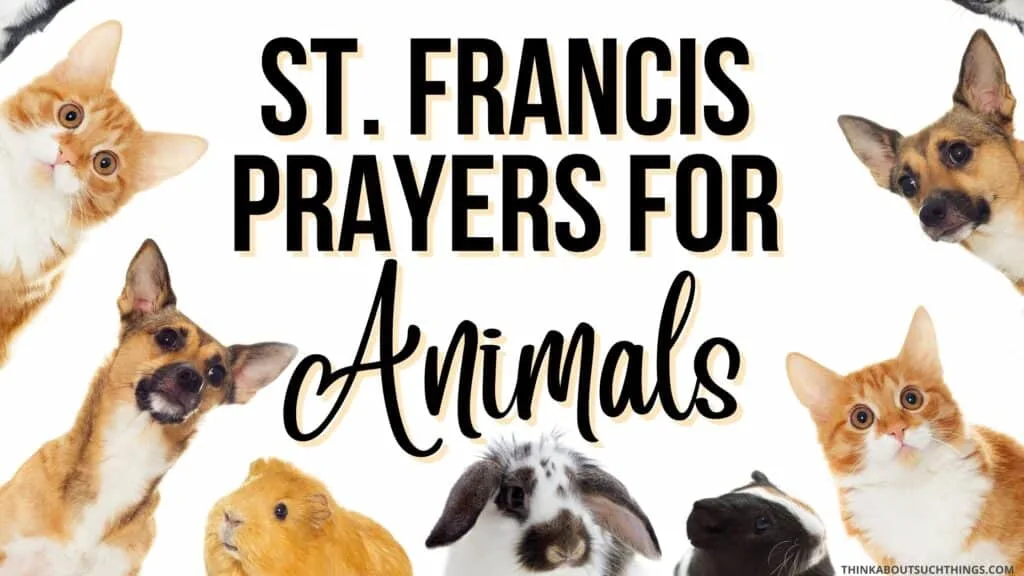 The two prayers below are from St. Francis. He was known as the patron saint of pets and animals.
Saint Francis of Assisi, for Sick Animals
Heavenly Father, you created all things for your glory and made us stewards of this creature If it is your will, restore it to health and strength. Blessed are you, Lord God, and holy is your name for ever and ever. Amen
Saint Francis of Assisi, for our Animal Friends
Heavenly Father, our human ties with our friends of other species is a wonderful and special gift from You. We now ask You to grant our special animal companions your Fatherly care and healing power to take away any suffering they have. Give us, their human friends, a new understanding of our responsibilities to these creatures of Yours. They have trust in us as we have in You; our souls and theirs are on this earth together to give one another friendship, affection and caring. Take our heartfelt prayers and fill Your ill or suffering animals with healing Light and strength to overcome whatever weakness of body they have.
Your goodness is turned upon every living thing and Your grace flows to all Your creatures. From our souls to theirs goodness flows, touching each of us with the reflection of Your love. Grant to our special animal companions long and healthy lives. Give them good relationships with us, and if You see fit to take them from us, help us to understand that they are not gone from us, but only drawing closer to You. Grant our prayer through the intercession of good St. Francis of Assisi, who honored You through all Your creatures. Give him the power to watch over our animal friends until they are safe with You in eternity, where we someday hope to join them in giving You honor forever. Amen.
A Prayer for Animals
Many say this is a prayer written by a doctor and theologian Albert Schweitzer, but some say there is no truth to this claim. Either way, it's a beautiful prayer to animals and pets.
Hear our humble prayer, O God,
for our friends the animals,
especially for animals who are suffering;
for any that are hunted or lost
or deserted or frightened or hungry;
for all that will be put to death. We entreat for them all Thy mercy and pity,
and for those who deal with them
we ask a heart of compassion
and gentle hands and kindly words. Make us, ourselves, to be true friends to animals
and so to share the blessings of the merciful.
---
I hope you have enjoyed these prayer for pets and that it has stirred up your faith to meet with God more! If you would like you can leave me a comment below. I would love to hear from you.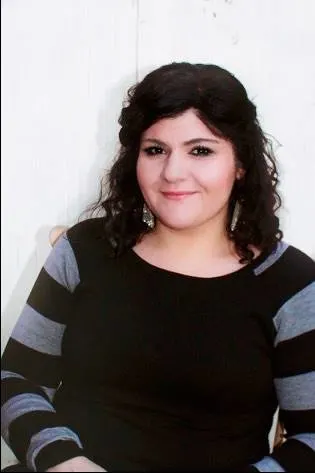 Melissa is a passionate minister, speaker and an ongoing learner of the Bible. She has been involved in church and vocational ministry for over 18 years. And is the founder of Think About Such Things. She has the heart to equip the saints by helping them get into the Word of God and fall more in love with Jesus. She also enjoys family, cooking, and reading.
She has spoken in churches in California, Oregon, Texas, and Mexico and has been featured in Guidepost Magazine and All Recipes Magazine. Read More…