In this article, I have provided 8 powerful prayers for clarity. These prayers will help you during a time of uncertainties.
We will all go through a season when things are foggy and hard to see. This is when we need clarity in what decision or choices to make, or clarity in what direction to take. I know for me there have been times when I did not know what I should do.
I remember I was about the enter my internship when suddenly the entire department I was going to intern in collapsed. I was heartbroken and so confused about what I was supposed to do. God gave me the clarity and open door for my internship after I spent a lot of time in prayer.
So, I hope that encourages you as you go through these prayers. God will help you and bring you the clarity and guidance you need.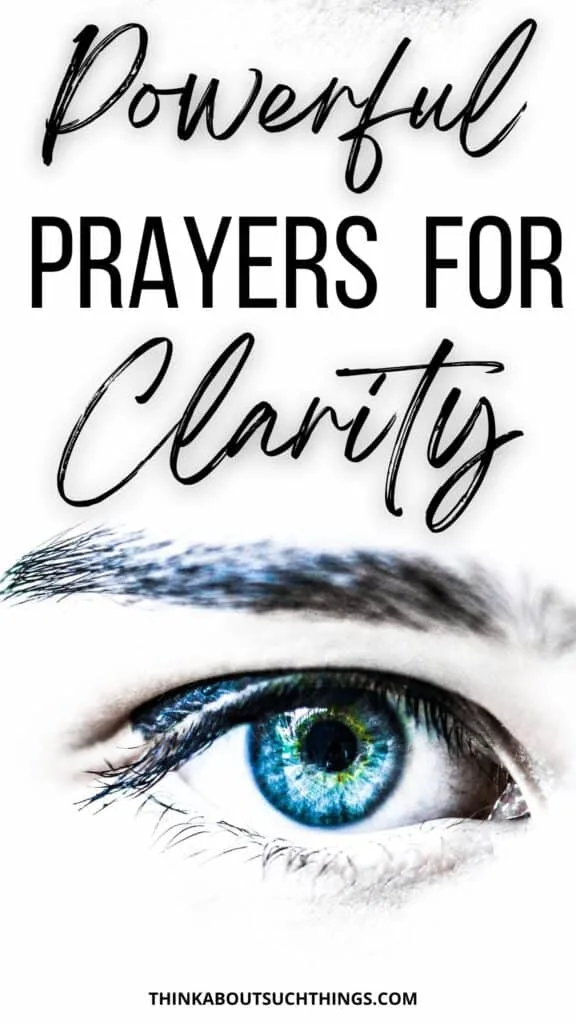 Before Praying Prayers for Clarity
Prayer is a powerful spiritual act, but not all prayers are equal. It's important to follow these tips when using written prayers.
God longs for us to have authentic and personal prayers. Please, don't think that reading someone else's prayer is the same as a prayer from your heart. I would encourage that as you read through these prayers, to find one that resonates with where you are at. From there, let that prayer inspire your prayer time.
Simple ways you can personalize your prayers for clarity

Get specific: mention people, situations, emotions, and what you specifically need clarity for.
Expand: most of these are brief prayers, but don't let that stop you from praying once it's over.
Alright, let's get started!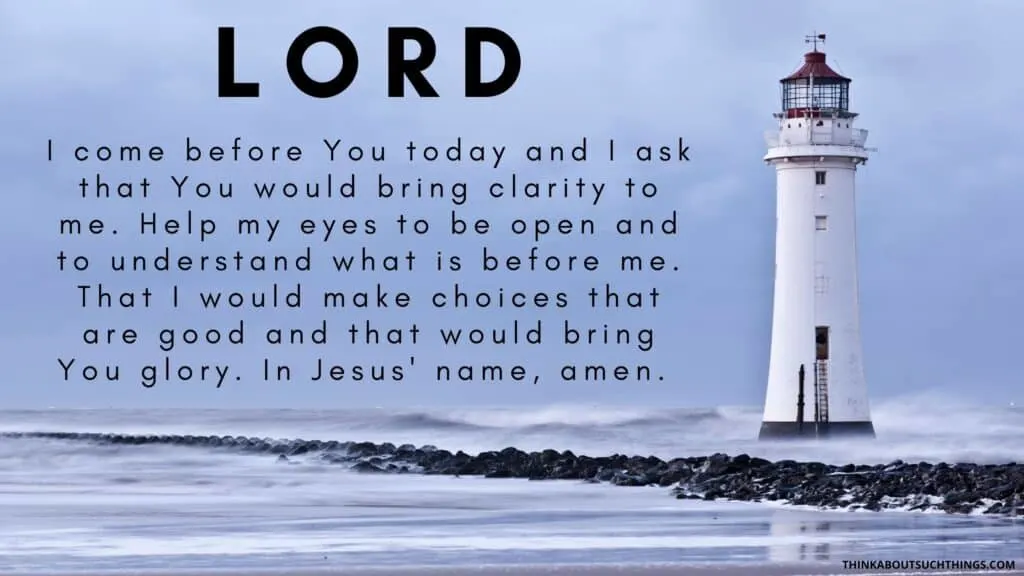 Prayer For Clarity Of Mind
Lord, thank You that You have given us sober minds. Thank You, Father, that You have protected us from depression and stress. Thank You, because everything that we set our hearts to do, we have done, and You have comforted us in the things that we were not able to do.
We pray You will frustrate every demonic effort to clog our minds and cause us not to see clearly. We want to have the mind of Christ. May You, O Lord, strengthen us when we need to take action. Let Your Word clear our every doubt and fear. Teach our hearts to trust You even when we are unsure what to do. In Jesus' name, amen.
Prayer For Clarity In Decision Making
Lord, in this decision, we thank You because You are our guide. Your Word is a lamp unto our feet and it also lights the way. You make us live our lives in anticipation of Your blessing. Lord, do not allow us to run into decisions that will cause us pain or hardship. Put a hedge over our minds that we will be guarded by it.
Lord, may we not become hasty in deciding, but that you would give us the clarity to make the right choice. Lord Jesus, let Your mind become our longing forever, that the mind that was in Christ Jesus may be in us too. In the name of Jesus, amen.
Prayer For Clarity And Wisdom
If any of you lacks wisdom [to guide him through a decision or circumstance], he is to ask of [our benevolent] God, who gives to everyone generously and without rebuke or blame, and it will be given to him. – James 1:5 AMP
Lord, give us wisdom in areas that we know we are incapable of handling and the clarity we need for areas we can't see clearly in. Your Word says that if we ask for wisdom, that You will give it generously to us. So, Lord, please pour out your wisdom in my life so that I can make the right decisions in this season. Speak to my heart and give me clarity. In the name of Jesus, amen.
A Prayer For Peace And Clarity
Lord, in this particular situation, I have lost my peace. So many things have come up and have overtaken me. I am worried and fearful over (insert situation). Lord, I have been crushed and wounded that it feels hard to stand. Lord, even though it feels hard to see again, I lay all my worries and anxieties at Your feet.
Let Your peace rule in my heart and let it remind me to be thankful in all circumstances. I am grateful that You are my Prince of Peace who paid the ultimate price to take all my fears away. Lord, in this situation I joyfully receive Your peace and clarity that surpasses all understanding as I move forward with my life. In Jesus' Name I pray, Amen.
Prayer for Clarity on What To Do
Father of Lights, thank You for Your presence. Daily, we are bombarded with different problems and opportunities. All these are set in a way that if we don't have sober minds we will fall. Father God, we ask that You will give clarity in every task that we set our hearts to do.
Give us clarity on the methods that we employ to do our work. Lord clear our minds on who to involve and who not to involve. Help us not to choose things randomly. Give us clarity on when to wait and when to proceed with our tasks. Help us keep our minds focused on Your instructions in Jesus' name. Amen.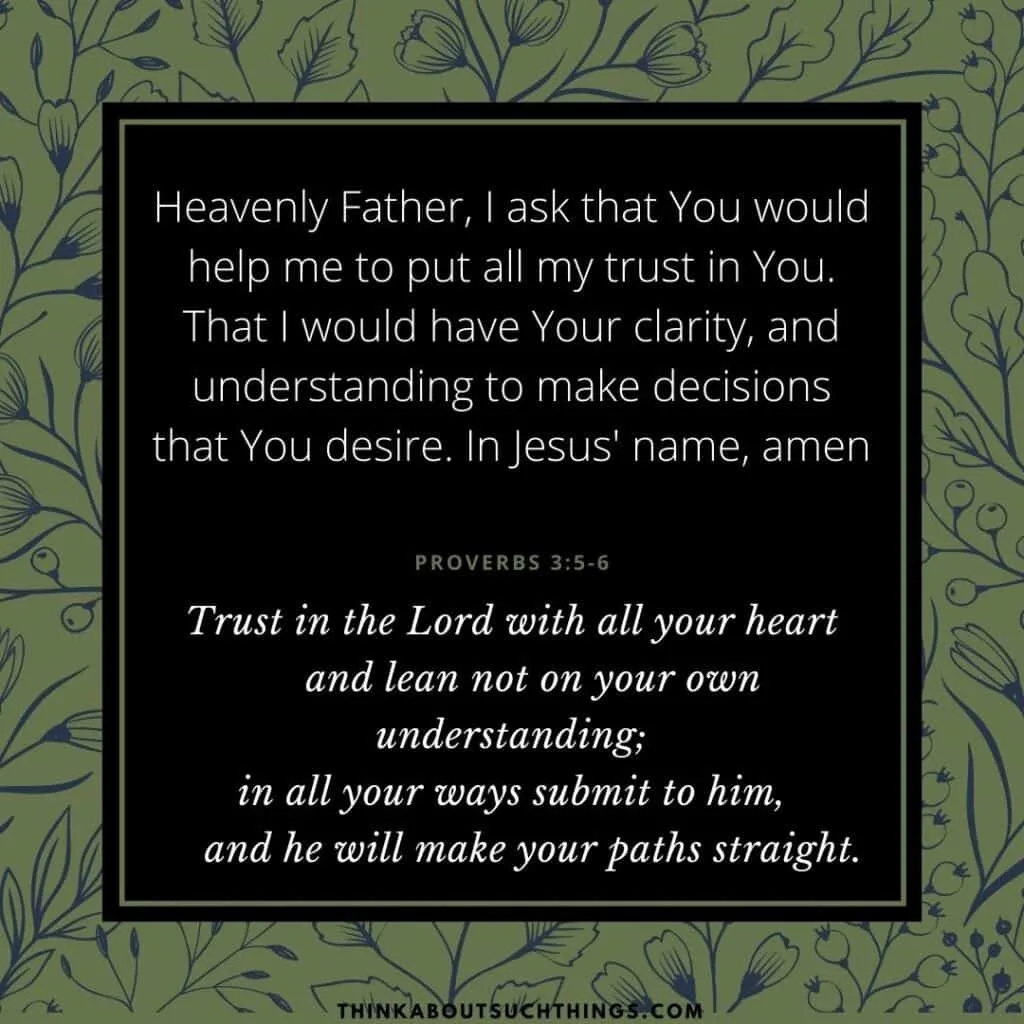 Prayer For Clarity In A Relationship
Lord, I love how You have always walked with me. You are truly the giver of every good thing that happens to me. Lord, may this relationship that I am currently in bring You glory. Lord, I pray for Your express instructions and directions on how to move ahead. In case I am going in the wrong direction, I pray that God will direct me and show me the best way. Lord, help me make decisions that are consistent with the truth I have found in the Word of God.
Lord, in case this relationship is not the right one for me, I pray for peaceful separation. If I got into this relationship without a willing heart, help me find the truth about it and heal us. Clarify everything that is not clear about this relationship in the name of Jesus. Amen.
Prayer for clarity and understanding
Lord, I am grateful that You are the giver of understanding. I know that when I set my heart to fear You, I have begun my journey to wisdom and understanding. Lord, give me clarity and understanding in every dimension of life. Give me a proper understanding of my relationships. I pray against the spirit of ignorance in dealing with life.
Lord, when I am overwhelmed by many choices, choices that I am supposed to make, give me clarity on what to choose and what not to choose. Give me the understanding to know when to respond and when not to respond. Let my heart be clear about every move that I need to take in life. Amen.
Prayer For Clarity And Direction
Lord, I want to thank You that You lead Your own in the paths of righteousness for Your Name's sake. Lord, as I continue in my daily activities and different chores, may You give me direction. Your Word reminds me that the safest place to be is under the shadow of Your wings. May You direct every move that I take. Lord, may You direct every conversation that I get into.
May every work that I get myself in be guided by You. I trust Your divine direction. I know that Lord when You lead, I can be at rest in the knowledge that I will never go wrong being led by Your hand. In the mighty name of Jesus, amen.
---
I hope these clarity prayers have helped you in the season you are in! If you would like to leave me a comment you can do so below! I would love to know what the Lord is doing in your life.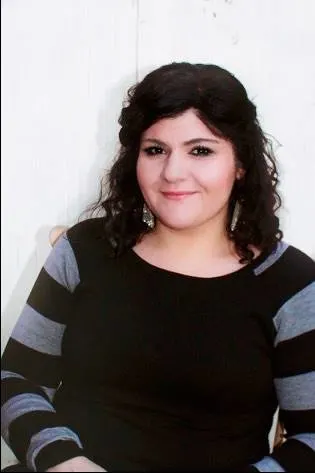 Melissa is a passionate minister, speaker and an ongoing learner of the Bible. She has been involved in church and vocational ministry for over 18 years. And is the founder of Think About Such Things. She has the heart to equip the saints by helping them get into the Word of God and fall more in love with Jesus. She also enjoys family, cooking, and reading.
She has spoken in churches in California, Oregon, Texas, and Mexico and has been featured in Guidepost Magazine and All Recipes Magazine. Read More…