In this article, I will share some powerful prayers for guidance and wisdom. We face all kinds of situations that need God's divine wisdom to help guide us on the right path.
Nothing is harder than facing a situation or a circumstance that you need guidance and wisdom in. It's easy to fall into the trap of worry and fear. This can then stop you in your tracks, and nothing moves forward.
Or you could be the polar opposite and because you don't know which way to go you just bite the bullet hoping for the best.
Both scenarios are not great, and not how God wants you to live. He wants you to experience inner peace when making a decision.
God's divine wisdom helps us. When we have the right discernment in a situation, we can then make the right choices. Prayer brings us closer to our Father and opens up our hearts to His will for our lives – which leads us down the right path. This is why it's important that we pray for guidance and wisdom.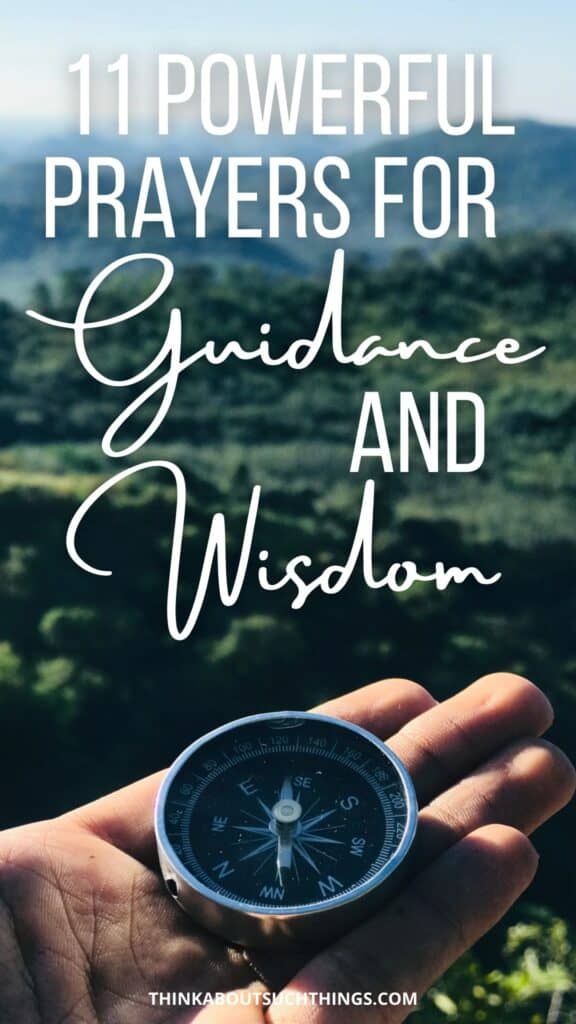 The Bible is clear that we are to call upon God when we need it…
If any of you lacks wisdom, you should ask God, who gives generously to all without finding fault, and it will be given to you. – James 1:5
So, we are going to just that! We are going to ask God, but before we get to these prayers, I would like to cover some important information.
Tips for Praying for Direction and Wisdom
Like with any written prayers, I highly recommend you follow these tips:

Get Personal With the Lord – When praying pre-written prayers, it's important to make it personal between you and God. Mention details, situations, people, and yourself during your prayer time. Use these prayers as a diving board to help you pray. He wants to hear YOUR HEART…so get real with Him.

Be Patient – When it comes to needing guidance and wisdom, we can get a little impatient waiting for God to give us a green light. I encourage you to be patient and wait upon the Lord. Ask the Lord to give you confirmation and clarity.

Ask for Peace – One of the key things we need when making a decision is God's peace. Not a peace that comes with things being easy, but a supernatural peace that comes from Him.

Talk with Him as You Would A Friend – God isn't looking for eloquent words or some poetic prayer. Remember, He wanted to use Moses who had a speech impediment. What He desires is that you would just talk to Him, as you would a friend. Share your heart with Him. (John 15:15)
Prayers for Guidance and Wisdom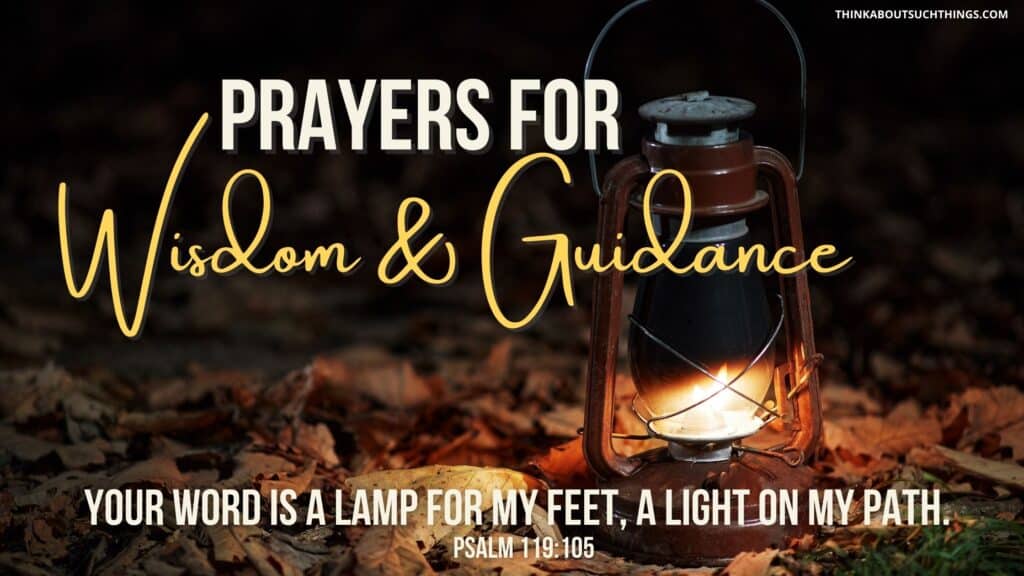 Prayer for Direction
Heavenly Father, today I come before you, asking me to give me wisdom on the decisions I need to make. I need You to guide my path, and show me the way that I should go. Show me which direction is best for my life. Embrace me with Your love so that I may know what's right from wrong in every situation. Help me listen to your still small voice during this time of decision-making. In the name of Jesus, amen!
Show me your ways, LORD, teach me your paths. Guide me in your truth and teach me, for you are God my Savior, and my hope is in you all day long. – Psalm 25:4-5
Giving Thanksgiving While Asking for Wisdom
Lord Jesus, You are the source of all knowledge and understanding. Thank You so much for being my light in this world that is full of darkness. I pray that You give me wisdom and guidance in the decisions I need to make today. Grant me discernment, so that my path is right before your eyes. In Jesus' name, Amen!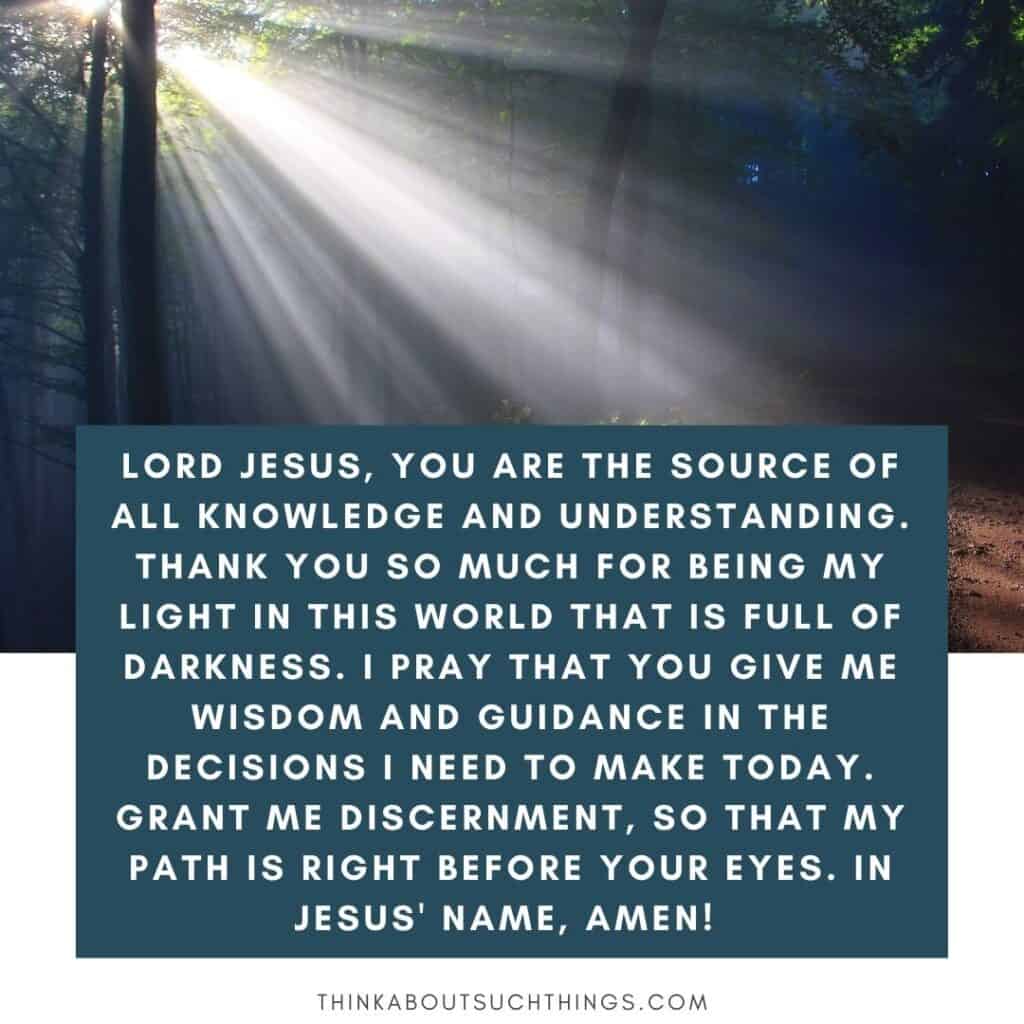 Prayer for Clarity
Father God, I need Your clarity and guidance today. I have some hard choices to make and I am not sure what to do. But I know You know what the right choices are. I believe that You are in control of my life and I want to follow Your lead as much as possible. Please give me the wisdom, understanding, knowledge, and discernment for these decisions. Make things clear to me. In Jesus' name, Amen!
>> More prayers For Clarity Here
A Prayer for When You Don't Know What to Do
Lord, I come to you in prayer today with a heavy heart. Please give me discernment and the wisdom that is needed for this difficult choice/decision that has been made before me. Weigh my options and show me which one will lead down the right path for myself as well as those whom it affects. Grant me understanding and knowledge of Your will in this situation. In Jesus' name, Amen!
Trust in the LORD with all your heart and lean not on your own understanding; in all your ways submit to him, and he will make your paths straight. – Proverbs 3:5-6
A Short Prayer for Guidance and Directions
Heavenly Father, please give me guidance, as I need to make a wise decision today. Help me discern which choice is best for myself and my family. Thank you so much for blessing us with your direction along our path. In the name of our Lord Jesus Christ! Amen.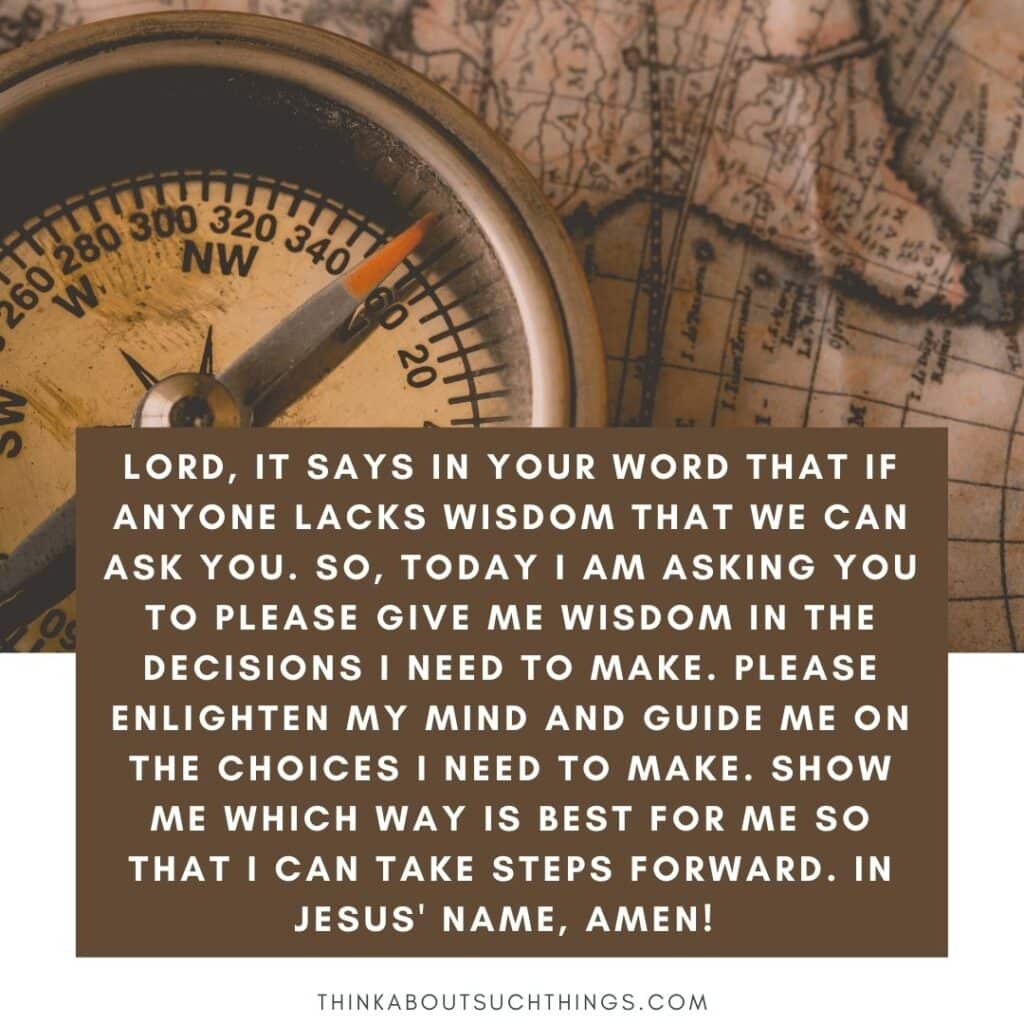 Prayer to Make Wise Decisions
Heavenly Father, thank You for this day and all of the blessings You have given us. I pray that today we are able to make wise decisions in every aspect of our lives; whether it is at home with family or here at work/school. Give us discernment so that we can weigh out our options and take into account consequences before us. I pray that You give us strength to follow through with your will no matter what it may be and for our protection along the way. In Jesus' name, Amen!
A Prayer to Make the Right Choices
God, I am here today to ask for Your divine wisdom. I need to make a choice, and I want Your guidance in what the best option for me is. I feel torn on what I should do and need Your peace. I also need to be able to carry out Your will whatever that may be. Show me the path You want for my life, give me courage and strength so I can follow it closely with You by my side. In Jesus' name, Amen!
I will instruct you and teach you in the way you should go; I will counsel you with my loving eye on you. Do not be like the horse or the mule, which have no understanding but must be controlled by bit and bridle or they will not come to you. – Psalm 32:8-9
A Prayer for Uncertainties
Holy Spirit, grant me today the wisdom I need in this new season. Let me have an open heart and open ears to Your voice and leading. I have many uncertainties but I know you are able to help me. So, that I may walk in the direction you have set before me. Thank You for being my guide. In Jesus' name, Amen!
Prayer to for God's Wisdom in Decisions
Lord, I come before You with a humble and contrite heart. Please give me the spiritual wisdom that is needed to make this decision today. Give me discernment so that I know which choice will lead down Your path for my life. Help me follow through with whatever You decide in this situation so it leads us closer to your kingdom. In Jesus' name, Amen!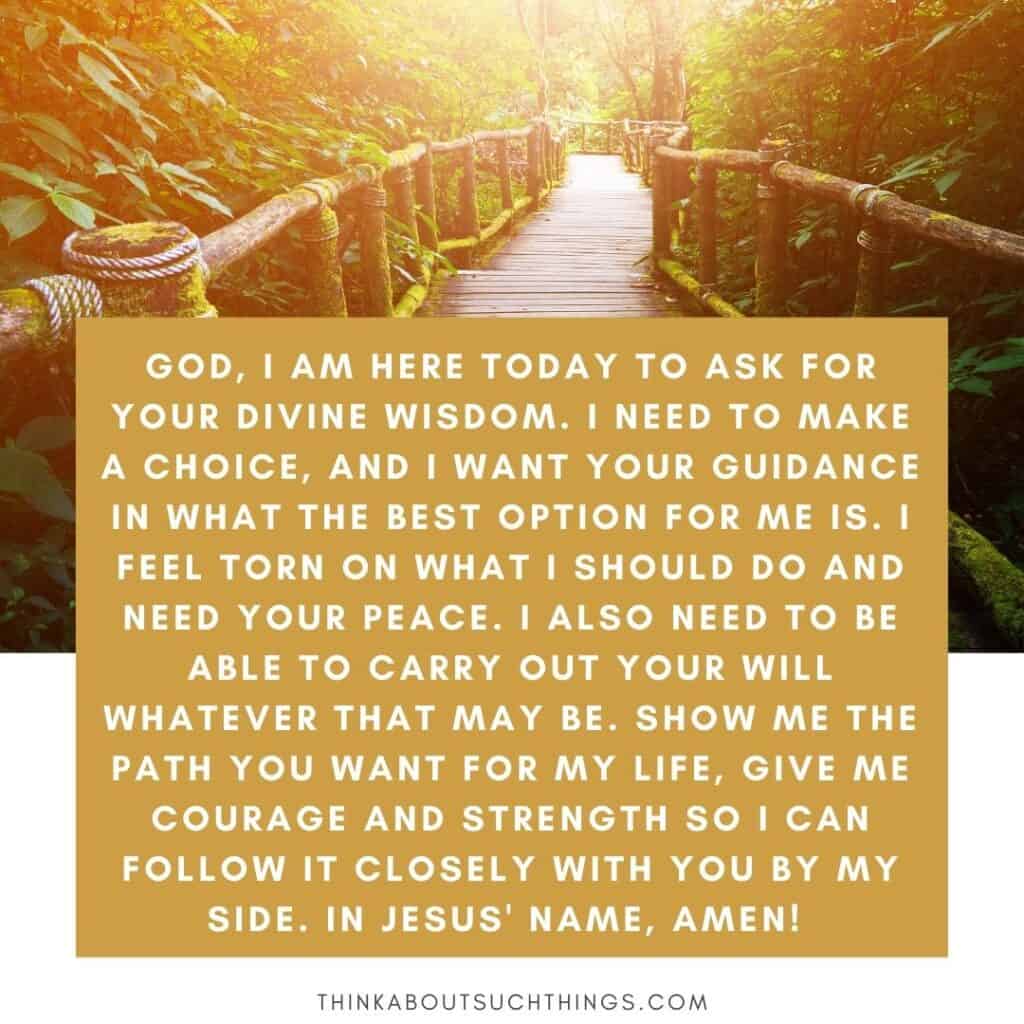 Prayer for Godly Wisdom
Lord, it says in Your Word that if anyone lacks wisdom that we can ask You. So, today I am asking you to please give me wisdom in the decisions I need to make. Please enlighten my mind and guide me on the choices I need to make. Show me which way is best for me so that I can take steps forward. In Jesus' name, Amen!
If any of you lacks wisdom, you should ask God, who gives generously to all without finding fault, and it will be given to you. – James 1:5
Holy Spirit Prayer for Guidance
Thank you, Holy Spirit for this beautiful day of life today. I ask that You would give me a spirit of wisdom and revelation in the knowledge of You. That I may know the hope of my calling and the exceedingly glorious inheritance I have in You, Jesus! That my path would be clear and that Your Word would guide me as I go. In your precious name, I pray, amen!
---
I hope these prayers for guidance and wisdom have stirred your heart to seek God during this season of your life. I encourage you to keep pressing in and stand in faith knowing He will give you the direction and wisdom you need to make the right choice.
If you would like to leave a comment. You can do so below! I would love to hear from my readers.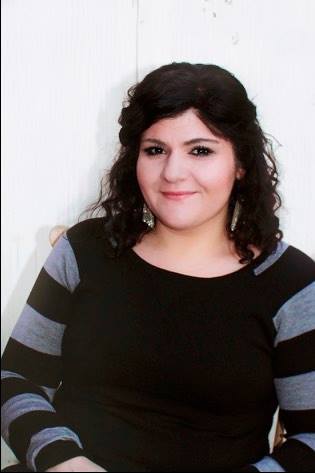 Melissa is a passionate minister, speaker and an ongoing learner of the Bible. She has been involved in church and vocational ministry for over 18 years. And is the founder of Think About Such Things. She has the heart to equip the saints by helping them get into the Word of God and fall more in love with Jesus. She also enjoys family, cooking, and reading.
She has spoken in churches in California, Oregon, Texas, and Mexico and has been featured in Guidepost Magazine and All Recipes Magazine. Read More…