In this article, I will share a collection of prayers for favor and breakthrough. You can use these written prayers as an inspiration to help you dive into your prayer time with God.
God graces us with so many gifts, blessings, and more. And one of the many things God can give someone is favor. I like to look at Biblical favor like God grabbing a paint brush and highlights you to have open doors, and the support or approval of certain individuals.
A great example of God's favor in action is the story of Queen Esther. God graced her with favor with the King, and many others in the royal court. This aided in her calling and will of God for her life. And the same goes for us! We can't fulfill the calling in our life without God's favor.
So, today I have a handful of written prayers on favor. I have broken them up on different topics to help streamline the prayers. But before we get into them, I would like to cover some important keys when praying written prayers.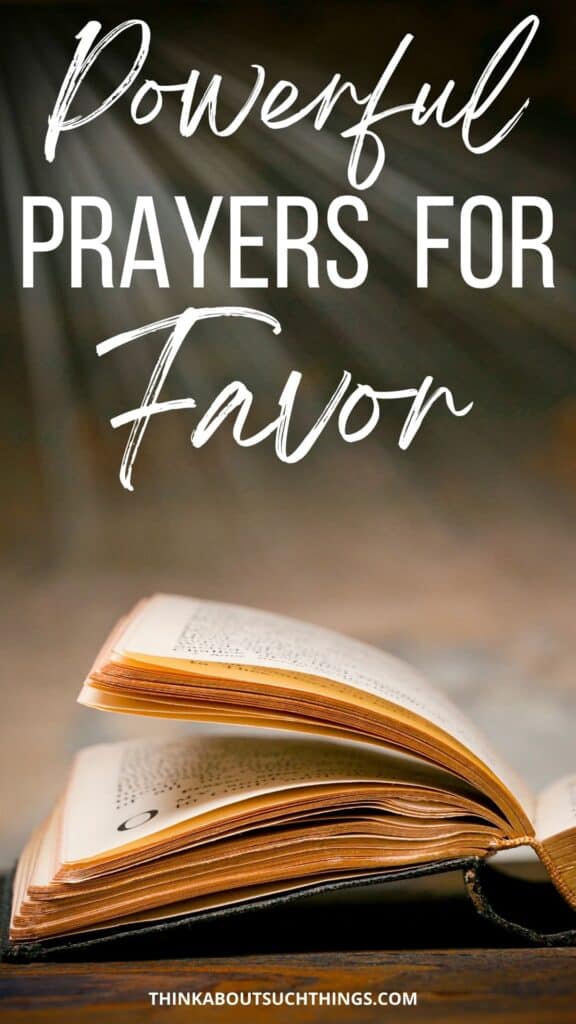 Tips for Praying Prayers for Favor
When you look throughout the prayers of the Bible. You will notice a common thread that these prayers all came out of a place of relationship with God and the heart. When we use written prayers, we want to make sure we are connecting with God and sharing our heart with Him.
God desires to hear from us. He wants to hear our heart and our words. This doesn't mean written prayers are useless. But that they should be used in a way to help you pray, not replace YOUR prayer.
So, when you are praying for favor, use the prayers below as inspiration or like a diving board to jump into your prayer time with Jesus. Feel free to expand, personalize, and reword the prayers to make them your own.
Alright let's get started!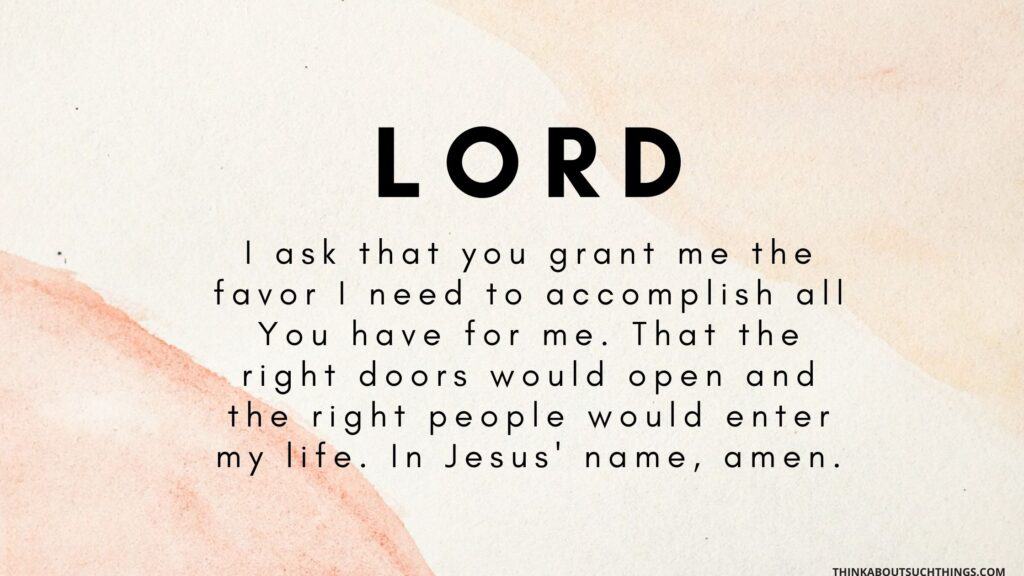 Prayer For Blessings And Favor
May the favor of the Lord our God rest on us;
establish the work of our hands for us—
yes, establish the work of our hands. – Psalm 90:17
Lord, let Your blessings and favor be poured out on upon us. Let the work of our hands be blessed according to the promise of Your Word so that we can, in return, be a blessing to many others. May our talents, our potential, and our work yield abundant results for Your glory.
Lord, because of Your blessing and favor is upon us, may many come to the knowledge of Your Name. That we would be a shining light of Your love. In the mighty name of Jesus, amen.
Prayer For Favor And Breakthrough
For the Lord God is a sun and shield;
the Lord bestows favor and honor;
no good thing does he withhold
from those whose walk is blameless. – Psalm 84:11
Lord, we are in a hard and desperate season. We have cried and called upon Your Name from our hearts. We are still waiting on You, Lord. We still believe that our prayers are always before You and Your hour to answer shall come.
Lord, as we lift our prayer to You, give us a breakthrough in our finances. Let us experience a breaking forth of divine provision. As we wait on You for our sick relatives, may healing break forth like water. Lord, as we wait on You for our relationships, may you connect us with spouses that we will forever be grateful for. Lord, we are persuaded that You will bring to an end every tear that we have cried. In the name of Jesus, amen.
A Prayer For Divine Favor And Connections (Relationships)
Lord, we pray that in Your Name You would make us like Ruth, who, at the advice of Naomi, prospered and was connected to Boaz. May our steps be daily ordered that we will meet significant people and connections because You lead us.
And let those connections flourish under Your ways. Lord, we believe that in every way that You order there is a success. May we find our business partners as You lead us. May we find our spouses as You lead us. May we find our jobs as You lead us. May we find friendships as You lead us. Open those doors, Lord, for the people that we need in our lives and give us favor with them. In Jesus' name, amen.
Prayer for Favor At Work With Boss And Co-workers
Lord, as we work in our workplaces, let Your favor be upon me. I pray that my relationships with my bosses will be favored. May they favor me based on Your choice. As I work hard, Lord, I pray that my hard work and my diligence shall be noticed even when I do not take notice. Favor me so that they will not forget the good that I have done.
Lord, we pray that my relationship with my co-workers will be graced with Your favor. I pray that every kind of malice that any of my co-workers may want to present against me, will be dealt with even before I know it. And Lord, create a harmony among all of us that we will always endeavor to stand for one another and not fight against one another. In the mighty name of Jesus, amen.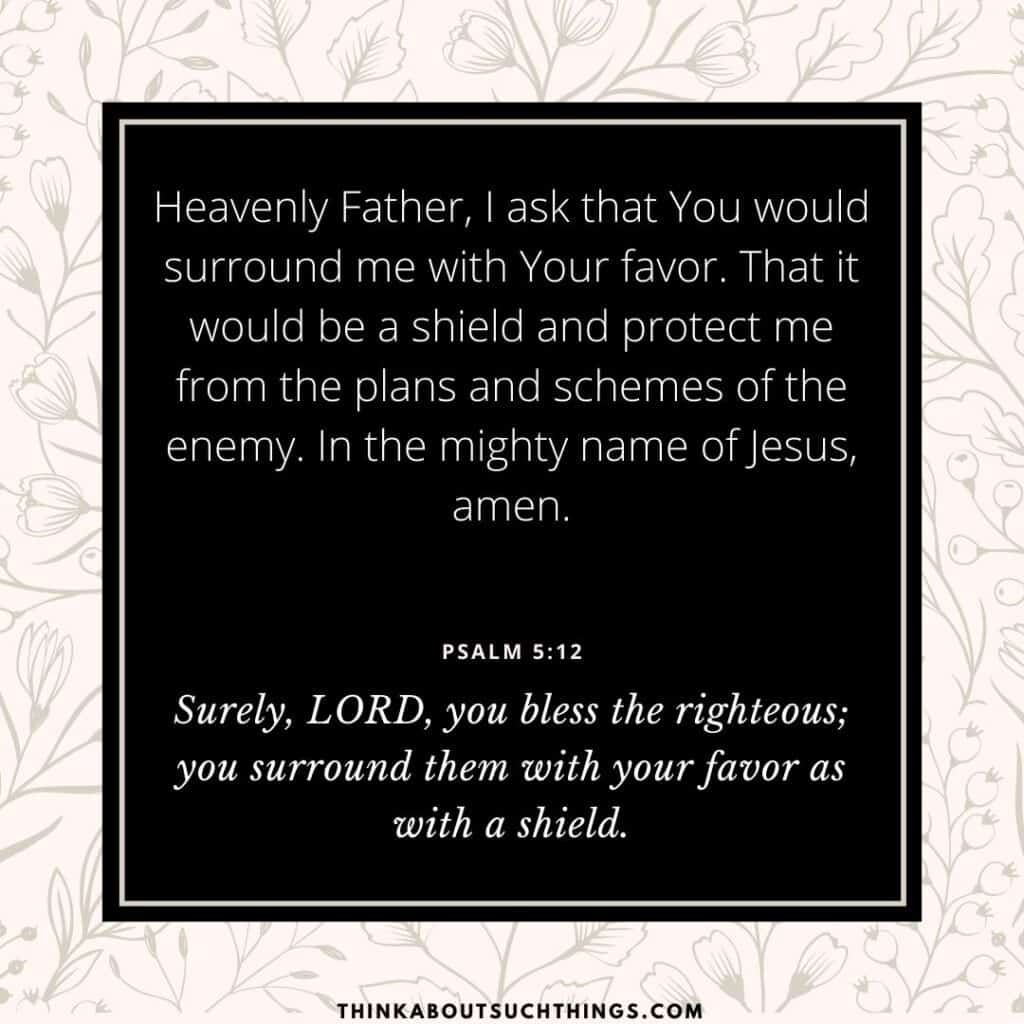 Prayer for Favor and Open Doors
Surely, Lord, you bless the righteous;
you surround them with your favor as with a shield. – Psalm 5:12
Father, thank You for Your provision in Christ for favor and open doors. Thank You because we can rest in peace, God of Favor. As we seek You, we thank You for every plan and opportunities open to us.
Your Word in Ecclesiastes reminds us that time and chance are given to everybody. Help us to see opportunities that lie around us in our places of work,in our relationships, in our ministry and even in our communities. Thank You because You are opening every door that needs to be open by Your power according to Your will.
We ask that You open the door of employment. We open the door of godly connections and beautiful relationships in the Name of Jesus. Let every door of faith and favor swing wide In Jesus' Name. Thank You and may Your will be done. In the name of Jesus, amen.
Prayer for Grace and Favor As You Go Throughout Your Day
Lord, as I wake up today, my life is in Your hands. I commit my errands before You today, let them be favored and successful. I commit our journeys before You, whether we will use my vehicles or other transit. I pray you will command Your angels over me so that I am protected.
When I come back home, my heart will be in gratitude that You made me reach home. Lord, I pray You will favor me in every meeting that I will be in. Favor me in every gathering that I will be in. May You protect me against every unseen danger of accidents, contracting diseases, food poisoning, among other things that are not good. Let anyone that meets me favor me, whether I will be shopping, our businesses or at schools, in Jesus' name. Amen.
Prayer For Favor Over Finances
Lord, bless our finances. As we work and make money, we pray You will give us the wisdom to utilize every dollar that comes to our account. That we would become good stewards of what has been given to us.
We pray You will give us more ideas on how to make extra money to be able to cope with the rising needs of our family. We pray against every loss that is determined through fire, theft, and sickness. Let Your favor make us attract more as our cup overflows. Let our financial cup overflow with more so that we may be of help to other people. In the name of Jesus, amen.
---
I hope these prayers for favor have been helpful. My prayer is that these have encouraged and stirred up your prayer time with the Lord. If you would like to leave me a comment, you can do so below. I would love to hear from and what God is doing in your life.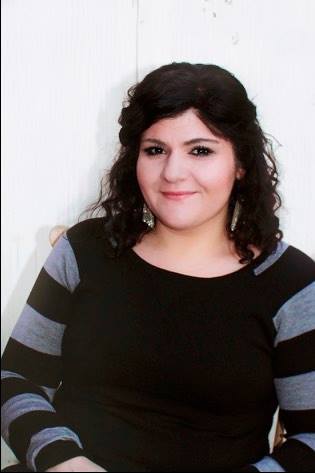 Melissa is a passionate minister, speaker and an ongoing learner of the Bible. She has been involved in church and vocational ministry for over 18 years. And is the founder of Think About Such Things. She has the heart to equip the saints by helping them get into the Word of God and fall more in love with Jesus. She also enjoys family, cooking, and reading.
She has spoken in churches in California, Oregon, Texas, and Mexico and has been featured in Guidepost Magazine and All Recipes Magazine. Read More…