In this article, we will go through different prayers for surgery. These prayers can be used before, during, and after a surgery or operation.
Going into surgery or an operation can be nerve-wracking even if the procedure is minor or outpatient. I mean, who likes to get cut open?
I know when my father had to have open heart surgery to repair a valve, how scary it was for him, but also for all us family members as well.
The good news is that God wants to bring us comfort, peace, and grace during these times. So I have written up some prayers for surgery. Sometimes we don't know what or how to pray and it's helpful to have some inspiration.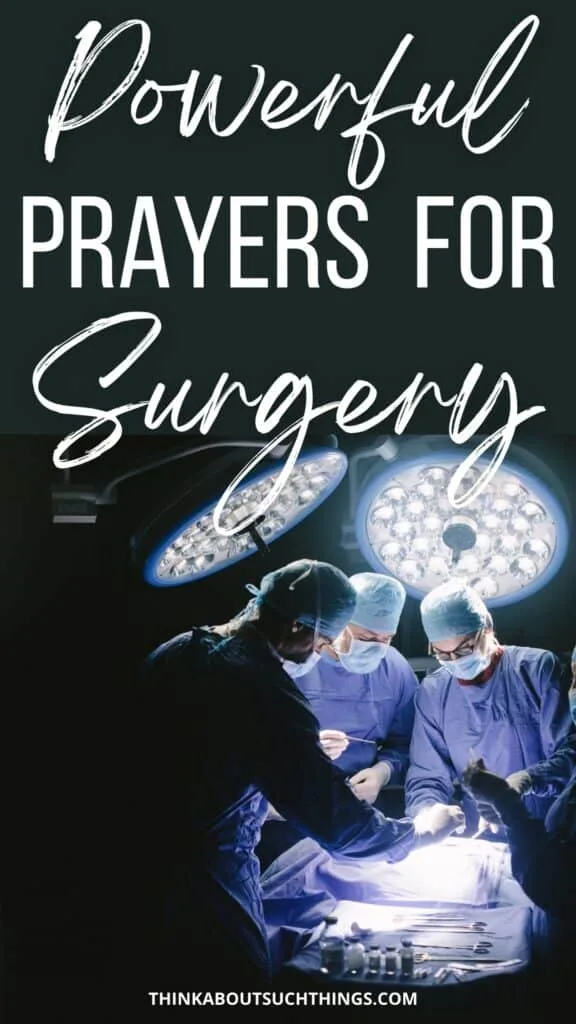 But before we dive in, let's go over some important things.
Tips for Using Prayers for Surgery
If you have been around my site, you will know I value written prayers, but I believe they need to be used correctly. And this goes for praying for an operation.
Prayers should always be heartfelt and come from YOU. God desires to hear from you, not from a written prayer. So, use these prayers to inspire your prayer time and add things to personalize the prayer. This can be simply done by adding the name of the person having surgery if it's not you. Or the type of surgery.…praying for a specific issue or even for the doctor.

It's ok to get emotional. God is not scared of your tears, your concerns, or fears. Share what you are feeling and process your emotions with Him. Ask Him for peace and His presence. He is faithful to hear you!

Do not be anxious about anything, but in every situation, by prayer and petition, with thanksgiving, present your requests to God. – Philippians 4:6

Our God is a God who can bring healing to our bodies. So, I encourage as you pray for the surgery to also pray for God's healing touch. If you would like to use scriptures or want to learn more about healing few posts that you might find handy:

– 27 Powerful Bible Verses for Surgery or Operations
– 24 Bible Verses for Healing
– 8 Powerful Prayer Points for Healing
– The Powerful Gift of Healing
These prayers can be used personally for yourself or to pray for a family member or friend who is going to have an operation.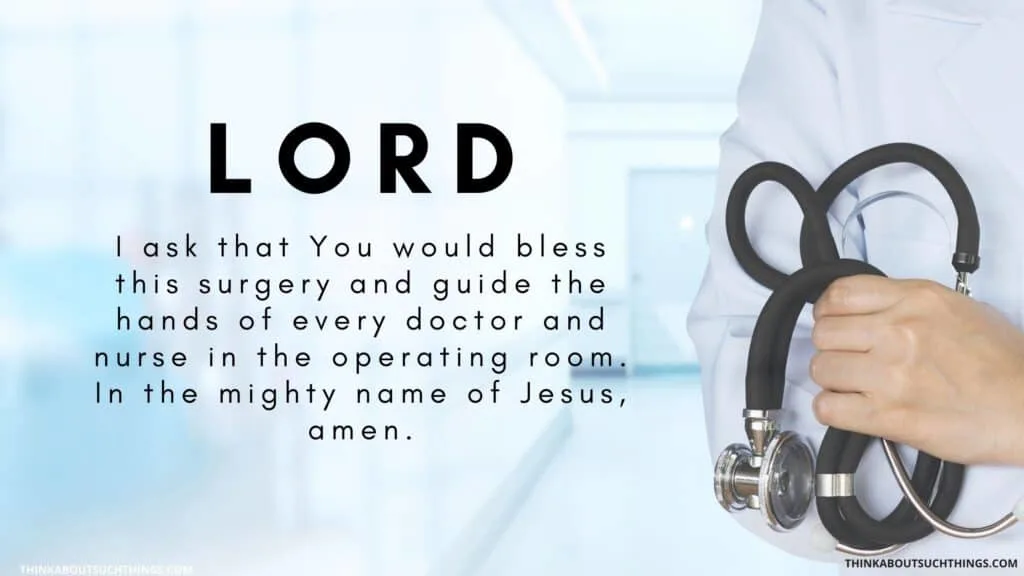 A Prayer Before Surgery
Heavenly Father, thank You for this time and everything going on in my life. I am about to go into surgery But I know You are in control. Though I may not fully understand the procedure, I know You made me, and You know every inner part of me.
May You be with the surgeon throughout this surgery, Lord. May You be their guiding hands and eyes to work with care and skill. God, may this surgery clear all the medical issues and bring me wholeness in Jesus's Name.

Fill me with strength and faith as I go into the surgery room. Help me hold on to Your promises of living to see Your goodness in the land of the living in the name of the Lord Jesus. I lay my spirit and soul unto You Lord in Jesus' name, amen.
A Prayer During Surgery
Dearest Father, as the operation starts and (insert name) is laid on the operation table, I have so many worries and fears. I do not know what exactly is going on in his/her body as the surgeons do everything, but you do! You have promised to never leave us nor forsake us. Let Your angels watch over each person in that operating room.
Let Your Holy Spirit guide all the nurses and doctors. Let them feel Your presence right there with them. I pray You will guide the surgeons performing the operation. Let them be extensions of Your healing hands. I pray for no complications are arising throughout this procedure.
Thank You for a successful surgery. Enable (insert name) to rest in Your peace as they wait for recovery in the mighty name of Jesus, amen.
A Prayer for Recovery After Surgery
Gracious Father, my heart is full of gratitude. I praise You, God, with a song and magnify You with thanksgiving for the operation that I am just coming from. You kept me, made Your face shine upon me throughout the operation.
Bless Your Name God for leading the surgeon, giving them steady hands and keeping their minds sharp throughout the surgery. I thank You for enabling me to rest in Your peace. I exalt You for protecting me and keeping away any harm from happening to me during the operation. I am grateful for overseeing everything. I magnify Your Name for being faithful to me and finishing what You started since the news that I have to take the operation. As I begin the recovery process, may I continue to see Your healing hand. May there be no post-surgical complications in Jesus Name. Amen.
A Prayer for Successful Surgery and Recovery
Lord, as I undergo this surgery. I pray it would be beyond text book status. That everything would go smoothly and better than they originally thought. That this surgery would be 110% success.
Bless the doctors and nurses with divine wisdom and grace. And I pray that afterwards that my recovery would be easy and successful as well. In Jesus, name amen.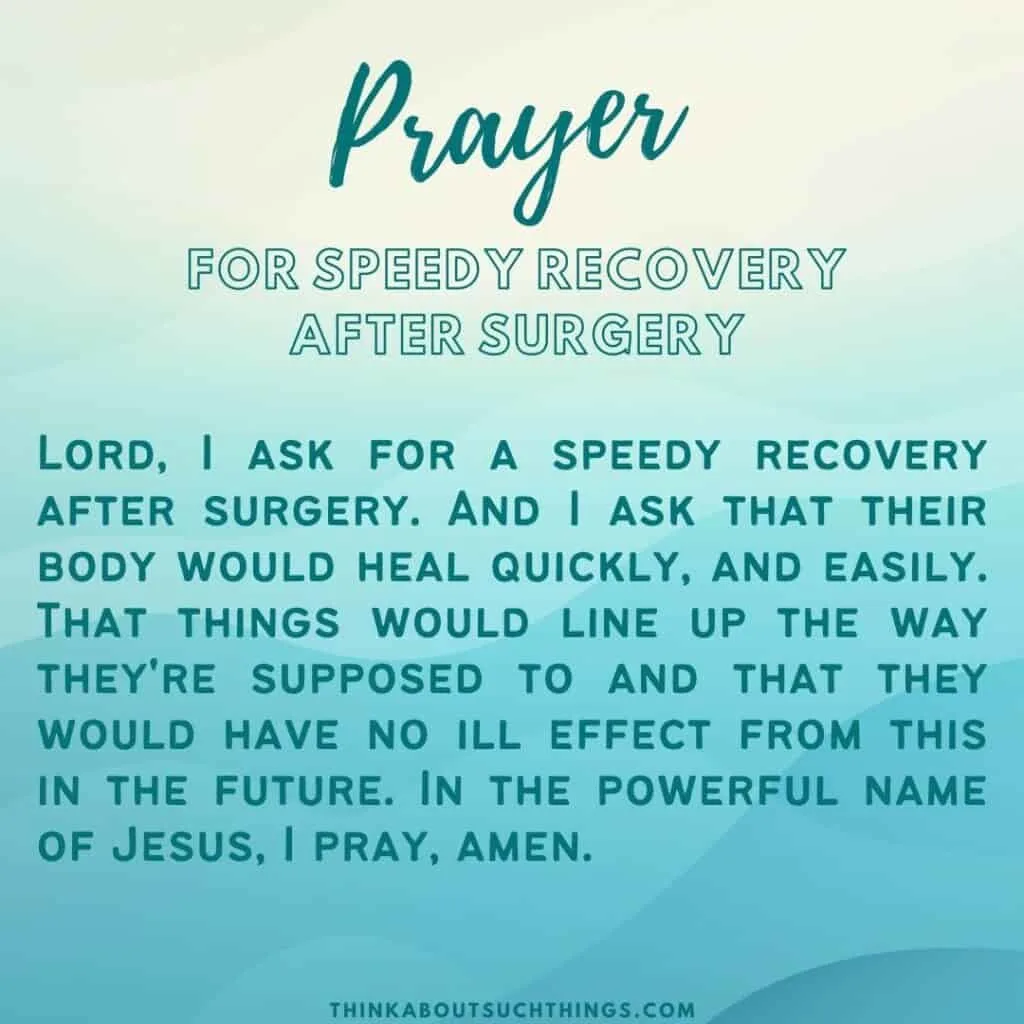 A Prayer of Thanksgiving For A Successful Surgery
Heavenly Father, thank You for Your goodness and Your mercies that endure forever. I am so grateful for the whole surgery process that I just went through. This surgery was successful because I know You blessed every person who was involved throughout the journey with gifts to carry it out.
You watched over me throughout the operation. You made the results of the operation good and my recovery journey with no complications. Thank You for taking away every pain from my body and making me whole again.
Now I have a testimony that as soon as I prayed, You answered me and encouraged me by giving me strength. Thank You for giving me another chance at life. All this I pray in the Name of the Lord Jesus. Amen.
A Prayer Before Surgery for a Friend
Merciful God, I entrust the life of (friends name) in Your hands as they go to the operation room. I ask that You may protect their physical body throughout the operation. Remind them You are there with them on the operation table in the Name of the Lord Jesus.
When fear tries to creep into their hearts, give them the courage to hold on to the fact that You are always watching over them. I ask that You may be with the medical professions operating this case in the Name of the Lord Jesus.
May their hands be an extension of Your healing hands. May (friends name) be strong in You Lord. I ask that You are going to silence every negative thought in his mind. I pray that You, God, the source of hope, will fill him completely with joy and peace as he trusts in You. Then may (friends name) overflow with confident hope through the power of the Holy Spirit; in Jesus Name I pray. Amen.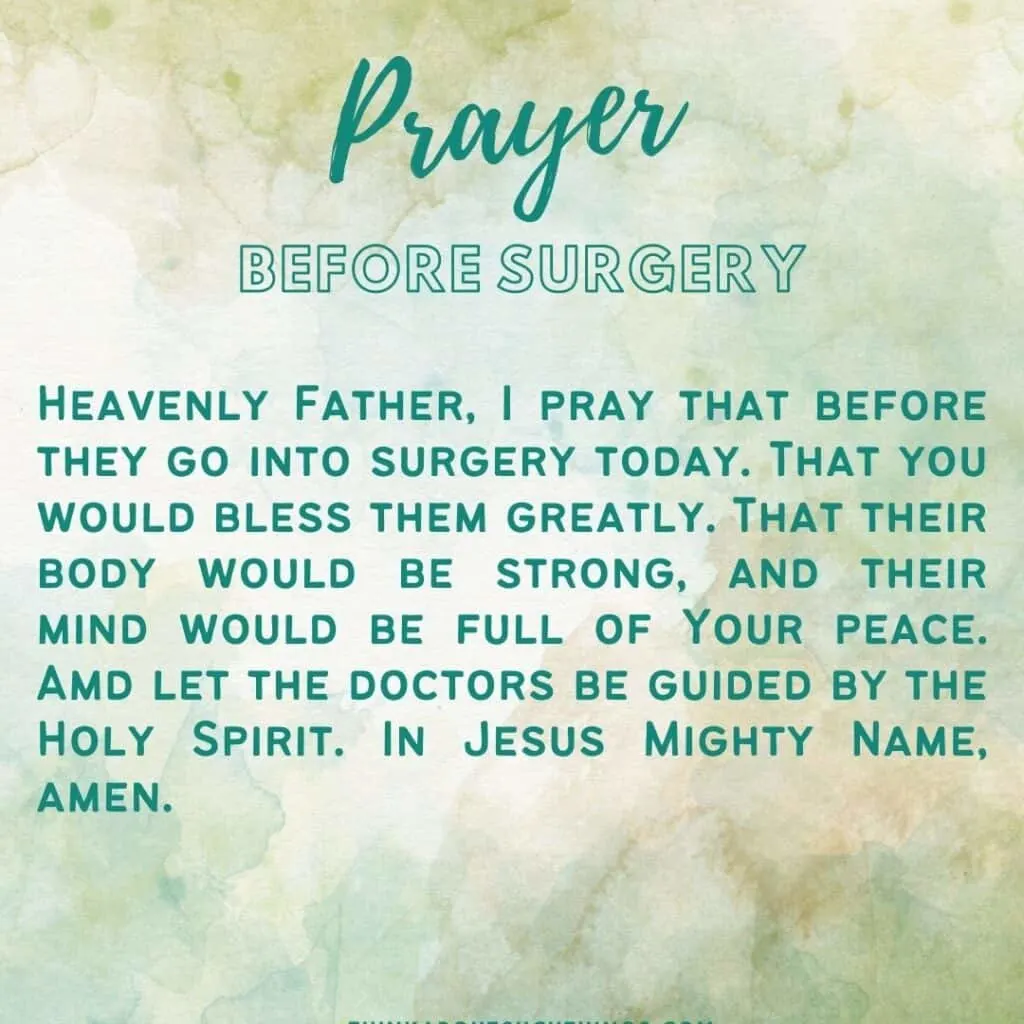 A Prayer for Speedy Recovery after Operation
Everlasting Father, thank You because Your promises are sure. You are a faithful God, and I can rely on You. Your Word promises that if I ask You anything in the Name of Your Son Jesus, You will do it.
I thank You for the operation I just went through, and humbly ask for speedy recovery from this procedure. I pray that my body will be restored back to health once again and feel 100% better than before.
Only You, God, can put back together every cell, nerve, tendon and skin in a nick of time. I pray that there will be no complications that would in any way slow the recovery process. You are My Healer and I trust in You and believe You to quicken this process in the Name of the Lord Jesus I pray. Amen.
A Prayer for Heart Surgery
Loving Father,thank You for Your everlasting love. I am grateful for always watching over me, even with this heart problem. Without my heart working, life would take a different turn, but I am grateful for keeping it pumping.
Having this surgery is scary, and frightening, Lord considering all the factors that play out. But I pray for courage in the Name of the Lord Jesus. May I feel Your presence with me from the beginning of the surgery through to the recovery period.
I pray for the medical professionals involved throughout this journey that You Lord, will fill them with wisdom, compassion, and steady minds to do their jobs well.
Father, reveal the things that the surgeon needs to see to perform this operation in Jesus' Name. I pray for patience, strength, and peace over my mind, heart and body as I wait for the procedure, during the procedure and after the procedure.
I place my trust in You Father, and I know Your will shall be done in the Name of Jesus. I pray this in the precious name of Jesus. Amen.
A Prayer for Medical Procedure
Lord, I thank You for You are good and Your mercy endures forever. As I lay here today , I am vulnerable and afraid of the procedure I am going to undergo.
Hide me in the shelter of the Almighty. Let this fear and anxiety leave me, in the name of Jesus and Lord, fill me with courage and strength. I know You are going to be with me. You who watch over me do not sleep or slumber.
My help comes from You, God, my courage comes from You, my hope comes from You. I trust You will take care of me throughout the procedure. I cancel every plan of the enemy to cause complications, fear, or hindrance. I leave everything at Your feet and walk-in courage as I wait for the procedure. In Jesus' name. Amen.
I hope these prayers for surgery have encouraged you during this season. Whether these prayers are for yourself or for a loved one… know that God is with you both.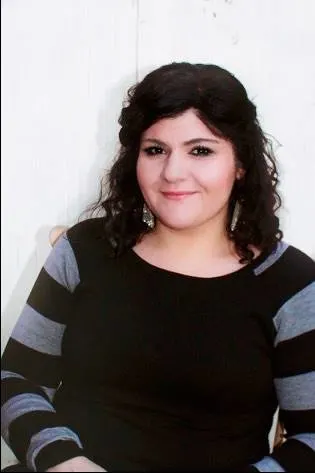 Melissa is a passionate minister, speaker and an ongoing learner of the Bible. She has been involved in church and vocational ministry for over 18 years. And is the founder of Think About Such Things. She has the heart to equip the saints by helping them get into the Word of God and fall more in love with Jesus. She also enjoys family, cooking, and reading.
She has spoken in churches in California, Oregon, Texas, and Mexico and has been featured in Guidepost Magazine and All Recipes Magazine. Read More…