In this article, we will enjoy powerful prayers for inner peace that Christians can pray. But before we dive in we will Look at what the Bible has to say about the power of prayer and how it can bring us peace in trying times.
A lack of peace is one of the things that can wreak havoc on your life. It can lead to anxiety, worry, fear, and even depression. It affects our personal life, relationships, and work or school environment. But the good news is that we don't have to be subject to it.
Jesus has many names in the Bible, but one of them is, Prince of Peace. He is the One who brings us PEACE. Not to mention another name the Lord is also known in the Old Testament as Jehovah-Shalom (I AM Peace or the Lord is Peace).
"For a child will be born to us, a son will be given to us;
And the government will rest on His shoulders;
And His name will be called Wonderful Counselor, Mighty God,
Eternal Father, Prince of Peace" – Isaiah 9:6 (emphasis added)
And throughout scripture, we see countless stories of God giving inner peace to individuals who were fearful. One that comes to mind is Gideon. You could say this guy was afraid of his own shadow, yet God made him into a mighty warrior. You can't become a mighty warrior unless you have trust and peace knowing God is with you.
Another story I find amazing about seeing the work of prayer and how it can bring inner peace is with Peter.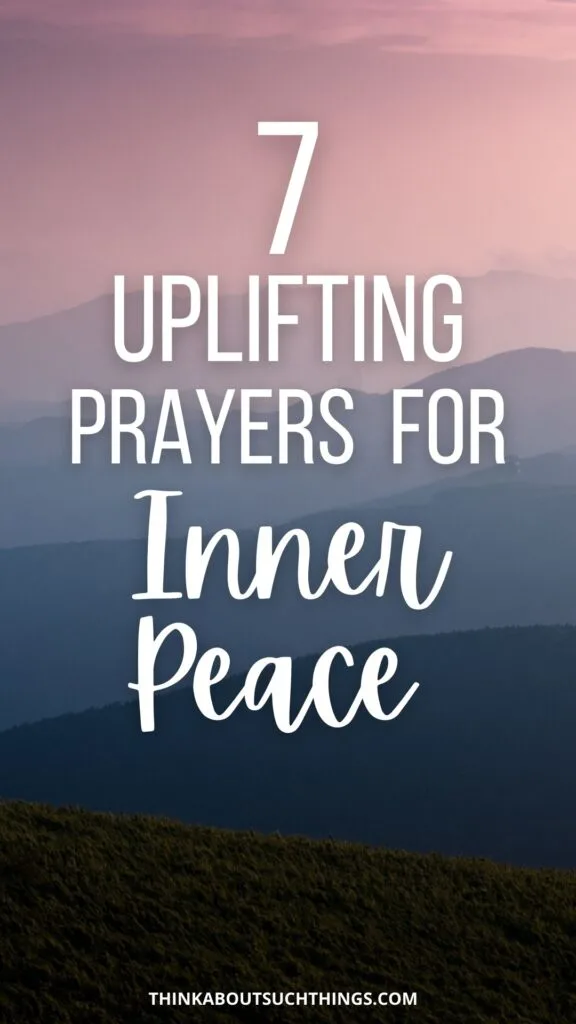 Here why find Peter in prison awaiting trial with King Herod…
"The night before Herod was to bring him to trial, Peter was sleeping between two soldiers, bound with two chains, and sentries stood guard at the entrance." – Acts 12:6
See, Peter was celebrating at a Jewish festival when King Herod had him arrested and imprisoned. He had every reason to be fearful for his life. Days earlier, Herod had ordered the execution of James, another disciple.
But I find it interesting that the night before Peter was to meet with Herod, he was sleeping soundly. Most people would be up, pacing the floor and trying to come up with the right words to convince an evil king to spare their life or stricken with fear that they could be executed in the morning.
But NOT Peter!
How was it he was able to sleep so soundly that evening? I firmly believe that the answer can be found in Acts 12:5.
"So Peter was kept in prison, but the church was earnestly praying to God for him."
BOOM! The church was earnestly praying! This is what gave Peter the inner peace to sleep through the night.
Now, you might be tempted to think that praying for a friend to have peace before surgery or a job interview doesn't matter. But it does. Your prayers not only have power, but they can bring peace to those who are in the middle of a hard situation or circumstances.
My hope in sharing this short story with you is to encourage you when you go through these prayers for inner peace. God wants you to experience His amazing peace so that you might find rest in Him.
Other articles about Peace and Rest:
Prayers for Inner Peace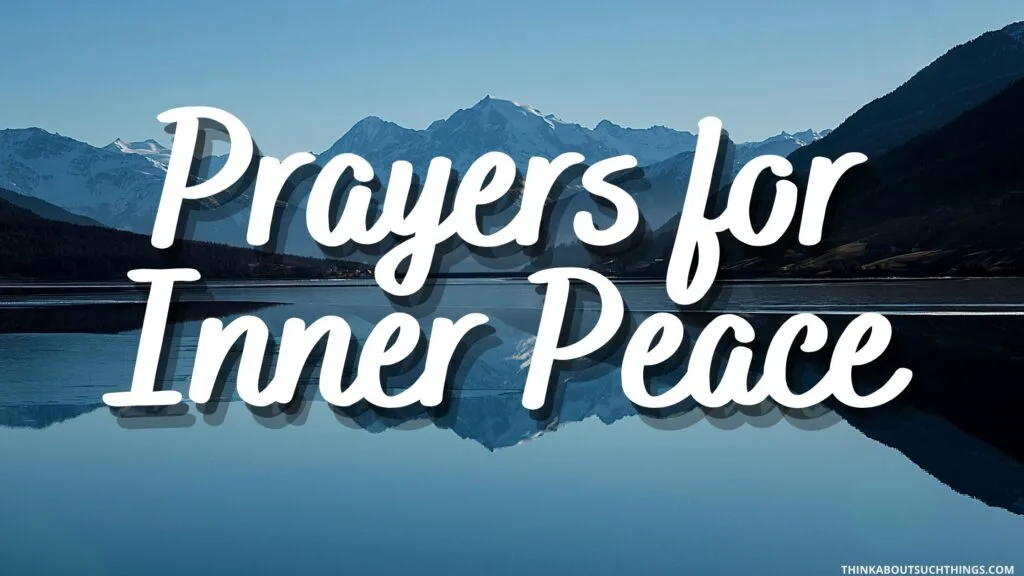 A Prayer for Inner Peace and Happiness
The LORD bless you and keep you; 25 The LORD make His face shine upon you, And be gracious to you; 26 The LORD lift up His countenance upon you, And give you peace. – Numbers 6:24-26
Heavenly Father, I come before You today and I ask that you would shine your face upon me and let me experience Your peace. That I would find incredible joy and happiness in You, Lord. Let my eyes be fixed on Your goodness and not the situations around me. That you would fill my whole being with Your peace and that I would put my trust in You. Thank You, Father, for your blessings… In the might name of Jesus, amen.
A Prayer for Peace of Mind
Be anxious for nothing, but in everything by prayer and supplication, with thanksgiving, let your requests be made known to God; 7 and the peace of God, which surpasses all understanding, will guard your hearts and minds through Christ Jesus. – Philippians 4:6-7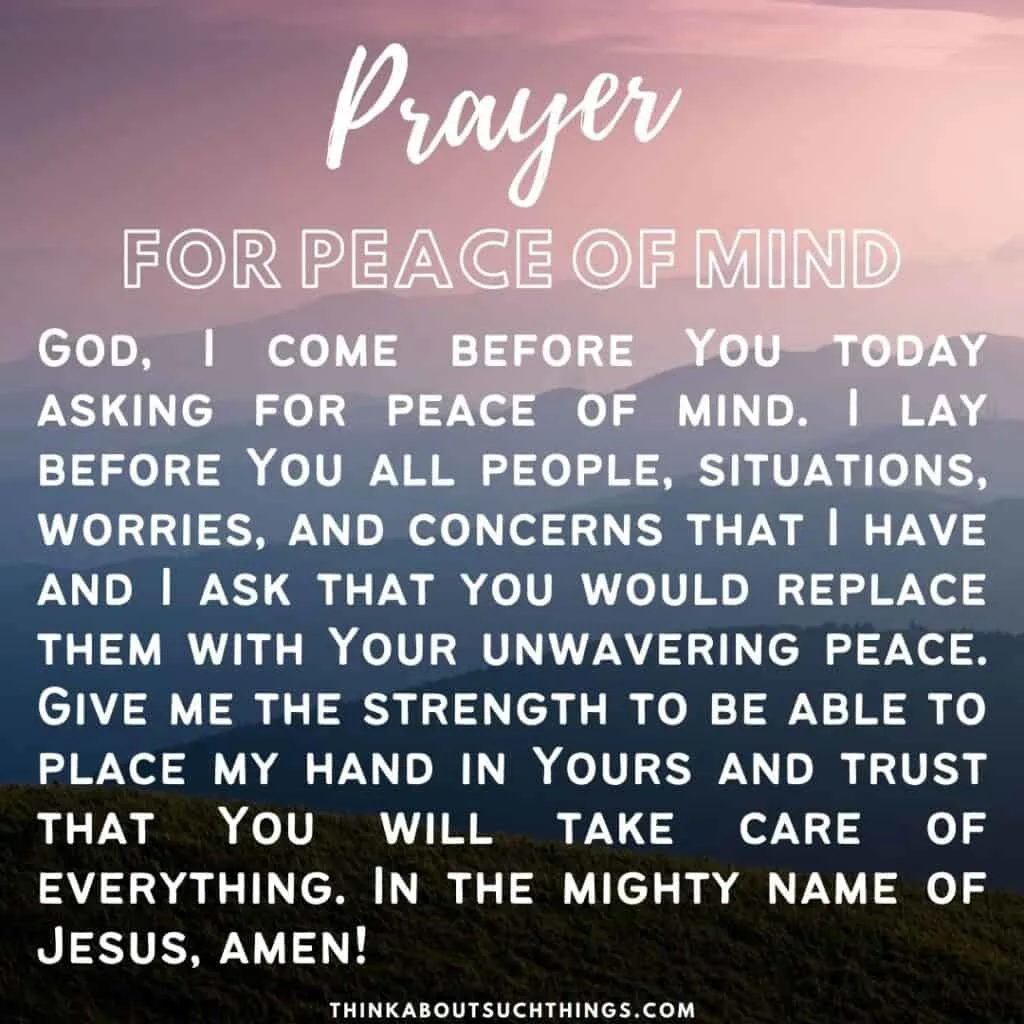 God, I come before You today asking for peace of mind. I lay before You all people, situations, worries, and concerns that I have and I ask that you would replace them with Your unwavering peace. Give me the strength to be able to place my hand in Yours and trust that You will take care of everything. In the mighty name of Jesus, I pray, amen!
A Prayer for Peace and Forgiveness
Depart from evil and do good; Seek peace and pursue it. – Psalm 34:14
Lord, as I come to You in prayer I ask that You would forgive those who have come against me and hurt me. I release these individuals to You. I pray that You would bless them and draw them closer to You.
And help me Lord if I have become judgemental or bitter because of this individual. Forgive me if I have kept anything in my heart or mind that is contrary to Your ways. Let my heart remain soft before you so that I may experience Your peace. In Jesus' name, amen.
A Prayer to Calm Down
"These things I have spoken to you, that in Me you may have peace. In the world you will have tribulation; but be of good cheer, I have overcome the world." – John 16:33
God, I have come to You today asking for peace and to help me calm down. My heart is not restful and my mind can't stop thinking of things over and over again. Please help me by calming the storm that going on within me. Lead me away from all of the anxiety that has consumed me. Fill my being with Your perfect peace and let me become confident and full of faith that You will help me through it. In Jesus' name, amen.
A Prayer for Inner Peace and Calm
The LORD will give strength to His people; The LORD will bless His people with peace. Psalm 29:11
Lord, I have come to You today and I ask that You would calm my soul. Let Your peace take over every area of me; mind, body, and spirit. Help me to be confident in Your love for me and how much more important that is than anything going on around me. Give me a new perspective on each situation in my life and help me to find peace in everything I do. In the mighty and powerful name of Jesus, I pray, amen!
A Prayer for Peace in my Heart
And let the peace of God rule in your hearts, to which also you were called in one body; and be thankful. – Colossians 3:15
Father, I come to You today asking for peace in my heart. Let the love of Jesus fill my heart and let his peace flow through me. Help me to trust completely in Your plan for my life; that Your ways are perfect and You bring the greatest joys. Show me how to find peace even when things go wrong throughout the day. In the name of Jesus, amen!
A Prayer About Worry and Anxiety
casting all your care upon Him, for He cares for you. – 1 Peter 5:7
Father, I have come to You today and I confess that I have allowed the things in this world to cause me anxiety and worry. I ask for your forgiveness and helps me as those thoughts consume my mind, please help me to remember that those cares belong to You. Help me to cast all my cares on You and that I may walk in peace and joy. In the name of Jesus, amen!
---
I hope you have enjoyed these prayers for inner peace. May they inspire you to draw closer to the Lord and give you the peace of mind you are longing for.
And feel free to leave me a comment below. I would love to hear from my readers.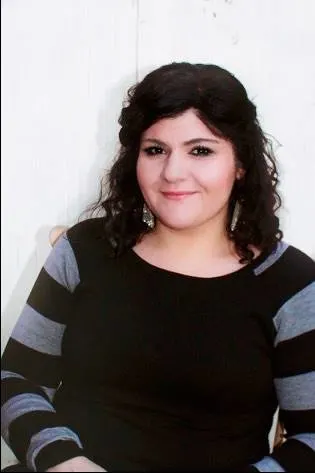 Melissa is a passionate minister, speaker and an ongoing learner of the Bible. She has been involved in church and vocational ministry for over 18 years. And is the founder of Think About Such Things. She has the heart to equip the saints by helping them get into the Word of God and fall more in love with Jesus. She also enjoys family, cooking, and reading.
She has spoken in churches in California, Oregon, Texas, and Mexico and has been featured in Guidepost Magazine and All Recipes Magazine. Read More…