We will look at how to rightly divide the word of truth and really glean from the Bible. God wants us not to just read His word, but be able to discern and apply it to our lives!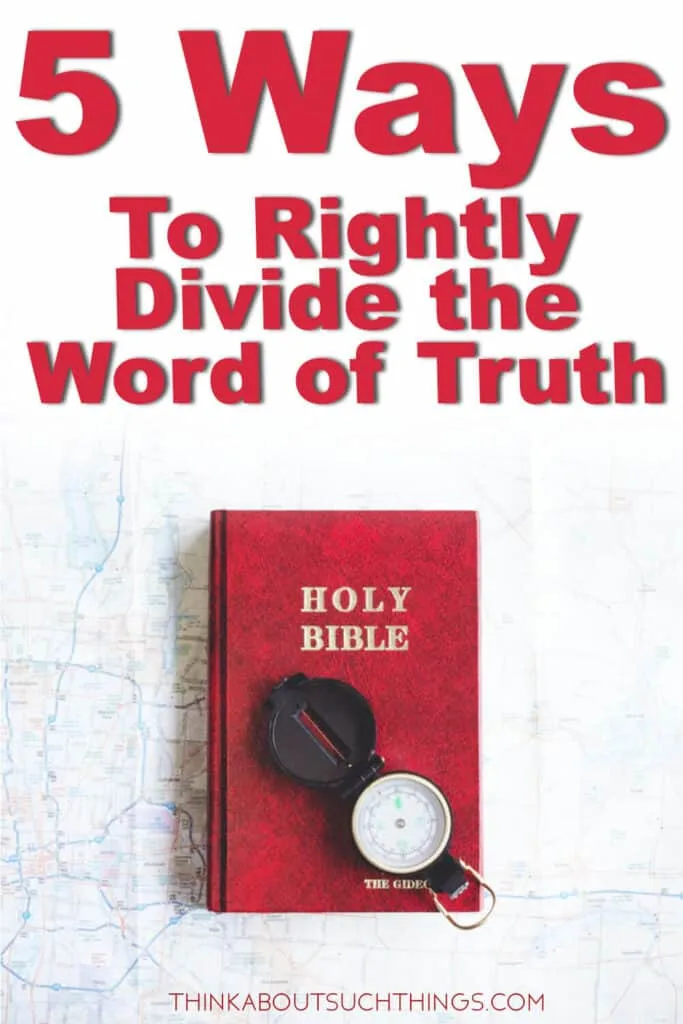 I'm sure you have heard people talk about "rightly dividing the Word of Truth" and you have wondered what that is all about. Today, I will show you where it is in the Bible, and what it means.
God's desire is that we will know His Word so that we can live by it. He wants us to have the correct interpretation of His Word to avoid deception and confusion.
As we share the gospel with others out there, we want to know that we are pleasing God by sharing His truth in its purest form and avoiding hype and sensationalism.
God expects us to be good stewards of His Word so that others will know Him intimately and have the right view of Him.
What Does Rightly Dividing the Word of Truth Mean?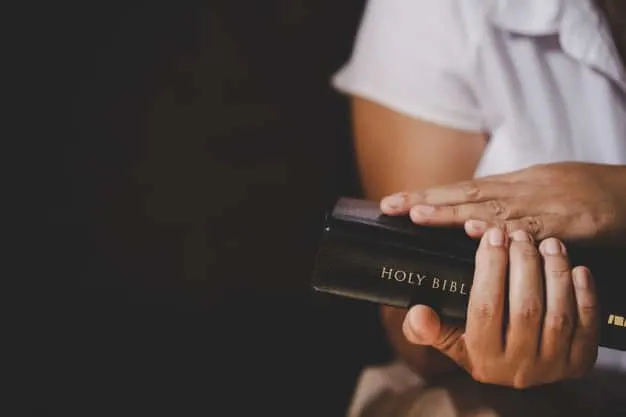 The Scripture below is the starting point of understanding today's topic.
Be diligent to present yourself approved to God, a worker who does not need to be ashamed, rightly dividing the word of truth. 2 Timothy 2:15
The Word of Truth is the Word of God simply because it is the truth. Jesus told us in John 17:17 that the Word of God is truth. "Sanctify them by Your truth. Your word is truth."
This is how we know that the Word of truth refers to the Word of God.
I find it super interesting that in the Greek we see the word "rightly dividing" to mean "cut straight." Almost convey that rightly dividing is create a right path.
ὀρθοτομέω orthotoméō, or-thot-om-eh'-o; from a compound of G3717 and the base of G5114, to make a straight cut, i.e. (figuratively) to dissect (expound) correctly (the divine message):—rightly divide.
So, in a nutshell, rightly dividing the Word of Truth is the ability to understand, correctly interpret (cut straight) and teach the Scriptures by the help of the Holy Spirit.
It includes giving the correct context of a Bible verse or passage based on the surrounding verses or chapters. By getting the context right, you can bring the correct meaning to the passage you are teaching or to which you are making reference.
As God sends us out in the world to minister to others and bring people to Christ, He wants us to have the correct foundation of the Scriptures.
You have definitely heard of people trying to explain some Scriptures and you can tell that they don't quite understand them. Such a person ends up giving a false interpretation of the Scriptures to his or her hearers.
In all honestly that breaks my heart. Because the one teaching it has set their mind on what it means and in so teaches others the same thing. For example a young student I knew was practicing preaching.
He stood up and shared for 10 minuets how as Christians we should pursue grace and that faith isn't needed when we have grace. As his leader I later kindly confronted him with scripture showing how his sermon point was unbiblical.
So, if you have a desire to teach or speak to other's about God's truth. I urge you whole hearty to dig into God's Word and learn how you can correctly divide the Word of Truth.
Now, let's take a look 5 ways we can grow in this area of our Christian walk.
5 Ways That Can Help Us Rightly Divide the Word of Truth
1. Read and Meditate on the Word of God
For you to know the Word of God, you have to first read it, and then meditate on it. It really is that simple. You can't rightly divide something you don't know.
If it means to "cut straight" then you must be familiar with whatever object, textile, or parchment you are cutting to make sure it's straight. You can't bring scissors when you are cutting wood. And you can't bring a saw to cut silk. To be able to rightly divide you must have a general understand of scripture.
This is how you understand it in a deeper way. Joshua 1:8 tells us that we should meditate on God's Word day and night so that we will be careful to live by it.

When you identify a passage of Scripture that you want to teach others, read it several times and ponder over its meaning. Read the surrounding verses or chapters and see if you can get the correct meaning within context. Look at other Bible sections that speak about the same topic and note any similarities. Write down the things that come to mind and go over them again until you are sure you understand the meaning.
This will help you to see the bigger picture of the passage.
2. Pray for Revelation
Prayer will invite God to give you a revelation of the Scriptures you are reading. Remember that as a workman of the Lord, you want to teach the right thing.
Ask God to help you understand what He wants you to know and communicate to others about His Word. Prayer keeps you focused on what God is saying through His written Word, and if there is anything you have misinterpreted, He will correct you.
2 Timothy 3:16 says…
All Scripture is God-breathed and is useful for teaching, rebuking, correcting and training in righteousness, so that the servant of God may be thoroughly equipped for every good work.
This means that God is the one who can help you have an in-depth understanding of the Bible. Take some time to pray as you read and study the Bible.
Use Bible Commentaries
Many Christian's don't get crazy deep into the hermeneutics (the science or art of interpreting scripture) and exegesis (the process of finding the meaning of the text in accordance to the author) of passages. But this doesn't mean we can't use tools that can help us better understand scripture.
If you want to get the context of what you are reading in the Bible, make use of Bible commentaries.
They are written by men of God who studied the Scriptures over a long period of time and provided their interpretation. You will get great insights from commentaries that will come in handy when you are studying your Bible.
You can find Bible commentaries in sites that list Bible verses and they have been written by different Christian ministers of centuries ago.
Here are a few f Bible Commentaries Resources that are free online.
I also encourage you to check out Bible dictionaries, and trying out the Strong Concordance. This will help you to see what words mean in the original language the Bible was written.
And if you would like to look into your own personal software for you computer. Then check out my post on Bible Study Software for Your Computer.
4. Write Your Thoughts and Ideas
As you read the Scriptures a lot of thoughts and ideas will come to mind and you can write these down so that you don't forget them.
You will also want to refer to them over again. We are to write down the revelations that God gives us so that we or others can make reference to them. (Habakkuk 2:2).
When you are trying to understand something, it helps to look at it from different angles and writing gives you an opportunity to write all perspectives that come to mind.
This works great while studying and reading commentary. I tend to take lots of notes that I can reflect back on.
5. Learn From Other Christian Ministers
It pays to find out what other Christian ministers are saying about the topic that you are studying so that you can learn more. And if you ever are ministering to someone you will be able to respond with helpful information.
There are many things to learn from other believers and it adds to our knowledge of the Scriptures. As we fellowship with others or attend Bible study, we enrich our understanding of God's Word and we can help others understand it as God meant it.
---
Teaching about the Bible is not only for pastors or big named leaders because God has called all of us into ministry and we will use His Word to minister to others in all kinds of environments. For example I teach God's Word online!
But to do so effectively, we must first familiarize ourselves with His will and ways which are clearly stated in His Word.
Be a workman approved by God and study the Scriptures diligently so that you can rightly divide His Word of Truth. And I encourage you to just dive in…You will be amazed what you will learn and how that information will transform you.
I hope this was encouraging and blessed you. If you would like to share a thought you can do so by leaving me a comment below. Let me know what you are learning in Bible!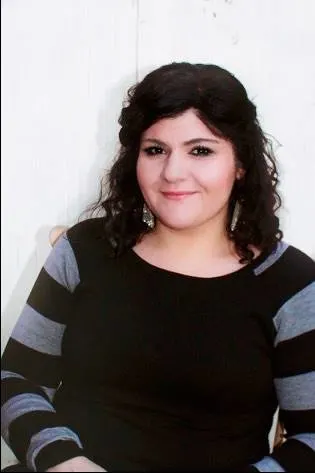 Melissa is a passionate minister, speaker and an ongoing learner of the Bible. She has been involved in church and vocational ministry for over 18 years. And is the founder of Think About Such Things. She has the heart to equip the saints by helping them get into the Word of God and fall more in love with Jesus. She also enjoys family, cooking, and reading.
She has spoken in churches in California, Oregon, Texas, and Mexico and has been featured in Guidepost Magazine and All Recipes Magazine. Read More…