In this article we will explore a selection of Bible verses for baby shower that can bed used in many ways.
Celebrating the arrival of a new baby is always an exciting time. It's also a great opportunity to be mindful and remember that our children are gifts from God and truly a beautiful blessing. As you plan for your special baby shower event, why not incorporate some inspiring scriptures into the shower? Or perhaps you are attending a baby shower and want to share God Word in a special way. Here are some Bible verses that I believe can serve as beautiful messages of blessing and hope as you or they anticipate the arrival of your little one.
But before we look at them, lets look at some creative ways you can uses these Bible verses for baby showers.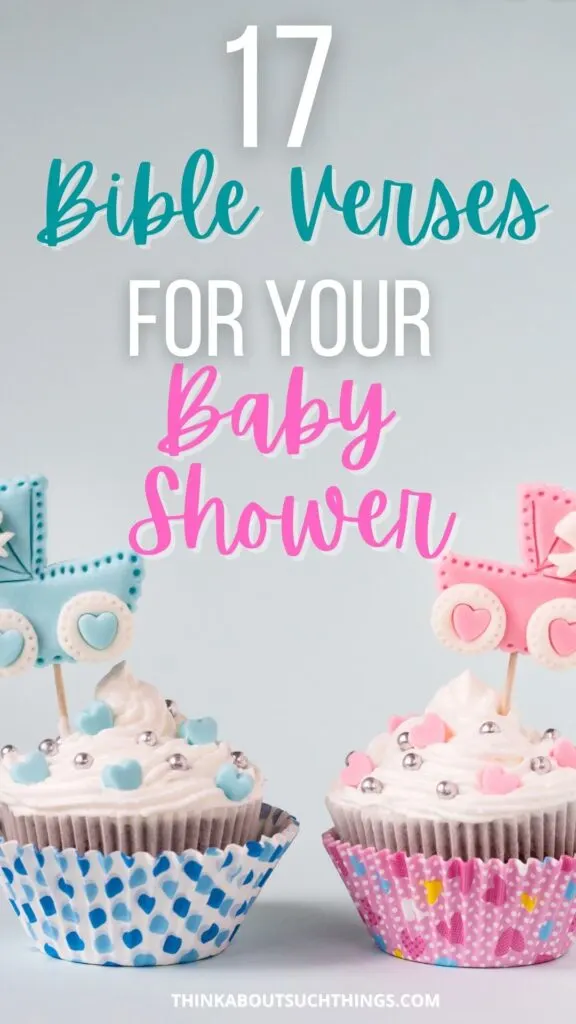 Creative Ways To Use Baby Shower Verses
Baby showers are a special time for expecting parents to connect with their family and friends. It is also an opportunity to think about the kind of values you want to impart to your child. Adding Bible verses to your baby shower decorations, cards, and favors can be a meaningful way to think about the beliefs you hope will shape your child's life.
Baby Shower Cards and Gifts
Giving a baby shower card with your gift is a common thing to do as a guest. And it is a great way to share bible verses. Choose a bible verse that are personal and special for the occasion. Try to choose a verse that you feel would bless the mom to be. You can also get creative by adding a blessing with the verse.
Baby Shower Invitation
Incorporating bible verses into your baby shower invitations is another way to add meaning and sentimentality. Pick a bible verse that reflects how you feel for the occasion, or perhaps a verse you feel like the Lord is highlighting to you. A good example is "Children are a gift from God" (Psalm 127:3 NCV). You can find plenty of templates online that incorporate both beautiful design elements as well as meaningful scripture passages. I love using Canva!
Table Decorations
Using Bible verses for table decorations is another great idea for a baby shower. Consider printing out scriptures that have an uplifting message like "Be strong and courageous" (Joshua 1:9). Place them in frames or put them in special holders so they stand out against the tablescape design of your choice. You could even include small succulents or flowers in colorful vases to complete the look.
Thank You Cards & Favors
You may also want to include Bible verses in thank you cards and/or favors given out at your baby shower. A cute verse that would work perfectly "Every good gift and every perfect gift is from above" (James 1:17). If giving out favors, consider items like bookmarks, magnets, keychains, mugs, teacups—You can easily attach an inspirational phrase or quote!
---
By including Bible Verses in your baby shower decor, cards, invites, thank you notes, and favors—you will not only make it more meaningful but also create lasting memories for everyone involved!
Bible Verses for Baby Showers
If you would like to check out different versions of these verses, you can head to Biblegateway.com. And don't forget to check out 9 Powerful Prayers for Newborns and Infants and 21 Beautiful Bible Verses for Babies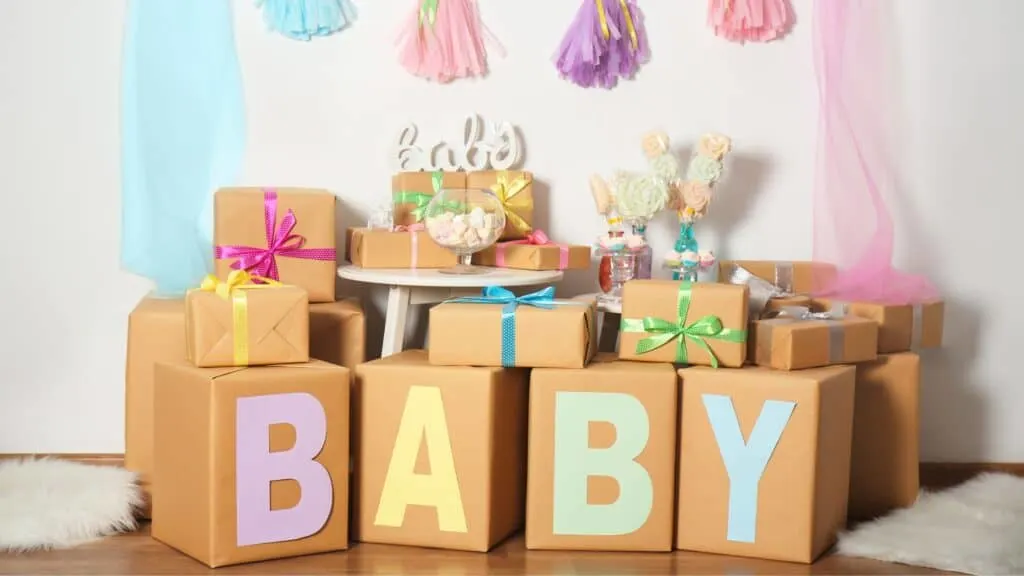 I prayed for this child, and the LORD has granted me what I asked of him. – 1Sa 1:27 NIV
Children are a heritage from the LORD, offspring a reward from him. – Psa 127:3 NIV
For I know the plans I have for you," declares the LORD, "plans to prosper you and not to harm you, plans to give you hope and a future. – Jer 29:11 NIV
For you created my inmost being; you knit me together in my mother's womb. – Psa 139:13 NIV
"The LORD bless you and keep you; the LORD make his face shine on you and be gracious to you; – Num 6:24-25 NIV
I have no greater joy than to hear that my children are walking in the truth. – 3Jo 1:4 NIV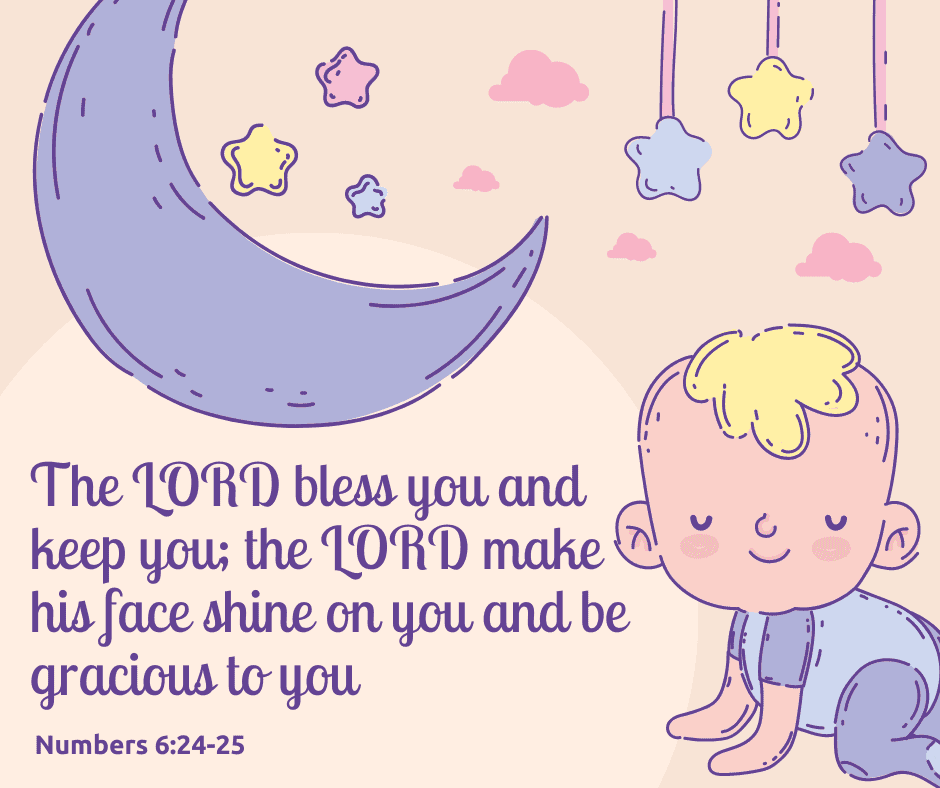 I praise you because I am fearfully and wonderfully made; your works are wonderful, I know that full well. – Psa 139:14 NIV
"Before I formed you in the womb I knew you, before you were born I set you apart; I appointed you as a prophet to the nations." – Jer 1:5 NIV
All your children will be taught by the LORD, and great will be their peace. – Isa 54:13 NIV
Praise the LORD, my soul, and forget not all his benefits– – Psa 103:2 NIV
Your eyes saw my unformed body; all the days ordained for me were written in your book before one of them came to be. – Psa 139:16 NIV
The LORD has done it this very day; let us rejoice today and be glad. – Psa 118:24 NIV
He settles the childless woman in her home as a happy mother of children. Praise the LORD. – Psa 113:9 NIV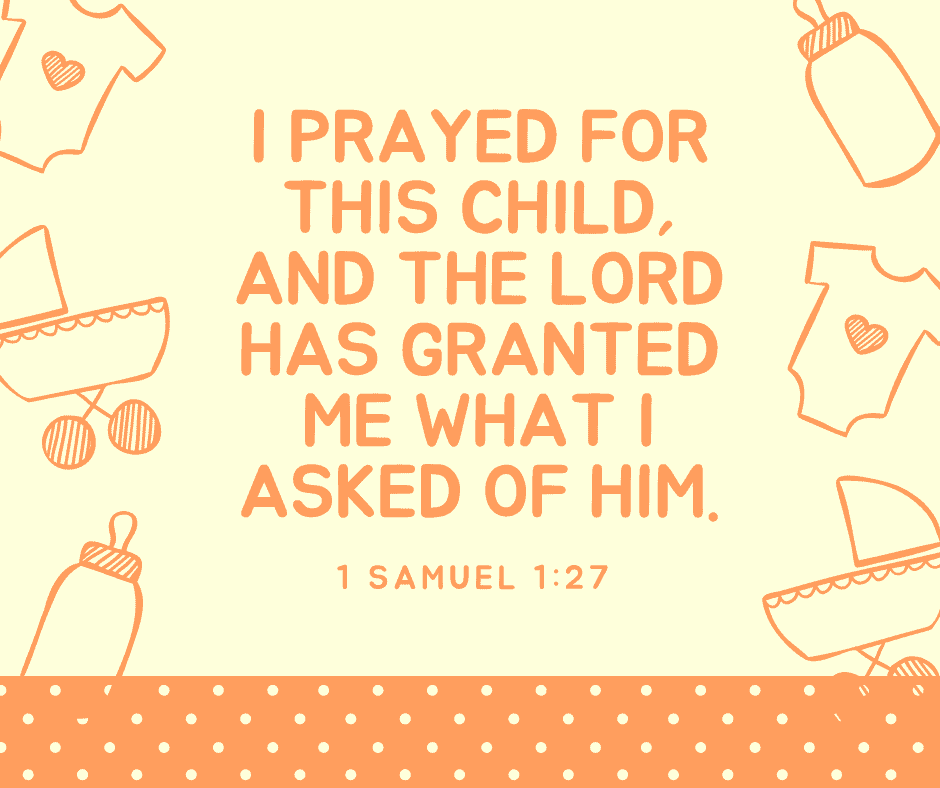 He will love you and bless you and increase your numbers. He will bless the fruit of your womb, the crops of your land–your grain, new wine and olive oil–the calves of your herds and the lambs of your flocks in the land he swore to your ancestors to give you. – Deu 7:13 NIV
The righteous lead blameless lives; blessed are their children after them. – Pro 20:7 NIV
I will tell of the kindnesses of the LORD, the deeds for which he is to be praised, according to all the LORD has done for us–yes, the many good things he has done for Israel, according to his compassion and many kindnesses. – Isa 63:7 NIV
Fill my heart with joy when their grain and new wine abound. – Psa 4:7 NIV
---
Baby showers are a time for joy and happiness as we celebrate the arrival of new little lives. Remember, Bible verses can make great decorations or a wonderful sentiment in a card or gift.
If you'd like to use these scriptures for your own baby shower, I hope they can provide the perfect special touch.
In any case, remember that no matter how grand the celebration might be, like birthdays, weddings, and even baby showers, it all comes down to being thankful for a blessed knowing God is always with us!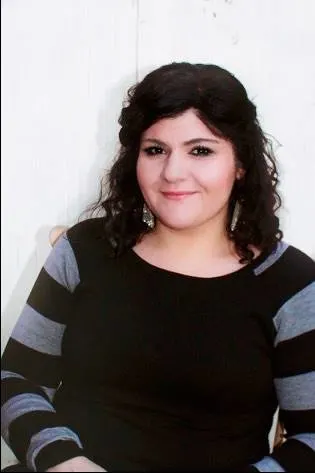 Melissa is a passionate minister, speaker and an ongoing learner of the Bible. She has been involved in church and vocational ministry for over 18 years. And is the founder of Think About Such Things. She has the heart to equip the saints by helping them get into the Word of God and fall more in love with Jesus. She also enjoys family, cooking, and reading.
She has spoken in churches in California, Oregon, Texas, and Mexico and has been featured in Guidepost Magazine and All Recipes Magazine. Read More…