In this article, we will look at different blessings for teachers that can be used in cards, messages and more. Great for to use for teacher's day or teacher's appreciation.
If I look back at the teachers and educators in my life I know how much some of them have been a blessing to me. My 7th-8th grade science teacher comes to mind. He was so fun, compassionate, and he taught so well. If I could go back in time I would love to share a blessing with him and thank him for being such a great teacher.
And today I want to help those who would love to give a blessing for a teacher. I have come up with a collection of different blessing that you can use in creative ways. It goes great with my other posts on Bible Verses for Teachers. But before we get into the teacher blessings let's look at those creative ways we can share with them.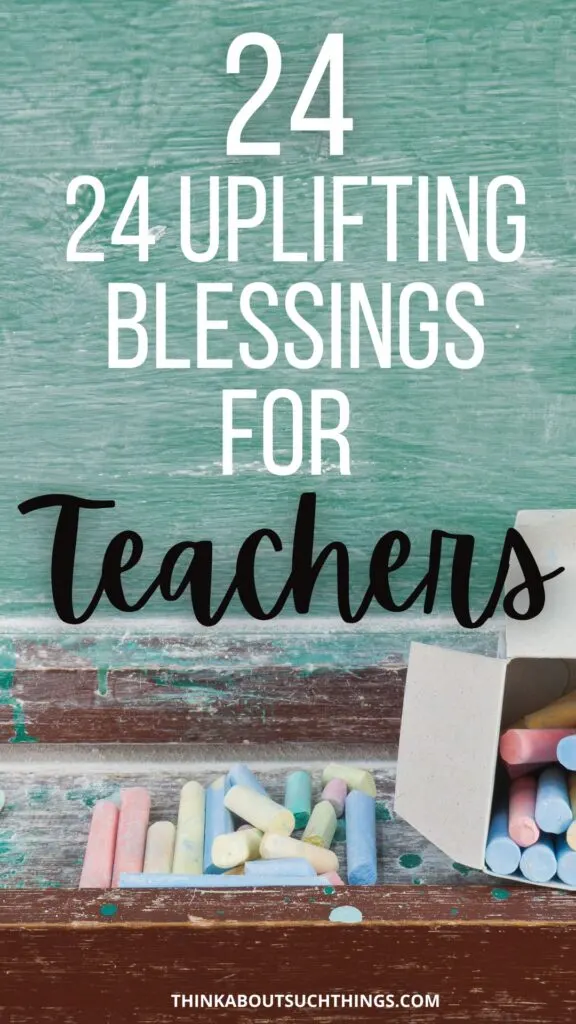 4 Creative Ways to Share Blessings for Teachers
You may have this desire to share blessing with your teacher (or you are a parent who wants to thank your child's teacher) and you're not sure how you want to go about it. I want to encourage you not to overthink it, but keep it simple. Sometimes something small and simple can be so meaningful and impactful.
Place a blessing for your teacher in a gift. You can write out the blessing on the packaging or even attach a tag.

Place a blessing in a card. This is probably the simplest way of giving a blessing, but it is still very thoughtful.

Write a blessings for teachers on a note and place it on their desk. Even a little sticky note would make a teacher feel so special for the day.

Place a blessing in a book. Find out what books or authors your teacher loves and write out the blessing on inside of the cover. It will be a great memory for them every time they open that book.
I hope these ideas are helpful and give you some ideas of your own. blessings for teachers are such a wonderful way to encourage and inspire them. They work so hard day in and day out and they really do make a difference.
>> Check Out Bible Verses for Teachers
>> Check out Prayers for Teachers
Blessings for Teachers
** Before you dive in…. Feel free to use these blessings or quotes any way you like. You can tweak them and make them more person. You can even combine two or more together to make a longer blessing. My encouragement to you is to just be sensitive to the tug of the Holy Spirit. You never know how something might impact someone's life, even a teachers.
May God bless you today! May you feel His presence throughout the day and experience His wonderful love when you are in the classroom.
May God shower His blessings upon you as you teach these young hearts.
God has blessed us with you as our teacher. And I pray He pours out His love on you. Thank you for being such a wonderful teacher.
May God's blessings be upon you as you continue to shape the minds of tomorrow.
May you find blessings in the simple moments and joy in the everyday things. I pray that God would give you wisdom, knowledge, and understanding as you teach.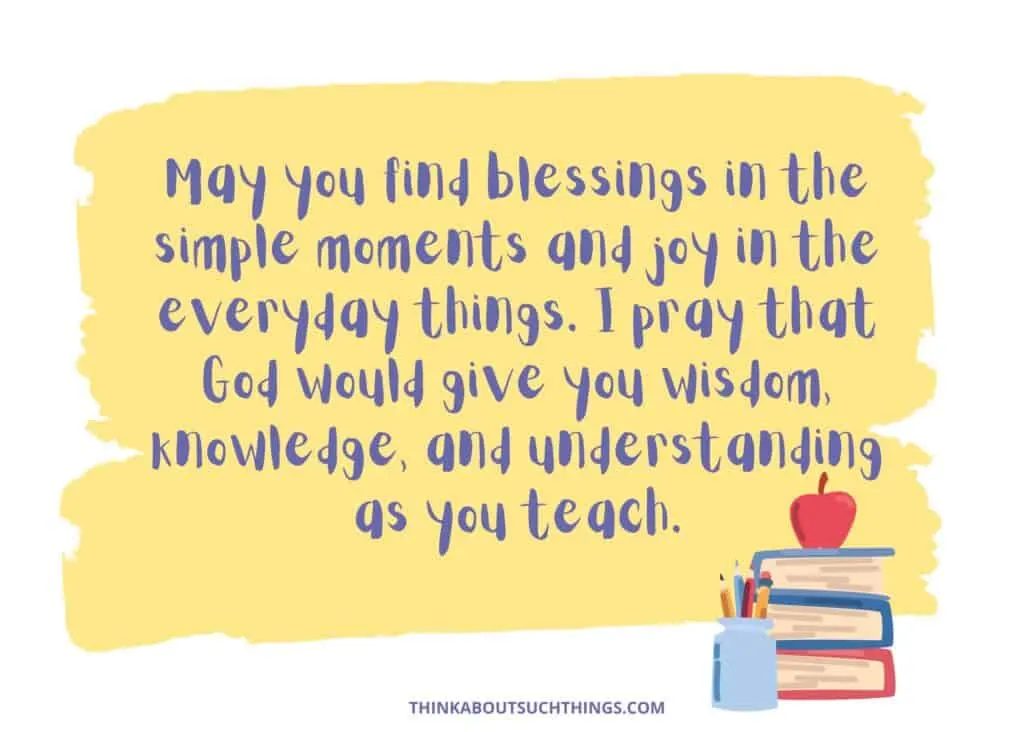 Praying for blessings of good health, strength, and energy as you pour into your students.
May your students see Jesus in you as you bring Godly truth to their curious minds.
May the Lord bless you with creativity, peace, and grace as you teach.
I pray that blessings would surround you as you walk into your classroom each day.
Thanking God for the blessing of having you as our teacher! We are so grateful for you!
Blessings to you as you nurture these young minds and help them grow in knowledge.
I thank Jesus for your great ability to teach. May He grant you your heart's desire and draw You closer to Him.
May your students experience God's love, and grace as you teach.
Blessings upon blessing be showered on you as you teach.
May the Lord would give you an even greater heart for your students and a love for teaching.
As you fill your students' lives with knowledge, may the Lord bless you abundantly.
I hope these blessings encourage and inspire you today! It is such an honor to have you as my teacher.
Let the Lord shine upon you today! You are a bright light, and shining star to your students. Thank you for being such a blessing to this classroom and an amazing teacher.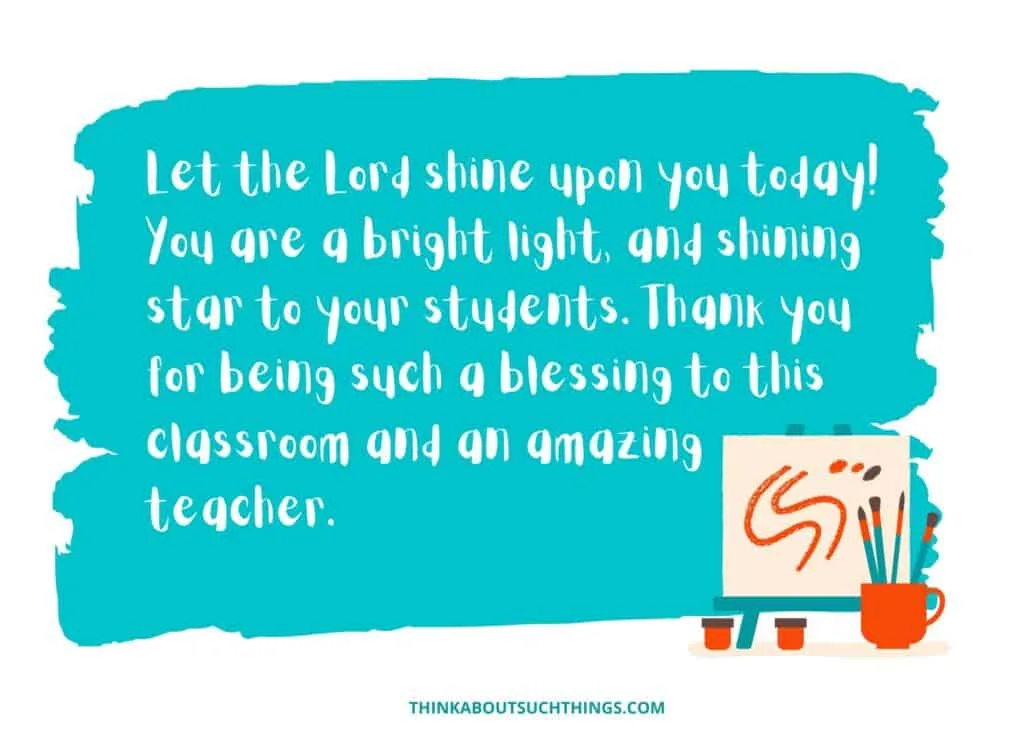 Thank you for being a faithful teacher. I pray that God richly blesses you today!
Blessings on blessings to you my friend! You are making such a difference in your students' lives. Thank you!
Teachers are like angels, sent from above. They are blessings in disguise.
May the Lord continue to bless you as you bless others with your knowledge and love for teaching.
May this year be filled with God's blessings! Thank you for being an amazing teacher. You are making a difference in the lives of your students.
Blessings to you as you continue to lead and guide your students on their educational journey! You are making a lasting impact in their lives.
---
Well, there you have it we have gone through 24 teacher blessings! I hope these little quotes have been inspirational and encouraging to you. If you are a teacher, I pray that God would pour out His blessings on you today and for the rest of the year! Thank you for all that you do! You are truly appreciated! Teaching isn't for the faint of heart.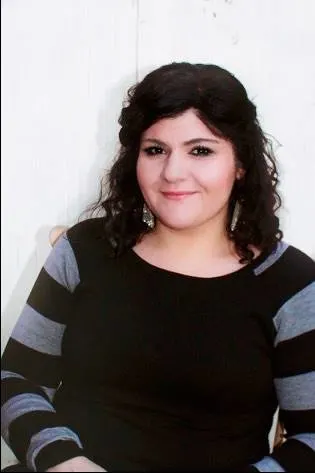 Melissa is a passionate minister, speaker and an ongoing learner of the Bible. She has been involved in church and vocational ministry for over 18 years. And is the founder of Think About Such Things. She has the heart to equip the saints by helping them get into the Word of God and fall more in love with Jesus. She also enjoys family, cooking, and reading.
She has spoken in churches in California, Oregon, Texas, and Mexico and has been featured in Guidepost Magazine and All Recipes Magazine. Read More…