In this article, we will look at some payers teachers can pray before class. You can use these prayers privately or with other teachers.
Prayer is an essential part of a Christian teacher's day and it doesn't matter if they are working in a private religious school or a public school. It is a time to come before the Lord and seek His wisdom, strength, and guidance. Even a simple prayer can bring a huge impact to yourself and your students.
How To Use Teacher's Prayers Before Class
Each prayer I share below has a Bible verse and a prayer point you can use. If you are not familiar with prayer points. They are little key points that will help you on what to pray. It's more of a guide then an actual written prayer. This will give you an option to choose which one you would prefer to use.
No matter which one you decide to use I encourage you to make your prayer personal before the Lord. Mention specifics you deal with and even specific students that come to mind. The Holy Spirit will guide you as you pray.
For more general prayers you can pray, check out: 9 Powerful Prayers for Teachers and for students: 8 Powerful Back To School Prayers and Prayer for Children In School: 9 Powerful Prayers You Can Pray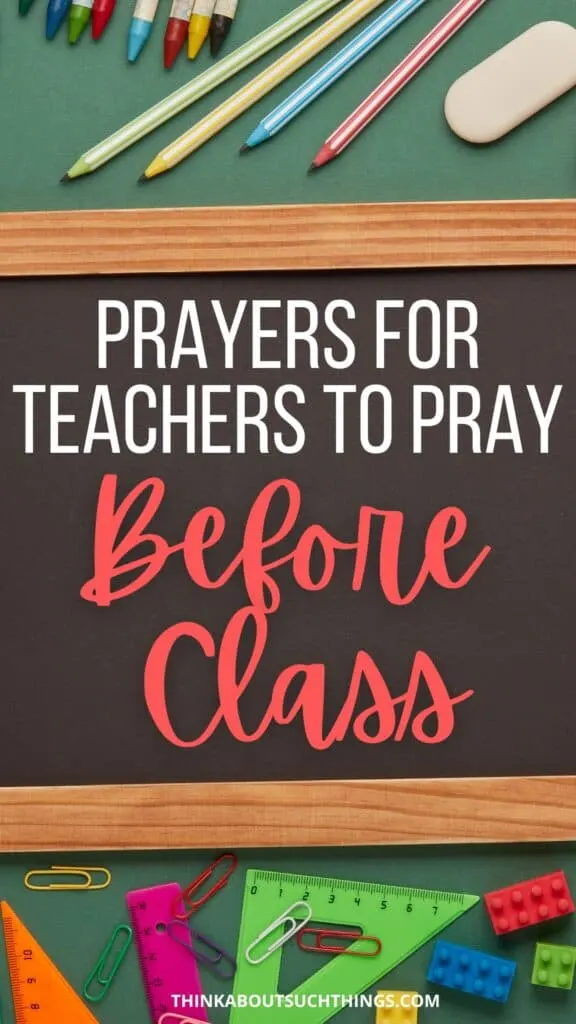 Prayer for Protection for My Class Before Class
If you say, "The Lord is my refuge,"
    and you make the Most High your dwelling,
10 no harm will overtake you,
    no disaster will come near your tent.
11 For he will command his angels concerning you
    to guard you in all your ways;
12 they will lift you up in their hands,
    so that you will not strike your foot against a stone. -Psalm 91:9-12
Prayer Point: Take a moment to pray for protection of you and your class before the day begins. It's easy to focus on just physical protection from sickness, and accidents, but also pray for emotional protection, and spiritual protection as well.
Lord, I ask for Your protection as I enter into this classroom. Watch over me and my students as we learn and grow together. Keep us safe from harm and create a shield of Your love around us. I ask that You would bring angels into this classroom. And, if there is anything that is not of You, Lord, I ask that You would remove it from this room. Thank You for Your protection and watchful hand. In the name of Jesus, amen and amen.
Prayer for Wisdom Before Class
If any of you lacks wisdom, you should ask God, who gives generously to all without finding fault, and it will be given to you. – James 1:5
Prayer Point: Ask the Lord to give you wisdom on how to teach the lessons you have planned for the day and to grant you wisdom as you work with each student. You can also pray that the children would have wisdom and understanding during class time.
Father God, I need Your wisdom as I teach today. Give me the right words to say and help me to be patient with my students. Fill me with Your knowledge and understanding so that I can impart that onto my students. Help me to remain flexible and open-minded as we learn together. And, most of all, give me a heart full of love for my students. In Jesus' name, Amen.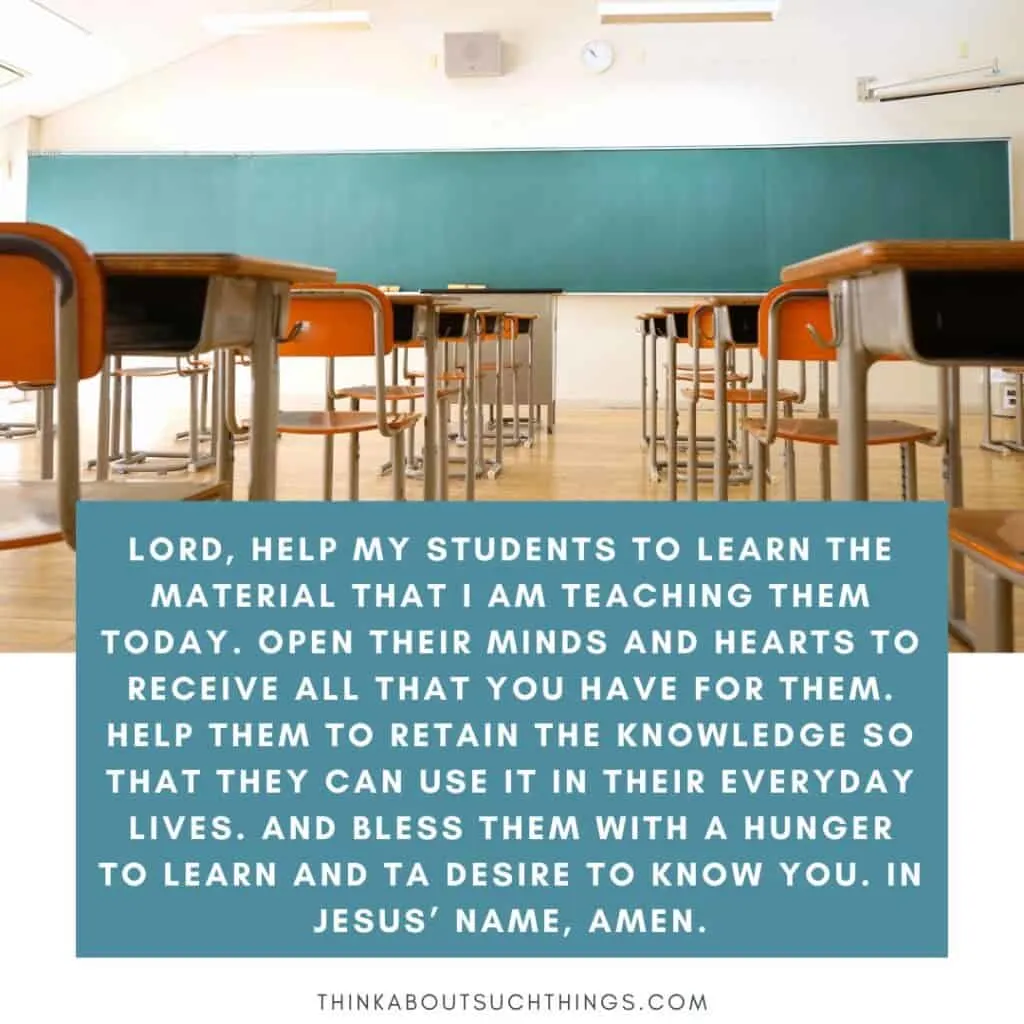 Prayer for Students Minds
I will instruct you and teach you in the way you should go; I will counsel you with my loving eye on you. – Psalm 32:8
Prayer Point: Before the school day starts pray the the minds of your students to be ready to information and truth. Ask the Lord to let their little minds be like sponges that will absorb the they need and retain it.
Lord, help my students to learn the material that I am teaching them today. Open their minds and hearts to receive all that You have for them. Help them to retain the knowledge so that they can use it in their everyday lives. And bless them with a hunger to learn and ta desire to know You. In Jesus' name, Amen.
Prayer for Strength Before Class
But the Lord is faithful, and he will strengthen you and protect you from the evil one. – 2 Thessalonians 3:3
Prayer Point: If you have been feeling drained or physically tired, then I would encourage you to ask the Lord to give you strength. Spend some time in His presence before the class begins and it will refresh you!
Heavenly Father, I ask for Your strength as I teach today. There are days when I feel weak and tired, but I know that with You, all things are possible. Help me to lean on You and trust in Your strength. Let my mind and body line up with Your Word and be strengthened. And, use me to be a source of strength for my students as well. In Jesus' name, Amen.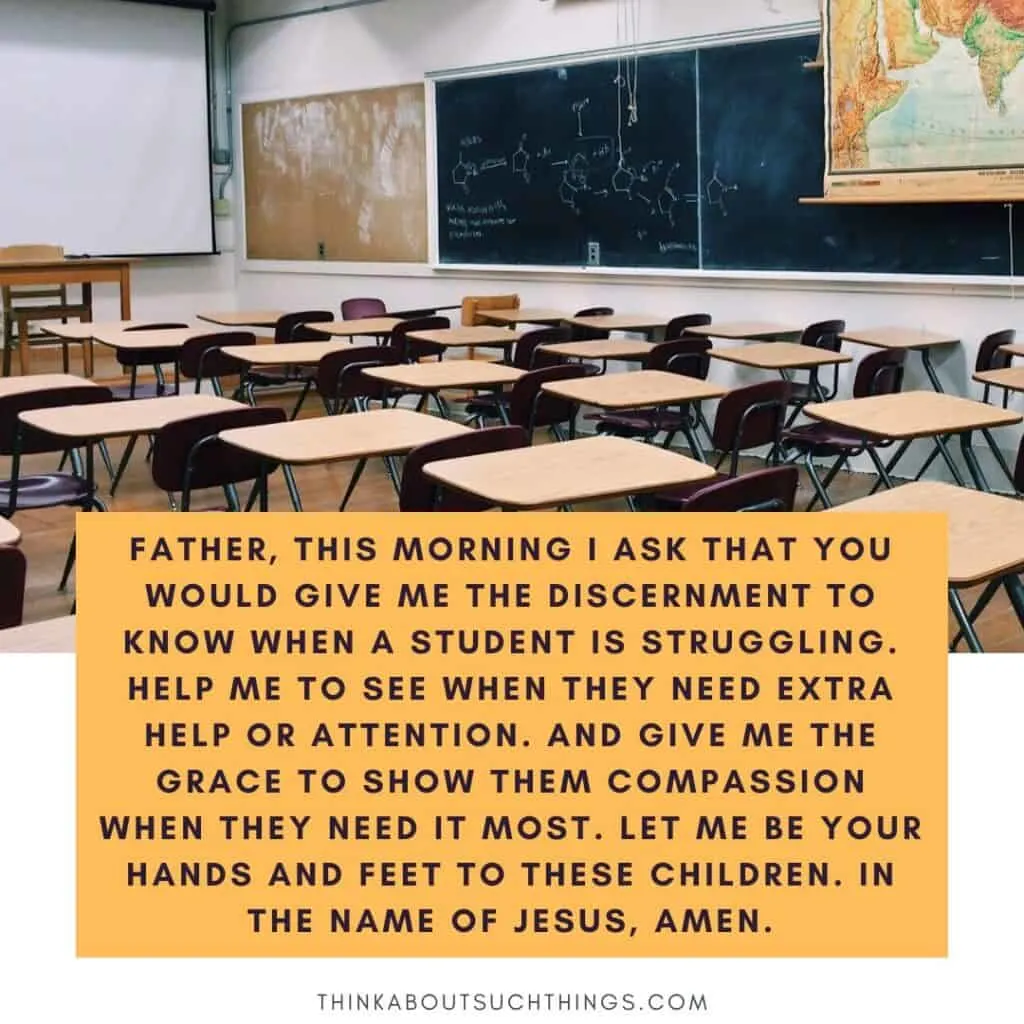 Prayer for Discernment Before School
Therefore encourage one another and build each other up, just as in fact you are doing. – 1 Thessalonians 5:11
Prayer Point: Lots of things go on in the classroom and if we are unaware we can miss out on opportunities to minister to our students. This is why it's good for teachers to pray before class and ask for discernment. Ask the Holy Spirit for a sensitivity to Him and others.
Father, this morning I ask that You would give me the discernment to know when a student is struggling. Help me to see when they need extra help or attention. And give me the grace to show them compassion when they need it most. Let me be Your hands and feet to these children. In the name of Jesus, amen.
Morning Prayer for Teachers
Train up a child in the way he should go; even when he is old he will not depart from it. – Proverbs 22:6
Prayer Point: Ask the Lord make this day count as you have an opportunity to impact a child's life.
Good morning, Lord! Thank You for this day. I pray that You would be with me as I teach today. Help me to remain focused on You and let Your Spirit lead me in everything I do. Fill me with Your hope and joy so that I can be a source of light for my students. And, use me to make a difference in the lives of each child I come in contact with. May I plant seeds in their hearts that will bear good fruit. In Jesus' name, Amen.
Prayer for Peace Over Your Class Before It Starts
Do not be anxious about anything, but in every situation, by prayer and petition, with thanksgiving, present your requests to God. And the peace of God, which transcends all understanding, will guard your hearts and your minds in Christ Jesus. – Philippians 4:6-7
Prayer Points: In our crazy world we are living in we are desperately in need of God's peace. We can ask for God to pour out His peace over yourself and over your classroom.
Jesus, thank You for Your peace that surpasses all understanding. As I walk into this classroom today, help me to remember that Your peace will be with me always – even on days when things are tough. I ask that Your peace would rest upon each student today. That as they enter this classroom this morning all their worries and stresses would fade away and they would feel Your presence. And Lord I ask that this peace would carry forward to their homes and impact their parents and other siblings. In the name of Jesus, amen!
---
These are just 7 of the many prayers that teachers can pray before class begins each day! Praying these prayers opens up the door for God's power and presence to fill the classroom in a supernatural way! And if you are a parent as well as a teach then you can also check out some school prayers you can pray.
What other prayers would you add to this list? Let us know in the comments below!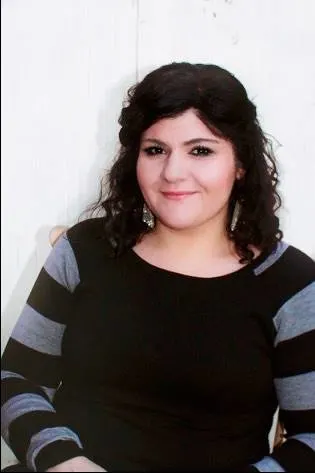 Melissa is a passionate minister, speaker and an ongoing learner of the Bible. She has been involved in church and vocational ministry for over 18 years. And is the founder of Think About Such Things. She has the heart to equip the saints by helping them get into the Word of God and fall more in love with Jesus. She also enjoys family, cooking, and reading.
She has spoken in churches in California, Oregon, Texas, and Mexico and has been featured in Guidepost Magazine and All Recipes Magazine. Read More…