In this article, we will look at different business breakthrough prayers that we can use to help during our alone time with God.
There are times when we start a business or have owned one for awhile that we get caught up in all the to-dos that we forget to do one of the most important things. And that is to pray! God wants to be first in our lives and business. And if we long for breakthrough then we need to go on our knees in prayer.
But before we start with these breakthrough prayers for your business. It's important that you make these prayers personal to your business. You know the situations and things you are facing. Talk to the Lord about these things and use these written prayers as a guide.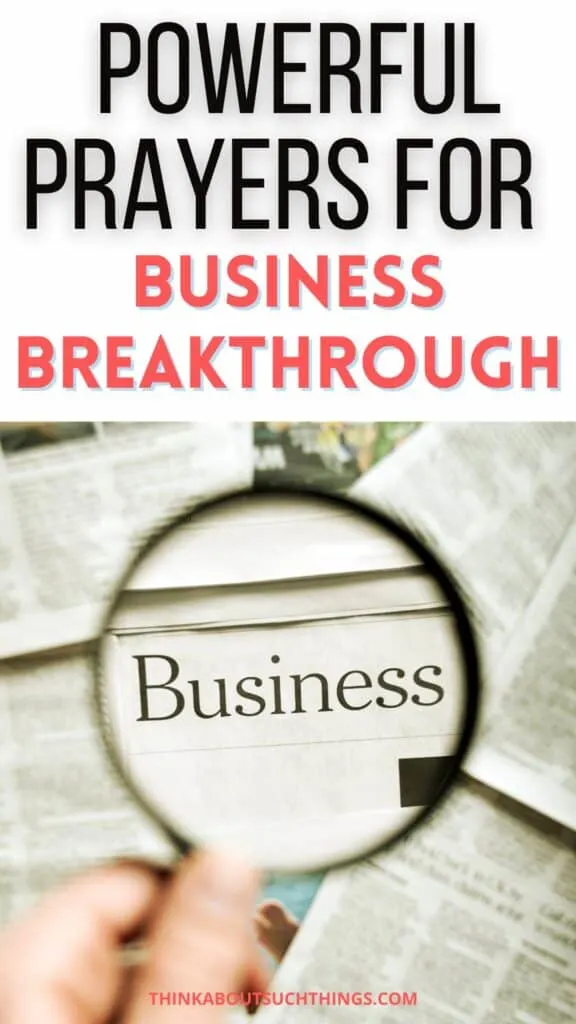 >> Check out 7 Mighty Prayers for Success in Business
General Business Breakthrough Prayers
Lord Jesus, I ask for breakthrough in my business. Help it to prosper and flourish in just financially but in all areas. I want to be an excellent steward of what You have given me. I pray for my business to reflect Your light and love to those we come in contact with. I also pray for strength, energy, and wisdom as I run this business. There are days when it can be overwhelming and I need Your help. Be near to me Lord and bless me. In the mighty name of Jesus, amen.
Heavenly Father, I come to You today asking for Your blessings on my business. I pray that You would help it to grow in every way. To reach more people, have a great impact, and make a difference. Business can be so difficult at times and I need Your hand to help me Lord. Bless it and give me the breakthrough I need to run this business in a way that brings You glory. In the name of Jesus, amen.
Father God, I feel like my business has been hit and I am desperately in need of breakthrough . I know that with You all things are possible. So, I am reaching out to You today and asking for Your help. Please bless my business and turn it around for good. I need a financial breakthrough, more customers, better staff, and most of all Your hand of blessing on my life. In the name of Jesus, amen.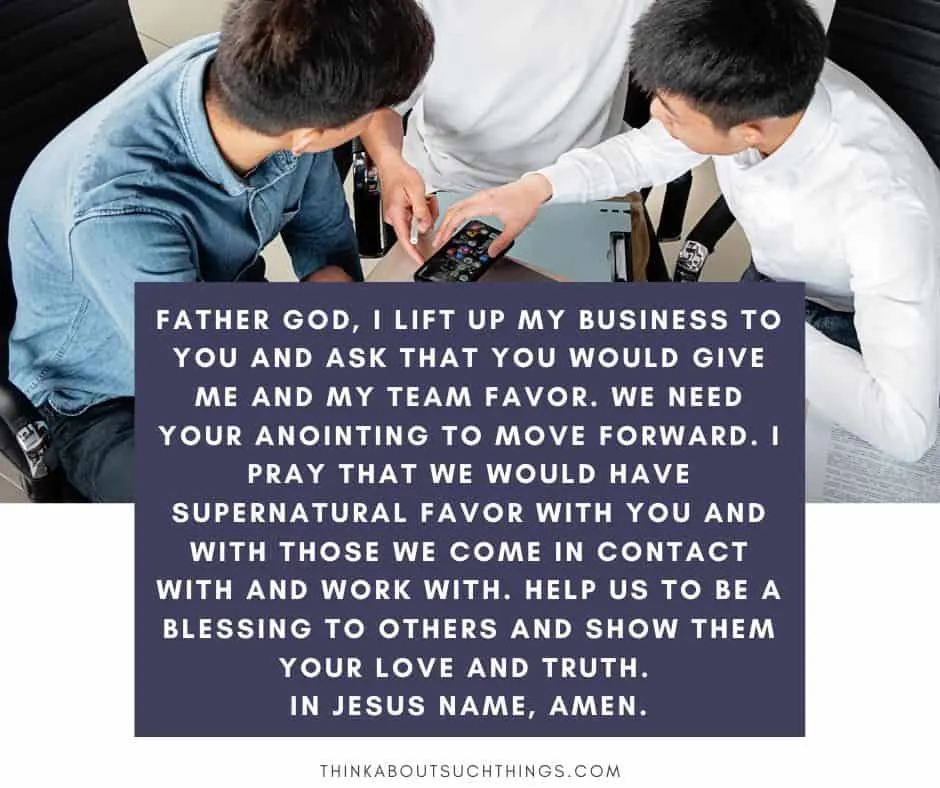 Prayer for Breakthrough For Business: Wisdom
Wisdom is vital in the success of a business. Without it we will pursue areas that may hinder its growth or even harm it. The Bible is clear that we can ask the Lord for wisdom when we need it.
If any of you lacks wisdom, you should ask God, who gives generously to all without finding fault, and it will be given to you. – James 1:5
Heavenly Father, I come before You today and I lift up my business to You. Give me the wisdom I need to see breakthrough in every area of this company. You know the in's and out's of it all. You can guide me in the right directions and give me the keys I need to succeed. Bless me with Your divine wisdom in Jesus mighty name, amen.
Prayer for Breakthrough For Business: Strategy
Another important thing we need is a sound strategy. Business can be full of many different obstacles and challenges. Having a strategy in place will help us to overcome them and continue moving forward.
I will instruct you and teach you in the way you should go; I will counsel you with my loving eye on you. – Psalm 32:8
Lord, it says in Your Word that You will instruct and teach me in the way I should go. Teach me, Lord to be a good at my business. Give me a strategy that will help me to succeed. With Your guidance, anything is possible. My business will successfully overcome any challenges with You by my side. Thank You, Lord…in the name of Jesus, amen.
Prayer for Breakthrough For Business: Surrender
Something is overlooked a lot when it comes to Christian's running a business is always being in a posture of surrender. We need to give our businesses over to the Lord and let Him lead. It's not about us anymore, it's about glorifying God in all we do.
Trust in the Lord with all your heart, and do not lean on your own understanding. In all your ways acknowledge him, and he will make straight your paths. – Proverbs 3:5-6
Heavenly Father, I thank You for this business. I ask that You would bless it and that I would experience breakthrough in it. But Lord more than that I want to give You this business. I place it in Your hands and ask that Your will would be done. I surrender my plans and ask that You would lead me. I want to glorify You in all this company does. In Jesus name, amen.
Prayer for Breakthrough For Business: Leadership
If your business had employees or other workers it's really important that we grow in our leadership ability. Leading people is not easy! It requires discernment, grace, strength, and more. If we want to see our businesses succeed then we need to grow in our leadership skills. I highly recommend reading books on the topic and praying for God.
Remember your leaders who taught you the word of God. Think of all the good that has come from their lives, and follow the example of their faith. – Hebrews 13:7
Father God, I know being a good leader is important in having a successful business and to experience the breakthrough I need. Help me lead like Jesus and be an inspiration to those I work with. Give me strength when I am weak and grace when I need it. Help me to always think of others first and to point them back to You. In Jesus name, amen.
Prayer for Breakthrough For Business: Favor
Without favor your business can not prosper and move forward. We can grow both in our favor with God and with man. But the key to this is spending time with the Lord and in prayer. This also helps us to bear the fruit of the Spirit.
The Lord will guide you always;

    he will satisfy your needs in a sun-scorched land

    and will strengthen your frame.

You will be like a well-watered garden,

    like a spring whose waters never fail. - Isaiah 58:11
Father God, I lift up my business to You and ask that You would give me and my team favor. We need Your anointing to move forward. I pray that we would have supernatural favor with You and with those we come in contact with and work with. Help us to be a blessing to others and show them Your love and truth. In Jesus name, amen.
---
I hope you have enjoyed these Business Breakthrough Prayers and that they have stirred up your faith to seek God more. Remember seek first His kingdom…and He will bless your steps.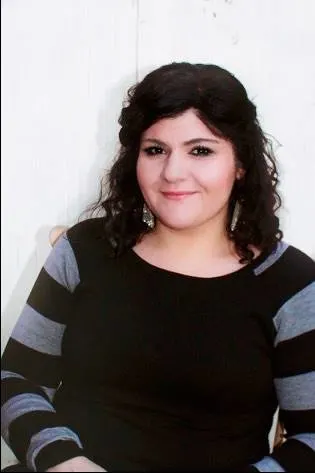 Melissa is a passionate minister, speaker and an ongoing learner of the Bible. She has been involved in church and vocational ministry for over 18 years. And is the founder of Think About Such Things. She has the heart to equip the saints by helping them get into the Word of God and fall more in love with Jesus. She also enjoys family, cooking, and reading.
She has spoken in churches in California, Oregon, Texas, and Mexico and has been featured in Guidepost Magazine and All Recipes Magazine. Read More…