In this article, we will explore how to do a Bible Character study easily from home. Giving you in-depth instructions and tools needs. So, grab your Bible, and let's get started.
Did you know there are multiple ways you can study the Bible? You have topical, thematic, expository, inductive, acronym methods, book by book, and so many more. I mention many of these in my article 9 Easy Bible Study methods.
It's really amazing when you see all the different ways you can dig into God's Word.
One of the ways I love to study scripture is by doing a character study, and today I hope I can help you learn how to do one yourself!
Since I am going to go through many questions and topics. I thought it would be handy to create a table of contents. This way you can navigate through the article easily. But I do encourage you to read through the whole piece, especially if you are new to this type of study method.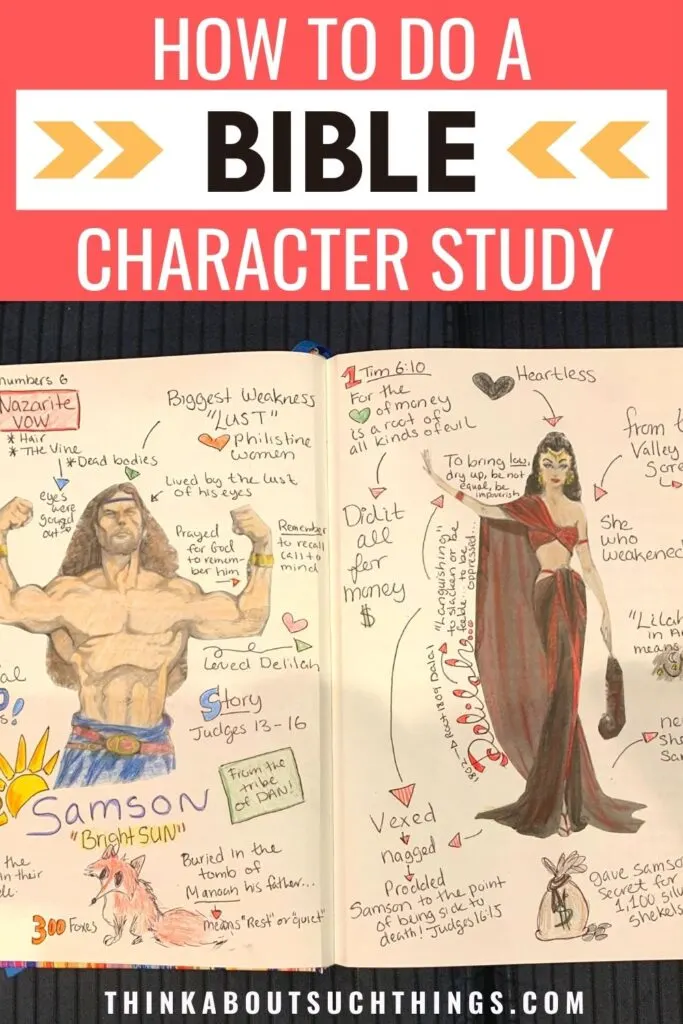 What is a Bible Character Study?
A Bible character study or Bible character analysis is a type of Bible study method. It is when you take an individual person within scripture and study their life. This can be done with any person within scripture even those who are not human, like the archangel Michael.
Some key aspects you seek out while doing your study is:
Character traits: the good, the bad, and sometimes even the ugly.

Their strengths and weaknesses

Their behaviors and reactions they have to certian situations that araise in their life.

Their motivations and passions

Their accomplishments and failures

Their relationship with God and with others.
Why Should I Study Bible Characters?
Be diligent to present yourself approved to God, a worker who does not need to be ashamed, rightly dividing the word of truth. – 2 Timothy 2:15
I mentioned at the start of this article how there are multiple ways to study God's Word. Each method is helpful in your growth and understanding of the Bible. I know some who love to do just one method of study and camp there.
I personally recommend doing a mixture of different methods. You can glean something from all of them, plus it helps to stir up your creativity and not make Bible studying feel redundant.
Now, if all these methods are beneficial why choose to do a character study? Well, I am glad you asked! Here are 4 reasons why I love doing them:
Relatability: When diving into someones life you can see places where you relate with them and from there you can learn some important life lessons.

Character Development: You can glean a lot of applicable revelation as you study the development of someones character as the trust God or reject Him.

Familiarization: Studying the life of someone helps familiarize yourself with stories in the Bible. This is a wonderful thing since it will help you when you hear preaching and teaching at church, conferences, retreats, and more.

It's FUN: I find digging into someones life and anyalizing their story is a fun way to learn and grow.
What Biblical Character Should I Study?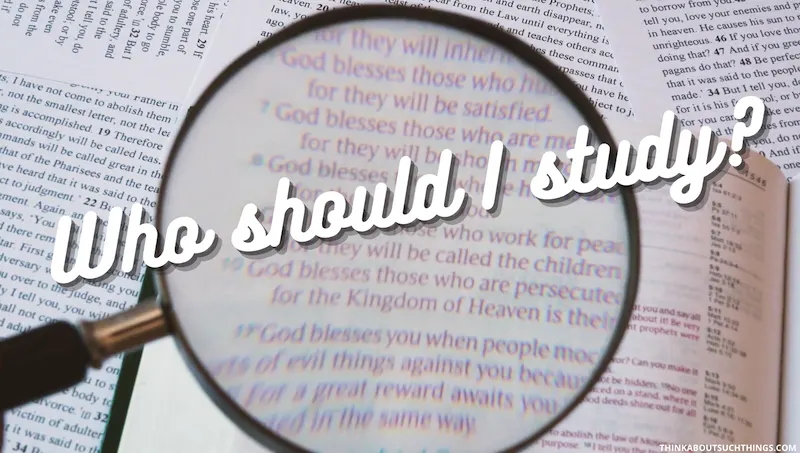 Too many choices, right? There are 100's of characters within scripture to choose from. I have a few simple questions you can ask yourself to help you narrow it down.
Pray and ask the Holy Spirit to highlight a specific person, story, or book within the Bible?

Do you feel drawn to a specific person in the Bible? perhaps you feel like you relate to them or are curious about who they are.

What are you studying or reading right now? Is there someone you can learn more about?
If you are still feeling stuck…then check out the list below. I share 40 popular characters (20 from the Old Testaments and 20 from the New Testaments). See if someone stands out to you. But don't be afraid to do a study on a minor character in the Bible. You would be surprised how these interesting Bible characters play important roles in God's story.
Now, if you are like me you might have the opposite problem where you have a list of people you want to study. Just jot them down in your notebook and pick one that you really want to do now.
Popular List of Characters In the Bible
| OLD TESTAMENT CHARACTERS | NEW TESTAMENT CHARACTERS |
| --- | --- |
| Abraham | Peter |
| Sarah | Paul |
| Moses | Mary Magdalene |
| Gideon | John the Baptist |
| Deborah | Timothy |
| Jacob | Herod the Great |
| David | Luke |
| Solomon | John |
| Esther | Cornelius |
| Saul | Matthew |
| Ruth | Silas |
| Daniel | Thomas |
| Joseph | Priscilla |
| Elijah | Stephen |
| Noah | Nicodemus |
| Leah | Zacchaeus |
| Samson | Zachariah |
| Absalom | Elizabeth |
| Jezebel | Mary, mother of Jesus |
| Job | Judas Iscariot |
Important or Popular Characters in the Bible to Study
Tips Before Starting Your Character Study
TIP 1 – Start Out By Praying
Before doing any kind of Bible study or Bible reading we should start out with prayer and inviting the Holy Spirit to be with us. He will guide us and help us through the process by giving us revelation and wisdom.
I love what Matt Smethurst says about the importance of prayer when we approach God's Word.
TIP 2 – Do a Read-Through of Their Life
I find it helpful to read through the story of the person you are about to study. Now, this can be an easy process. For example, Naomi's story can be found in the book of Ruth. Other individuals might be a little tricky as their stories are in multiple books of the Bible.
I recommend you jot down all references on a paper that way as you read and study you will be able to keep track.
If you don't know where all the scripture references for that person. You can easily check by typing in search of Biblegateway.com or Blueletterbible.org
TIP 3 – Come With An Open Heart and Mind
Sometimes when studying we can run into truths that are very contrary to the world's views. And it's important God's Word we must always come with an open heart and mind.
Remember we want His truths to transform us and draw us closer to Him!
TIP 4 – Ask LOTS of Questions
A good practice before starting is to write down a list of questions you have about that specific person you are going to study. Here is an example if I were doing a study on Leah.
What kind of relationship did Leah have with her sister?

How did Leah cope with her jealousy with her sister?

Did Leah trust God?

TIP 5 – Take Your Time
Every study of a character in the Bible will be different. For example, a study on Barabbas can be done in one sitting, while a study on David will probably be a process. It all depends on the person and how in-depth you want to go into your study.
My advice is not to rush it. If you are on a time crunch and are studying a larger character. You can break down their life into sections. An example is to study the life of David before his kingship or Moses during his time in Eygpt.
How to Do a Bible Character Study
Are you ready for the fun stuff? I'm going to go over 3 main ways I do a Bible character study and how I sometimes mix them up and create my own style.
The 5 W's Bible Character Method
One of the easiest and popular ways to do study a character in the Bible is by answering the 5 W's. Yes, these are the same ones you learned in school! It's a great way to easily break down a character and glean information and facts.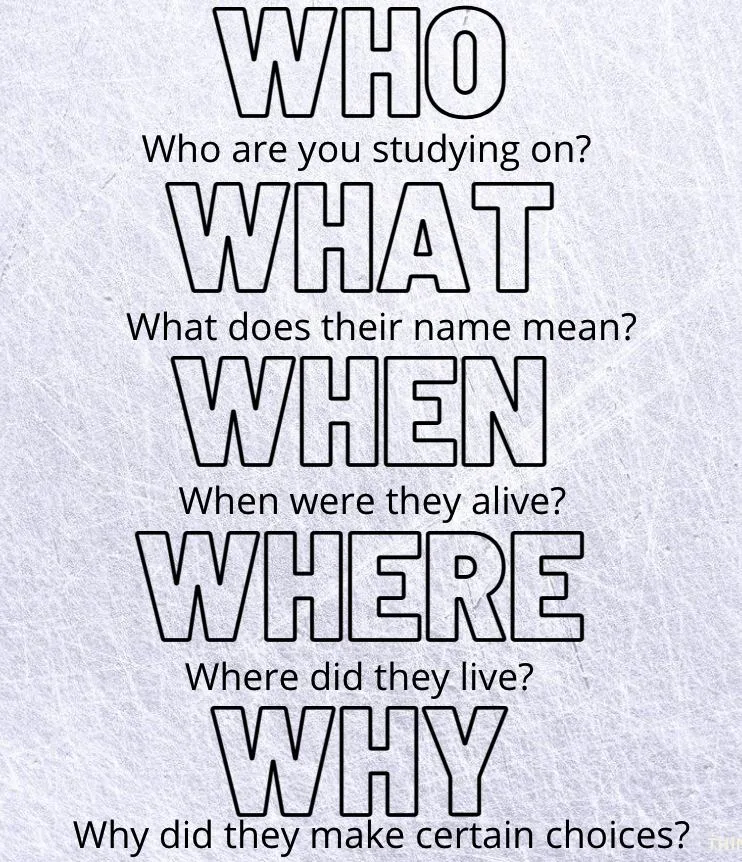 Now, for this method to be fruitful, it's all about asking LOTS of questions.
Step 1 – Pick your Bible character
Step 2 – Grab a sheet of paper (or more) and write the name of the person you are studying. After that create 5 sections or pages. Have each section or page have one of the 5 W's (Who, What, When, Where, and Why)
Step 3 – Start coming up with questions under each W section. I have provided examples below. Make sure to leave room for your answers.
Step 4 – Grab your Bible, Bible dictionary, commentary, or any other Bible study tool. And start digging in!
WHO
– Who was this person associated with?

– Who are their enemies and why?

– Who could this person trust?

-Who helped this person?
WHAT
– What are key things we can learn from this person?

– What are some milestones this person achieved?

– What are some of their strengths and weaknesses?
WHEN
– When was this person born/die?

– When did they first encounter God?
WHERE
– Where was this person born/die?

– Where were the locations they traveled to?

– Where was the location when they experienced a breakthrough/encounter with the Lord?
WHY
– Why did/didn't this person trust God?

– Why did this person react to "name a specific situation?

– Why did their story impact you?
The Character Overview System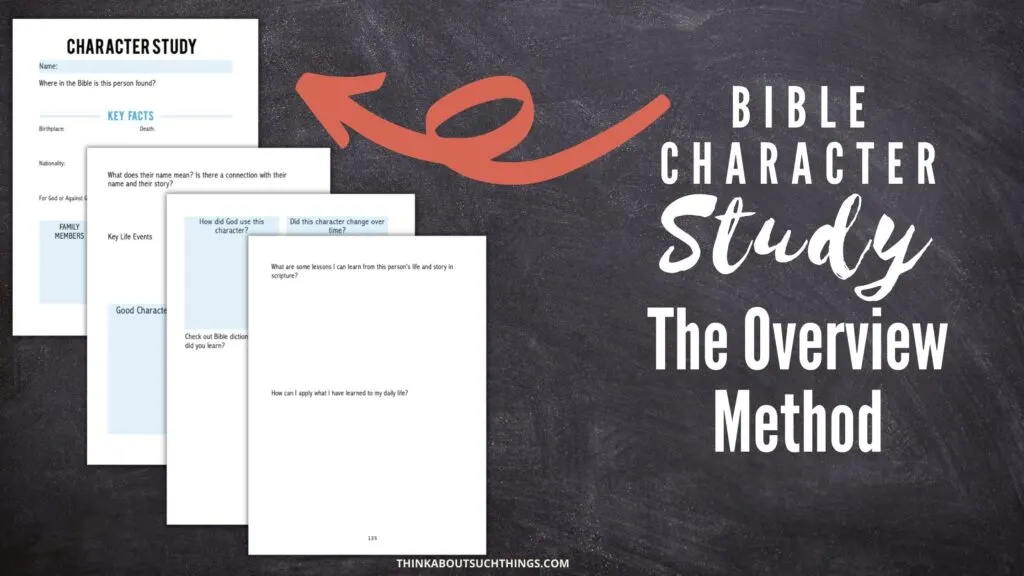 This is actually a Character study I created in my Bible Study Planner. In my planner, it's 4 pages long and its job is to create an overview of the character but then dig deeper into what we can learn and apply from this character's life.
Here are the steps to do this method at home:
Step 1 – Write down key facts about this character:
Name
Where their story is found in scripture
Birthplace and Death
Nationality
Where did they live
Were they for or against God?
What was their job position, or calling
List of family members, assiociates, and enemies

Step 2 – Begin to Dig Deeper:
Head to your Strong's Concordance and find out what this person's name mean. Ask yourself if their is a connection between their name and their life story.

List key life events that happened

Create a list of good character traits and bad character traits

Questions to ask:

How did God use this individual?
Did this individual change over time? If so, how?


Grab a Bible Dictionary, or commentary (you can use some free online Bible tools as well) and read up on this character. Jot down anything that stands out to you or that is vaulable information.
Step 3 – It's Time to Apply
Key Questions to ask and write down the answer:
Questions to ask, jot down and pray into:


What are some lessons I can learn from this person's life and story?

How can I apply what I have learned into my daily life?


Spend time in prayer. Talk to the Lord about what you learned and ask Him to help you better apply His truth to your life.
Creative Bible Character Mapping Method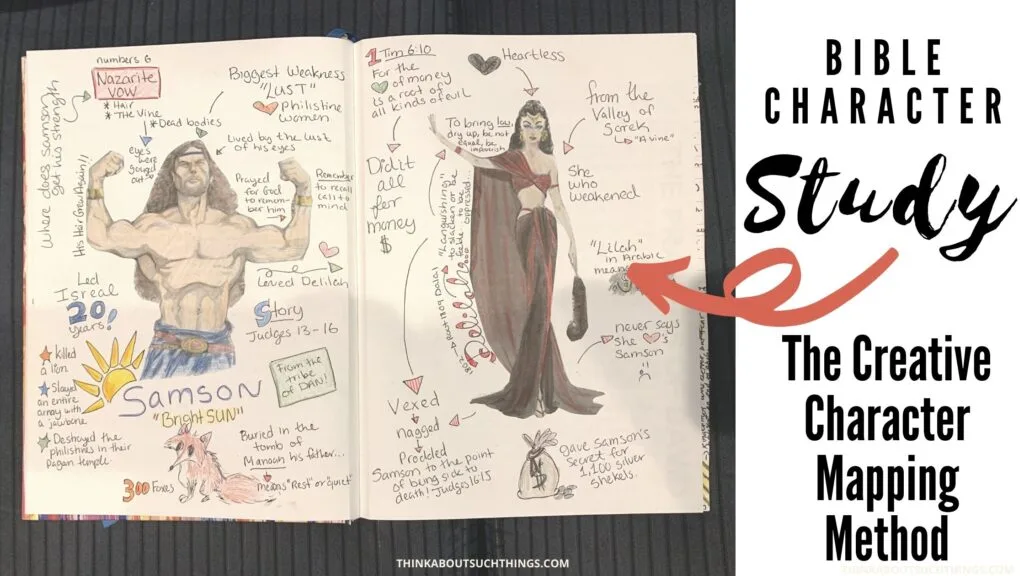 One of my favorite ways to do what I like to call a Character Map. This is a creative way to study a character in the Bible. If you are not familiar with mind mapping it's basically a strategy to brainstorm ideas and concepts. It can be very fruitful when done correctly.
Now, with doing a character study you wouldn't be brainstorming ideas, but rather seeking out facts, insight, and revelation you gain as you study their life. This can be done really simply by placing a circle in the middle of the paper (with the name of the character) and building out from there. Here is an example of me starting a simplified character map of Noah.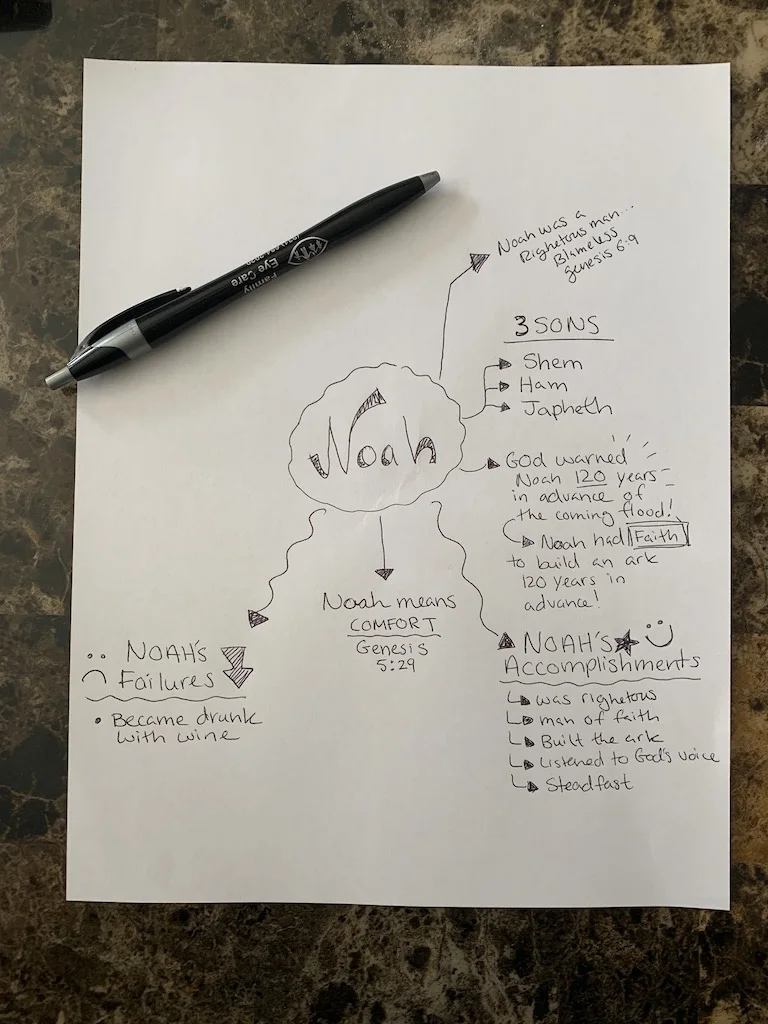 You can get as creative or uncreative as you like! I sometimes keep it simple if I'm on a time crunch and do what I have above but add in colored pens and pencils.
But I usually like to take it a step further and place an image of the Biblical character in the middle of the paper and create my character map from there. I tend to use a lot of colored pens and pencils. I will sometimes draw or print out images as well. Just whatever I feel for that study time.
I use many of the same questions in my Character Overview and 5 W's methods to help me fill out my Character map. But also other facts or revelations I gain through the study process. Here are some examples of my more creative versions: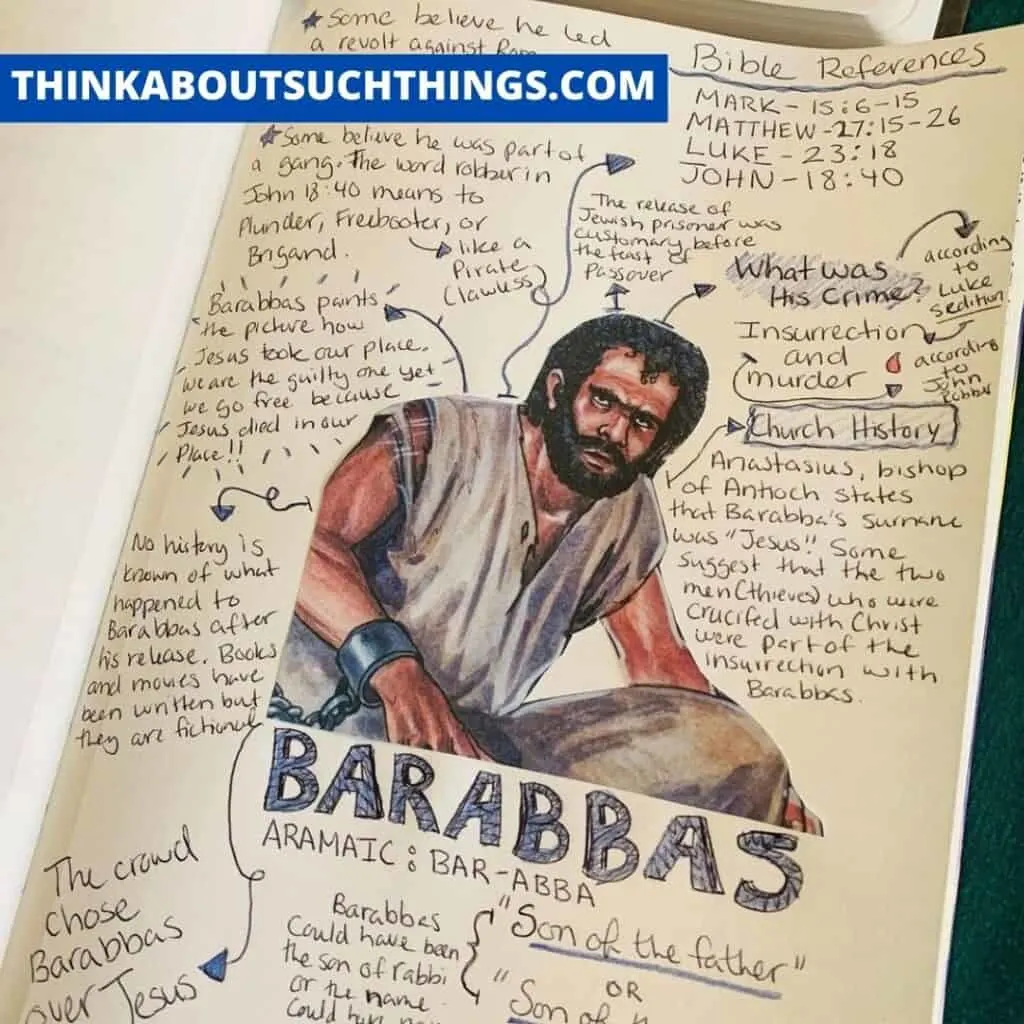 As you can see in this character study of Barabbas I even looked into church history to see what else I could glean from his life since he was such a small character.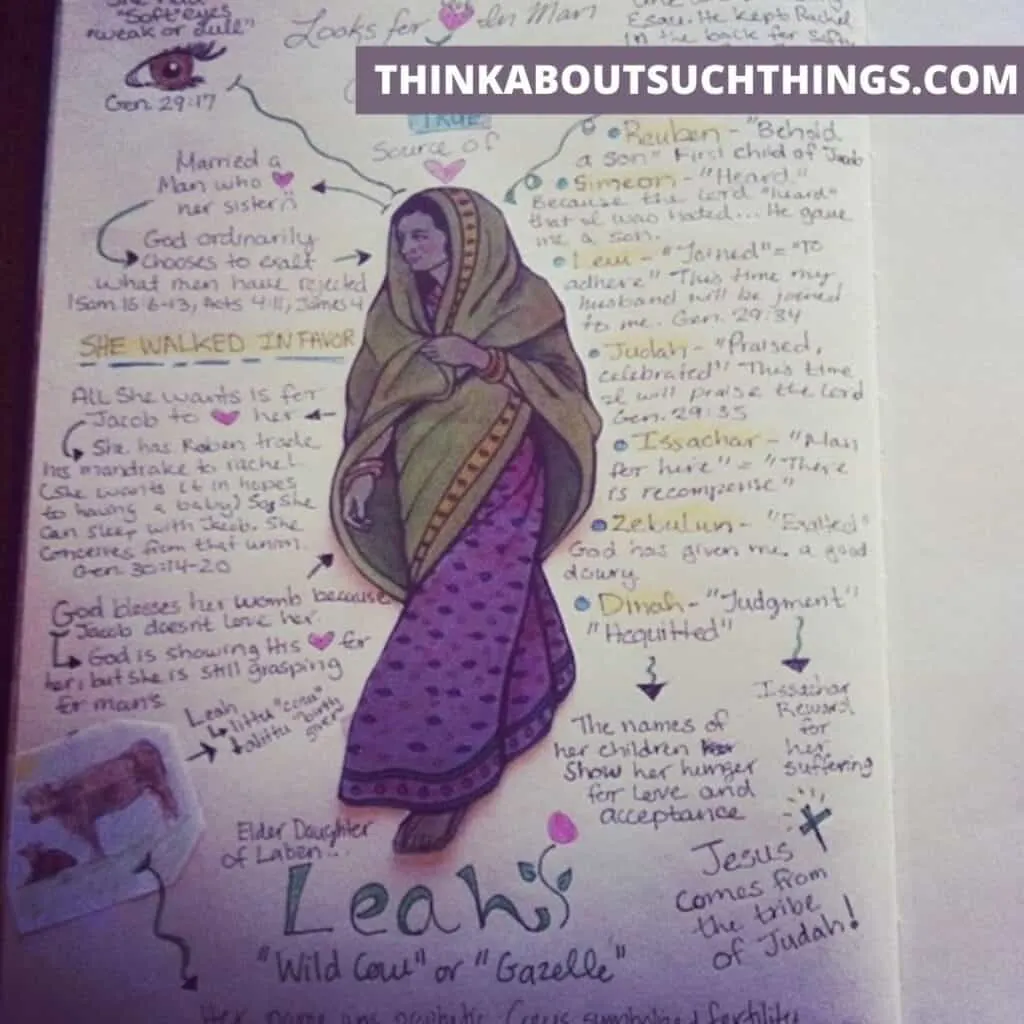 Resources for Doing Bible Character Studies
Are you ready to try out one of these methods? Well, before you do it's important to be equipped! These are some resources you can use to help you get everything you can out of your study.

---
Well, I hope you have found this article on how to do a Bible character study helpful and that it has stirred you up to go deep into God's Word! If you would like to leave me a comment you can do so below. I would love to know who you are studying and why you picked them.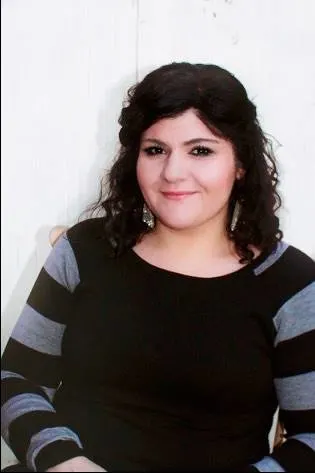 Melissa is a passionate minister, speaker and an ongoing learner of the Bible. She has been involved in church and vocational ministry for over 18 years. And is the founder of Think About Such Things. She has the heart to equip the saints by helping them get into the Word of God and fall more in love with Jesus. She also enjoys family, cooking, and reading.
She has spoken in churches in California, Oregon, Texas, and Mexico and has been featured in Guidepost Magazine and All Recipes Magazine. Read More…