In this article we will discover 35 uplifting Christian friendship quotes that will inspire your relationships and create Godly friendships. So, grab a buddy and enjoy these quotes.
I'm excited to be sharing some quotes on friendship with you all. Quotes sometimes have the ability to take a profound thing and make it simple and clear. And I hope that these Christian friendship quotes will do just that.
I have been writing a lot about this topic of late. So, if you want to go deeper on the topic of friendship then you can check them out below.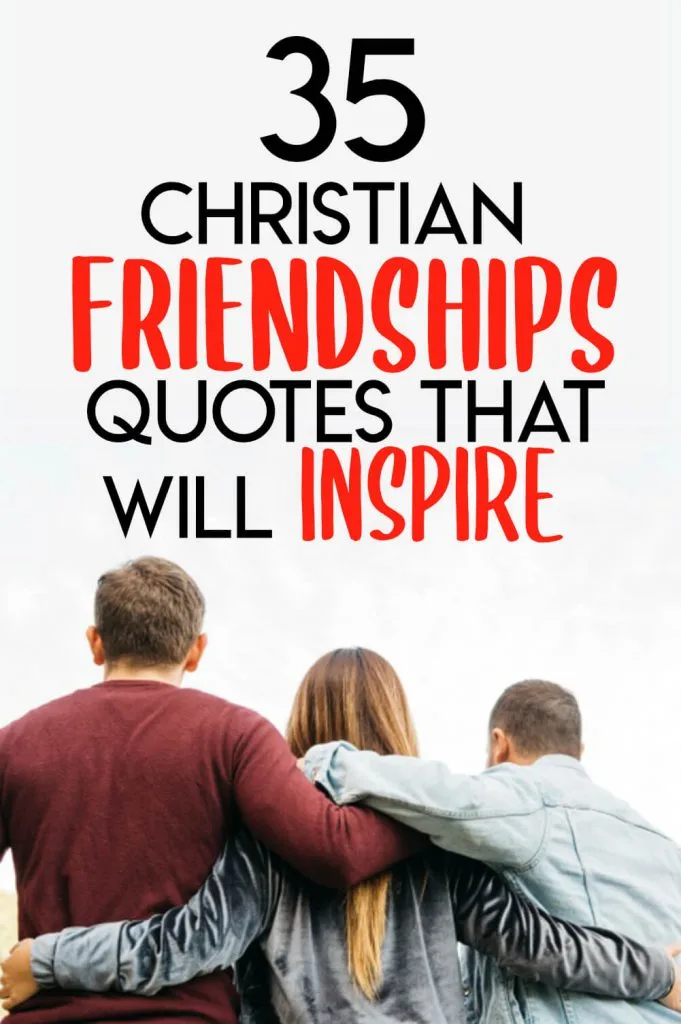 Before we dive into these quotes I want to share something. Not all the authors of these quotes were/are Christians, but most of them are. I tried my very best to find quotes that reflect Biblical truths. For example one quote is from Winnie the Pooh by A.A. Milne.

If you like you can search the authors to gain more insight in their lives.
Godly Friendship Quotes
He is your friend who pushes you nearer to God. – Abraham Kuyper
Friendship is born at that moment when one person says to another, 'You too? I thought I was the only one. – C.S Lewis
A true friend is the greatest of all blessings. – Francois de La Rochefoucauld
To please a friend is a welcome bonus; to help him is the great reward. – Jack Hyles
Let those be thy choicest companions who have made Christ their chief companion. – Thomas Brooks
Friends are those rare people who ask how we are and then wait to hear the answer. – Ed Cunningham
There Is A Brotherhood Within The Body Of Believers, And The Lord Jesus Christ Is The Common Denominator. Friendship And Fellowship Are The Legal Tender Among Believers. – J. Vernon McGee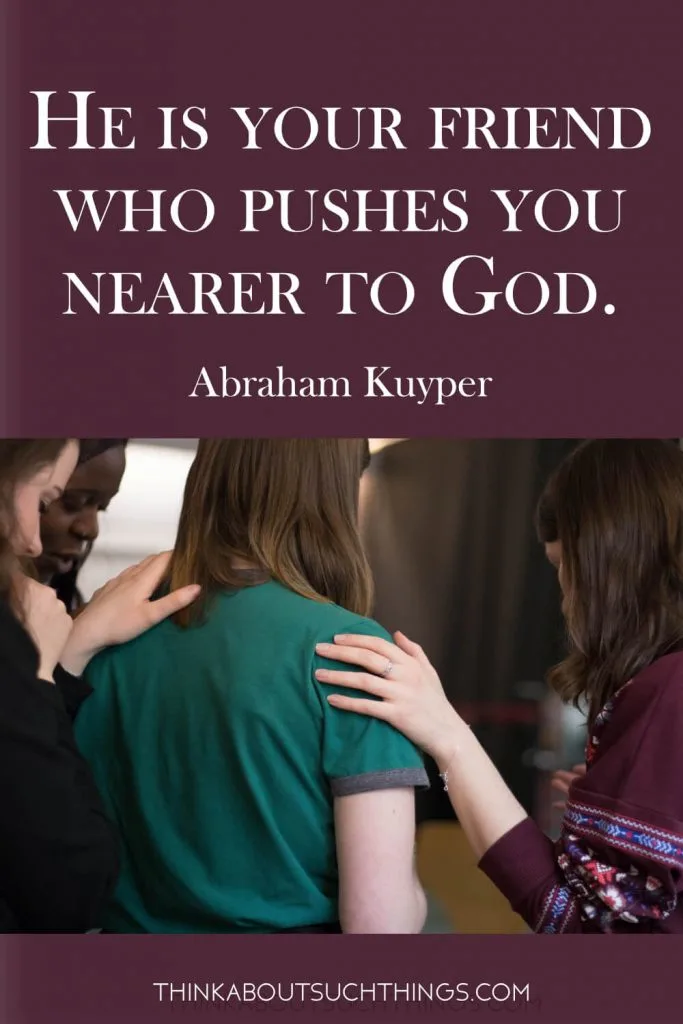 A friend is someone who knows all about you and still loves you. – Elbert Hubbard
Friendship Is The Nearest Thing We Know To What Religion Is. God Is Love. And To Make Religion Akin To Friendship Is Simply To Give It The Highest Expression Conceivable By Man. -Henry Drummond
The next best thing to being wise oneself is to live in a circle of those who are. – C.S Lewis
There is nothing on this earth more to be prized than true friendship. – Thomas Aquinas
Many people will walk in and out of your life, but only true friends leave footprints in your heart. – Eleanor Roosevelt
If you go looking for a friend, you're going to find they're very scarce. If you go out to be a friend, you'll find them everywhere. – Zig Ziglar
If two friends ask you to judge a dispute, don't accept, because you will lose one friend; on the other hand, if two strangers come with the same request, accept, because you will gain one friend. – Augustine
Friends are the siblings God never gave us. – Jean de la Fontaine
Wishing to be friends is quick work, but friendship is a slow ripening fruit. -Aristotle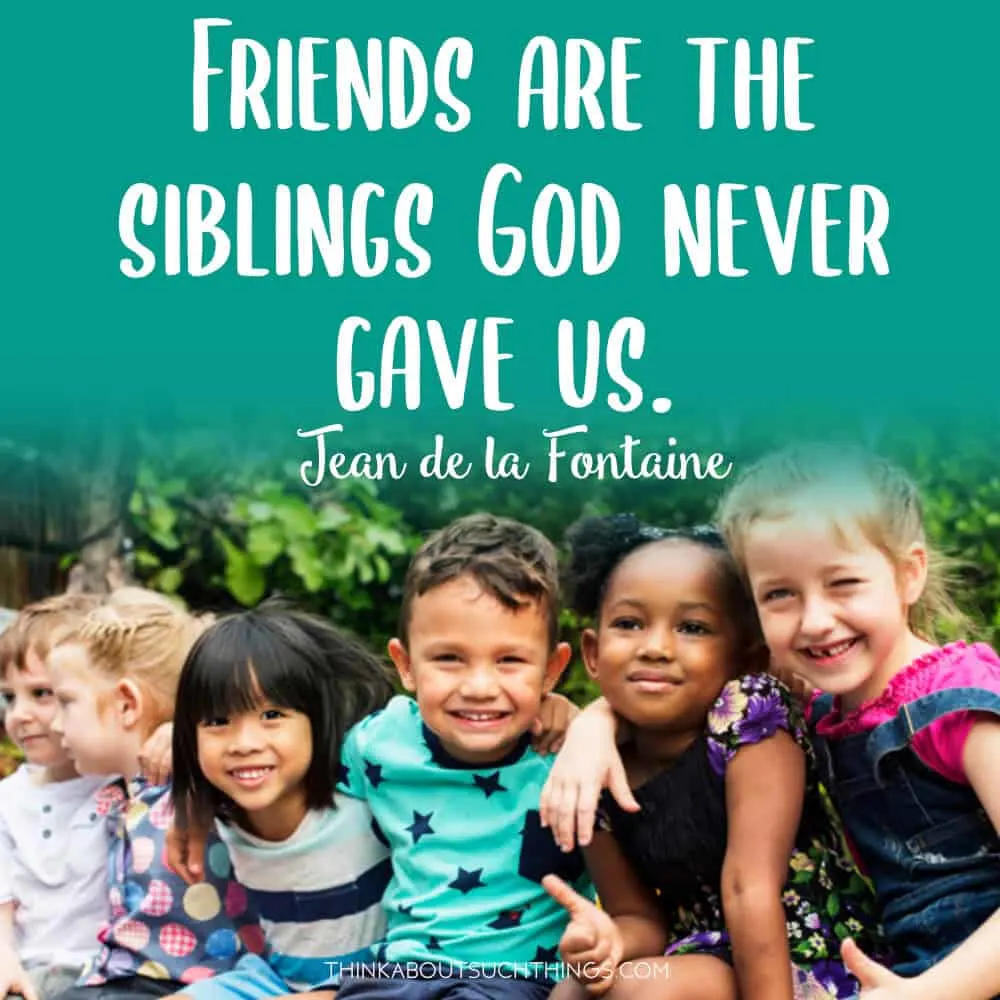 It is only the great hearted who can be true friends. The mean and cowardly, can never know what true friendship means. – Charles Kingsley
Like a surgeon, friends cut you in order to heal you. – Tim Keller
A friend is someone who understands your past, believes in your future, and accepts you just the way you are. – Unknown
Is any pleasure on earth as great as a circle of Christian friends by a good fire? – C.S Lewis
The most beautiful discovery true friends make is that they can grow separately without growing apart. – Elisabeth Foley
If, instead of a gem or even a flower, we could cast the gift of a lovely thought into the heart of a friend, that would be giving as the angels give. – George Macdonald
Be slow to fall into friendship; but when thou art in, continue firm and constant. -Socrates
Rare as is true love, true friendship is rarer. – Jean de La Fontaine
A true friend never gets in your way unless you happen to be going down. – Arnold H. Glasgow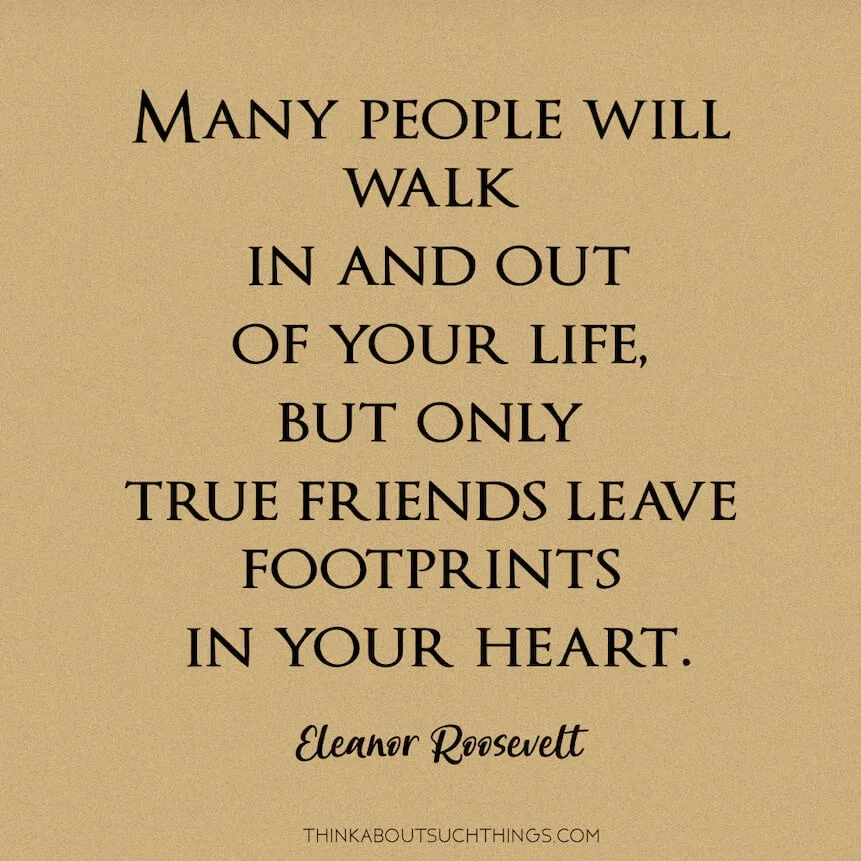 Don't walk in front of me; I may not follow. Don't walk behind me; I may not lead. Just walk beside me and be my friend. – Albert Camus
A friend is someone who gives you total freedom to be yourself. – Jim Morrison
Let us be grateful to the people who make us happy; they are the charming gardeners who make our souls blossom. – Marcel Proust
Friendship multiplies the good of life and divides the evil. – Baltasar Gracian
You can make more friends in two months by becoming interested in other people than you can in two years by trying to get other people interested in you. – Dale Carnegie
True friendship comes when the silence between two people is comfortable. – David Tyson
Life has no blessing like a prudent friend. – Euripides
In the End, we will remember not the words of our enemies, but the silence of our friends. – Martin Luther King, Jr.
If You Know People In Your Church Or Your Neighborhood That Are Facing Adversity, I Encourage You To Offer A Hand Of Friendship To Them. That Is What Jesus Would Do. – Jonathan Falwell
It seems they had always been, and always would be, friends. Time could change, but not that. – Winnie the Pooh
Without friends, no one would choose to live, though he had all other goods. – Augustine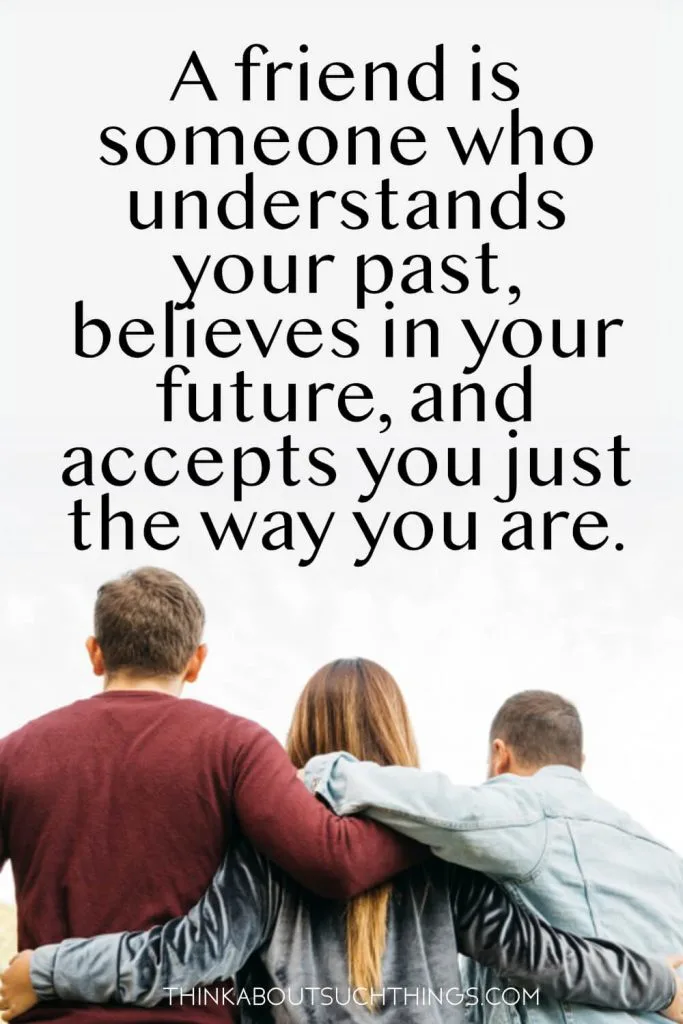 Bonus Christian Friendship Quotes
I recently came around to updating this post, and decided to add some more Christian friendship quotes! Here are 10 more that I found… I hope you enjoy them and that encourage you in your pursuit of Godly friendships.
There is a brotherhood within the body of believers, and the Lord Jesus Christ is the common denominator. Friendship and fellowship are the legal tender among believers. – J. Vernon McGee
God has a bigger vision for our friendships than we even can begin to understand. – Angela A Sackett
God is more interested in your future and your relationships than you are. – Billy Graham
Actions, not words, are the true criterion of the attachment of friends. – George Washington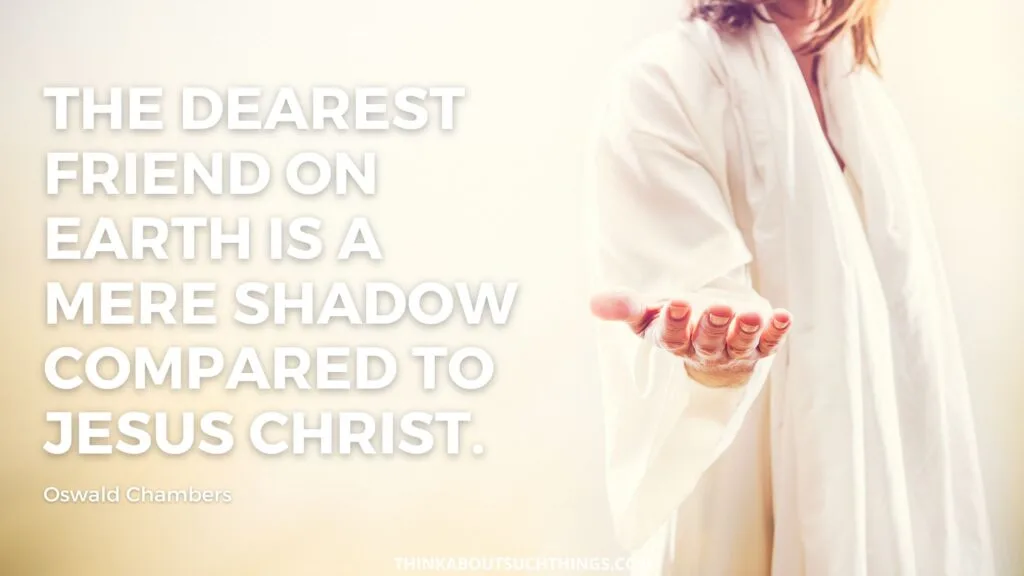 Walking with a friend in the dark is better than walking alone in the light. – Helen Keller
The dearest friend on earth is a mere shadow compared to Jesus Christ. – Oswald Chambers
[Spiritual friendship] is eagerly helping one another know, serve, love, and resemble God in deeper and deeper ways. – Tim Keller
Many a friendship – long, loyal, and self-sacrificing – rested at first upon no thicker a foundation than a kind word. – Frederick W. Faber
In the End, we will remember not the words of our enemies, but the silence of our friends. – Martin Luther King Jr.
Friendship is a deep oneness that develops when two people, speaking the truth in love to one another, journey together to the same horizon. – Tim Keller
---
Well, there you go! I hope these Christian quotes about friendship have inspired you and caused you to want to grow as a friend. Leave me a comment below sharing your favorite quote!
And if you would like to learn more about growing in your friendships then check out my post on Tips to Grow in Your Christian Friendships.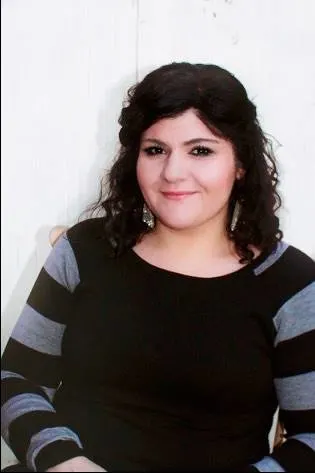 Melissa is a passionate minister, speaker and an ongoing learner of the Bible. She has been involved in church and vocational ministry for over 18 years. And is the founder of Think About Such Things. She has the heart to equip the saints by helping them get into the Word of God and fall more in love with Jesus. She also enjoys family, cooking, and reading.
She has spoken in churches in California, Oregon, Texas, and Mexico and has been featured in Guidepost Magazine and All Recipes Magazine. Read More…