In this article, we learn how closing prayer for Bible study can be easy and powerful time for you and your group to close out the evening.
When it comes to small groups there is always a time of prayer. This usually consists of an opening time of prayer before your Bible study begins and then it usually ends or closes with prayer as well. And if you have landed on this page you want to learn about closing prayer for a Bible study.
I don't know if you have been asked to close by leadership or you are in a new leadership role and want to be able to lead your group well. Either way at times public prayer can be daunting. It can cause a lot of insecurities. But my hope and prayer is that this post will help you feel confident and give you an ease to close your Bible study.
If you have been on my opening prayer for Bible study page you will see some similarities since they are vital for leading public prayer. You can take those tips and apply them to anytime you need to lead prayer. Alright let's get down to business!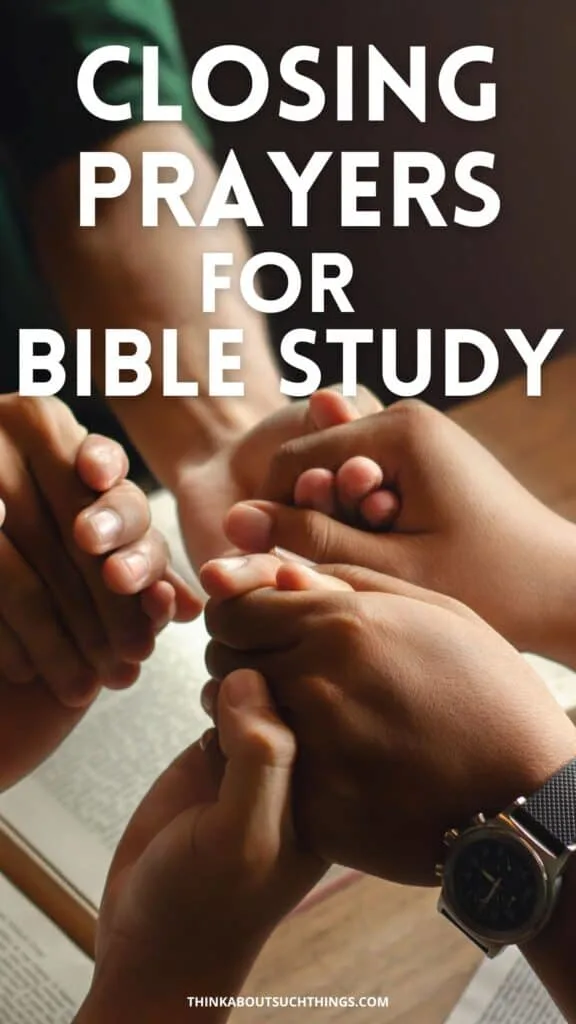 6 Tips for Closing Bible Study in Prayer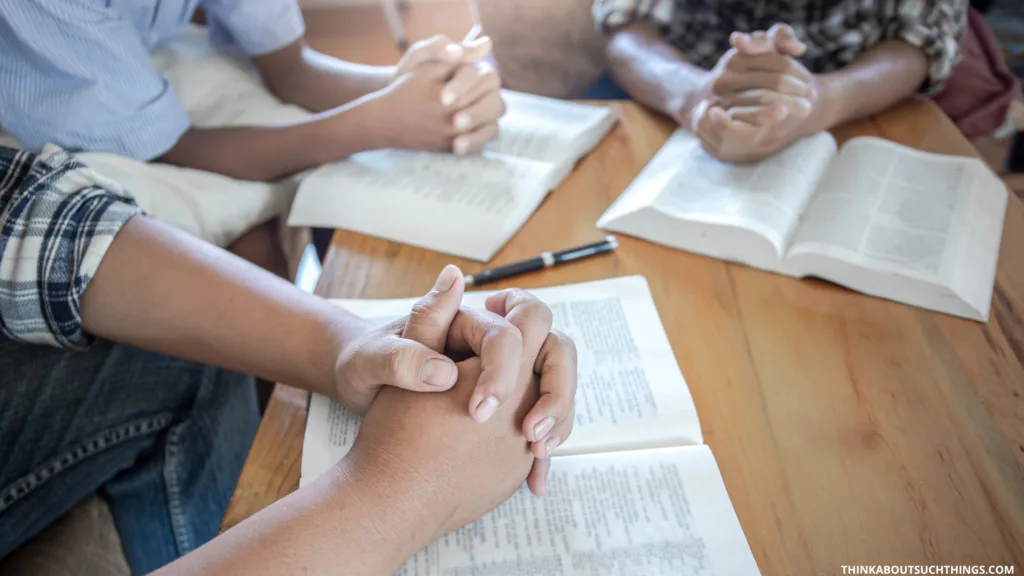 Everyone is at a different level of growth and maturity with the Lord. For those of you who need a few tips and guidance on how to close in prayer can use the tips below. If you need more of an example you can find that below. Whatever the case place your hand in His hand and ask Him to help you grow in this area of prayer.
Remember It's NOT About You
It's easy to get our eyes of Jesus and onto ourselves when have to lead or do something publicly. But when it comes to prayer it's vital that we remember that it's not about us, but 100% about HIM!
Getting out focus on Jesus helps us release anxiety, fear, insecurity and more. So, if you are facing any of those feelings…I encourage you to get alone with God before hand and asking Him to be number one when you lead prayer. Ask for Him to give you strength and grace to place your burden at the cross and to pick up His!
Come to me, all you who are weary and burdened, and I will give you rest. Take my yoke upon you and learn from me, for I am gentle and humble in heart, and you will find rest for your souls. For my yoke is easy and my burden is light. – Matthew 11:28-30
Start with Thanksgiving
If you are not sure on how to start your closing prayer…go with thanksgiving and praise! You can thank God for the meeting, what you have learned, and for each individual in the group. To top it off thanksgiving is super power! It says in God's Word that we enter His gates with thanksgiving and His courts with praise. (Psalm 100:4-5).
This mean that thanksgiving ushers us into God presence. So, taking a moment to give thanks and praise is a beautiful thing!
Rejoice always, pray continually, give thanks in all circumstances; for this is God's will for you in Christ Jesus – 1 Thessalonians 5:16-18
Pray into What You Learned
As you close up your time together it's always good to pray about what you have learned and that the seeds of God's Word would take root into everyone's life. Here are some key things you can pray for:

Pray for transformation from what you are learning.

Pray for practical ways you can apply what you are learning.

Pray that the Bible study would bear good fruit in your lives.

Pray for a renewing of the mind.

Pray for these teaching to come back to our remembrance as we go about our day.
And we all, who with unveiled faces contemplate the Lord's glory, are being transformed into his image with ever-increasing glory, which comes from the Lord, who is the Spirit. – 2 Corinthians 3:18
Pray to Draw Closer to Jesus
No matter what the topic of Bible Study that you are doing…the ultimate goal is for you to draw closer to Jesus. Take a moment in your prayer time to ask God to bring you all closer to Him and that the study would stir up your faith. You can also ask the Lord to remove things from your life that may be hindering you from drawing near to Him.
Seek the Lord while He may be found;
Call upon Him while He is near.
Let the wicked forsake his way
And the unrighteous man his thoughts;
And let him return to the Lord,
And He will have compassion on him,
And to our God,
For He will abundantly pardon. – Isaiah 55:6-7
Ask if Anyone Has a Prayer Request
Another great way to close prayer is asking other members if they have any prayer requests. Perhaps one or a few others having something going on that they would love some spiritual support in. This is also a wonderful time to minister to each other and give word's of encouragement and wisdom.
And pray in the Spirit on all occasions with all kinds of prayers and requests. With this in mind, be alert and always keep on praying for all the Lord's people. – Ephesians 6:18
Be Sensitive to the Holy Spirit
There are numerous ways you can go about closing in prayer. But it's vital that you stay sensitive to the Holy Spirit. If you know in advance you will be leading prayer spend some alone time with the Holy Spirit before hand. Be sensitive by listening to His voice. He may remind you of a Bible verse to share, or show you a direction you should pray in.
But when he, the Spirit of truth, comes, he will guide you into all the truth. He will not speak on his own; he will speak only what he hears, and he will tell you what is yet to come. – John 16:13
Examples of Closing Prayers for Bible Study Group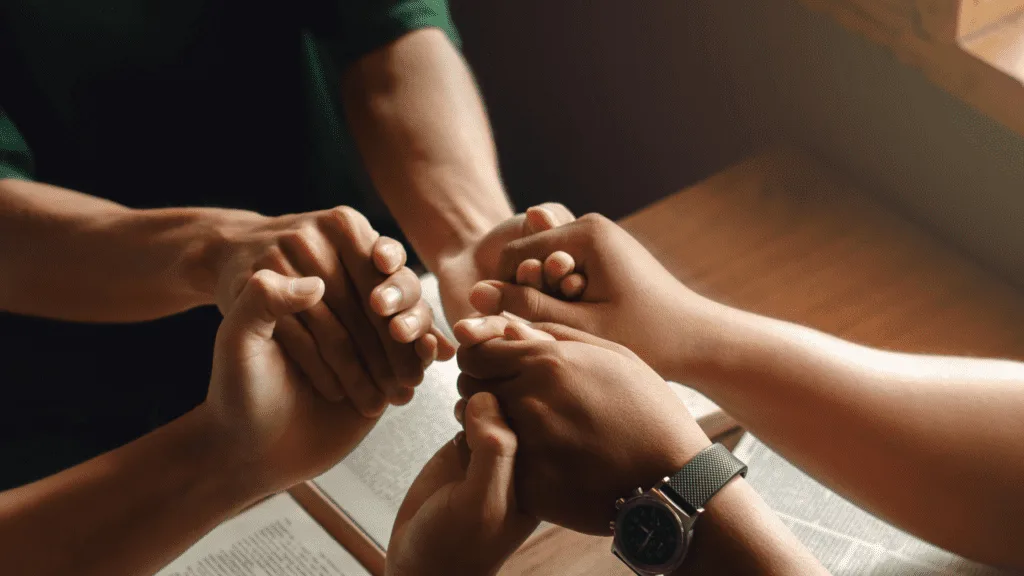 In this section I am going to share 5 short closing prayers for your Bible study group. You can use these as is, but I would encourage you to use these as inspiration to help you pray from your heart. God truly desires to hear from YOU. He isn't looking for fancy words, but a sincere heart.
---
Heavenly Father, I want to give You praise for all You have done. You are truly a good God. Thank You, for this wonderful evening with my brothers and sisters. I pray that you would seal in our heart everything that we have learned tonight and that it would bear much fruit in our lives. In Jesus mighty name, amen!
You O' God are our our rock, our fortress, our shield, and our deliverer! There is no one like You! And as we have studied Your Word we see that. Let these truths pierce our heart and bring incredible transformation to our lives. In Jesus mighty name, amen.
Lord Jesus, Your Word amazes us! Thank you for the privilege of studying Your Word. I ask that as we go home today that You would cause our hearts to draw closer to You. That our faith would be stirred up and that our hunger for You would grow. Open our heart's to experience Your love! In Jesus' name amen!
Heavenly Father, I lift up each person in our group. I pray that You would meet everyone needs and that their prayers would be answered. I also pray Your blessing over them Lord, from Numbers 5:24-26…"The Lord bless you and keep you; the Lord make his face shine on you and be gracious to you; the Lord turn his face toward you and give you peace." In the wonderful name of Jesus, amen!
Lord God, we want to give you thanks and praise for Your presence during this Bible study. As we leave, I ask that You would help use Your Word in such a way that it would bring transformation to those around us. Let us be salt and light to the World. Ignite us with Your fire and love! In Jesus mighty name, amen.
---
Leading prayer doesn't have to be daunting. With God's help and a little guidance you will be able to close your Bible study group in prayer! If you have found this article helpful, consider leaving a comment below. I would love to know what your group is studying and what God is teaching you through this time.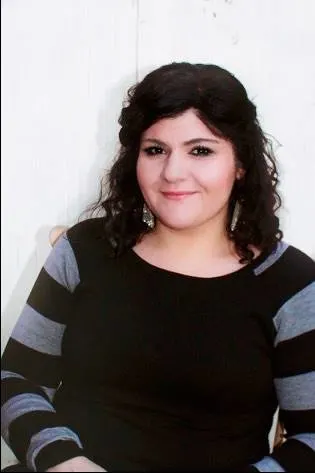 Melissa is a passionate minister, speaker and an ongoing learner of the Bible. She has been involved in church and vocational ministry for over 18 years. And is the founder of Think About Such Things. She has the heart to equip the saints by helping them get into the Word of God and fall more in love with Jesus. She also enjoys family, cooking, and reading.
She has spoken in churches in California, Oregon, Texas, and Mexico and has been featured in Guidepost Magazine and All Recipes Magazine. Read More…