Enjoy this delicious easy gluten free apple cake with a cup of coffee or tea.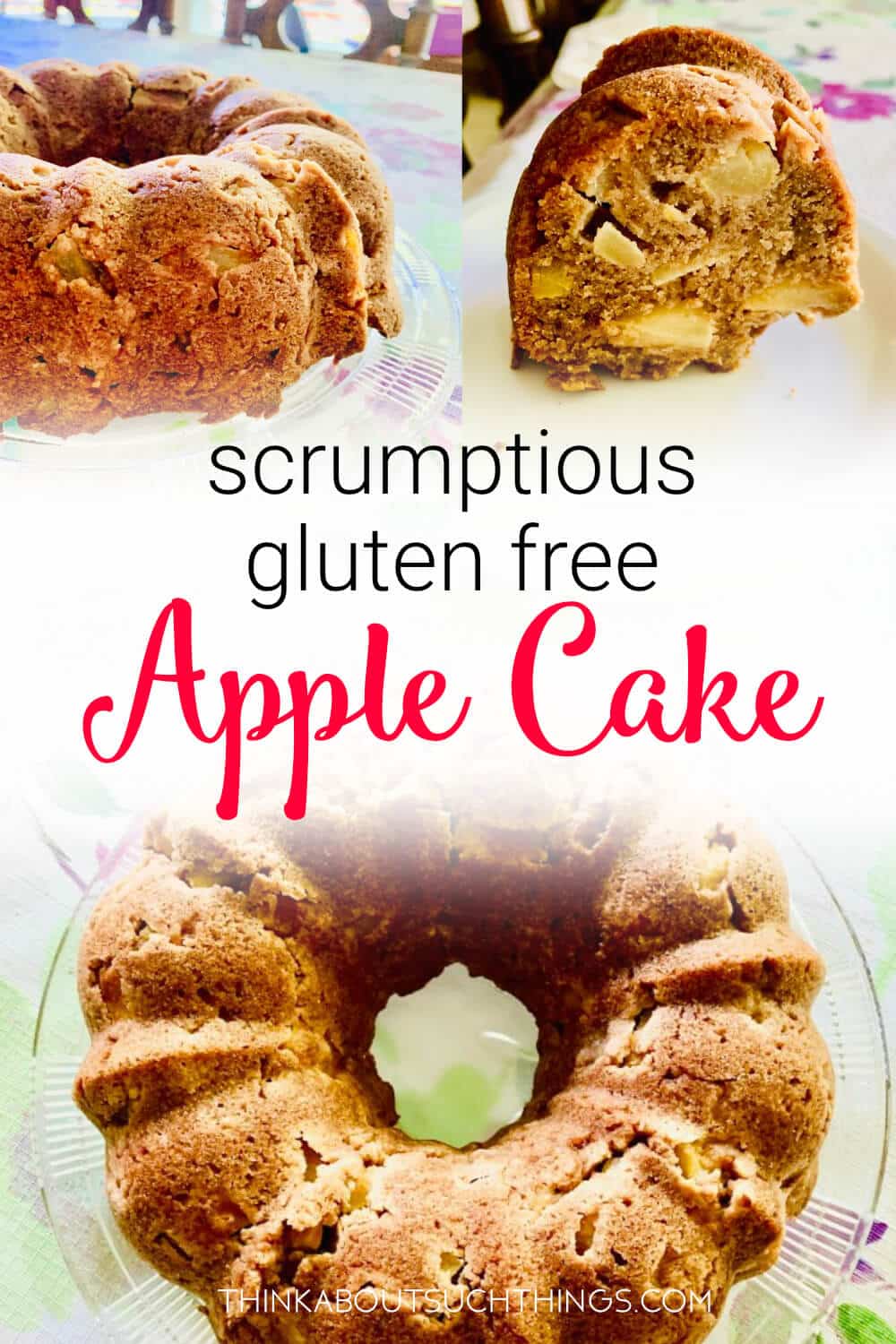 My mom is a big fan of apple desserts. So, I decided to treat her by baking her this tender yummy apple cake. It was a big hit and gobbled up in a couple of days at her house.
This GF apple cake has a lightly sweet taste of apples, with a nice hint of cinnamon. It's super great with a cup of hot coffee or tea. You can also top it with some powder sugar or simple glaze like the one from The Spruce Eats. We kept our cake naked as my mom is not a fan of glazes or frosting. Yup, you read right…she doesn't like frosting!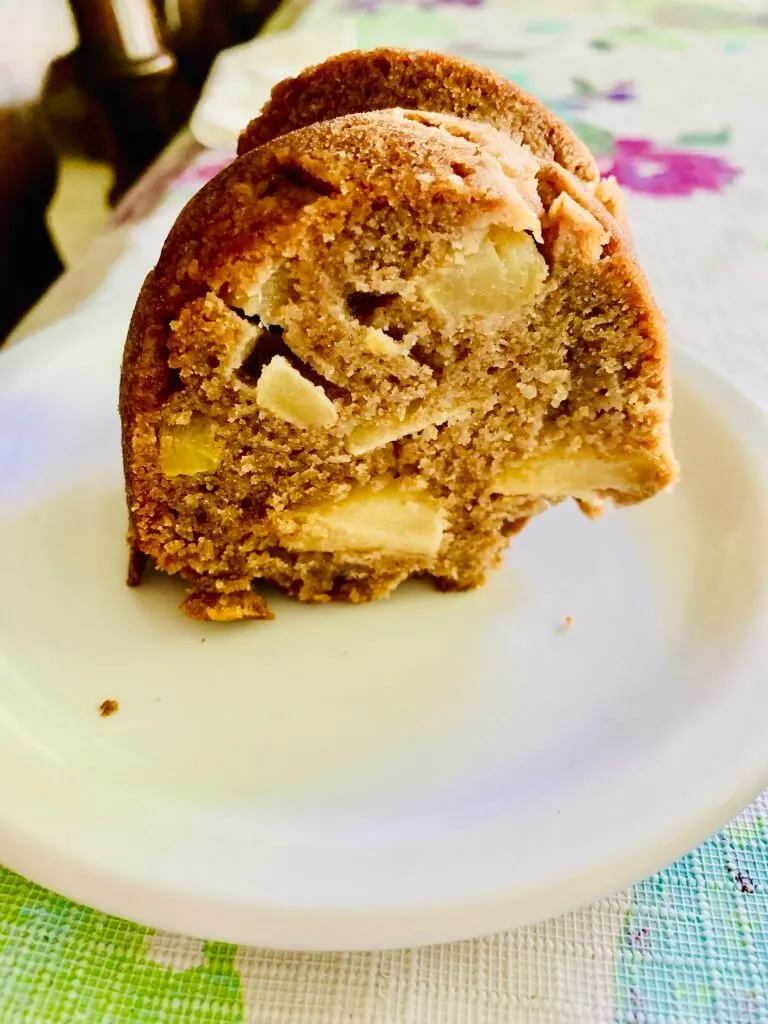 What's extra awesome about this cake is that it's dairy free. So, if you need to avoid dairy and gluten…this is a winner!
If you are look for other gluten free recipes then check out some of my favorites below:
Like most baked gluten-free goods, it takes a little practice and some good quality products. So, before I share the recipe with you
Tips Before Starting
Make sure your all purpose GF blend has some type of gum in it. If it doesn't then add it in manually. A good rule of thumb is 1/4 teaspoon xanthum gum for every cup of flour (this rule is for cakes and cookies). If you decide not to use any form of gum/binder you will have a crumbly mess.
I made this using grapeseed oil, but you can try coconut oil or butter. I would make sure to melt the coconut oil/butter before adding it.
I used a bundt pan, but you can bake this in muffins, or in a glass pan as well. Just adjust cooking time accordingly.
I use Ceylon cinnamon or what is known as true cinnamon. It's more subtle and sweet than cassia cinnamon. If using cassia you can lower the cinnamon to 2/ 2.5 teaspoons. Unless you LOVE cinnamon. Then keep it at 3. That's what I would do.
Well, let's get down to business and bake this gluten free apple cake!
Yield:

16 Slices
Gluten Free Apple Cake
Cook Time:
1 hour
15 minutes
Total Time:
1 hour
40 minutes
Ingredients
3 Medium Apples - Skin Removed & Chopped
1 cup Sugar
1/2 cup Brown Sugar
1 1/2 cups Oil Grapeseed or Coconut
2 tsp Vanilla extract
3 Eggs
3 Cups All-Purpose Gluten-Free Blend
3 tsp Ceylon Cinnamon
1/2 tsp Salt
1/2 tsp Baking Soda
1 cup Chopped Walnuts (optional)
Instructions
Preheat oven to 325 degrees F.
Peel and Chop Apples, then toss apples with 1 tsp of cinnamon
Combine sugar, oil, and vanilla. Mix well and gradually blend in one egg at a time.
Wisk in dry ingredients. Once well mixed gently add apples and nuts (optional) The batter should be thick.
Pour batter into a greased bundt pan
Bake for 1 hour 15 minutes or till a toothpick comes out clean.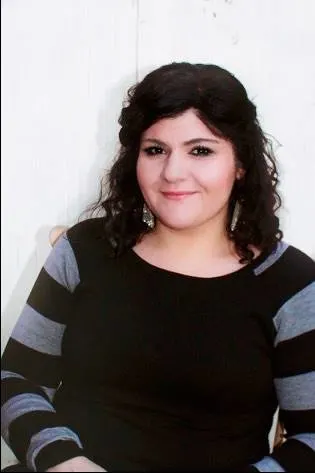 Melissa is a passionate minister, speaker and an ongoing learner of the Bible. She has been involved in church and vocational ministry for over 18 years. And is the founder of Think About Such Things. She has the heart to equip the saints by helping them get into the Word of God and fall more in love with Jesus. She also enjoys family, cooking, and reading.
She has spoken in churches in California, Oregon, Texas, and Mexico and has been featured in Guidepost Magazine and All Recipes Magazine. Read More…