In this article, we will explore an arrangement of different hymns for funerals. These hymns will bring a level of comfort and peace to your service.
Planning a funeral or memorial service is never fun. And stressing about the music is the last thing you need when you are grieving the loss of a loved one. I know when my dad passed, and we were planning things, it made things even harder.
Music is an important element during a funeral service. It conveys your faith, hope of heaven, and brings comfort. Hymns, even though very traditional, can bring those 3 elements. Plus, if they were something your loved one enjoyed, then that's a plus.
We had a mix of Christian funeral songs and hymns during my dad's funeral since he liked both. But for this post, we will only look at hymns. So, let's get started.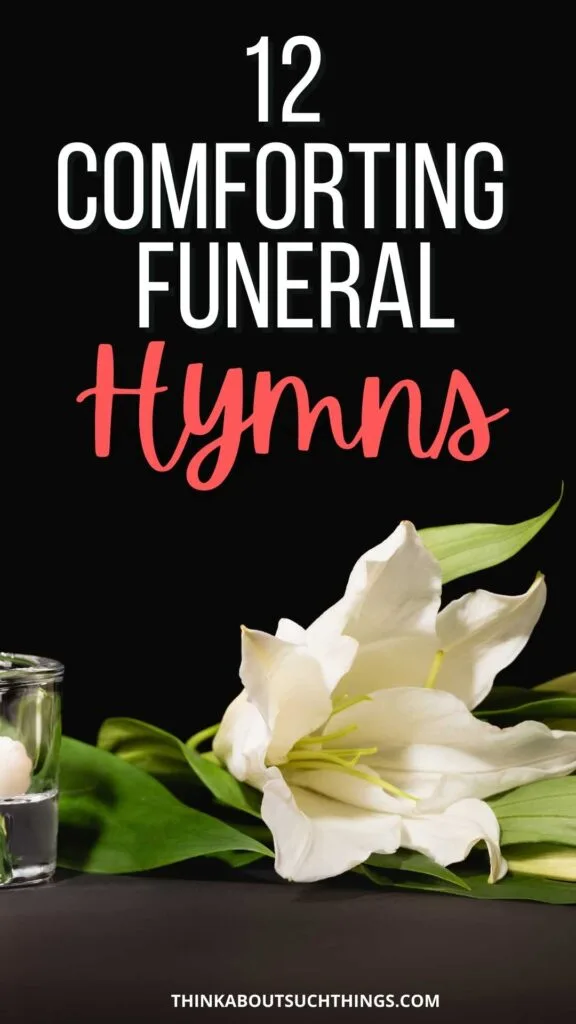 >> Other Articles To Check Out: Bible Verses for Funerals , Christian Funeral Songs, and Biblical Condolences.
The Best Hymns for Funerals, Memorial Services, and Wakes
Below I share 12 popular funeral hymns, which can be used for memorial services, wakes, slide shows, and more. You will find the name, the year the hymn was written, a sample of the lyrics, and a video for you to listen to the hymn. Some of these hymns are uplifting and comforting.
I do want to point out that there are many different styles of how hymns that are sung. Some have a country flare, some a Celtic, traditional, and even gospel. So, you may love the lyrics and not the style. That's ok…a quick search on YouTube can reveal various different artist singing the hymn in a style you like.
Wayfaring Stranger
Sample of Lyrics: I'm going there to see my father
And all my loved ones, who've gone on
I'm just going over Jordan
I'm just going over home
I know dark clouds will gather 'round me
I know my way is hard and steep
Yet beauteous fields arise before me
Where God's redeemed their vigils keep
It Is Well With My Soul
Sample of Lyrics: And Lord, haste the day when my faith shall be sight
The clouds be rolled back as a scroll
The trump shall resound, and the Lord shall descend
Even so, it is well with my soul
It is well (it is well)
With my soul (with my soul)
It is well, it is well with my soul
Cause of You, Jesus, it is well
In the Sweet By and By
Sample of Lyrics: There's a land that is fairer than day,
And by faith we can see it afar,
For the Father waits over the way
To prepare us a dwelling place there.
In the sweet by and by,
We shall meet on that beautiful shore;
In the sweet by and by,
We shall meet on that beautiful shore.
'Tis So Sweet to Trust in Jesus
Sample of Lyrics: 'Tis so sweet to trust in Jesus,
and to take him at his word;
just to rest upon his promise,
and to know, "Thus saith the Lord."
Jesus, Jesus, how I trust him!
How I've proved him o'er and o'er!
Jesus, Jesus, precious Jesus!
O for grace to trust him more!
Great Is Thy Faithfulness
Sample of Lyrics: Pardon for sin and a peace that endureth
Thine own dear presence to cheer and to guide
Strength for today and bright hope for tomorrow
Blessings all mine with 10, 000 beside
Great is Thy faithfulness
Great is Thy faithfulness
Morning by morning new mercies I see
All I have needed Thy hand hath provided
Great is Thy faithfulness
Great is Thy faithfulness
Great is Thy faithfulness, Lord, unto me
Blessed Assurance
Sample of Lyrics: This is my story, this is my song,
praising my Savior all the day long.
This is my story, this is my song,
praising my Savior all the day long.
Perfect communion, perfect delight,
visions of rapture now burst on my sight.
Angels descending bring from above
echoes of mercy, whispers of love.
Perfect submission, all is at rest.
I in my Savior am happy and bless'd,
watching and waiting, looking above,
filled with his goodness, lost in his love.
Be Thou My Vision
Sample of Lyrics: Be thou my vision, O Lord of my heart;
naught be all else to me, save that thou art.
Thou my best thought, by day or by night,
waking or sleeping, thy presence my light.
Be thou my wisdom, be thou my true word;
I ever with thee, and thou with me, Lord.
Born of thy love, thy child may I be,
thou in me dwelling and I one with thee.
Leaning on the Everlasting Arms
Sample of Lyrics: What a fellowship, what a joy divine,
leaning on the everlasting arms;
what a blessedness, what a peace is mine,
leaning on the everlasting arms.
Leaning, leaning,
safe and secure from all alarms;
leaning, leaning,
leaning on the everlasting arms.
What a Friend We Have in Jesus
Sample of Lyrics: Have we trials and temptations?
Is there trouble anywhere?
We should never be discouraged;
take it to the Lord in prayer!
Can we find a friend so faithful
who will all our sorrows share?
Jesus knows our every weakness;
take it to the Lord in prayer!
Going Home
Sample of Lyrics: Many times in my in child hood
when we've traveled so far
By nightfall how weary I'd grown
Fathers arms would slip around me and gently he'd say
My child were going home Going home,
I'm going home
There is nothing to hold me here
I've caught a glimpse of that Heavenly land
Praise God, I'm going home
Now the twilight is fading,
the day soon shall end Lord,
I get homesick, the farther I roam
But the Father has led me each step of the way
And now I'm going home
Amazing Grace
Sample of Lyrics: Amazing Grace, how sweet the sound
That saved a wretch like me
I once was lost, but now am found
Was blind but now I see
Was Grace that taught my heart to fear
And Grace, my fears relieved
How precious did that Grace appear
The hour I first believed
Through many dangers, toils and snares
We have already come
T'was Grace that brought us safe thus far
And Grace will lead us home
When We All Get to Heaven
Sample of Lyrics: While we walk the pilgrim pathway,
Clouds will overspread the sky;
But when trav'ling days are over,
Not a shadow, not a sigh.
Let us then be true and faithful,
Trusting, serving every day;
Just one glimpse of Him in glory
Will the toils of life repay.
When we all get to Heaven,
What a day of rejoicing that will be!
When we all see Jesus,
We'll sing and shout the victory!
---
My hope and prayer is that this article on funeral hymns has given you the resource you need to plan a memorial service that will honor your loved one, whether it's your mom, dad, grandparent or someone else.. And I pray that our Lord and Savior, Jesus would grant you peace and comfort during this trying time.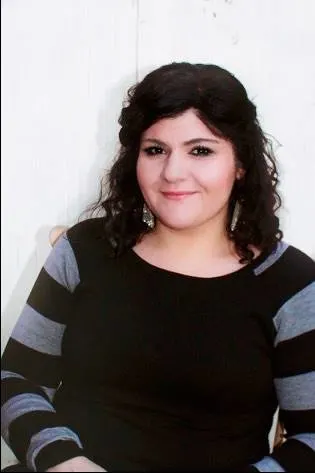 Melissa is a passionate minister, speaker and an ongoing learner of the Bible. She has been involved in church and vocational ministry for over 18 years. And is the founder of Think About Such Things. She has the heart to equip the saints by helping them get into the Word of God and fall more in love with Jesus. She also enjoys family, cooking, and reading.
She has spoken in churches in California, Oregon, Texas, and Mexico and has been featured in Guidepost Magazine and All Recipes Magazine. Read More…