In this article, I will share different prayers for loss of father. This is a time that can be very hard on your heart and emotions. May these prayers help bring you comfort.
Losing your dad can be devastating, especially if you were close to him. I know this firsthand.
It's been about four years since my dad passed away. And hands down, it was the hardest things I have ever experienced in my life. I remember recently reading a medical book stating life events that happen and the stress level they can incur on the body.
The number one on the list was the death of a spouse or loved one. And I wasn't surprised when I saw it. I've seen my aunts become widows and my mom. It's heartbreaking.
But as Christians, we know that one day we shall see them again! This is one of the biggest things that has brought me comfort in this season. One day, I will see my dad again, and for the time being, he's having a wonderful time in the presence of Jesus. Death where is your sting!
"Where, O death, is your victory?
Where, O death, is your sting?"
The sting of death is sin, and the power of sin is the law. But thanks be to God! He gives us the victory through our Lord Jesus Christ. – 1 Corinthians 15:55-57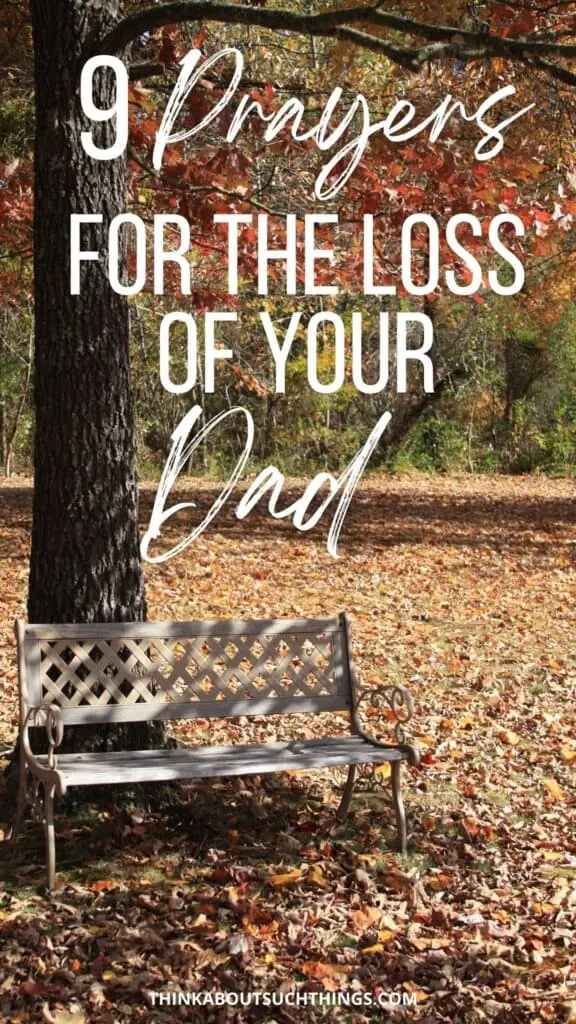 Tips Before You Start To Pray
On my prayers and intercession page, I discuss the importance of letting your prayers be from your heart. Especially prayers that are written by someone else. The same goes for prayers you pray while mourning.
Be Raw & Real – In this time, be really truthful with the Lord about how you feel and the emotions you are sensing.

It's Ok To Cry – This is a time of grieving or mourning and it's 100% ok to cry before the Lord. He is not afraid of your tears or upset if you cry. He wants you to go to Him so that He may bring you comfort at this time. So, please don't hold back….let your heart mourn.

Keep Going To God – The grieving process is different for everyone. The one this is certain the pain of loss doesn't disappear in a day. It's a gradual thing and with that, keep going to God. Keep praying…keep seeking Him…He will bring healing to your heart.
Prayers for Lossing Your Father
Most of the prayers below are short, but you are more than welcome to add or change the prayer to your need or situation.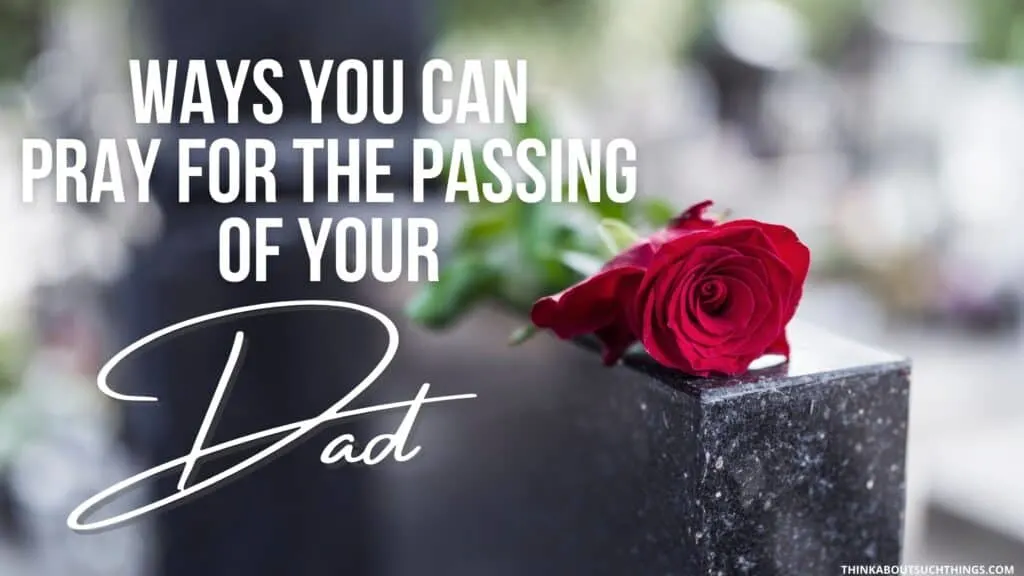 A Prayer for Comfort After Losing Your Dad
Lord, I am at a loss for words. Please bring me comfort as I mourn the loss of my father. I miss him and my heart hurts so much. Only You, can help me with this pain. I place my heart in your hands. In the name of Jesus, amen!
A Prayer for Peace of Heart and Mind when Dad is Gone
Lord, my heart is heavy and my thoughts are focused on my dad. I know he is now with You, but I am so heartbroken that he is gone now. I ask that you would give my heart and mind Your perfect peace. That I could find rest despite the pain. Only You can do this for me and I ask for it, in the mighty name of Jesus, amen.
A Prayer for Hope that I will See my Dad Again
Today, I come before You God, asking that you would touch my heart. I miss my dad, and wish he was here. I know Your Word says I will see him again and I ask that this truth would be rooted deeply in my heart. And I thank you, Lord, that at this very moment my dad is experiencing great joy, peace, and beauty. In Jesus' name, amen.
A Prayer for Strength When Dad is Passing
Lord, my soul is full of sorrow. I'm overwhelmed by the loss of my father. I don't know what to do and I feel so lost. Please, give me the strength I need to make it through this. I need courage to make it through the day. Be with me, God…be my strength and hope. In Jesus' name, amen.
A Prayer for Grieving Loss of Father
Lord, the grief of my dad's death hurts so much. I feel like day and night he is always in my thoughts. I miss him and wish he was back with us all. How do I move pass this Lord? When will the pain go? I need You, Lord… I need your strength, Your comfort, Your grace, and so much more. Hear my prayers, Lord, and grant me serenity in my heart. In Jesus' mighty name, amen.
A Prayer for Loss of Father from Daughter
Lord, my dad is now with You and my heart aches. I love my dad Lord, and I am not sure what life will look like now that he's gone. He was always there for me and always made me feel special. Thank you for giving me such a special father. Help me to be able to deal with his passing. Give me the grace I need and to lean into You. That my hope and strength would be found in You. In the name of Jesus, amen.
Condolences Prayer for Loss of Father
In Romans 12:15 it says "mourn with those who mourn." There are times and seasons when friends or family members are in a time of mourning because of a great loss. Losing a father is one of those times. Below are some prayers you can pray for a friend's loss.
Prayer for a Friend that Lost Her Father
Lord, I come before you today and lift my friend to you. They lost their father recently and their heart is so sad. I ask that You would draw close to them and bring great comfort to them and their family. Meet them where they are at and give them the strength they need. In the name of Jesus, amen.
Sympathy Prayer for Loss of Father
Lord, my friend has lost someone very important in their life. Their dad was a great man and they will miss him so much. I ask that you would bring comfort and grace in this season of mourning. When sadness hits them, I pray You would be like a warm blanket that would cover them to bring them peace and strength. Let them feel your presence and draw near to you. In the name of Jesus, amen.
In Times of Loss by M.S Lowndes
We pray that in this time of loss,
You'll feel God's love much more
And that you'll find your comfort
In the presence of the Lord
We pray God pours upon you,
His sweet amazing grace
And overflow your heart with peace
As you live in His embrace. – M.S. Lowndes


---
If you helping arrange the funeral, memorial-service, or wake, I encourage you to check out these Bible verses for funerals. They can be very helpful when prepping a eulogy or funeral brochure.
In this time I also encourage to pray for other family members that are also grieving…mom, sister, brother, uncles, aunts and others. And if you have friends and family members who still have their dad around…encourage them to pray for their dad.
I hope these prayers for loss of dad have brought you some comfort. Keep meeting with God and have Him touch your wounded heart. If you would like to leave me a comment, you can do so below.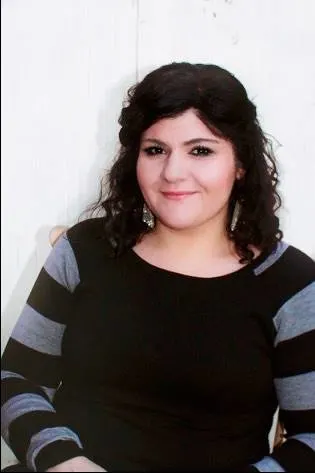 Melissa is a passionate minister, speaker and an ongoing learner of the Bible. She has been involved in church and vocational ministry for over 18 years. And is the founder of Think About Such Things. She has the heart to equip the saints by helping them get into the Word of God and fall more in love with Jesus. She also enjoys family, cooking, and reading.
She has spoken in churches in California, Oregon, Texas, and Mexico and has been featured in Guidepost Magazine and All Recipes Magazine. Read More…