In this article, we will continue our study on the names of God and look at Jehovah Rohi, which is known to mean The Lord Is My Shepherd. So, grab your Bible, and let's submerge ourselves in God's Word…
Each of the names God uses for Himself in the Bible reveals an aspect of His character, attributes, and how He wants us to perceive Him. An in-depth study into the names of God can help us grow stronger in our relationship with the Father and improve our prayer life and Bible study.
The more we know Him, the deeper our relationship with Him will grow!
The name Jehovah Rohi can seem obscure as many aspects of its meaning have gotten lost over the centuries as our modern world has embraced the industrial revolution. But that doesn't mean we can't learn or be impacted by God's name Jehovah Rohi. More than ever, I think this generation needs to grab hold of the truth that God is our shepherd.
So, let's see what God wants us to know about Him when He calls Himself Jehovah Rohi.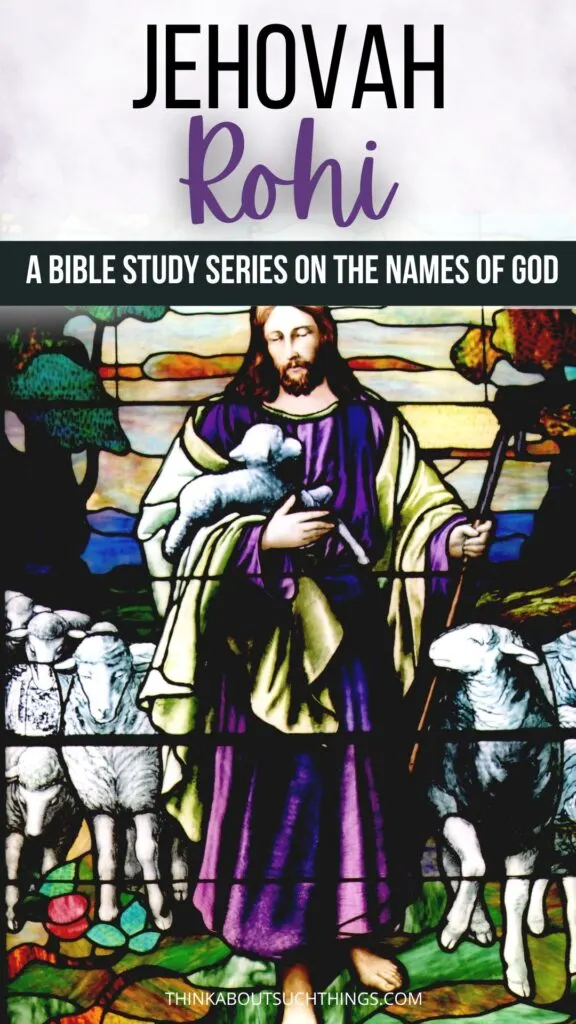 What Does Jehovah Rohi Mean? A Look At The Hebrew
There are two parts to the name Jehovah Rohi. Let's look at both.
The first part of the name, Jehovah (often written as "Yahweh"), first occurs in the Bible in Exodus 3:14 when Moses asks God what His Name is. It is translated as "I AM WHO I AM." God then tells Moses to tell the Egyptians that "I AM" sent him.
And God said to Moses, "I AM WHO I AM." And He said, "Thus you shall say to the children of Israel, 'I AM has sent me to you.' " – Exodus 3:14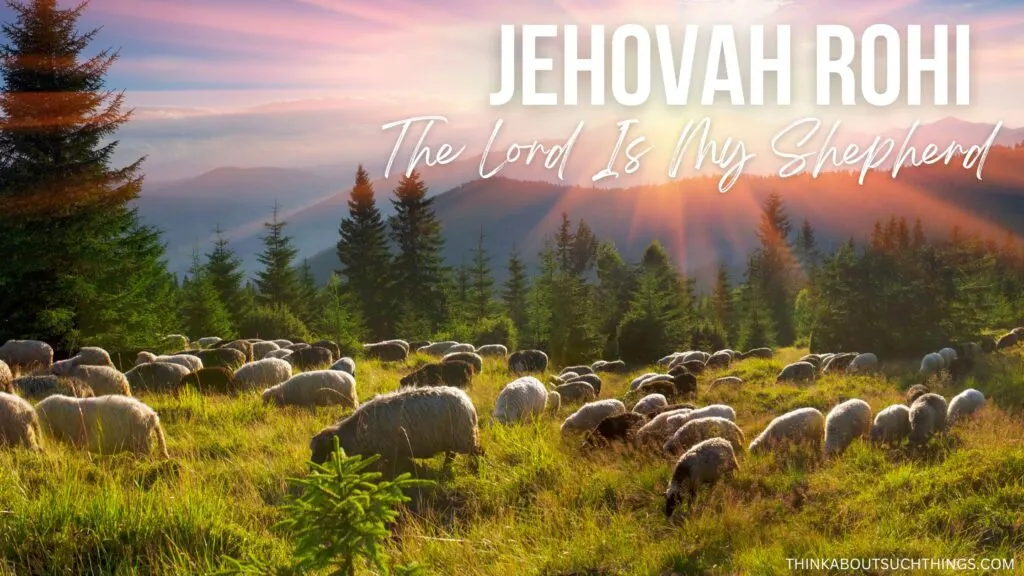 The word translated as "I AM" is the Hebrew word "Hayah" (Strong's number 1961). Depending on the context, it means to fall out, come to pass, become, or be. In this case, the translation "I AM" is accurate, as God, being the only true God, has no need for a name – He is the God that IS.
הָיָה hayah, haw-yaw; a primitive root (compare 1933); to exist, i.e. be or become, come to pass (always emphatic, and not a mere copula or auxiliary):—beacon, x altogether, be(-come), accomplished, committed, like), break, cause, come (to pass), do, faint, fall, + follow, happen, x have, last, pertain, quit (one-)self, require, x use.
We translate the Havah as Jehovah or Yahweh, as a name for the God Who needs no name since HE IS. Whenever He introduces Himself with a name such as Jehovah Rohi, He tells us, "This is who I AM."
This also makes Jesus' words in John 8:58 so much more significant:
"Truly, truly, I say to you, before Abraham was, I AM."
Rohi, literally means "shepherd." The first mention of the word comes in Genesis 4:2: "Now Abel was a keeper of sheep…."
The word is Strong's number 7462 and is translated as the verb form to pasture, tend, or graze. (More on this later…)
So, combined, the name means "I AM your Shepherd."
Jehovah Raah or Rohi?
If you have been studying Jehovah Rohi, I am sure you have encountered another name variation, Jehovah Raah. Both have the same meaning and here is why.
Raah is the Hebrew root word from where we get rohi or ro'i. Raah means to feed. We will look more into what the Strongs says. But this ancient term came to characterize a figure near and dear to many in Jewish history and culture: the shepherd who feeds and tends his flock.
Rohi or "ro'i" or "ro'eh" all these variations are rooted in Raah, and all of them are both a noun and a verb. It's interesting to note that ro'i is also used in the name El' Ro'i (The God who sees). A shepherd is one who watches his flock.
Strongs Concordance – Raah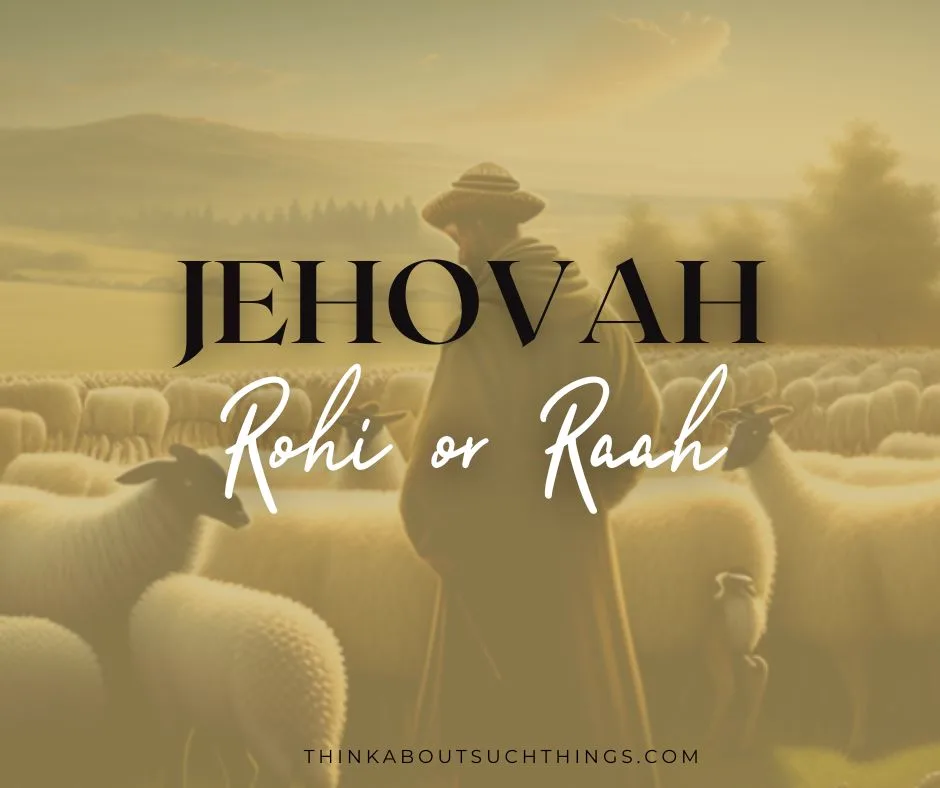 When we look at the root word Raah, we get a clear picture that it means shepherd, but it's neat to see that it's also translated as a companion. Jesus is the Great Shepherd, but He is also our friend! Praise God!
The KJV translates Strong's H7462 in the following manner: feed (75x), shepherd (63x), pastor (8x), herdmen (7x), keep (3x), companion (2x), broken (1x), company (1x), devour (1x), eat (1x), entreateth (1x), miscellaneous (10x).
Outline of Biblical Usage
to pasture, tend, graze, feed

(Qal)

to tend, pasture

to shepherd
of ruler, teacher (fig)
of people as flock (fig)
shepherd, herdsman (subst)

to feed, graze

of cows, sheep etc (literal)
of idolater, Israel as flock (fig)

(Hiphil) shepherd, shepherdess

to associate with, be a friend of (meaning probable)

(Qal) to associate with
(Hithpael) to be companions

(Piel) to be a special friend
רָעָה râʻâh, raw-aw'; a primitive root; to tend a flock; i.e. pasture it; intransitively, to graze (literally or figuratively); generally to rule; by extension, to associate with (as a friend):—× break, companion, keep company with, devour, eat up, evil entreat, feed, use as a friend, make friendship with, herdman, keep (sheep) (-er), pastor, shearing house, shepherd, wander, waste.
What Does It Mean That God Is Our Shepherd?
The true purpose of a shepherd has gotten lost to a great extent. Most people don't know any real-life shepherds. These days, most sheep farmers have farm hands who tend the sheep, and their primary goal is to help them out of trouble and keep them safe.
But there's no commitment; they are there, they do their job, and tomorrow there might be a new shepherd.
In Biblical times, the shepherd was involved in every aspect of a sheep's life. To them, the sheep were part of their lively hood. The shepherds needed them, and the sheep needed him. It wasn't just a job, it was a way of life.
Shepherds would sometimes spend months out in the fields with the sheep and had to fight off predators who wanted to kill them. They were there when new lambs were born, and sheep died. If one were injured, the shepherd would do all they could to mend and heal the sickly sheep. Shepherds would also take preventive measures to keep their sheep healthy by anoiting them with oil so bugs would stay away.
With all this attention and care, many sheep got to know and trust their shepherds intimately, trusting them with every aspect of their lives.
Truly a beautiful picture of us with God. That is the kind of relationship we want to have with him.
We can also see that in Jesus' Words about being our Shepherd in John 10:11-16.
"I am the good shepherd. The good shepherd gives His life for the sheep. 12 But a hireling, he who is not the shepherd, one who does not own the sheep, sees the wolf coming and leaves the sheep and flees; and the wolf catches the sheep and scatters them. 13 The hireling flees because he is a hireling and does not care about the sheep.

14 I am the good shepherd; and I know My sheep, and am known by My own. 15 As the Father knows Me, even so I know the Father; and I lay down My life for the sheep. 16 And other sheep I have which are not of this fold; them also I must bring, and they will hear My voice; and there will be one flock and one shepherd. – John 10:11-16 NKJV
Jehovah Rohi (Raah) In The Bible
Let's look at occurrences in the Bible that refer to Jehovah Rohi, the Lord our Shepherd.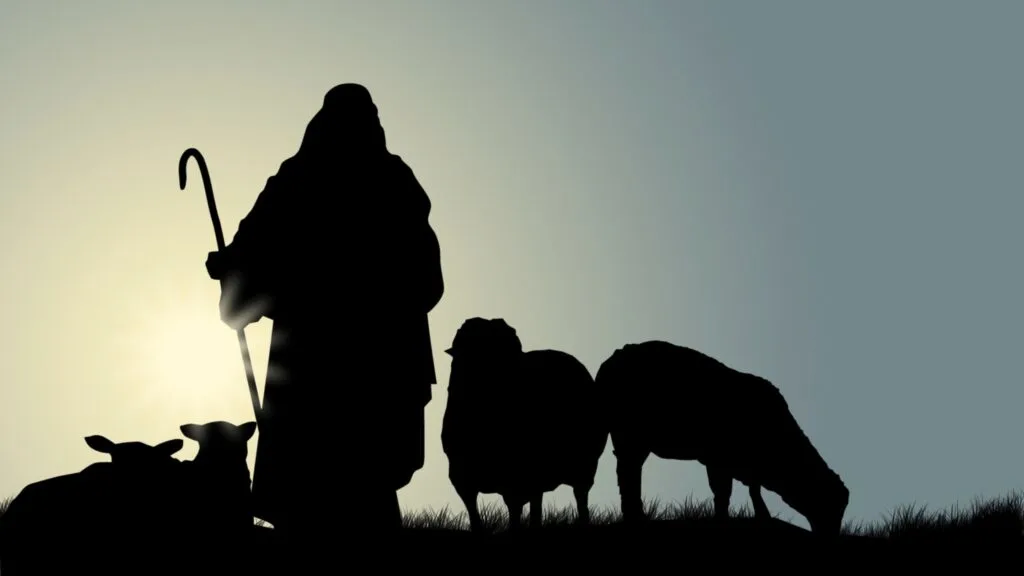 Psalm 23 – The Lord Is My Shepherd
The most famous of references to Jehovah Rohi is in Psalm 23, where David starts off using the words, "The LORD is my Shepherd; I shall not want." And please know that this Psalm, even though it is comforting at a funeral, it was not David's intent to be used for mourning loss. It is a Psalm that expresses walking with God and Him being our shepherd through all seasons of life.
The entire Psalm is David telling us what it means that God is our Shepherd:
He makes us lie down in green pastures, where we can rest in a peaceful place with all the provisions we need.

He leads us beside still waters, where we can quench our thirst without fear of being swept away.

He restores our souls. All our needs are met by our Shepherd, including our emotional needs.

He leads us in paths of righteousness to help us become more like Him.

We don't have to fear any evil because He is with us and comforts us.
Micah 7:14 – God Is Our Shepherd, And We Are His Flock
Shepherd Your people with Your staff,
The flock of Your heritage,
Who dwell solitarily in a woodland,
In the midst of Carmel;
Let them feed in Bashan and Gilead,
As in days of old. – Micah 7:14
Though it does not use the exact words Jehovah Rohi, as very few scriptures do, it still refers to God as the one who Shepherds His flock, His people.
This chapter of the book of Micah refers to how God will send salvation to His people after they spent years being oppressed by the surrounding nations. The prophet tells the people to wait in faith for God's salvation, then prays that God will be their Shepherd again as He was in the olden days.
The pleading is for God to let them graze again in the lands the strangers have taken. It reminds us strongly of the words of David in Psalm 23 that God, his Shepherd, prepares a table for him in the presence of his enemies.
It shows how God can take the things that the enemy has stolen, which have become unsafe for us, and use them to feed and nourish us. When we follow the leadership of Jehovah Rohi, we will be safe even when surrounded by evil.
Isaiah 40:11- God Is Like A Shepherd
He will feed His flock like a shepherd;
He will gather the lambs with His arm,
And carry them in His bosom,
And gently lead those who are with young. – Isaiah 40:11
This is another promise from God that, after all Israel's struggles, He would be their Shepherd and take tender care of them.
One of the striking things about this passage is that it seems to have a striking contrast with the verse before it:
Behold, the Lord God shall come with a strong hand,
And His arm shall rule for Him;
Behold, His reward is with Him,
And His work before Him. – Isaiah 40:10
One moment we see God coming with might, ruling, and handing out a reward. The very next verse shows how tenderly He takes care of His sheep.
But this is a crucial aspect to understand. Medieval paintings tend to show Jesus as a skinny, tender person who takes care of His sheep.
But shepherds were far from weak and scrawny. They have to be strong and be able to defend the sheep in case of an attack or carry one of them a long distance when sickly.
David is a prime example of the type of strength, guts, and boldness a shepherd should have.
Your servant has struck down both lions and bears, and this uncircumcised Philistine shall be like one of them, for he has defiled the armies of the living God. – 1 Samuel 17:36
Those are not the words of a weakling. They are spoken by a warrior who is not afraid to face any enemy, regardless of size.
Being a shepherd requires this balance of might and tenderness, and God has both in ample amounts. His being our Shepherd means that He is more than capable of fending off any attack, but He can also nurture us in love. What a wonderful God we serve!
John 10:4 – Jesus Is Our Shepherd
And when he brings out his own sheep, he goes before them; and the sheep follow him, for they know his voice. – John 10:4
This is one of the scriptures where Jesus takes ownership of the name of Jehovah Rohi. Throughout this and the surrounding chapters, he repeatedly states that He is the Shepherd. He claims the title for Himself, yet again telling the people He is God.
But here, in verse 4, we see an essential point: that His sheep follow Him because they know His voice.
Much of the work of a shepherd depends on the sheep following him. Sheep that go astray unnecessarily open themselves up to danger. And, yes, we know that Jesus will leave the 99 to find the one that went astray, but we can also see that we should follow Him closely to stay within His comfort, protection, and provision.
We can do this by abiding in Him and waiting on Him.
Names of God Series
Have you ever wondered what we can really learn from uncovering the names of God as found in His Word? It's an incredible journey that I have been on. And that's why I've been so excited to share my series of articles on the many Names of God with you! I hope it blesses you as it has blessed me.
---
As we conclude our study on Jehova Roho we know that God introduces Himself as the Shepherd. We can see that this means good things for those who follow Him. Safty, love, nurturing and more.
And we also learn that He is not to be trifled with. He is mighty, and no enemy can stand in His way, but He will care for us if we follow Him. In that, we will find blessing, comfort, protection, and all the provision we will ever need.
If you would like to leave a comment below I would love to hear from you and what God is teaching you.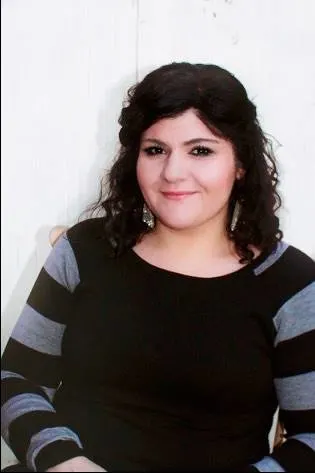 Melissa is a passionate minister, speaker and an ongoing learner of the Bible. She has been involved in church and vocational ministry for over 18 years. And is the founder of Think About Such Things. She has the heart to equip the saints by helping them get into the Word of God and fall more in love with Jesus. She also enjoys family, cooking, and reading.
She has spoken in churches in California, Oregon, Texas, and Mexico and has been featured in Guidepost Magazine and All Recipes Magazine. Read More…