In this article, we will explore what is the oil of gladness in the Bible. So, grab your Bible and let's dig in!
Have you ever heard of the term the oil of gladness? Have you ever wondered what it is?
We hear little about the oil of gladness in the Bible, but we see its fruit in different verses and passages. We all want the Lord to anoint us with the oil of gladness so that we will have hearts filled with His joy.
As Christians, we can be glad in every season of our lives because of the anointing and grace of God is upon us. One verse where we see the oil of gladness is Hebrews 1:8-9.
"But to the Son He says: Your throne, O God, is forever and ever; A scepter of righteousness is the scepter of Your kingdom. You have loved righteousness and hated lawlessness; Therefore God, Your God, has anointed You With the oil of gladness more than Your companions."
In the above Scripture, God was speaking concerning His Son and our Lord, Jesus Christ. He said that He had anointed Him with the oil of gladness, and we see it throughout Jesus' ministry while He was on earth. Jesus offered Himself as a sacrifice for the atonement of our sins and taught us about the Kingdom of God. His anointing surpassed that of His disciples and those before Him, like the prophets of old.
Because we are in Christ, we have the anointing of gladness, and we experience it in various ways on our journey of maturing in our faith.
Therefore as you have received Christ Jesus the Lord, so walk in Him, having been firmly rooted and now being built up in Him and established in your faith, just as you were instructed, and overflowing with gratitude. – Colossians 2:6-7
>> Check out what it means to be a child of God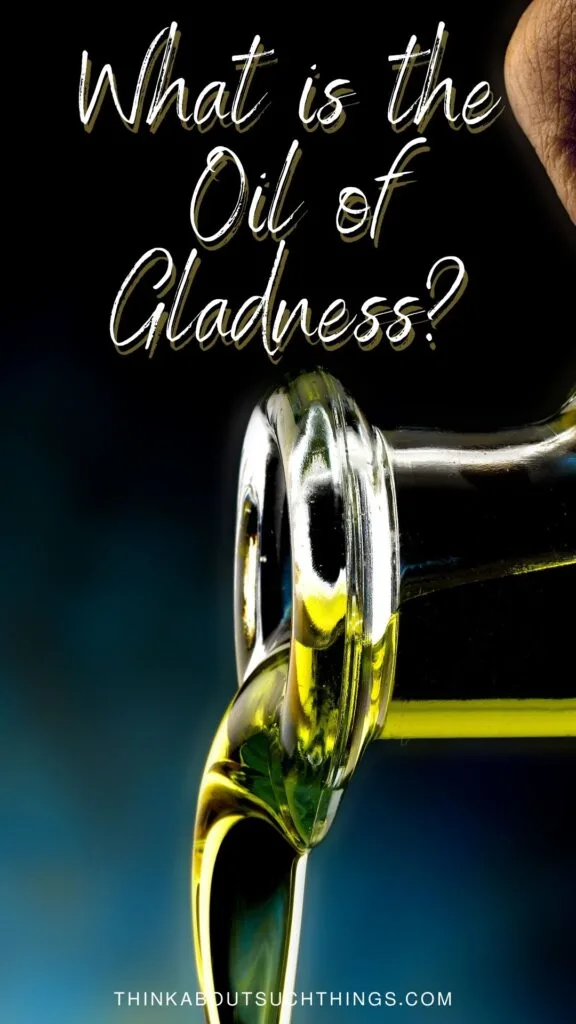 The Oil of Gladness: What is it?
Did you know the word anointing means to be rubbed with oil? And that oil symbolizes the Holy Spirit? This means to be anointed is to be rubbed (saturated) with God for a specific calling or need. This is a very basic understanding of anointing which I hope to expand on in the future.
Now, let's break down the Greek words for oil of gladness.
Oil in the Greek
The word oil is pretty self explanatory as it just means oil. The Strong's Concordance specifies that is olive oil. This is perfect of example of symbolism in the Bible! Olives (trees, oil, fruit) are a prime example of God's anointing. Remember the dove at Noah's ark brought a olive branch!
ἔλαιον élaion, el'-ah-yon; neuter of the same as G1636; olive oil:—oil.
Gladness in the Greek
I love the greek meaning behind gladness. In our western mind of thinking, gladness almost takes on the idea of being content or happy. But the Greek bumps the word to meaning exultation and exceeding joy.
ἀγαλλίασις agallíasis, ag-al-lee'-as-is; from G21; exultation; specially, welcome:—gladness, (exceeding) joy.
Just the word exultation means: a feeling of triumphant elation or jubilation; rejoicing.
This takes our little term, glad to mean this hugely expressive emotion! The oil of triumphant rejoicing! WOW! And the word rejoicing means to spin like a top.
This is not a sit down and smile and think, "life is going good, I'm happy" anointing. This is an anointing of power, joy, and victory! It's the anointing that Jesus walked in and we can walk in it as His bride and church!
How Do Christians Experience the Oil of Gladness?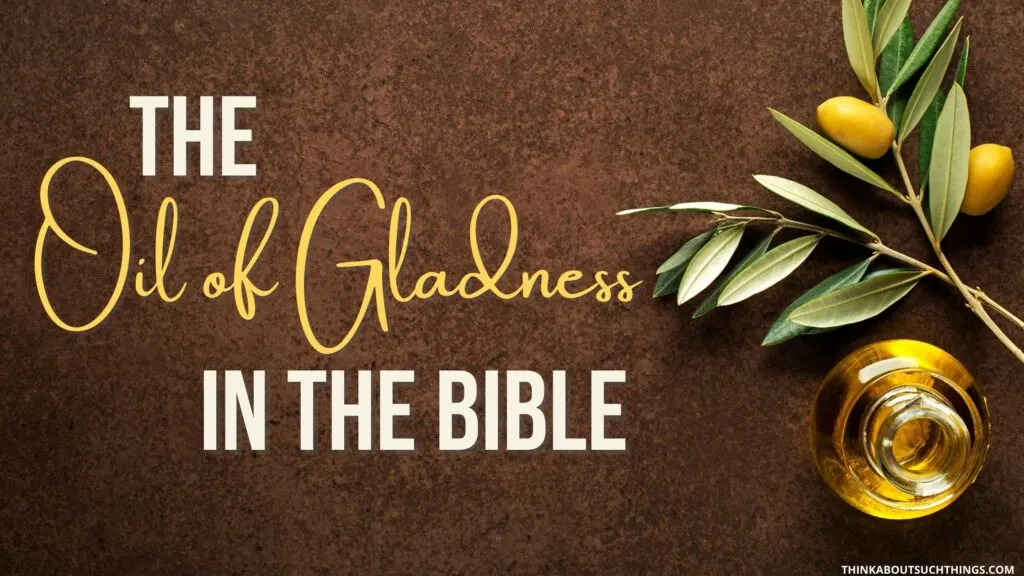 By Receiving God's Word with Gladness
God gave us His precious Word to guide us along the journey of life. His Word lights our path in life so that we will not stumble. We are to receive His Word with gladness because it has the power to transform our lives.
In the parable of the sower, there are people who received the Word of God with gladness (Mark 4:16). However, because they had no roots, they stumbled when tribulation came and the Word did not bear fruit in their lives.
We can receive God's Word with gladness and ensure that we allow it to develop deep roots in us that will help us live a victorious Christian life. God's Word brings a harvest of righteousness in our lives, and this enables us to bear fruit for the Kingdom of God.
By Gathering Together in the Name of the Lord
When we gather with others to have Bible study, pray, or fellowship with them, we do it with gladness. This is because we have come together to hear the Word of God and the testimonies of what God has done in the lives of others. Sharing the love of God with others makes and receiving love from others can transform you!
Acts 2:46 says that the disciples gathered daily in one accord in the temple and in their homes to have communion, and did it with gladness.
So continuing daily with one accord in the temple, and breaking bread from house to house, they ate their food with gladness and simplicity of heart,
When we Serve God with Gladness
According to Psalm 100:2, we are to serve the Lord with gladness and come before His presence with singing. The oil of gladness empowers us to serve God with glad hearts that continually praise Him. We should not serve out of obligation, but the love we have for God.
The oil of gladness helps us to have joy when serving the Lord, especially when we are encountering challenges in our lives. Problems and difficult circumstances can make us feel down and discouraged. God steps in to fill our hearts with gladness so that we can remain cheerful as we serve Him.
When we Hope in the Lord
God gives us hope all the time so that we will not give up and quit. Life can sometimes have seasons of doom and gloom, and we need God's assurance that He will make a ways no matter the situation.
Proverbs 10:28 tells us that the hope of the righteous will be gladness. We will be glad if we put our hope in God and not anything or anyone else. God never disappoints and we can rejoice in that truth.
God is our hope, and in Him is salvation. We can keep our eyes on Him even when we cannot see a way out of our troubles. He will come through for us and give us gladness of heart as we overcome our challenges.
When God Delivers Us
God promises to deliver us from our enemies and give us back our freedom. When He heals and delivers us from the works of the enemy, gladness and joy overtakes us. This is because God has set us free from the bondage that was holding us back.
So the ransomed of the Lord shall return,
And come to Zion with singing,
With everlasting joy on their heads.
They shall obtain joy and gladness;
Sorrow and sighing shall flee away. – Isaiah 51:11
When God delivers us, the sorrow and sighing we experienced while in bondage becomes a thing of the past and this is enough reason to be glad. Everlasting joy crowns our heads because of the great things the Lord has done for us.
During Times of Celebration
When we have days or seasons of celebration, our hearts are glad because of the good things that we are celebrating. As Christians, we celebrate holidays like Easter, Christmas, and life events like birthdays, anniversaries, weddings, graduations, and other good things in our lives. In such times, we celebrate with gladness and thank God for the joyous occasions that touch our lives.
When Queen Esther secured the deliverance of the Jews while in the citadel of Susa, they celebrated. They were filled with joy and gladness because God had saved them from death (Esther 8:15-17).
They were full of thanksgiving because they had seen the goodness of God in their lives. As we enjoy joyous occasions, God fills our hearts with gladness so that we can rejoice and give Him glory.
The Most IMPORTANT Way to Grow in the Oil of Gladness
As you read through the different ways, you can experience the oil of gladness, I want to bring some clarity to the main way you can get and grow in this kind of anointing.
Anointing isn't a gift, it's something we obtain by our relationship with the Lord and through our calling. This goes into personal anointing (based out of your relationship with Christ) and corporate anointing (based out of your calling).
If you want more gladness in your life, then you must spend time with the One who can give it. Jesus said to abide in Him and you will bear good fruit.
Abide in Me, and I in you. As the branch cannot bear fruit of itself, unless it abides in the vine, neither can you, unless you abide in Me. "I am the vine, you are the branches. He who abides in Me, and I in him, bears much fruit; for without Me you can do nothing. If anyone does not abide in Me, he is cast out as a branch and is withered; and they gather them and throw them into the fire, and they are burned. – John 15:4-6
Spending time with Jesus will change your life…like no joke. Prayer, worship, and Bible study time enrich us in soul and spirit. It has the power to transform as we set our eyes and affection upon Him.
So, if you want the oil of gladness…spend time with Him and ask Him for it! He is a good God and wants us to experience His goodness.
---
The above ways show how we experience the oil of gladness in our lives. Where we feel that we have lost the gladness in our hearts, we can ask God for a fresh anointing as we spend time with Him.
He knows that when our hearts are troubled, we can struggle to be glad. Allow the oil of gladness to penetrate every area of your life so that you can remain positive in all seasons of your life.
I pray God blesses you and refreshes and that you experience the oil of gladness like never before!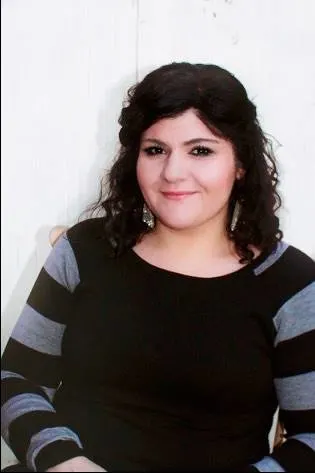 Melissa is a passionate minister, speaker and an ongoing learner of the Bible. She has been involved in church and vocational ministry for over 18 years. And is the founder of Think About Such Things. She has the heart to equip the saints by helping them get into the Word of God and fall more in love with Jesus. She also enjoys family, cooking, and reading.
She has spoken in churches in California, Oregon, Texas, and Mexico and has been featured in Guidepost Magazine and All Recipes Magazine. Read More…