My personalizedbibles.com review of their service for name imprinting on Bibles.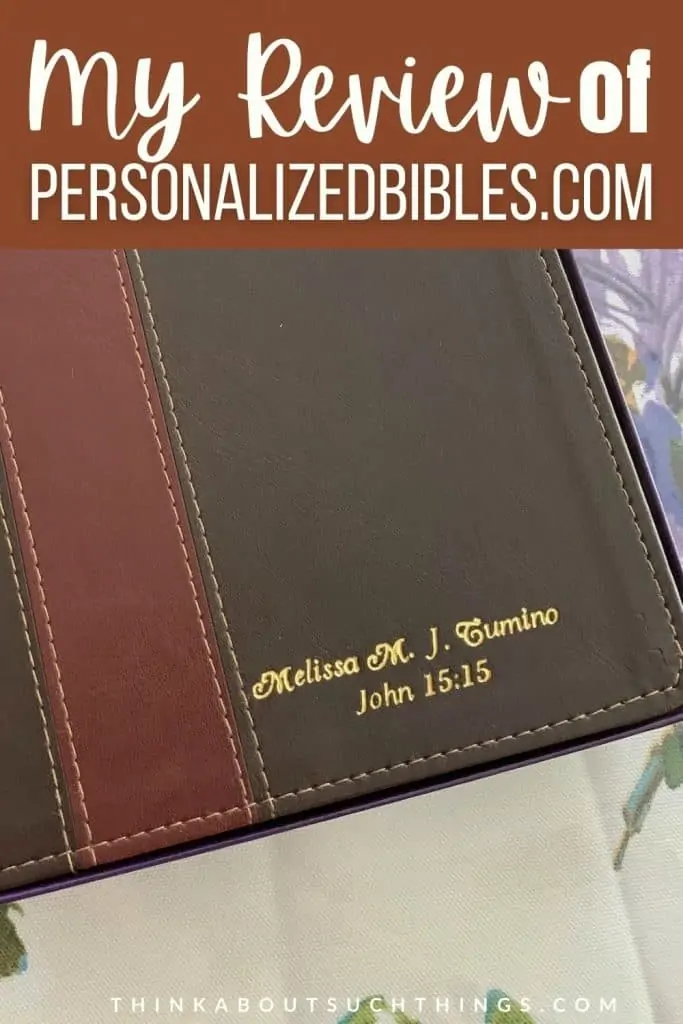 I recently got an email from personalizedbibles.com asking if I would be open to doing a review in exchange for a personalized Bible. I was pretty stoked about the offer since the last time I had a Bible engraved was when I was 16. It was my very first Bible that my dad bought me. It's very special to me.
But back then it was easy to get a Bible personalized with your name. You would simply go to you local Christian book store and they would do it for you. Not sure if that's still an option for others but in our city we no longer have a local Christian book store (super sad face).
I was able to pick the Bible so I picked out the NKJV Application Study Bible (in large print..homegirl is getting old). But it was a hard choice. Personalizedbibles.com had 100's of Bibles to choose from. Like an amazing selection!
Once the Bible was picked out, I had my name put on the first line and they give you the option of having a second line. I used this to write the reference to my favorite Bible verse. But it would be awesome to put a day or kind words if the Bible is a gift.
FROM THE SITE: Personalize your Bible for only $7.99 for 1 line or $14.98 for 2 lines
Now, the thing you all have been waiting for… How does it look? Well, take a look for yourself! Here are some pictures below.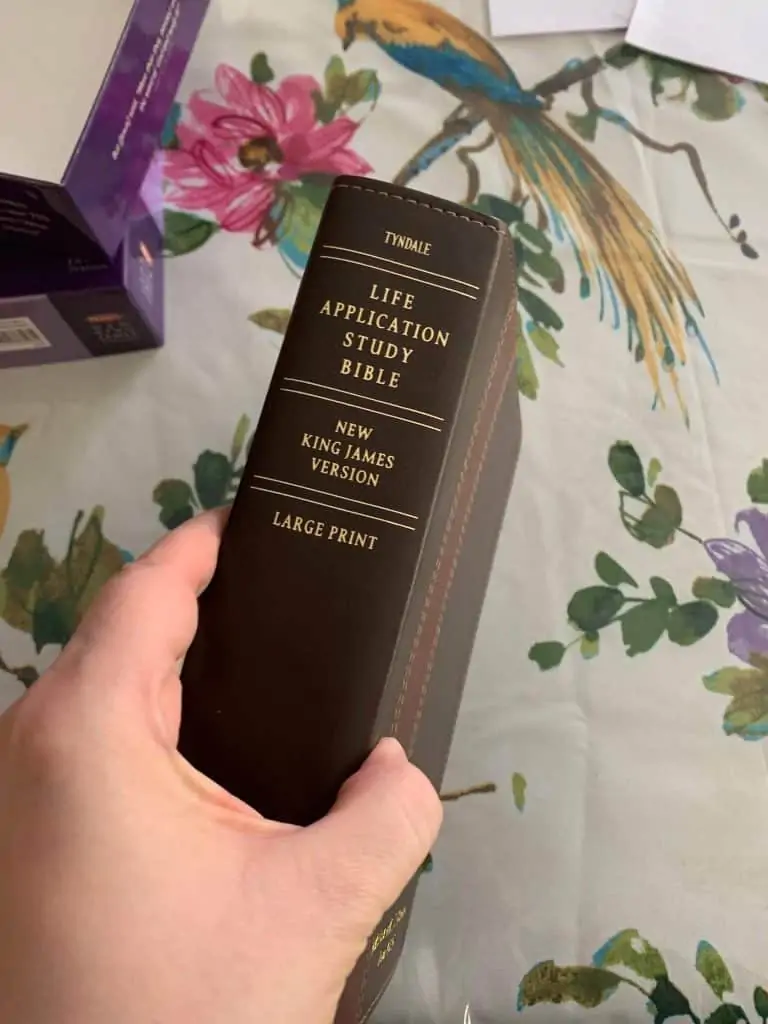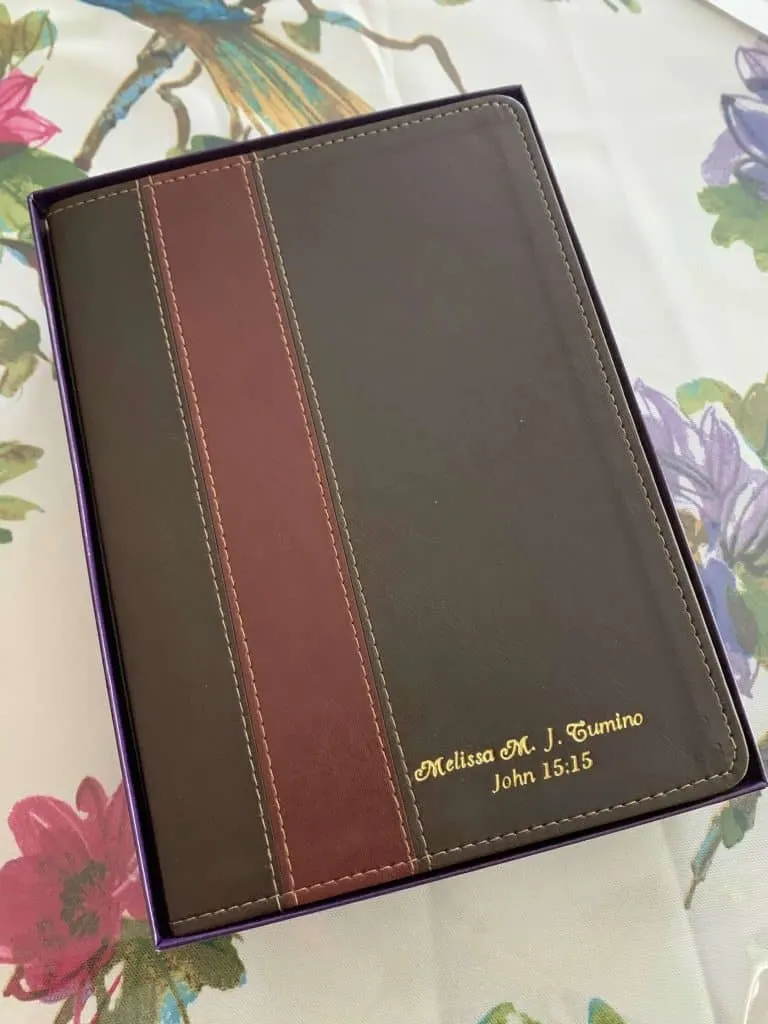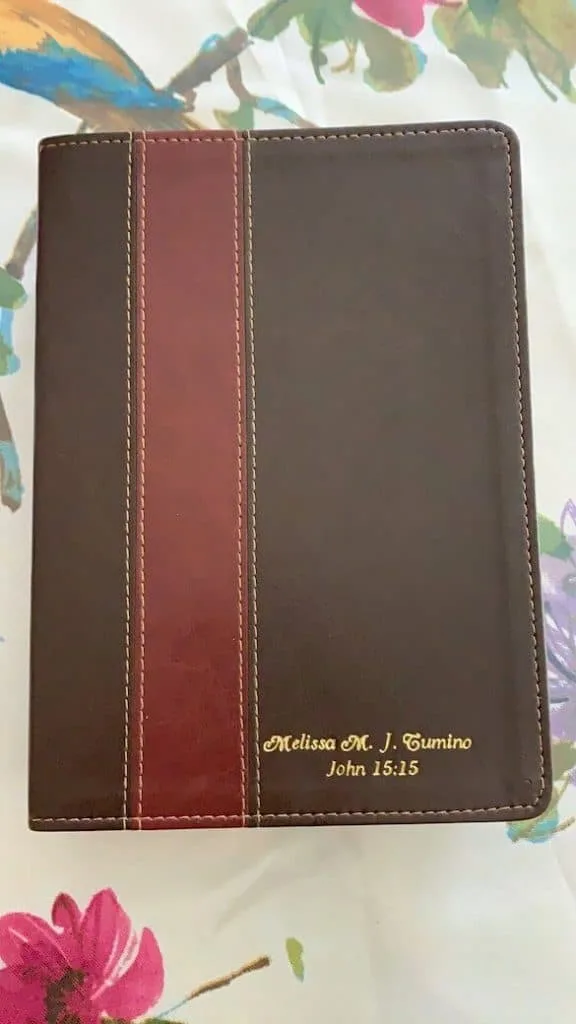 Overall, I am extremely pleased by the imprinting of my name. It's beautiful and clean. Because the Bible I chose is two tone the placement seems a little weird for me. But it doesn't bother me that much. I would keep that in mind when picking out a Bible though. If that's something that would bother you. Or maybe you can contact the company and ask about the placement.
From my experience personalizedbibles.com did an amazing job and I would use their services again if I wanted to order a personalized bible.
Personalized Bible Giveaway
I have some fantastic news! Personalizedbibles.com would like to gift a personalized Bible of your choice to one of my readers! How awesome is that? The giveaway will run from Friday, October 9th to Friday, October 16th ending at 3pm. Winner will be announced on Saturday, October 17th.
[interact id="5f7c9db08587120014619b98″ type="giveaway"]
---
I sure hope this review was helpful and feel free to check out my other faith articles and book review.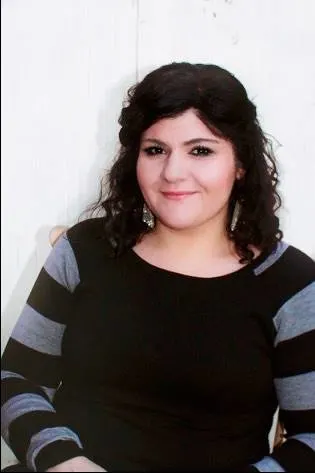 Melissa is a passionate minister, speaker and an ongoing learner of the Bible. She has been involved in church and vocational ministry for over 18 years. And is the founder of Think About Such Things. She has the heart to equip the saints by helping them get into the Word of God and fall more in love with Jesus. She also enjoys family, cooking, and reading.
She has spoken in churches in California, Oregon, Texas, and Mexico and has been featured in Guidepost Magazine and All Recipes Magazine. Read More…