In this article, we will look at prayer for children in school. I will hit on 9 important areas that children tend to struggle with during the school season. These can be prayed by parents, grandparents, teachers, and more.
We all know that God takes care of our children when we are not with them. He is a good God! But sometimes when our children go to school we can feel anxious. We don't want them to struggle with other children or academically.
The Word of God tells us that instead of being anxious about anything, we should pray! It's in this place of prayer that we see things shift not just in our lives but in the lives of those we are praying for as well.
Be anxious for nothing, but in everything by prayer and supplication, with thanksgiving, let your requests be made known to God; and the peace of God, which surpasses all understanding, will guard your hearts and minds through Christ Jesus. – Philippians 4:6-7 NKJV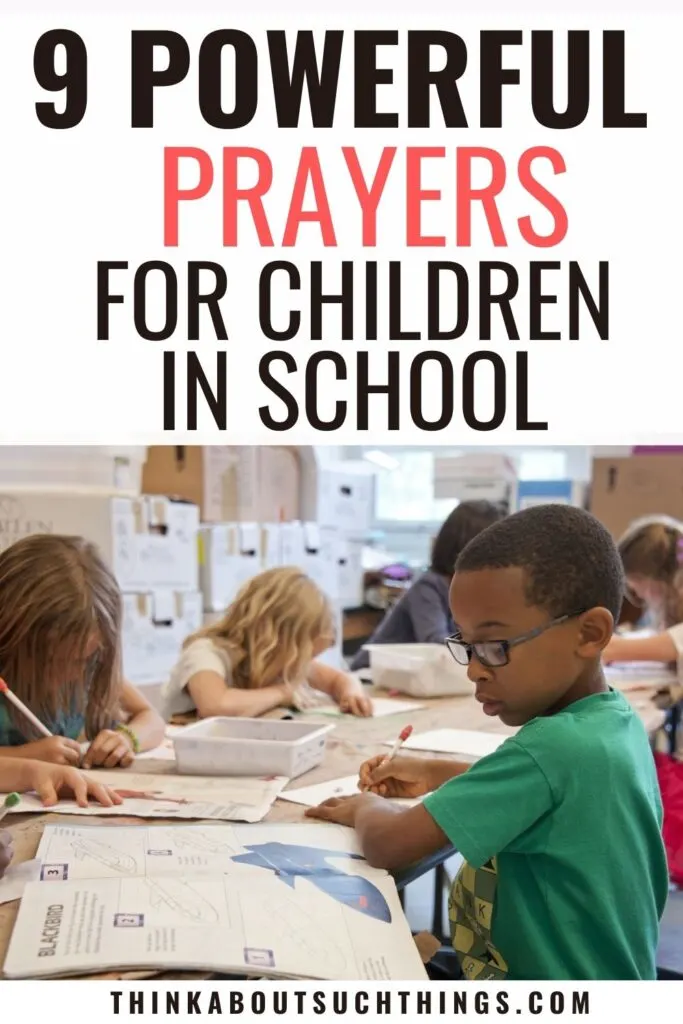 Let's be real children deal with a lot in school, for example, bullying, low self-esteem, discrimination, fear, loneliness, etc. Not to mention our children are being bombarded these days with political agendas contrary to the Word of God. This can lead to a lot of confusion in their little minds and hearts.
When we pray for them, God intervenes and meets them at their point of need. It's powerful! And I just want to commend you for being here on this post. It means you care enough to find ways you can pray for them. Bravo…mom, dad, grandma, grandpa, aunt, or uncle! God will use your prayers!
Prayers for Children in School
Here is the section you have been waiting for! Below are 9 different ways you can pray for your child in school and at the bottom of this post I have a bonus prayer!
And I encourage you to use each one of these prayers and prayer points as a diving board into your prayer time with the Lord. Let your prayers become personal and from the heart. Not just words you read off a screen.
If you are interested in learning more about prayer then please check out my Prayer and Intercession Page. You will find tons of resources on the topic. And if you want something aimed for when kids go back to school then check out: 8 Powerful Back To School Prayers
But before we begin I want to share this quote from Billy Graham. I hope gives you the motivation to pray continually for your children while they are in school.
1. Prayer for Comprehension
Kids need to comprehend what they are learning so that they can understand the concepts they are taught and be able to do well academically. Nothing is more frustrating for a child than not being able to do their work at school because they don't understand it. Pray for your children to have clear minds and easily learn what their teachers are teaching them. That they would not be easily distracted and that the teachers would be able
If any of you lacks wisdom, let him ask of God, who gives to all liberally and without reproach, and it will be given to him. – James 1:5 NKJV
Lord, I pray that you help my children to be alert and have clear minds as they go to school to learn. Help them comprehend what they are taught and retain it in their minds. Make it easy for them to grasp concepts and information. Let their minds be able to retain as they read and listen. Fill their minds with your wisdom and remind them to turn to you when they need it.
And Lord I also ask that you would bless their teachers. Give them wisdom and creativity to teach in a way that all students would be able to grasp and learn from. In the mighty name of Jesus, Amen!
2. Prayer for Protection
Our children need protection as they go to school and when they come home later in the day. In school, they sometimes encounter bullies and those who don't like them. We can pray that God will keep our children safe and that they will find their refuge in Him (Psalm 5:11).
But let all those rejoice who put their trust in You;
Let them ever shout for joy, because You defend them;
Let those also who love Your name
Be joyful in You. – Psalm 5:11 NKJV
Lord, I pray for the protection of my children, and I ask that you keep them safe always. Shield them from any dangers they may face in school or on the way to and from school. Protect them from the risks they face from the time they leave home in the morning to when they come back home in the afternoon.
Lord, I specifically pray that you would protect their mind, body, and soul. That any hurtful words would roll right off of them and that they would be watchful as they are at recess and P.E. Thank you, God, for watching and send your angels to protect my children while they are at school. In Jesus' mighty name I pray…amen and amen.
3. Prayer for Friendships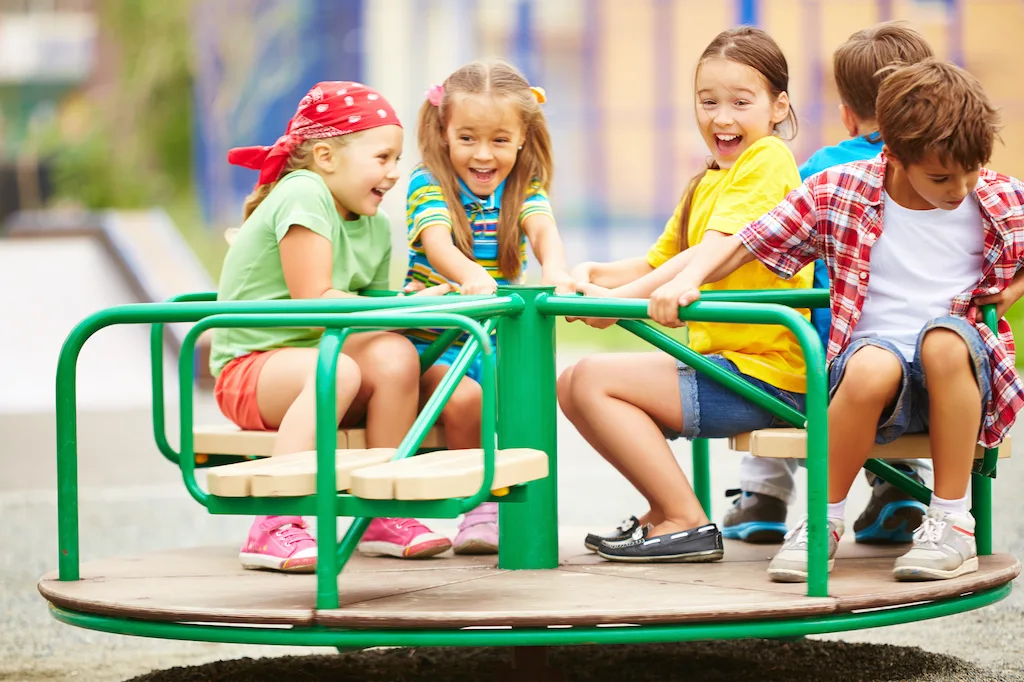 Friendships are important for children and we need to pray that they have the right ones. Friendships can make or break your kids and that is why we need to ask God to give them divine connections with godly friends. Bad company corrupts good character (1 Corinthians 15:33).
Heavenly Father, please give my children a divine connection with friends you want them to have. Fill their lives with friendships that will be a good influence on them. Keep them away from friends who are not a good influence to them and may lead them astray. In the mighty name of Jesus, amen!
4. Prayer for Good Behavior
Our children can sometimes develop behaviors that are not good and need to be nipped in the bud. This happens a lot by outside influences. For success in disciplining our children, we need God's help.
But his delight is in the law of the Lord,
And in His law, he meditates day and night. – Psalm 1:2
Lord, I ask that You help my child develop good behavior that is in line with Your Yord. Give me the wisdom I need to train them up in the ways of the Lord. And I ask that you place a hedge of protection around them from influences that would lead them astray. May my children delight in your Word and meditate on it so that they may prosper as you have said in Psalm 1:2. In the might name of Jesus…amen!
5. Prayer for Forgiveness
Children will always offend each other as they interact and play. And it doesn't stop at just a small age. Even as they become teenagers words and actions can become even more hurtful.
When this happens kids sometimes fall into the trap of vengefulness and become unforgiving. Our children need to learn the importance of forgiving those who hurt us so that they don't develop a root of bitterness.
Lord, grant my child the grace to have a forgiving heart toward others. I ask that you help my child to let go of any offenses they have held in their hurt and to release any grudge they have against anyone. Keep my child's heart soft before you. May they not judge or condemn others and forgive them. Give them the grace they need, Lord. In Jesus' name, amen! (Luke 6:37)
6. Prayer for Love
We know that God desires that we love others and has made this very clear in His Word. We can teach our children the importance of loving others especially when they are in school. They need to know that they are to love others despite how they behave toward them.
So he answered and said, " 'You shall love the Lord your God with all your heart, with all your soul, with all your strength, and with all your mind,' and 'your neighbor as yourself.' " – Luke 10:27
Lord, show my children to love as You do. Give them loving hearts that will love others as You ask us to in Your Word. Teach them to love themselves so that they can love others like themselves.
Surround them with other students and teachers that show love in action and words. That these individuals would be a godly example to my child. In the name of Jesus, amen!
7. Prayer for Success
It's important for our children to pass their tests and exams so that they can move to the next grade and continue with their education. When children don't pass exams, they tend to have a low opinion of themselves and think that they are not good enough or not smart enough. This is not true and we need to let them know what the truth is.
Lord, grant my children success in their tests and exams. Help them be disciplined as they study before their tests and have a clear mind and peace as they are in the classroom. Show them how to study to acquire knowledge and not cram their notes just to pass the test. Help them to retain the information they are studying. In Jesus' name…amen.
8. Prayer for Courage
Children encounter situations in school that require them to have courage. For example, when they are bullied, they want to stay home instead of going to school because they fear the bullies. Sometimes, they may have a project or need to speak in front of the class. This can be scary for children that are shy. Pray that your children will have courage as they face issues in school.
Have I not commanded you? Be strong and of good courage; do not be afraid, nor be dismayed, for the Lord your God is with you wherever you go." – Joshua 1:9
Lord, grant my children the courage to face any unsettling circumstances in school. Remind them that you are always with them, and will never forsake them as you promise in Joshua 1:9. Remove the fear that is in their hearts and let them become bold and courageous. In the name of Jesus, amen!
9. Prayer for Confidence
Confidence is important in the life of every child and we need to encourage our children to have it. When our children are confident, they do better in their studies and participate in activities or various school groups. They will cultivate healthier friendships and relationships with those around them.
Lord, grant my child the confidence they need in their everyday life and especially while they are in school. Help them deal with anything that makes them feel less doubtful of who You have called them to be. In the name of Jesus, amen!
Bonus Prayer: Prayer for Child Starting School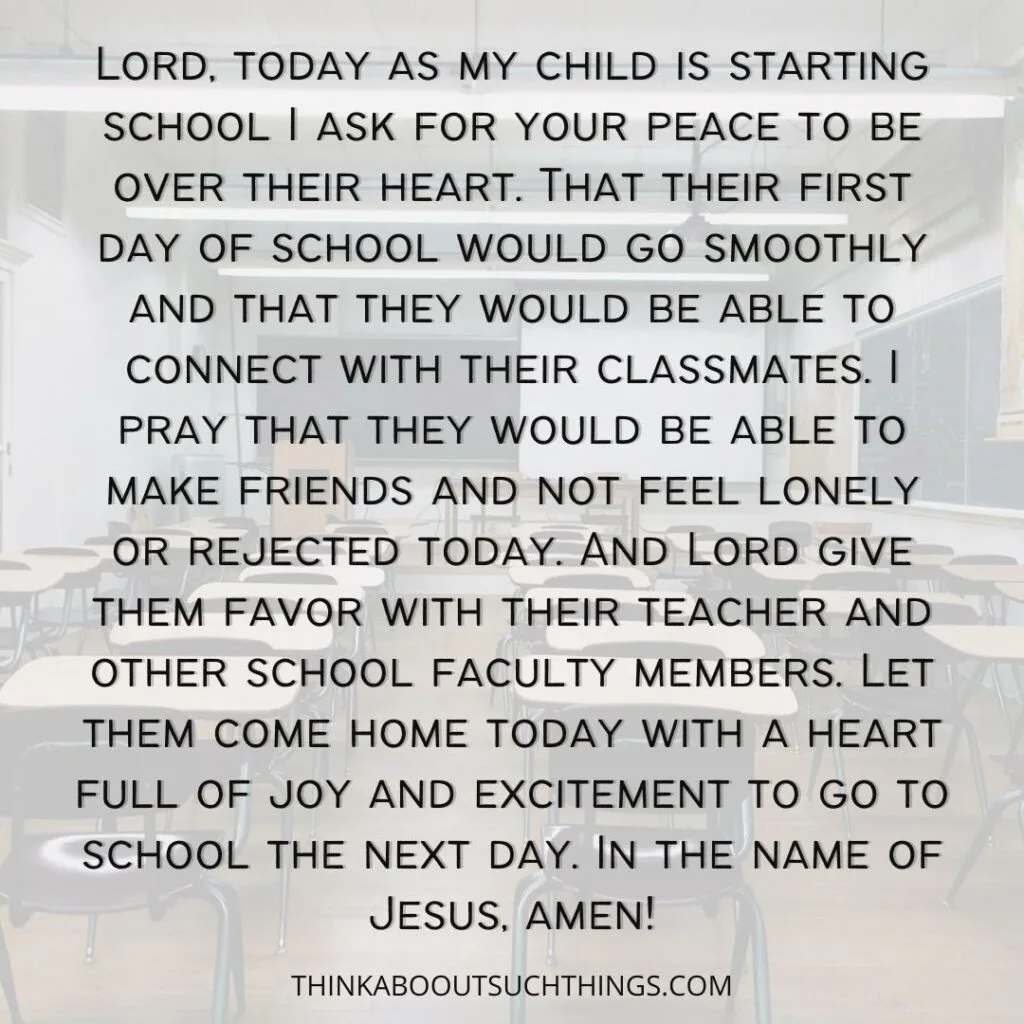 Starting school can either be an exciting or a daunting thing for kids. Especially if they are going to a new school or moving from elementary to middle school. They have no idea how other kids will perceive them or what their new teacher will be like.
Lord, today as my child is starting school I ask for your peace to be over their heart. That their first day of school would go smoothly and that they would be able to connect with their classmates. I pray that they would be able to make friends and not feel lonely or rejected today. And Lord give them favor with their teacher and other school faculty members. Let them come home today with a heart full of joy and excitement to go to school the next day. In the name of Jesus, amen!


---
There are many things you can pray over your children as they are in school. Let God guide you by His Spirit on what and when to pray for them. Remember to make your prayer for children in school be personal to what they need or situations. And if you have a newborn at home, then please check out these prayers for newborns.
If you like to leave me a comment you can do so below! I would love to hear from you and what God is doing in your life.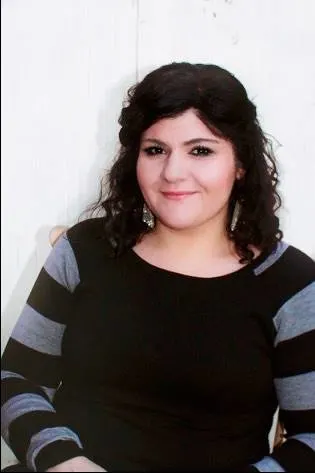 Melissa is a passionate minister, speaker and an ongoing learner of the Bible. She has been involved in church and vocational ministry for over 18 years. And is the founder of Think About Such Things. She has the heart to equip the saints by helping them get into the Word of God and fall more in love with Jesus. She also enjoys family, cooking, and reading.
She has spoken in churches in California, Oregon, Texas, and Mexico and has been featured in Guidepost Magazine and All Recipes Magazine. Read More…