In this article, we will explore back to school prayers we can pray for our children, students, teachers, and other school faculty. These prayers can be used for parents, students, teachers, or anyone who has a heart for students.
As students, teachers, and parents across the country prepare to welcome a fresh school year, it is important to take time for intentionality. As they journey towards a new academic season, why not use prayer as an opportunity to slow down and focus on God?
Even in the midst of all of the hustle and bustle that comes with this time of year, taking moments throughout the day to pray for the school year and help students and teachers recognize His presence will bring tremendous peace into their lives, whether related to education or otherwise. I know my parents prayed for me as I went back to school, and I know it made a difference for me when it came to learning, friendships, and more.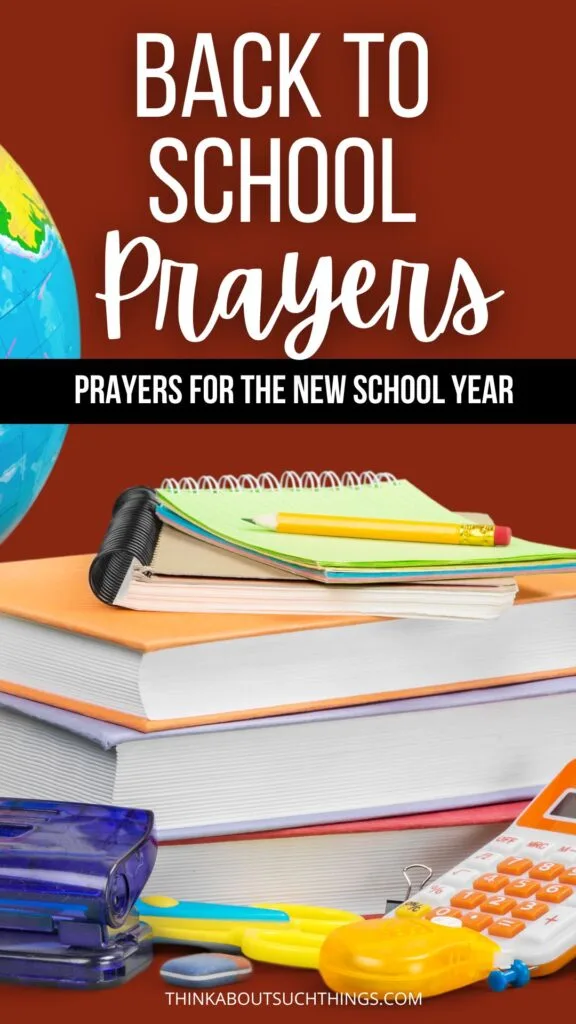 How to Use Prayers for Back to School
Written prayers are a double-edged sword. They can work great when you need direction on what to pray or a little on how to pray. You don't want them to be the source of how you pray to God.
Prayer is part of our relationship with God. It's how we communicate and share our hearts with Him. So, when using written prayers from someone else, it's important to add YOU into the prayer. Make sure to share things in your heart for this new school year and certain situations that may arise.
When to Pray Back To School Prayer
I think everyone in our modern times is on a time crunch. But we can always find time to pray! Here are some ideas for when you can pray for the new school year. Every situation will be different as you may have small children, or you are a teacher, or perhaps you are a student. Please pick the ones that you know will work for you.
During your devotional time or morning routine. Check out – Rise and Shine: Powerful Morning Prayers for Students

While waiting for the bus, you can pray, or while your children are waiting for the bus.

While driving to the school to drop off your kids or while going to work.

Praying for your children before they leave for school. Have them join in! Ask them if they have any requests.

Praying the night before the first day of school.

Ask other parents or faculty to join you in prayer and set a time.
These are just a few ideas to help you!
What to Pray for When School Starts
When praying for the new school year, you can cover many topics in prayer. I like to call these topics prayer points. They can help guide you on what to pray. We will be going over specific prayers, but if you are looking for more of a simple idea list. This is for you!
Good Friendships

Wisdom and understanding when learning at school

Favor with teachers and other faculty.

Favor with classmates and other students.

Peace during stressful times like tests and quizzes.

Feeling God's presence during school

That they would enjoy learning and being at school.

"The greatest gift we can give our children are the roots of responsibility and the wings of independence."

Maria Montessori
Back to School Prayers
Most of the prayers below are generalized for students. You can make them specific to your child or children. Feel free to adjust them as needed. And if you want to check out more prayers for schools, teachers, and more, check out the posts below: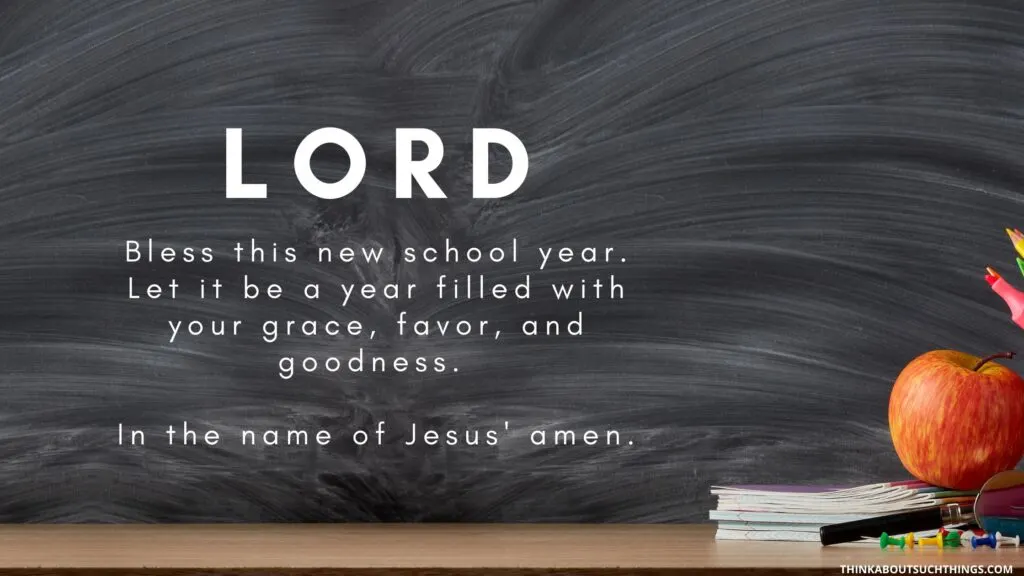 Almighty God, we thank you for the start of a new school year full of promise! Bless our students with courage and strength to face the challenges that come their way. Help them to make wise decisions that will lead to positive outcomes. Give them patience and perseverance so they can stay focused and not give up when life gets hard.

Guide their teachers as they navigate this unprecedented time with grace, Godly wisdom, and clarity. Bring peace, joy, and contentment into their lives as they learn from home or in classrooms. May we all be reminded of the importance of building each other up rather than tearing one another down. Thank you for this new year, Lord. In Jesus' name, amen!
Back to School Prayer for Protection
Lord, as the students prepare to embark on a new school year, we come to you in humble prayer seeking your protection. Keep our children safe and secure from any harm or danger that may come their way. Surround them with a hedge of protection as they navigate school days filled with moments of joy and difficulty.

Give them courage and wisdom to face whatever life throws at them, never forgetting that You are with them each step of the way. Impart knowledge and understanding upon them so they can reach their academic goals and grow in confidence. In the name of Jesus, amen.
Back to School Prayer for Grace
God, as the new school year starts, we thank you for your immeasurable grace and mercy. We ask for your blessings upon our children as they step into new experiences and opportunities at school. Help them to be kind and respectful to everyone in their class so that we can all learn and grow together in peace.

Introduce them to the beauty of diversity, while still instilling values of integrity, hard work, and perseverance in each one of them. Ignite an inner fire within their hearts to reach higher and to aim for excellence. Shower them Lord with Your unfailing grace. In the name of Jesus, amen.
Back to School Prayer for Friendship
Father God, as we start the school year, we give You thanks for the gift of friendship. We ask that You bless my children with true and lasting friendships that will be a blessing to them. Guide them in learning to be caring, compassionate, and reliable friends to one another.

Help them to fight loneliness and treat each other with respect, kindness, and understanding no matter the differences they may have. Nurture within them a sense of belonging so that they can look out for each other's wellbeing and achieve more together than they can alone.

Help them to strengthen their bonds through shared experiences as they develop strong relationships that will last for years. And may these friends come to know Jesus as Lord and Savior. In the mighty name of Jesus, amen.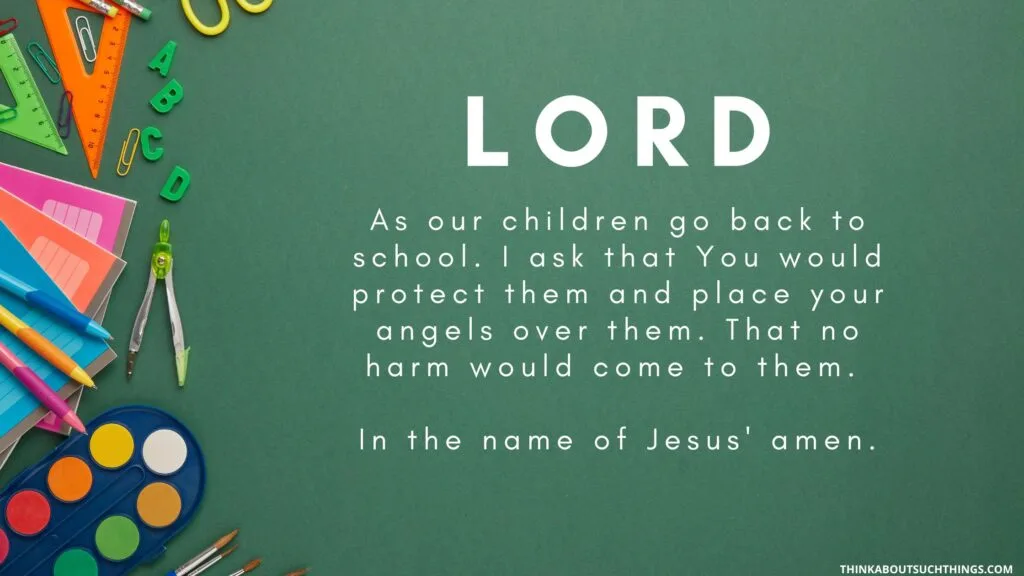 Back to School Prayer for Easy Transition
God, we come to you in prayer this school year, asking that You make the transition from summer to school life as easy and seamless as possible. I know it can be hard on my kids to transition but help them to make new friends and adjust quickly to their new environment.

Prepare their hearts and minds to accept the challenges of becoming better learners and students. That the first few weeks school will be such an ease and delight to them. And thank you for Your never-ending love; today, tomorrow, and forevermore. Amen.
Back to School Prayer for Peace With Others
Lord Jesus, we come before You with hearts full of gratitude. As this school year begins, we pray for Your divine protection and peace over our children. May they find a sense of fun in the lessons and learning that lie ahead of them.

Help them to develop patience and understanding as they learn to be respectful students that are different from them. Shield them from all forms of danger, including cruelty, bullying, and meanness; help our children to cultivate peace by diffusing situations with empathy and love. That they would be an example of Your love and goodness. Bless them Lord, and let this be a good year for them. In Jesus' name, Amen.
Back to School Prayer for Wisdom
God, we ask for Your guidance and wisdom this school year. Grant our children the knowledge they need to excel in their studies and everyday life. Infuse them with understanding so that they can think critically and make wise decisions that are godly and rooted in Your truth.

Help them discover their talents, interests and abilities; encourage them to use these gifts to reach their goals and go after what You have called them to do. Guide them towards making right choices as they encounter challenging situations. Give us Your wisdom too so that we may provide support and wisdom to help them grow in Your ways. Thank You, Lord for empowering us with Your divine grace; today, tomorrow and forevermore. In Jesus' name, Amen.
Back to School Prayer for Blessing
Heavenly Father, we thank You for Your never-ending love and blessing. As this school year begins, bless our children with success in their studies and activities. Grant them courage and motivation to do their best at all times.

Fill their hearts with peace so that they can approach each day with a positive attitude. Remind them that You are watching over them; help them to find joy in exploring new and fun activites at school. That this would be a fruitful year in their lives and that You draw them closer to You. Thank you, Lord for this new school year. In the name of Jesus, amen.
---
I hope you have enjoyed these back to school prayers and that they have stirred your faith to pray for this new school year.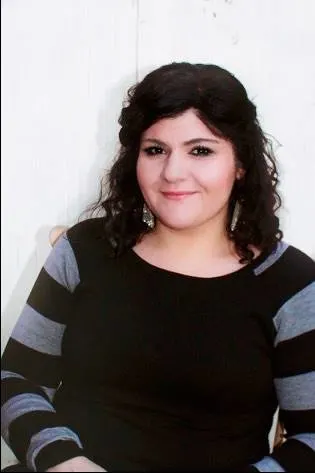 Melissa is a passionate minister, speaker and an ongoing learner of the Bible. She has been involved in church and vocational ministry for over 18 years. And is the founder of Think About Such Things. She has the heart to equip the saints by helping them get into the Word of God and fall more in love with Jesus. She also enjoys family, cooking, and reading.
She has spoken in churches in California, Oregon, Texas, and Mexico and has been featured in Guidepost Magazine and All Recipes Magazine. Read More…