In this article we will look at a collection of 14 powerful and inspirational prayer warrior quotes. That will encourage and edify those who feel led to war in prayer. So, let's get started…
About a year ago I shared some of my favorite and impactful quotes on prayer. And this time around I wanted to share quotes specifically on being a prayer warrior.
When we go before God in prayer. It has the ability to change and shift things in the heavenlies. We are praying God's kingdom to come and His will to be done. This is the heart behind being a prayer warrior!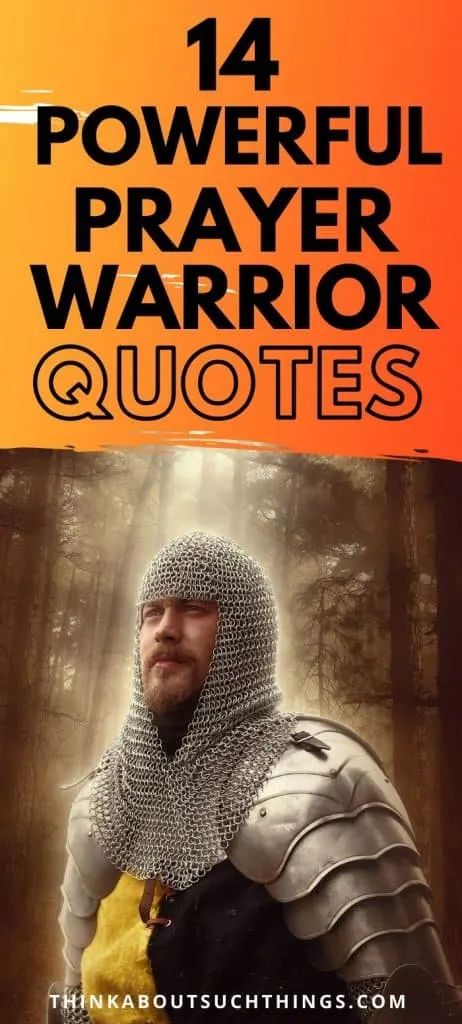 In the selection of prayer warrior quotes below, you will find that some are prayers and some are even poems. I hope they encourage you and bless you tremendously.
Quotes About Prayer Warriors
Finally, be strong in the Lord and in the strength of his might. Put on the whole armor of God, that you may be able to stand against the schemes of the devil. For we do not wrestle against flesh and blood, but against the rulers, against the authorities, against the cosmic powers over this present darkness, against the spiritual forces of evil in the heavenly places. Therefore take up the whole armor of God, that you may be able to withstand in the evil day, and having done all, to stand firm. Stand therefore, having fastened on the belt of truth, and having put on the breastplate of righteousness ― Ephesians 6:10-20
"As prayer warriors, we must remember that no matter how hopeless a situation may appear to us, God gives us power in prayer to do something about it." ― Stormie Omartian
"If you long to be a mighty warrior, to do great things for the Lord, and to win the world for Him, then remember that your power is in your prayer life." ― Sunday Adelaja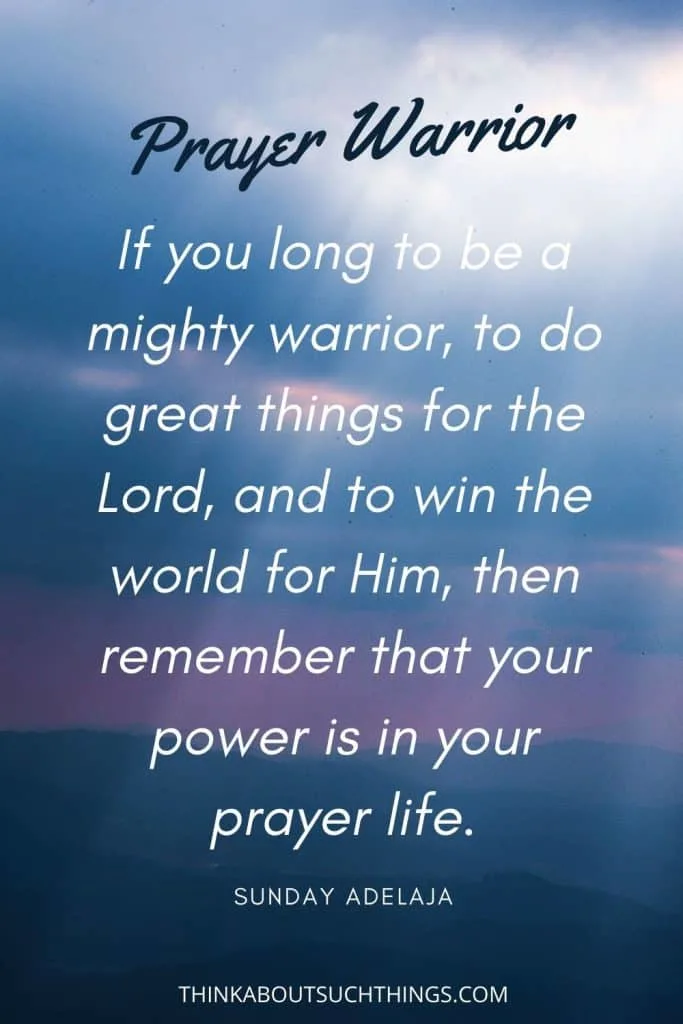 "Here's the thing: warriors can't afford to be lazy. A warrior who isn't able to wield her weapon will soon find herself unable to defend against her adversary." ― Heidi St. John
"In the meantime, it is heartening to know that Christ's victory over Satan can be enforced now by means of prayer. Daniel prayed for twenty-one days, and finally the angel of Satan was defeated. Earthly victories depend on heavenly victories, and vice versa. We who battle evil on the earth are fellow warriors with the angels who battle evil in the invisible realms, and our prayers form a network of power and communication that work in tandem on both fronts. This means the praying church actually wields a strong hand in determining the outcome of human events. As someone has said, "It is not the mayors that make the world go 'round; it is the pray-ers." ― David Jeremiah
"However, there is also a ministry called the prayer closet. Humble servants, burdened with the cares of others, intercede on their behalf. This service offered up by uncelebrated prayer warriors is a mighty weapon. They call upon the power of God to thwart the schemes of the evil one." ― Cheryl Zelenka
"Know that we win the war when we pray in power because prayer is the battle." ― Stormie Omartian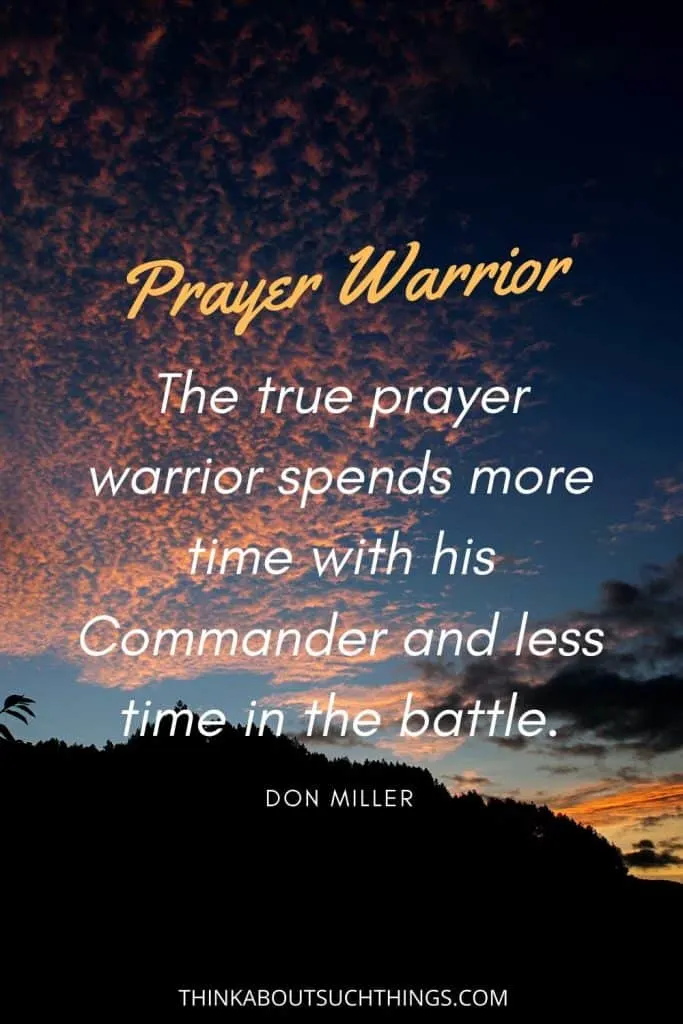 A Prayer Warrior is someone who is willing to commit to a daily, heartfelt prayer practice…and who is willing to pray alone, for others, with others, and even for strangers. The world desperately needs all of our prayers, now more than ever. I trust and believe that with the constant, incessant roar of our collective prayers, we can all help heal the world and this country in this time of great need. ― Deborah Price
"My Prayer? Oh' Lord give me the mind of a warrior that has been taught to fear your name, The soul of a prophet with the tongue and courage to speak truth though I be surrounded by those that despise it and the heart of a boy that believes he can slay a giant"― Tonny Brown
"The true prayer warrior spends more time with his Commander and less time in the battle." ― Don Miller
"May God fill you with His Spirit and give you great courage as you fight against the rulers of darkness and spiritual wickedness. May He protect you and cover you with His presence. May He give you a hunger to pray like never before and send other prayer warriors to stand with you in this great struggle! May God raise up millions of prayer warriors all over the world to fight the good fight. May His glory fill the earth and bring revival to every land, every people, until the kingdoms of this world become the kingdoms of our God and King. Even so, come quickly Lord Jesus." ― Daniel B Lancaster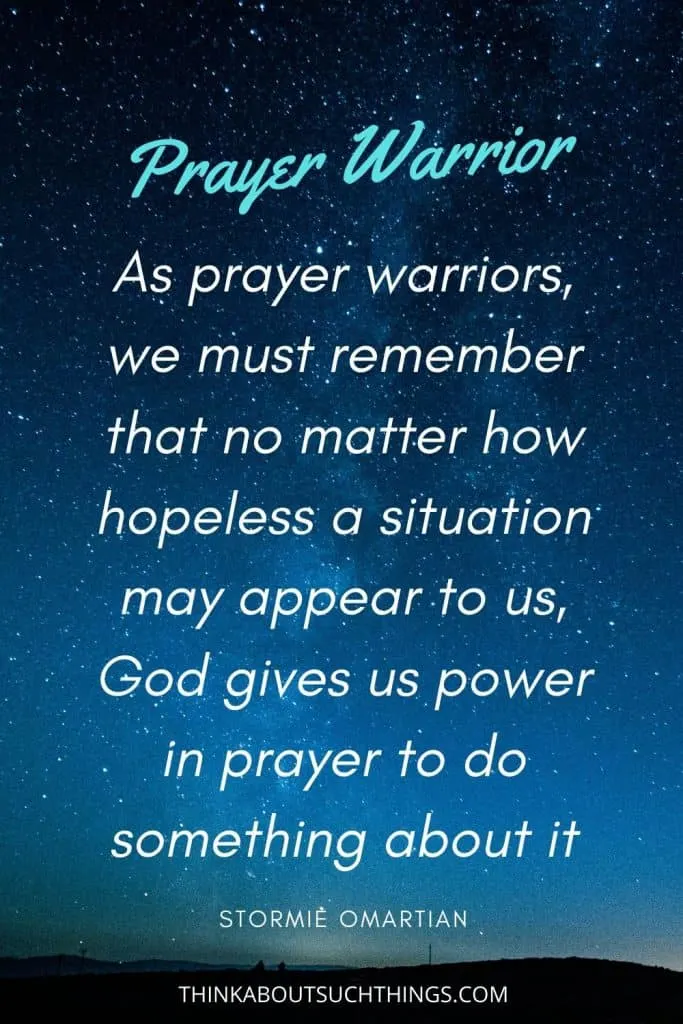 "God works on earth only through the prayers of believers and based on this basis, the destiny of this world is not in the hands of earthly kings and rulers but in the hands of prayer warriors." ― Sunday Adelaja
"I want to be the kind of prayer warrior that lifts others up, that prays for the ones that no one prays for, that feels God's presence in every moment because my entire life is drenched in prayers for others." ― by ssweetly.com
---
I hope these prayer warrior quotes have inspired you! If you would like to check out more quotes on prayer and other inspirational teaching on Biblical prayer!
Please, feel free to leave me a comment below! I would love to hear from you.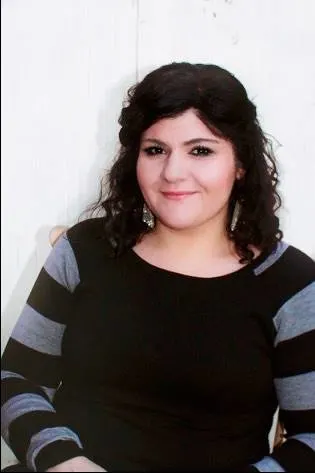 Melissa is a passionate minister, speaker and an ongoing learner of the Bible. She has been involved in church and vocational ministry for over 18 years. And is the founder of Think About Such Things. She has the heart to equip the saints by helping them get into the Word of God and fall more in love with Jesus. She also enjoys family, cooking, and reading.
She has spoken in churches in California, Oregon, Texas, and Mexico and has been featured in Guidepost Magazine and All Recipes Magazine. Read More…