In this article we will go over prayers for grace that you can use during your private time with the Lord or even in a small group setting.
Prayer is one of the most powerful disciplines we can grow in as Christians. We can use prayer to communicate with God, ask for His guidance, and thank Him for all He has done in our lives. No matter what your situation may be, there is no need to feel alone. God is always with you, and He will provide you with the grace we need to get through anything.
If you are struggling right now, take comfort in knowing that you can pray for grace from God. He will bless you with His love and support, and help you to overcome whatever obstacles life throws your way. He is faithful to meet you right where you are! I know He has done this for me over and over again. And He will do it for you.
Before we look at these prayers for grace I encourage you to use them like a diving board to spring you into your own personal prayer before the Lord. Speak to Him about your specific needs and desires. Listen brother, or sister….He wants to hear from YOUR heart. He longs for it! So, when you pray share everything you have with Him.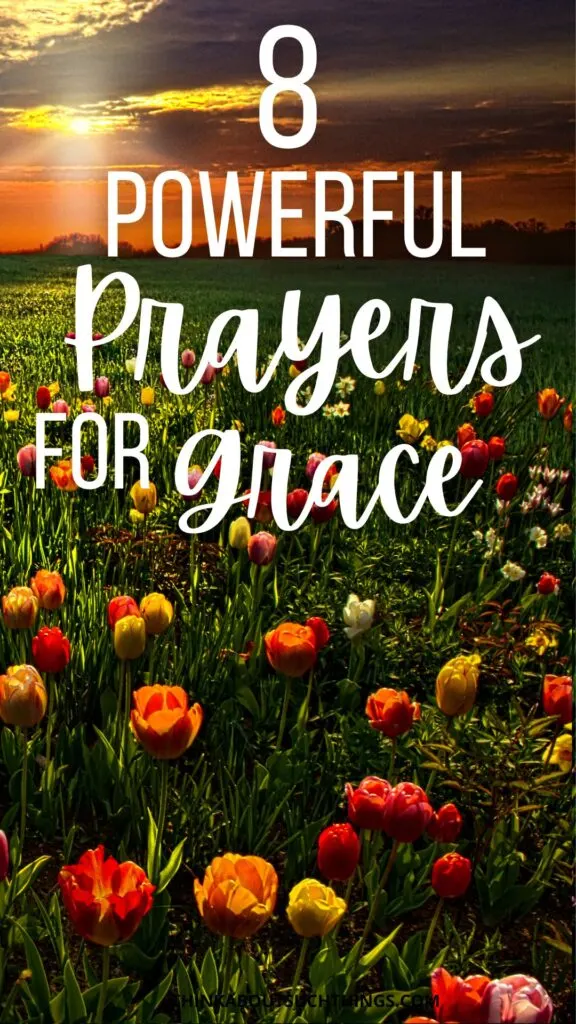 Prayers for Grace
Feel free to use the graphics for personal use such as social media or personal emails.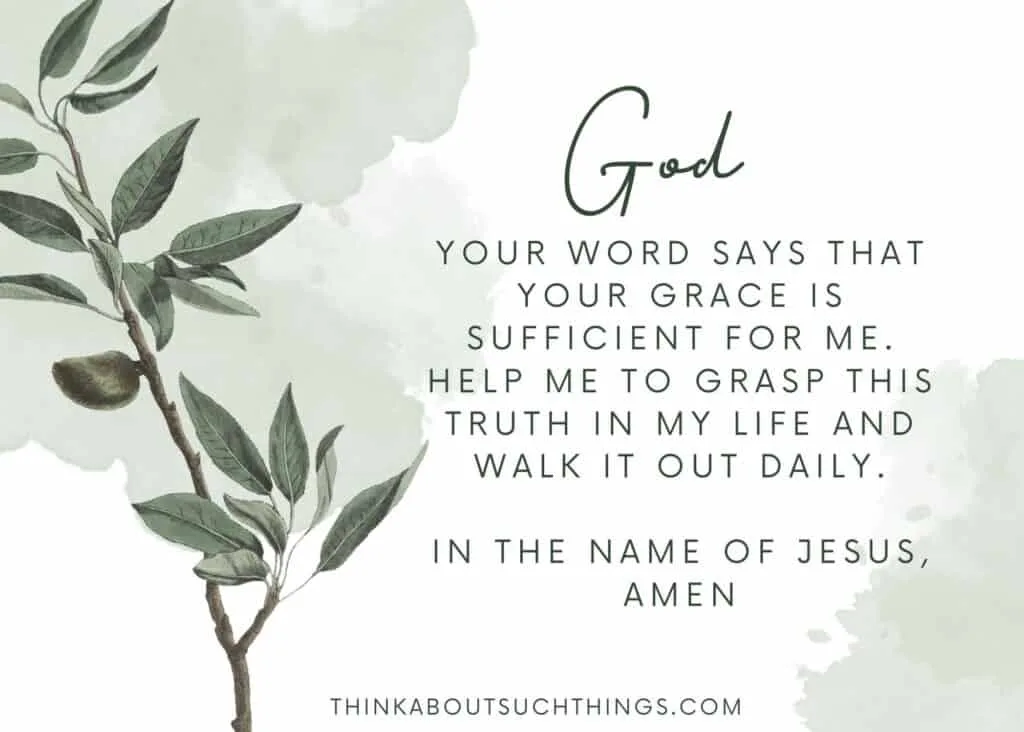 A Prayer to Have Grace Daily
O Lord, I thank You for Your abundant grace. Thank You for the reminder that we don't have to earn Your favor but that it flows freely to us. We bless You for Your favor that you have shown in our lives. Thank You Father for loving me even during the times that I feel unlovable. Thank You Lord Jesus for providing for my necessities of life and the many blessings that You showed my life. I bless you Lord for food, home, good health and love among those who are close to me.
Thank You Jesus most of all for the price that You paid on the cross and how through your daily grace I get to enjoy the fruits of the finished work of the cross in my daily life. Forgive me for the times I haven't put You at the center of my life. Lord, You are the only One that matters in my life. Father, I ask that You pour out Your grace every day to enable me to live right by You and to achieve all that lies ahead of me. In the Name of Jesus I pray, Amen.
A Prayer for Grace to Abound in my Life
Almighty God, book of Lamentations reminds me that Your message and Your grace are new every single day and they never fail. Today I ask for that unfailing grace to be present in my life. Let every day be an opportunity for me to realize how much I need You and how much of Your grace I need everyday. Give me the ability to stand and live right. Your Word says that in the last days, people will change and become unloving, disinterested in others, cold-hearted, disrespectful to their parents and disobedient to Your heart. Help me Lord to reconcile Your truth with my walk of faith.

May Your grace abound in my workplace, in my home and even in my heart. I ask for Your grace so that I will live a life that is worth looking at a godly life that is preaching and bringing glory to Your Name. I know that in my weakness through Your grace Your strength is shown. I ask this in the Name of Jesus. Amen
A Prayer for Grace and Wisdom
Thank You Father because You have given us all we need for life in godliness and the Book of James also reminds us that if we lack wisdom we should ask from the source and He is faithful to grant us our request. Lord, I ask for practical wisdom and the grace to identify with what is right and what You call Your children to be.

During this time of hardship, I ask that You will help me not to be deceived by the seemingly wise philosophies of the world, but to discern the truth from the biblical teachings. Grant me grace and wisdom to praise You and to honor You in every facet of my life. Help me to learn to be happy and to be joyful in all circumstances. Help me to live a life full of gratitude and the wisdom of God. Give me courage and grace to share the wisdom of God in my everyday life in Jesus Name I pray, Amen.
>> More Prayers on Guidance and Wisdom For Your Life
A Prayer for Grace in Relationships
Lord, relationships are a gift from You and You instituted the first marriage. Your Word encourages us to be conformed to the likeness of Jesus, but Lord this specific relationship is becoming very hard. There's a lot of inner struggle and the will to stand for what is right keeps diminishing.

Lord, I know that You desire that Your love would flow out of me to everybody around me. Remind me to cast my cares on You because You care for me. Father, change my attitude so that Your grace will be revealed in this relationship. I ask for the wisdom to stand for what is right and to abide in what gives You praise. In Jesus Name, amen.
A Prayer for Grace during a Difficult Times
Thank you Jesus because You always hear us when we call. Today, I lift up my voice to You in this situation. I come boldly in the Name of Jesus asking for grace for this time of need. Days have become dark, journeys become long and it is hard to know how things are going to turn out. Lord, I don't want to live a life of despair but a life of hope in You.

I am turning to Your grace because Your grace is power. Remind me that even if I go through the fire You will be with me, if I go to the bottom of the ocean You will be right there with me and if I go to the highest clouds You will still be there with me. Father, I ask for Your supernatural enablement towards me because without it I have no other way to come out of this. Lord, may You pour out Your sufficient grace over my life so that I will not rely on my own fleshly strength and abilities but on Jesus alone in Jesus Name. Amen.
>> How to Trust God in Difficult Times and Seasons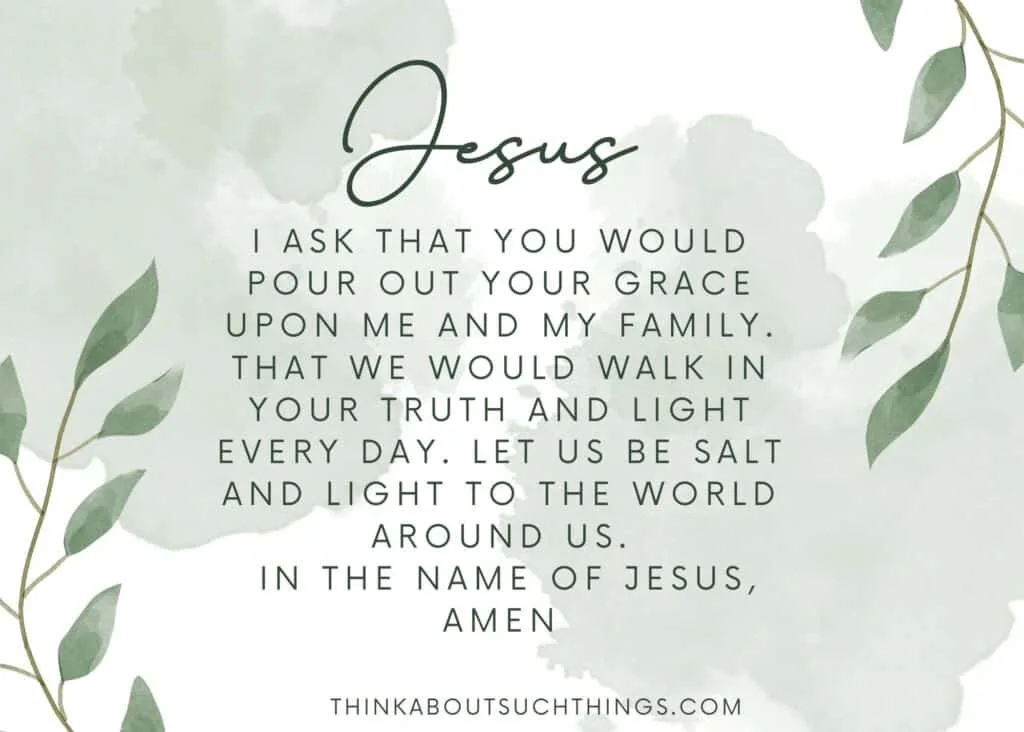 A Prayer for the Grace to Forgive
Father it is very hard for me to forgive others when I am wronged. I know that I have received forgiveness for my sins through faith in Jesus and my redemption through His blood. However, I want to be avenged for what other people have done to me. Lord as I come before you, I just ask for grace because I know that the right thing to do is to forgive them.

Without You Father, I am unable to forgive by myself. Your Word says that Your grace has appeared unto all men teaching them to say no to all ungodliness; today I ask that You teach me how to say no to all this unforgiveness that is boiling up in my heart. Thank You because Your grace will help me to come out of this and give me victory. Help me to experience the joy of forgiveness and the freedom of letting other people go. Thank You for the grace to forgive. In Jesus Name Amen.
A Prayer for Grace for the Church
Lord, I stand today in the gap for the church which is Your body while You are the head of the church. Father, so much deception and apostasy has entered Your church and there are very few people who are standing in the gap to speak against the things that are going on. Lord, You are the only one that can provide the solution for the church.

You told Peter that the gates of hell shall not prevail over the church. I ask for fresh grace over the church and the remnant to stand and choose right even when it seems hard. I pray for grace for them to keep holding on and not to give up Father. I pray for those standing in the garden intercession for the church, Lord, let You grace be added unto them. I pray for the whole body of Christ all over the world, as they gather and sit to hear from You Jesus, let Your grace continue to abide in Jesus Name, amen.
>> More Prayers for Church Leaders
>> More Prayers for Church Family
>> 9 Transformational Prayer Points for the Church
A Prayer to Experience God's Grace.
Lord, You are a good Father. You are a loving Father and you are a loving God. I thank You for Your grace which is sufficient for me in all circumstances.Today I come to You and I ask that You fill me with Your grace to overcome the power of sin over my life.

Your Word reminds me that we are saved through Your grace. I pray that Your grace in me will be a light to others around me and a lamp in the middle of the house so that others who look at me would glorify You my Father in heaven. May Christ increase as I decrease in every area of my life until I can say that it is no longer I that lives but Christ that lives in me for the praise and honor of Your Name, amen.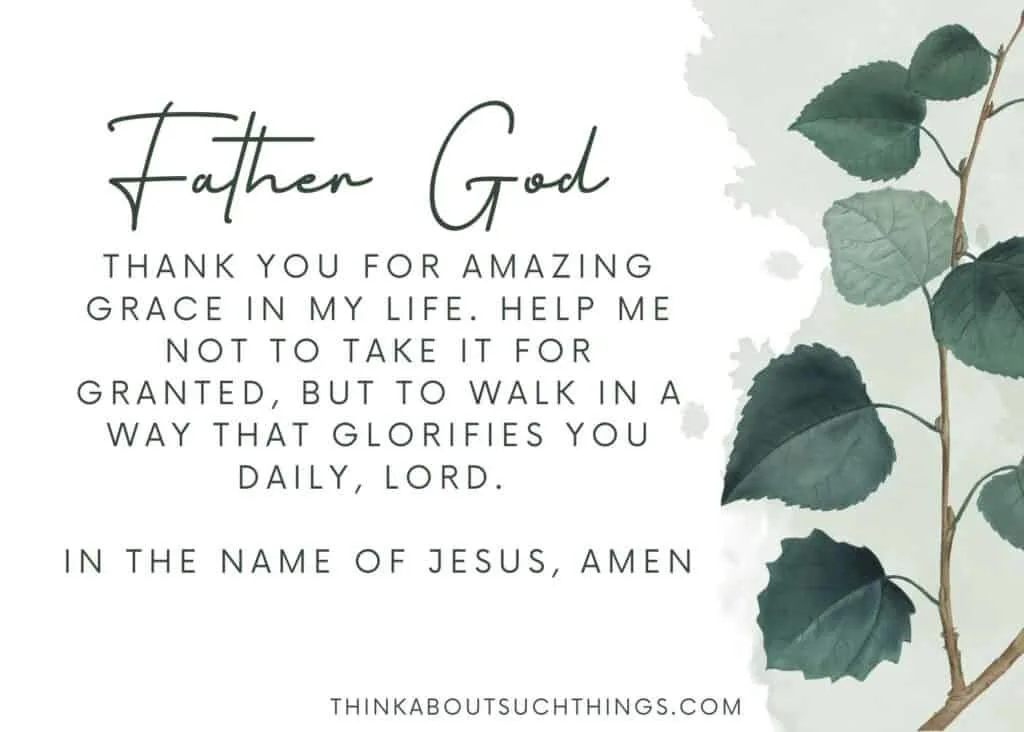 ---
I hope these prayers for grace have you bless you greatly. Remember God wants to pour out His grace upon you and have you experience His wonderful mercy. I pray He bless you greatly as you seek Him in your life.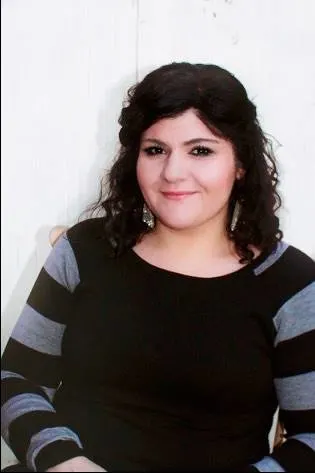 Melissa is a passionate minister, speaker and an ongoing learner of the Bible. She has been involved in church and vocational ministry for over 18 years. And is the founder of Think About Such Things. She has the heart to equip the saints by helping them get into the Word of God and fall more in love with Jesus. She also enjoys family, cooking, and reading.
She has spoken in churches in California, Oregon, Texas, and Mexico and has been featured in Guidepost Magazine and All Recipes Magazine. Read More…