In this article we will take a look into 10 symbols of the Holy Spirit that we see in the Bible. You will be amazed to see what these symbols are and what they mean to us as Christians. So, grab your Bible and let's get started…
The Bible is incredibly rich with symbolism. We see this with Bible Numbers, Colors in the Bible, and so much more.
Even God himself is seen to be symbolized in multiple, powerful and beautiful ways. And today we are going to take a look at the Holy Spirit.
The Holy Spirit is not just a power or some kind of energy force. He is God. Part of the trinity. So, when we look at these symbols of the Holy Spirit they are a reflection also of Jesus and the Father, but distinctly attached to the personhood of the Holy Spirit.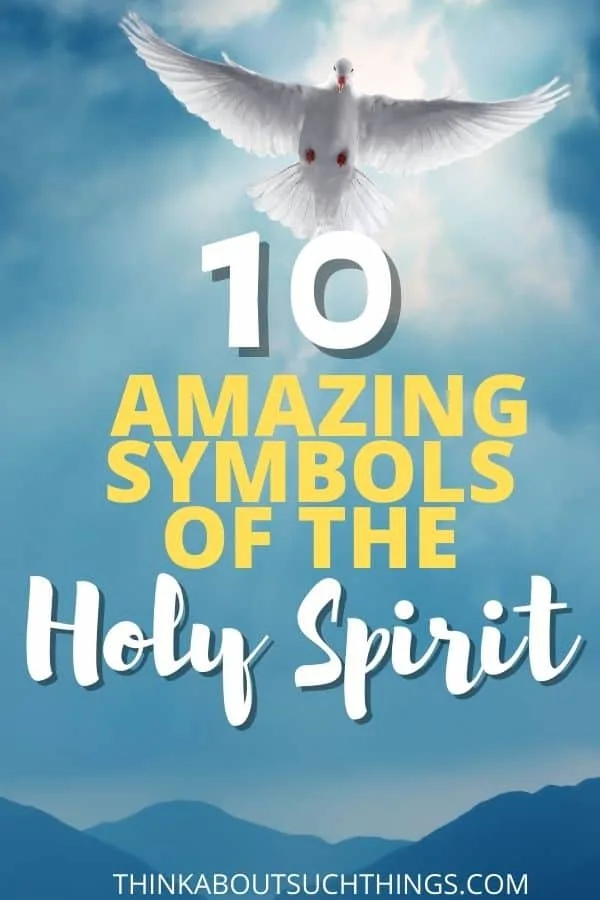 Want to learn more on the Holy Spirit? Check out these posts:
I would encourage you to read through the whole post, but if you would like the hop around feel free to use the table of contents below.
Symbols of the Holy Spirit
Before we dig int these Holy Spirit symbols. I want to make it clear that these are symbols. The most well known Biblical symbol is that of a dove. Yet we know when we see a dove it doesn't mean it's the Holy Spirit. It's something that represents or suggests certain attributes or resemblance.
I like what merriaam-webster dictionary says…
"A visible sign of something invisible, example: The lion is a symbol of courage." (Source)
These symbols are also used as emblems of the Holy Spirit.
The Holy Spirit as a Dove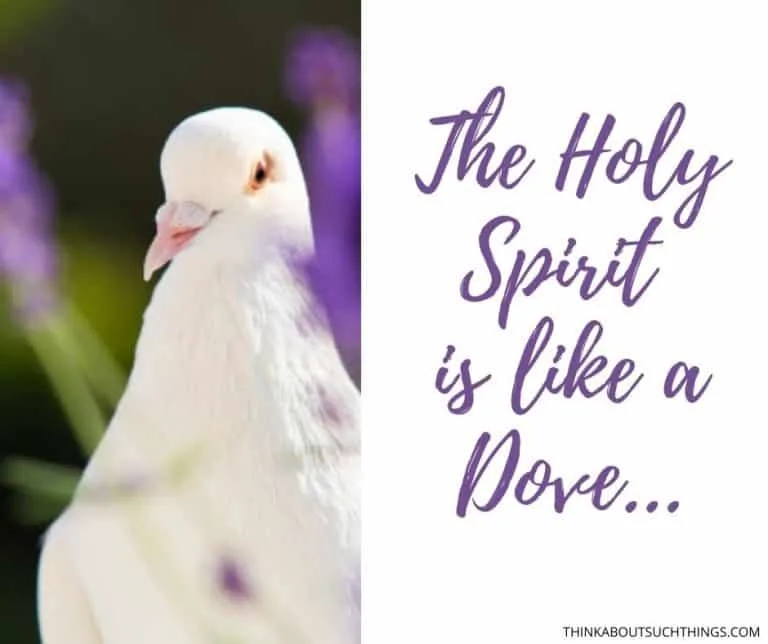 At that time Jesus came from Nazareth in Galilee and was baptized by John in the Jordan. 10 Just as Jesus was coming up out of the water, he saw heaven being torn open and the Spirit descending on him like a dove. 11 And a voice came from heaven: "You are my Son, whom I love; with you I am well pleased." – Mark 1:9-11
Majority of people are aware of some symbolic meaning between the dove and the Holy Spirit. We see this symbol being used throughout scripture from when Noah sent a dove out and it returned with an olive branch to the Holy Spirit descending as dove upon Jesus.
For more on this symbolism please check out my post: What Does A Dove Symbolism? 9 Meanings We See In the Bible
The Holy Spirit as a Fire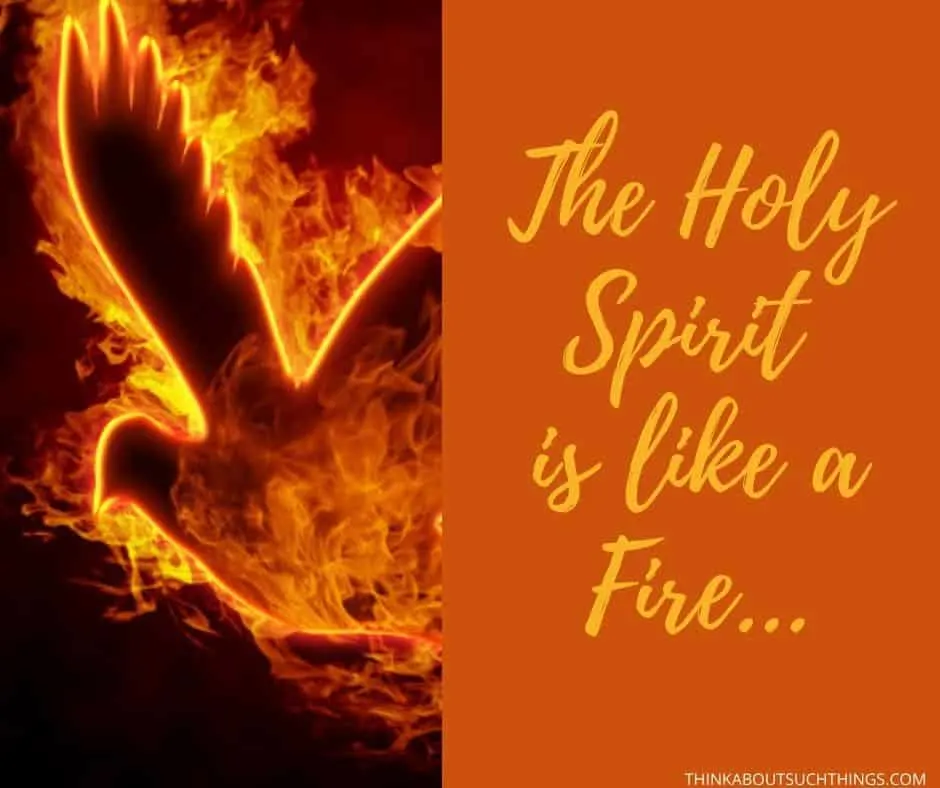 "I baptize you with water for repentance. But after me comes one who is more powerful than I, whose sandals I am not worthy to carry. He will baptize you with the Holy Spirit and fire. – Matthew 3:11
We see the imagery of fire a lot in the Bible. And in Hebrews 12:29 states that God is an all consuming fire. The Holy Spirit is known as a refiner and purifier. Even one of His names is Spirit of Burning. Even when the gift of tongues fell on Pentecost they were described as "tongues of fire"
The Holy Spirit as a Wind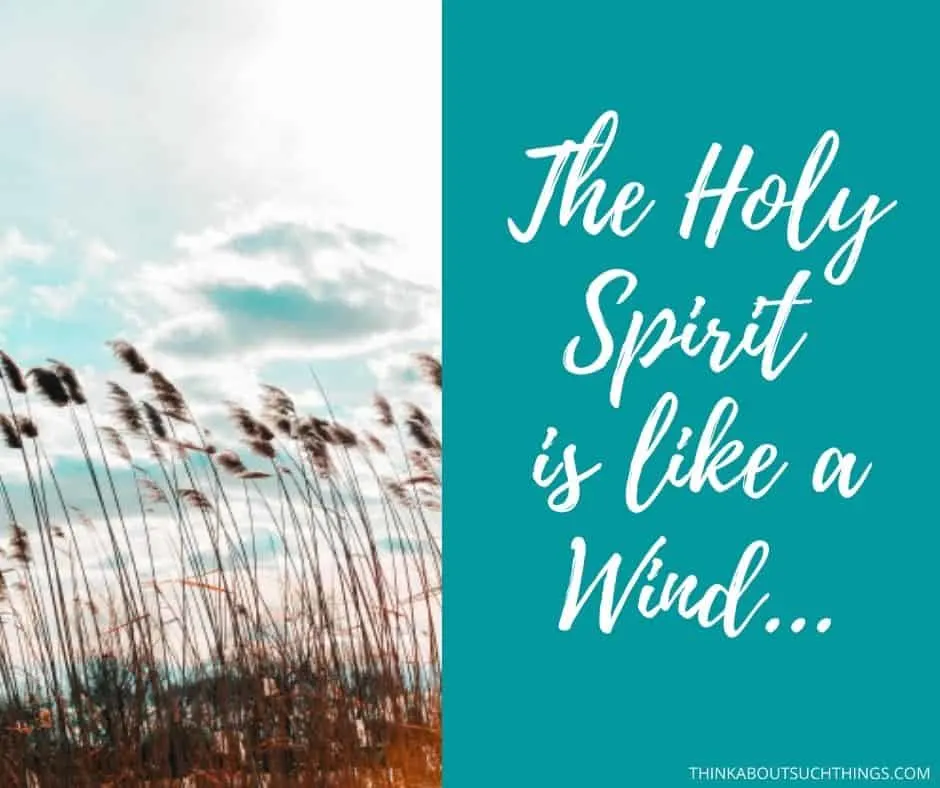 The wind blows wherever it pleases. You hear its sound, but you cannot tell where it comes from or where it is going. So it is with everyone born of the Spirit." – John 3:8
The Holy Spirit is known as the ruach of God. It's a Hebrew word that means wind, or breath. You see this to mean that the Spirit of God is invisible, just like wind, but can be felt and encountered.
The Holy Spirit as an Oil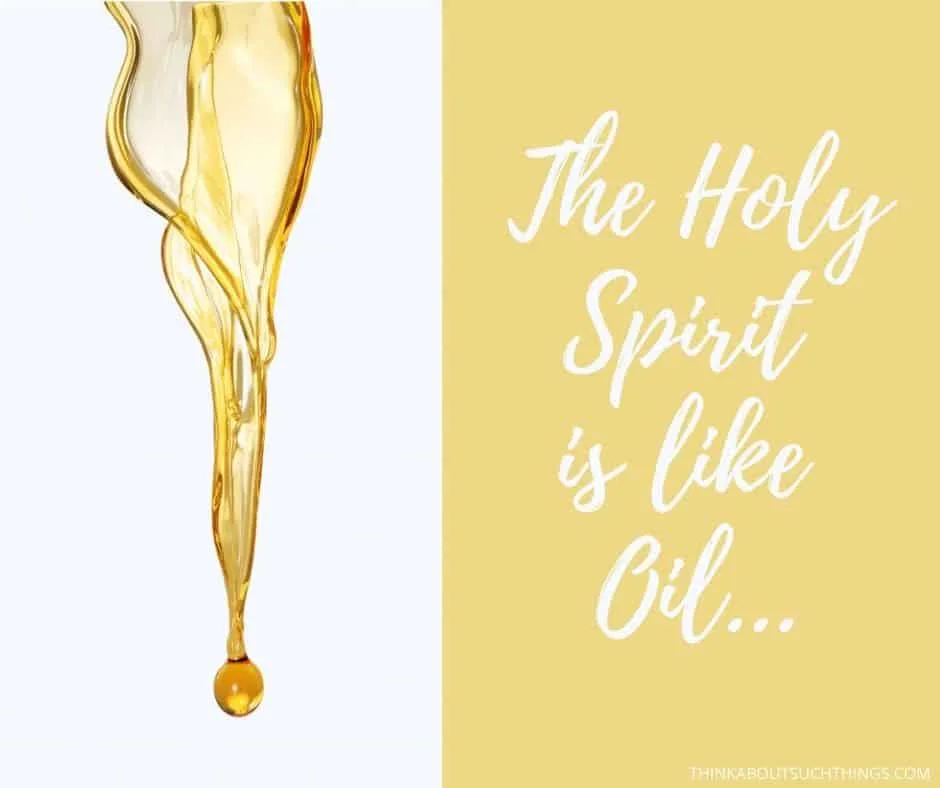 The Spirit of the Sovereign Lord is on me, because the Lord has anointed me to proclaim good news to the poor. He has sent me to bind up the brokenhearted, to proclaim freedom for the captives and release from darkness for the prisoners, – Isaiah 61:1
Anointing oil is in direct correlation with the work of the Holy Spirit in your life.There are many instances when an individual in scripture was anointed with oil and then the Spirit of God would then rest upon them.
The Holy Spirit as Water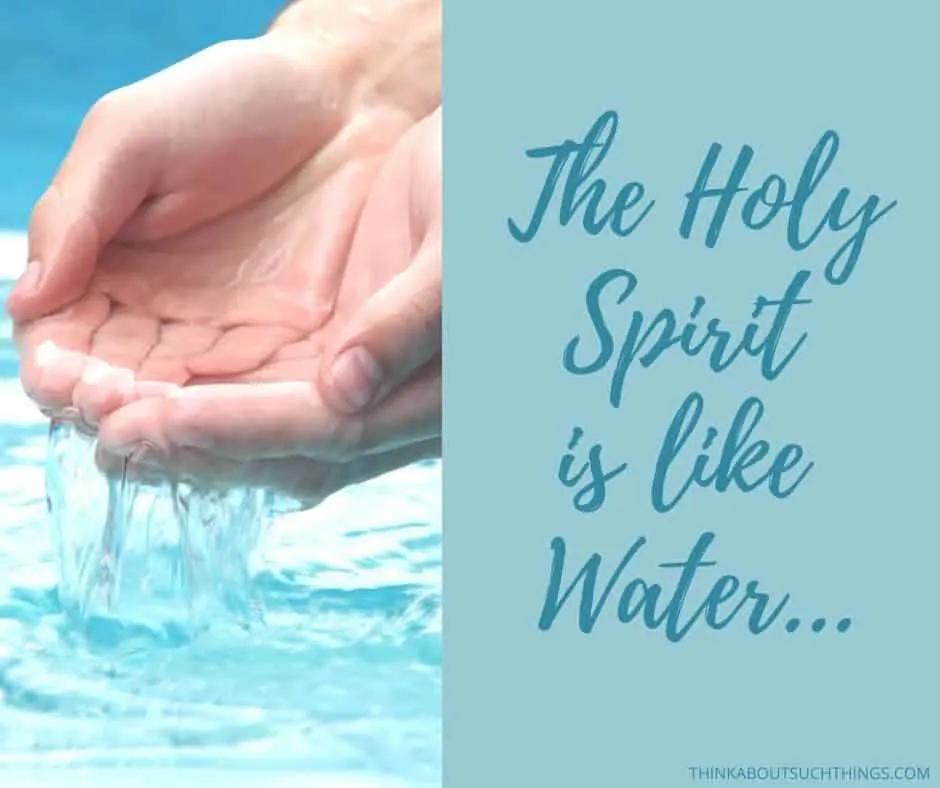 but whoever drinks the water I give them will never thirst. Indeed, the water I give them will become in them a spring of water welling up to eternal life. – John 4:14
Water in the Bible is known to symbolize refreshing, cleanings, and salvation. (John 3:5, Isaiah 12:3) These are all things the Spirit does for us as well.
We also see a beautiful connection between water and God in Psalms 42:1 – As the deer pants.
The Holy Spirit as a Seal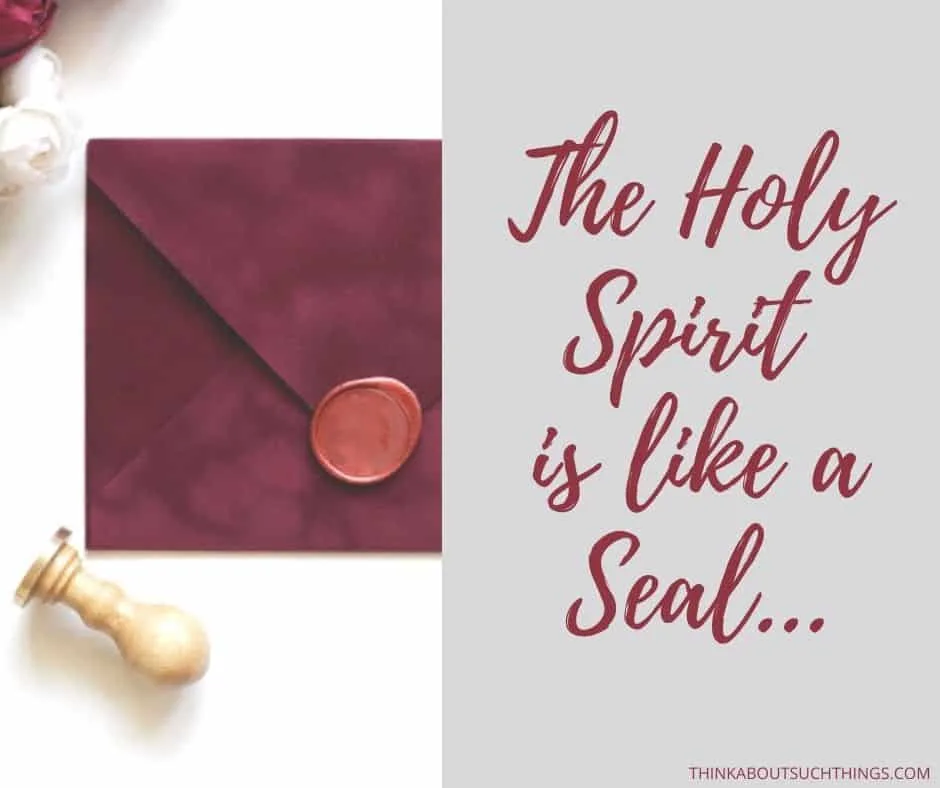 And you also were included in Christ when you heard the message of truth, the gospel of your salvation. When you believed, you were marked in him with a seal, the promised Holy Spirit,who is a deposit guaranteeing our inheritance until the redemption of those who are God's possession—to the praise of his glory. – Ephesians 1:13–14
This symbol can be hard to understand since we no longer use seals. A seal in Biblical times was used to indicate ownership, authority, or security. These wax seals would have a unique personalized imprint/design. The Holy Spirit is like a seal as He has marked us so we are owned by God, and that our authority and security come from Him.
The Holy Spirit as a River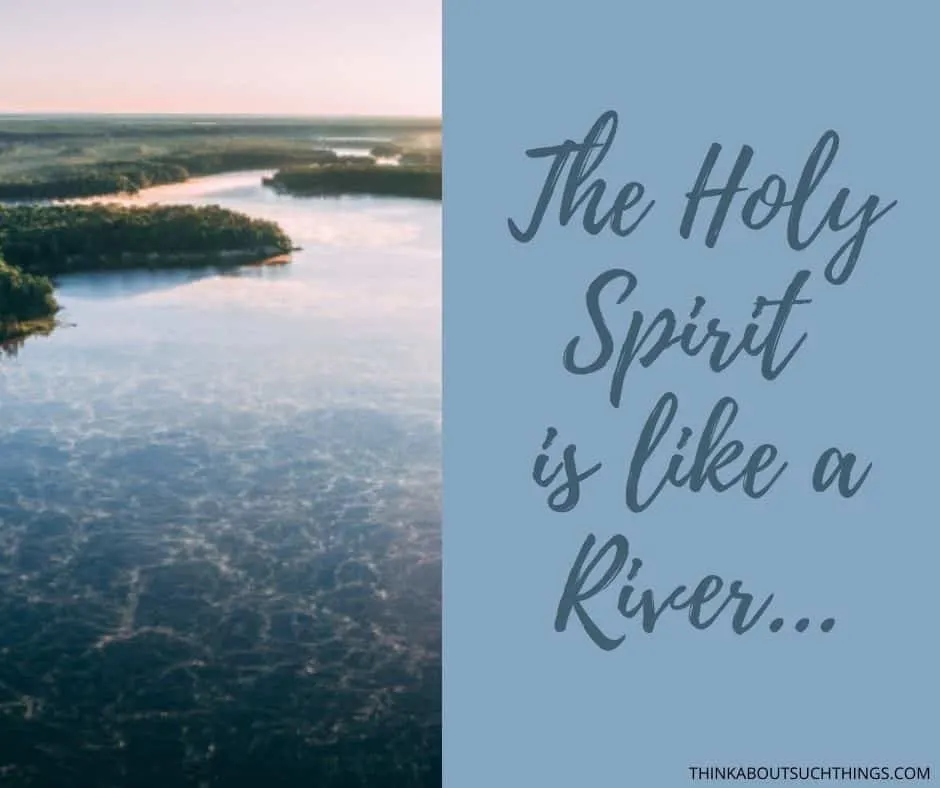 On the last and greatest day of the festival, Jesus stood and said in a loud voice, "Let anyone who is thirsty come to me and drink.Whoever believes in me, as Scripture has said, rivers of living water will flow from within them."By this he meant the Spirit, whom those who believed in him were later to receive. Up to that time the Spirit had not been given, since Jesus had not yet been glorified. – John 7:37-39
Rivers, like water symbolize refreshing. But Rivers are unique in that they are constantly flowing (and can overflow!), full of fresh water (full of life), and flourish/prosper their natural surroundings. This is exactly what the Holy Spirit does in our life!
The Holy Spirit as the Rain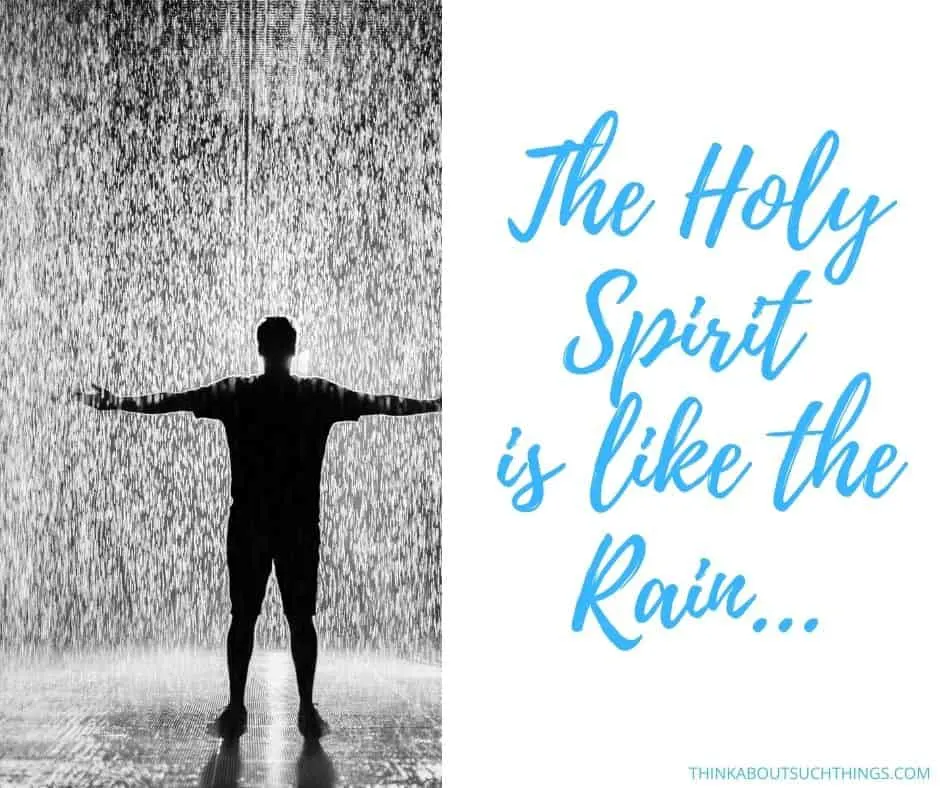 "And afterward, I will pour out my Spirit on all people. Your sons and daughters will prophesy, your old men will dream dreams, your young men will see visions. Even on my servants, both men and women, I will pour out my Spirit in those days. – Joel 2:28-29
Looking at water and rivers, you will know rain is very similar. Rain like the Holy Spirit brings refreshing especially to dry and barren places. This is why we connect it with revival and outpourings. Rain also means cleanings, and growth.
The Holy Spirit as Wine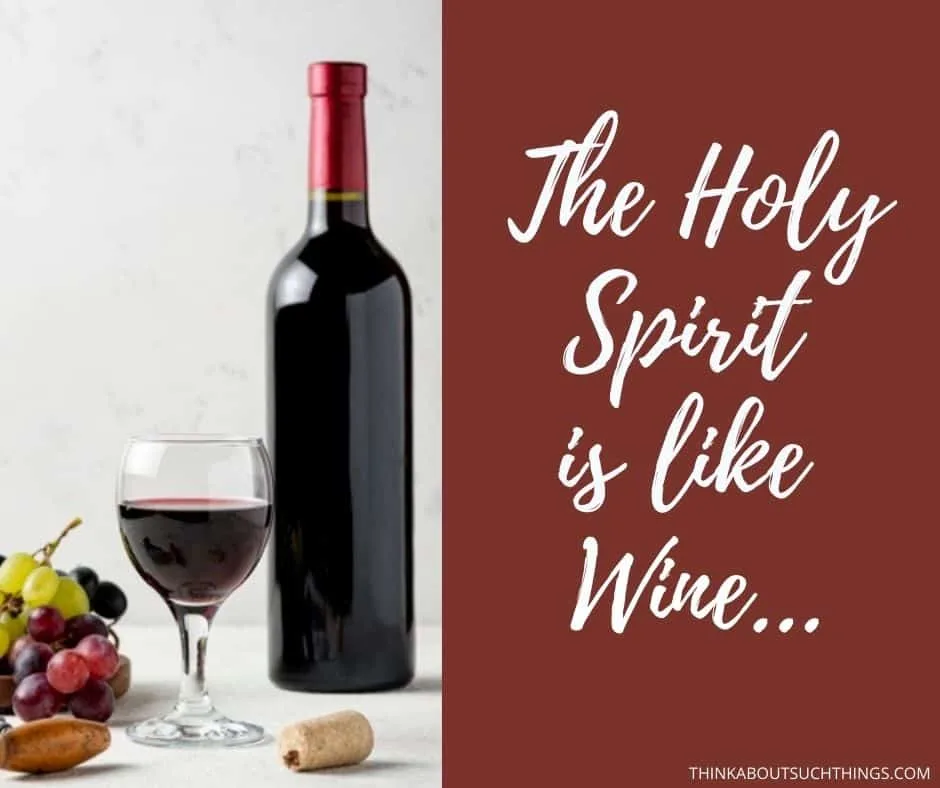 Do not get drunk on wine, which leads to debauchery. Instead, be filled with the Spirit, – Ephesians 5:18
The symbolism of the Holy Spirit as wine may sound odd and it doesn't actually have anything to do with alcohol. Wine symbolize the new covenant Jesus have us when He died on the cross. And the Spirit's infilling causes us to act outside of our natural means into the supernatural. We see this in Acts 2:15-17 (Holy Spirit fell during Pentecost and the early church was operating in the gift of tongues) when Peter stands up and declares these people are not drunk as you suppose.
The Holy Spirit as Clothing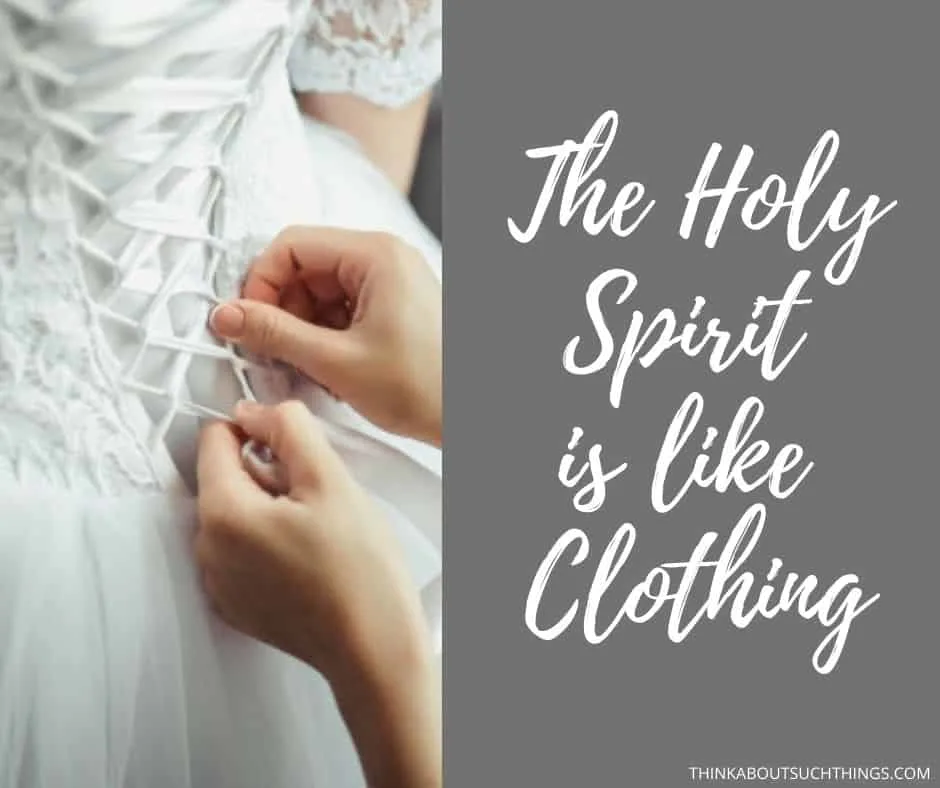 I am going to send you what my Father has promised; but stay in the city until you have been clothed with power from on high." – Luke 24:49
This symbol is similar that to the Holy Spirit being a seal. The Spirit will cover us, and clothed us. Make us His dwelling.
More on The Holy Spirit
---
I hope you have enjoyed this look at the symbols of the Holy Spirit and their meanings! It's amazing what He represents and what these powerful emblems mean to us as believers. My hope and prayer is that it draws you closer to Him!
Feel free to drop me a comment below! I would love to hear from you and what the Lord is doing in your life.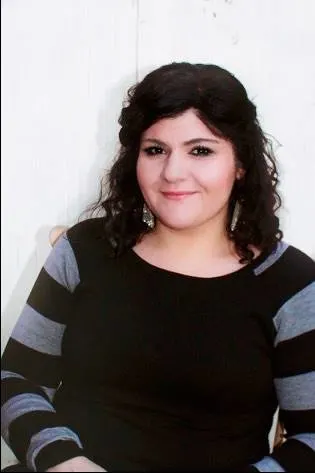 Melissa is a passionate minister, speaker and an ongoing learner of the Bible. She has been involved in church and vocational ministry for over 18 years. And is the founder of Think About Such Things. She has the heart to equip the saints by helping them get into the Word of God and fall more in love with Jesus. She also enjoys family, cooking, and reading.
She has spoken in churches in California, Oregon, Texas, and Mexico and has been featured in Guidepost Magazine and All Recipes Magazine. Read More…