In this article we will learn about and how to do a Topical Bible Study. This easy guide will take you through the steps needed to do a topical study of your choice. Great for private study or small group. So, grab your Bible and a notebook and let's get started…
There are numerous ways and methods we can study the Bible. And hands down one of my favorite ways is by doing a topical Bible study.

This type of study method can really be beneficial because you get to see the whole picture on any given topic. But many people choose not to study topically because they feel like it will be too hard or they are under equipped.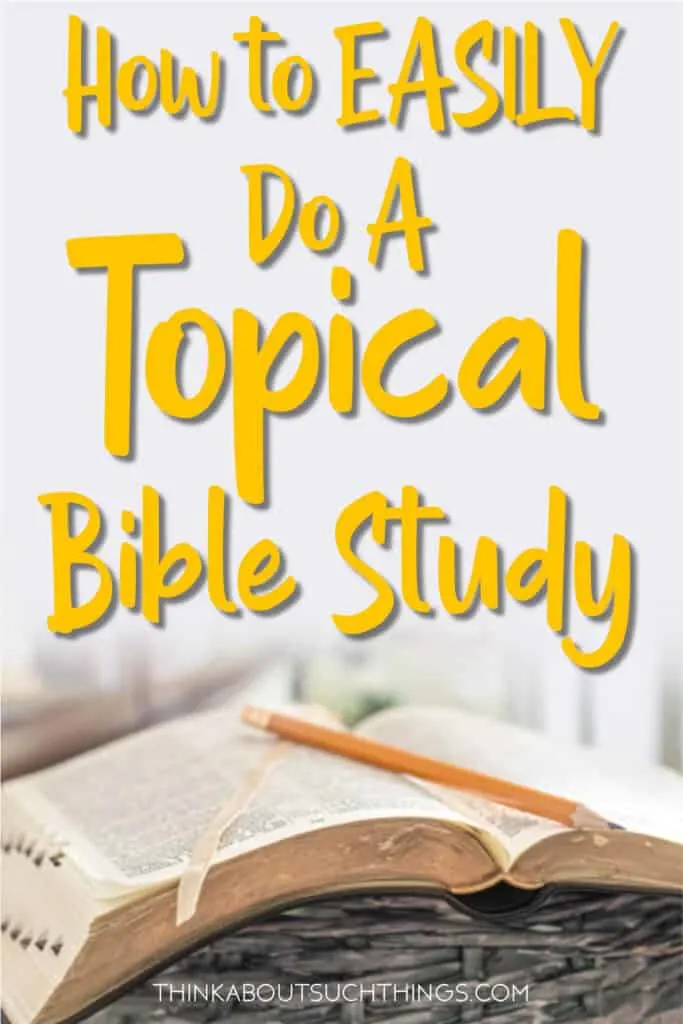 I am going to share with you today that anyone can do a topical study no matter what stage you are at in learning God's Word! But before we begin let's answer what is a topical Bible study?
What is a Topical Bible Study?
A topical study is when we take any given topic or subject within scripture and begin to delve into its meaning, function, and application to our lives.
We can use a very broad topic in the Bible like joy, or a narrow or specific topic like frogs. Another example is doing a topical study on trees. This is a very broad topic within scripture and a great way to see an overall theme and understanding of trees. But you can also take the topic of trees and narrow it even more and focus on just palm trees or oaks.
One of the amazing things about doing a topical study is that it begins to reveal deep symbolic meaning on different subjects. This is when we can learn and discover about types, shadows, and patterns within scripture.
Here is a little section of frequently asked questions on topical Bible studies.
FAQ About Topical Bible Studies
How to do a Topical Bible Study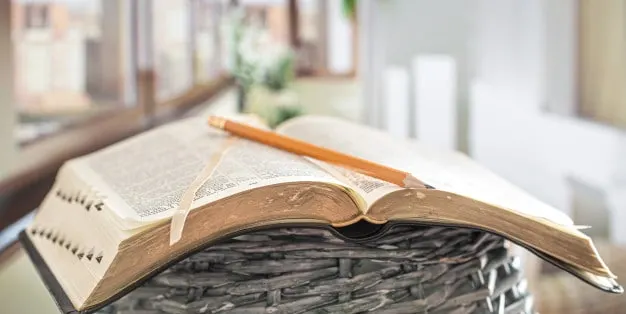 Are you ready for the fun stuff!? That's right we are going to go over 7 steps that will help you complete the study. But before we go through each step I want to clarify that this is specifically how I go about doing a topical Bible study.
I find being a little creative by using mind mapping helps me to gather information and learn. And I hope this also helps you! I will have images below to show as examples.
Step 1 – Choose Your Topic And Pray
The Bible has 1000's of different topics we can pick and choose from. I highly recommend praying and asking God to highlight a topic for you to study.
Once you got your topic and I encourage you to spend some time with Jesus. Ask Him to help you through this study and to bring your understanding and revelation.
If you are in need some ideas on topics. You can check out my free Bible topic ideas below!
Step 2 – Grab Your Bible Study Tools
Once you have selected your topic it's time to grab your tools. I usually use a mix of online tools and book resources. I have two posts on this topic if you are interested in reading more on the topic.
Free Online Bible Tools
Important Bible Tools To Use
I do recommend using Bible dictionaries, and concordance for topical studies. If you want to dive in deeper you can use commentaries or read articles on the topic.
Another tool you will need is a place to write down you notes. You can either to this with paper and pen or you can do it digitally. This is 100% up to you.
Everyone has a different style and what works for them. If you are not sure try both out and see what you like.
Step 3 – Find References Throughout Scripture
You can find relevant verses and references a few ways:
Use your Bible and look for cross references
Use a Bible Dictionary
Use an online Bible search engine
Find topical Bible verses in online articles
All these methods are great, and will work. Method 3 and 4 are much faster and easier. I do find that method 4 of finding topical Bible verses in articles works better than just a regular Bible search or posts from big Bible websites. These articles are usually better quality in that they stay true to the topic.
This is why I have a whole section on my site on topical Bible verses. I wanted a collection of articles that would help Christians study different topics.
Now, that you have your references…jot them down or print them out. Read through each verse.
IMPORTANT NOTE
I have two things to note in this section. The first one is alway take a special note on the very first verse or passage that mentions your topic. This is called the law of first mention. I like what David Jeremiah has to say about it…
Those who study the Bible in a serious way sometimes refer to the Law of First Mention. It's not so much a law, really, as a common principle in the Scriptures. If you select an important biblical word—say, worship—you'll find that its first biblical appearance sets the tone for all the richness of meaning that will emerge. Through the Word we go on to find many new understandings and many variations on the theme, but the first cut is the deepest; the First Mention gives us the essential picture. (My Heart's Desire)
The second important thing I want to touch on is large topics. Depending on the topic you pick their might have 100's of verses. If that the case you can go about this a couple of ways. You can just select 10-20 verses and do a smaller topical study. Or you make this topical study one that is done a few sittings.
Another option is you could a themed study. This different than a topic study as you would focus on a key theme within a section of verses or book. This might sound confusing so here is an example:
Bible Topic: Spiritual Warfare
Theme Study: Spiritual Warfare from a Warrior's Perspective in Ephesians
Spiritual warfare is throughout the Old and New testament and would be a huge topical study. In the book of Ephesians has a big spiritual warfare theme. Instead of doing a topical study you could do a themed study. This doesn't work with all topics, but a lot do.
Step 4 – Start To Mind Map Out The Topic
When doing a topical study you can take notes as you read your reference verses, but I am huge fan of doing a mind map. If you are not familiar with what a mind map here is some info:
A Mind Map is a diagram for representing tasks, words, concepts, or items linked to and arranged around a central concept or subject using a non-linear graphical layout that allows the user to build an intuitive framework around a central concept. A Mind Map can turn a long list of monotonous information into a colorful, memorable and highly organized diagram that works in line with your brain's natural way of doing things. (source)
What you want to do is grab your notebook and in the very center you want to place your topic. From there you build out what you learn. This must each easier to understand by seeing examples. I have created a little graphic to show you but I also want to share some real life examples.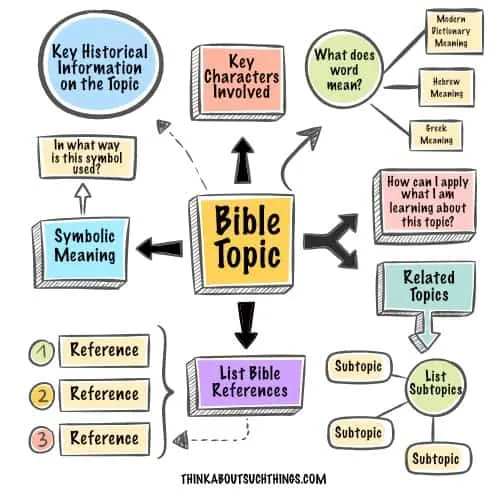 Examples of Topical Bible Studies
So, below I will provide three different topical studies I have done with mind mapping. Just to give you an idea. Every topic is different and so each mind map will be unique. This is what makes it so fun and creative.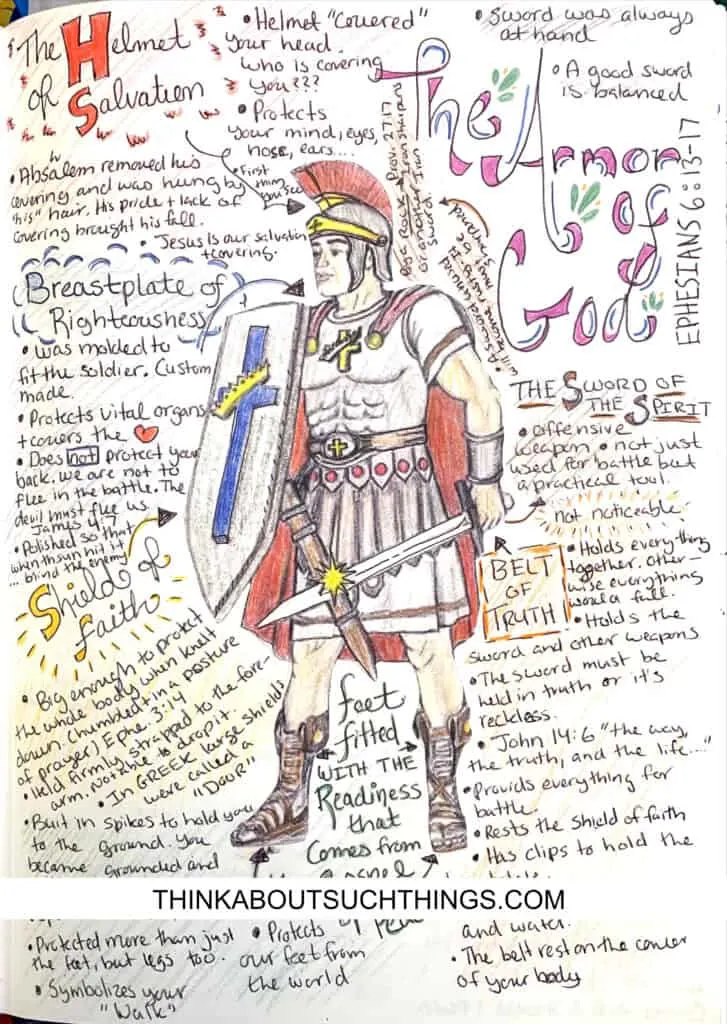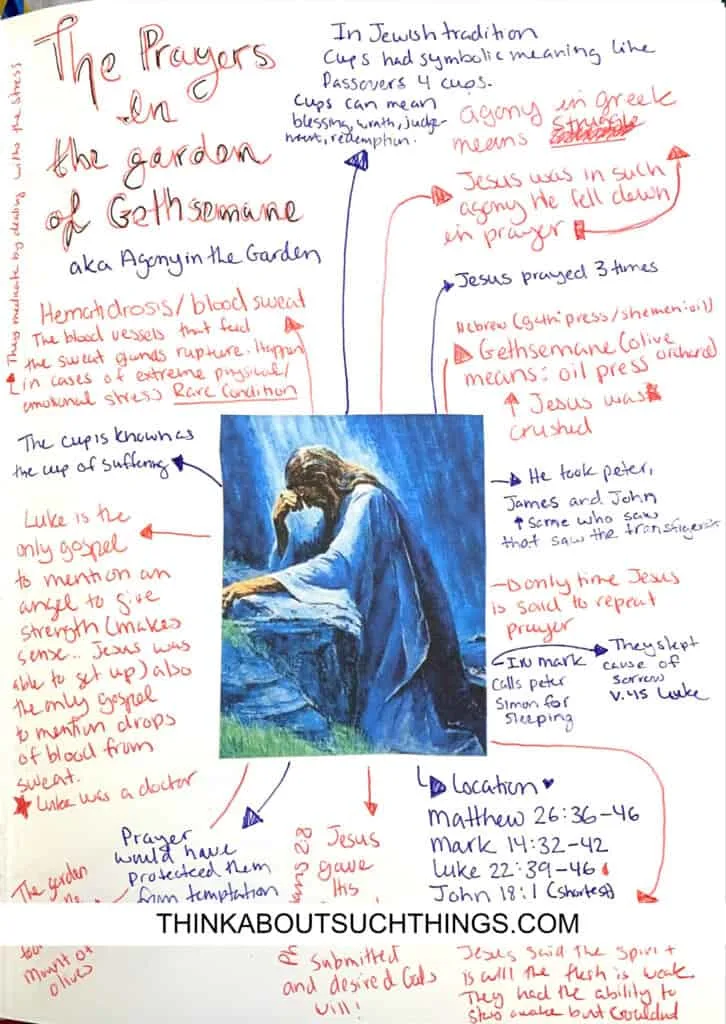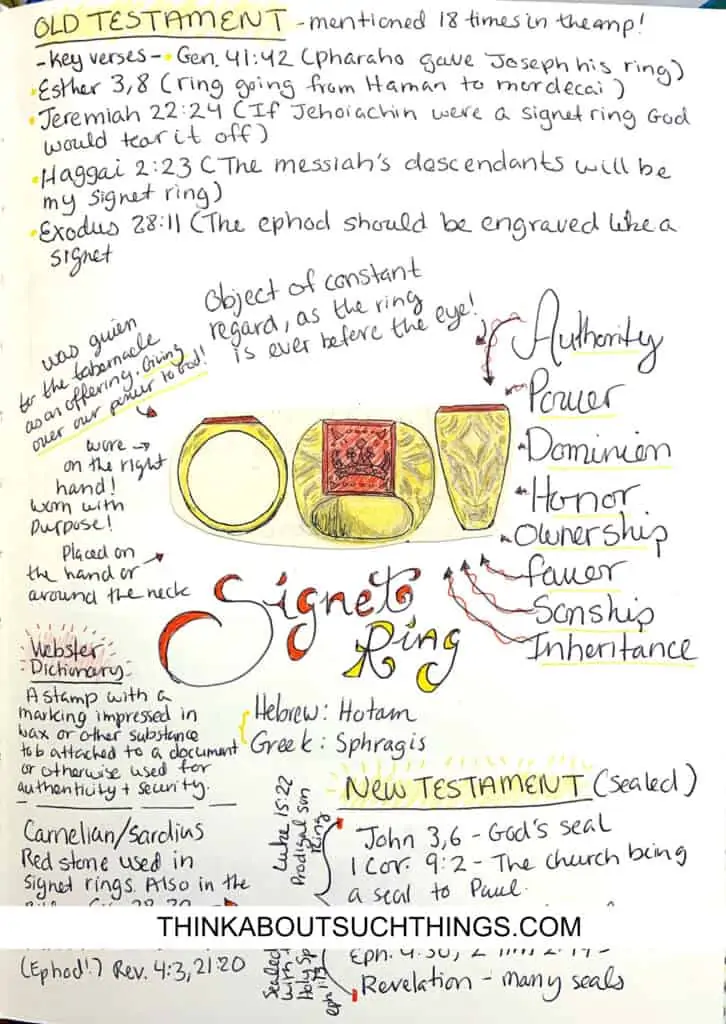 I like to add a little creativity and color to my mind maps. You can do this as well or you can keep it super simple and clean. Do what you feel comfortable with.
If you don't like the idea of doing a mind map you can try out different forms of taking notes. I have a specific template in my Bible Study Planner for Topical Bible Studies. Here is a snapshot of the first page of this template.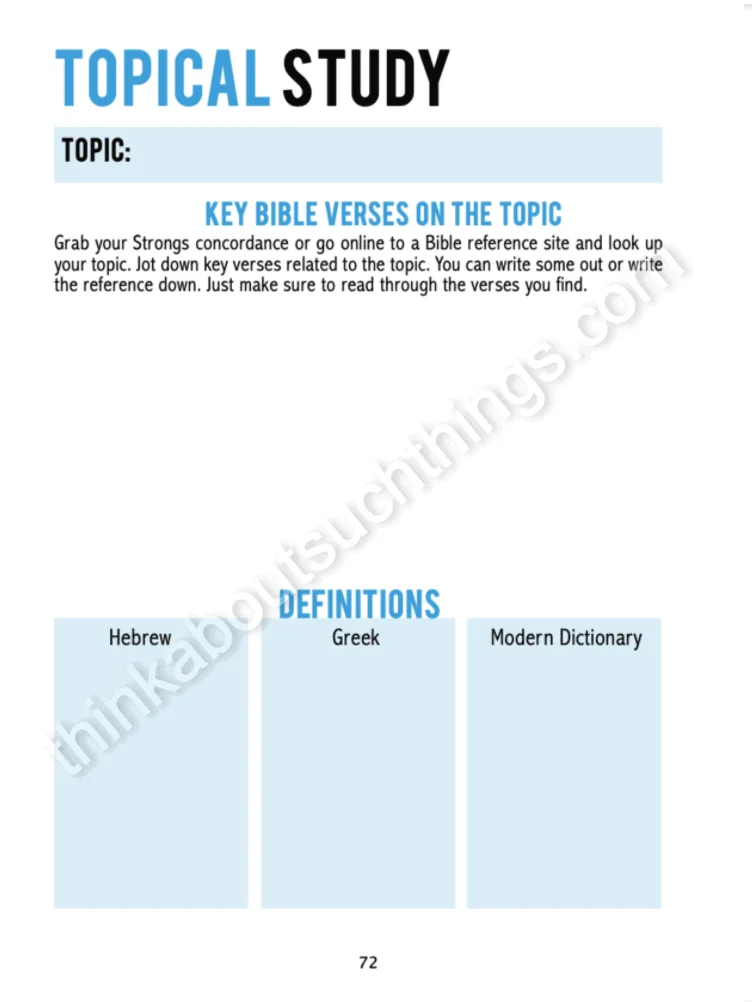 Some great ones would be the Cornell study notes, or charting. These note taking methods also work for You can learn about these methods and more here.
Step 5 – Ask Key Questions
While working through the verses and mind map, this is a good time to start asking questions. A simple way you can do this is my using 5 W's and H, who, what, when, where, why and how. Not all these will work on certain topics, but it will help you to think out of the box.
Here is an example of questions you can ask about a topic.
Bible Topic: Spiritual Fruit
Who spoke about spiritual fruit in the Bible?
What is spiritual fruit?
Who can grow spiritual fruit?
When can someone experience spiritual fruit?
How can discern spiritual fruit?
How does spiritual fruit manifest in someone's life?
Where can I read about spiritual fruit?
Why is fruit used as an indicator of spiritual life?
How do I grow spiritual fruit?
As these answers come to you write them down in your mind map or notes.
Step 6 – Use Your Tools To Dig Deeper
If you haven't cracked open you dictionaries or concordance yet…then do so. Start looking up the Hebrew and Greek words for your topic. You can easily to do this on Bible Blue Light by clicking on the Strong's concordance option.
Check a couple Bible dictionaries and see what they say on the topic as well.
If there are verses that confuse you or want to go deeper you can then proceed to read a couple commentaries.
*When using Strong's Concordance you will need to use the King James version.
Step 7 – Fill Out Your Mind Map And Summarize Findings
As you go through step 4-6 keep fill out out your mind map. Jot down everything that jumps out to you or that you feel is important.
Once you feel like your study is done try to summarize what you have learned. Find keys thing that you can apply to your personal life.
And that's it! You have completed a topical Bible study!
Topical Bible Study Ideas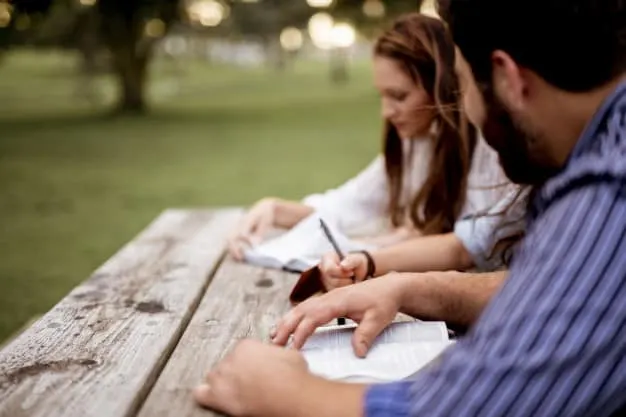 Now, that you know how to do a topical Bible study you may still be stuck on which topic to pick. The Bible is filled with different topics which makes it exciting and fun! But at the same time it can be daunting.
My first recommendation is always go with something that the Lord is highlighting in your life already. Has He spoken something to you recently? For example I was in pray the other day about areas I feel defeated in and I heard the Lord clearly say to me, that His arm is not too short that He can and will make a way for.
I am familiar with some of the passages in scripture that speak about the arm of the Lord, but it has put a hunger and curiosity to study this topic. This is one way I pick topics, the other are things that interest me or I feel is important for my spiritual growth.
Free Bible Study Topics Download (PDF)
My second recommendation for getting topical Bible study ideas is to look through a list! I have created a list of 100 Bible topics. You can download that list below by signing up for my newsletter. I encourage you to print it out and pray over what topics you should start studying.
Topical Bible Verses
I mentioned earlier I have a collection of topical Bible verses. You can check all of them out here: TOPICAL BIBLE VERSE COLLECTION. But I thought it would be nice to share the top ten most popular posts below. I hope you find them helpful in your study of God's Word.
---
Researching and studying by topic can be an extremely fruitful way to learn God's Word and dig deeper. And I hope my post has helped you learn how you can easily do one privately or even take these steps and do one in a small group setting.
If you would like to leave me a comment you can do that below! I would love to hear from you and what you studying in the Bible.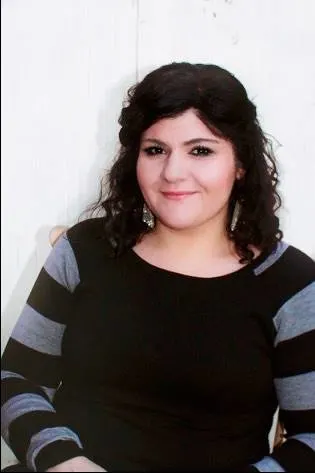 Melissa is a passionate minister, speaker and an ongoing learner of the Bible. She has been involved in church and vocational ministry for over 18 years. And is the founder of Think About Such Things. She has the heart to equip the saints by helping them get into the Word of God and fall more in love with Jesus. She also enjoys family, cooking, and reading.
She has spoken in churches in California, Oregon, Texas, and Mexico and has been featured in Guidepost Magazine and All Recipes Magazine. Read More…