In this article we will look at a collection of Bible verses and Psalms about protection. No matter the attack, danger, or hardship God will protect you. So, let's put on the full armor of God and check out these verses…
When I think of my favorite Bible verses on protection…hands down
You are my hiding place; You shall preserve me from trouble; You shall surround me with songs of deliverance. Selah – Psalm 32:7
I can't tell you the countless times I have prayed and sang that psalm in times of spiritual attack, mental attack, or when facing a difficult hardship. I would literally put the song from Selah on autoplay and just cry.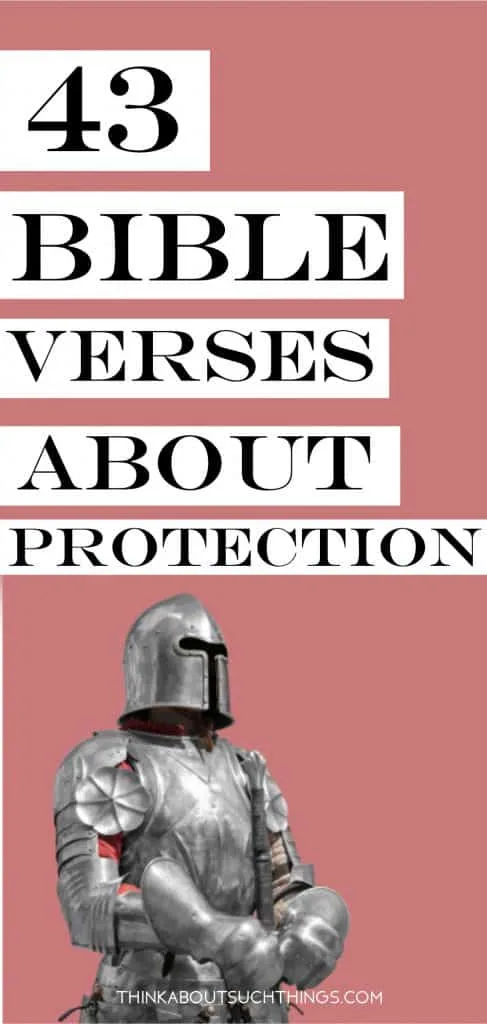 And every time God was faithful to meet me where I was at. He brought me comfort and strength during that time. Here is the song if you would like to take a listen to it.
Since there are so many verses in the Bible on protection I thought it might be good to break them up into two sections. The first part is bible verses and the second is psalms on the topic.
You can use the table of content below to skip to either section or you can just scroll through and see all of them.
I hope and pray that these scriptures on protection bless you and encourage you. For more Bible verses on topics like perseverance and/or courage please check out my Topical Bible Verses Page.
Bible Verses on Protection
All verses below are from the NKJV. You can hover over the reference and you can check out the Amplified translation of the Bible verse. If you would like to check out other translations then head over to Bible Gateway.
---
Isaiah 43:2 NKJV – 2 When you pass through the waters, I [will be] with you; And through the rivers, they shall not overflow you. When you walk through the fire, you shall not be burned, Nor shall the flame scorch you.
1 Corinthians 10:13 NKJV – 13 No temptation has overtaken you except such as is common to man; but God [is] faithful, who will not allow you to be tempted beyond what you are able, but with the temptation will also make the way of escape, that you may be able to bear [it].
2 Thessalonians 3:3-5 NKJV – 3 But the Lord is faithful, who will establish you and guard [you] from the evil one. 4 And we have confidence in the Lord concerning you, both that you do and will do the things we command you. 5 Now may the Lord direct your hearts into the love of God and into the patience of Christ.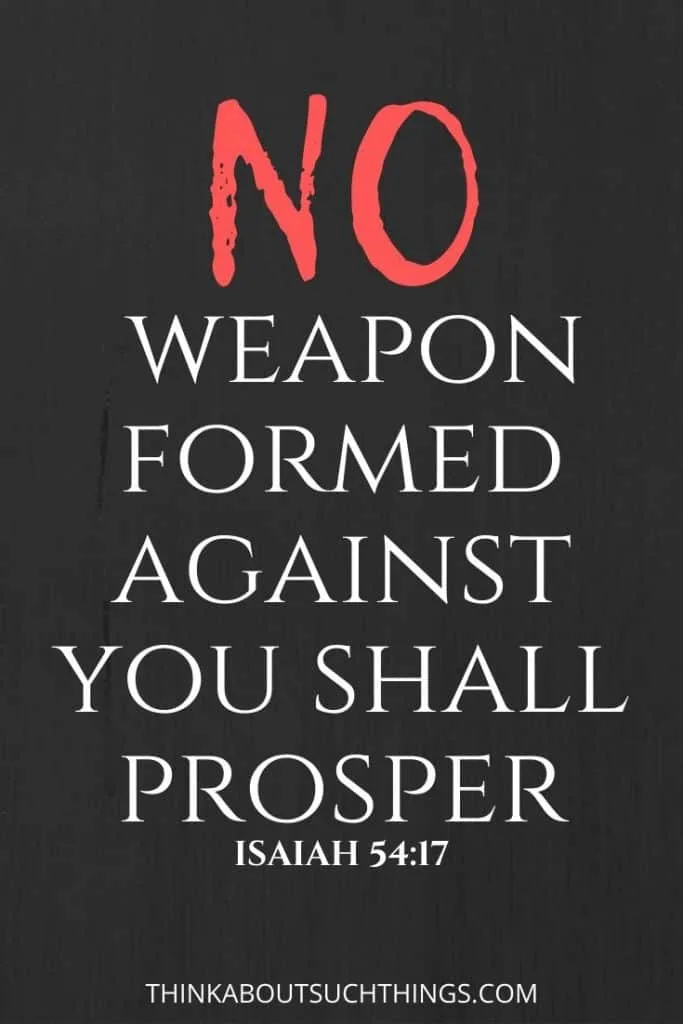 Deuteronomy 31:6 NKJV – 6 "Be strong and of good courage, do not fear nor be afraid of them; for the LORD your God, He [is] the One who goes with you. He will not leave you nor forsake you."
Proverbs 2:11 NKJV – 11 Discretion will preserve you; Understanding will keep you,
Isaiah 54:17 NKJV – 17 No weapon formed against you shall prosper, And every tongue [which] rises against you in judgment You shall condemn. This [is] the heritage of the servants of the LORD, And their righteousness [is] from Me," Says the LORD.
Exodus 14:13-14 NKJV – 13 And Moses said to the people, "Do not be afraid. Stand still, and see the salvation of the LORD, which He will accomplish for you today. For the Egyptians whom you see today, you shall see again no more forever. 14 "The LORD will fight for you, and you shall hold your peace."
Proverbs 4:6 NKJV – 6 Do not forsake her, and she will preserve you; Love her, and she will keep you. (speaking of wisdom as she)
1 Thessalonians 5:23-24 NKJV – 23 Now may the God of peace Himself sanctify you completely; and may your whole spirit, soul, and body be preserved blameless at the coming of our Lord Jesus Christ. 24 He who calls you [is] faithful, who also will do [it].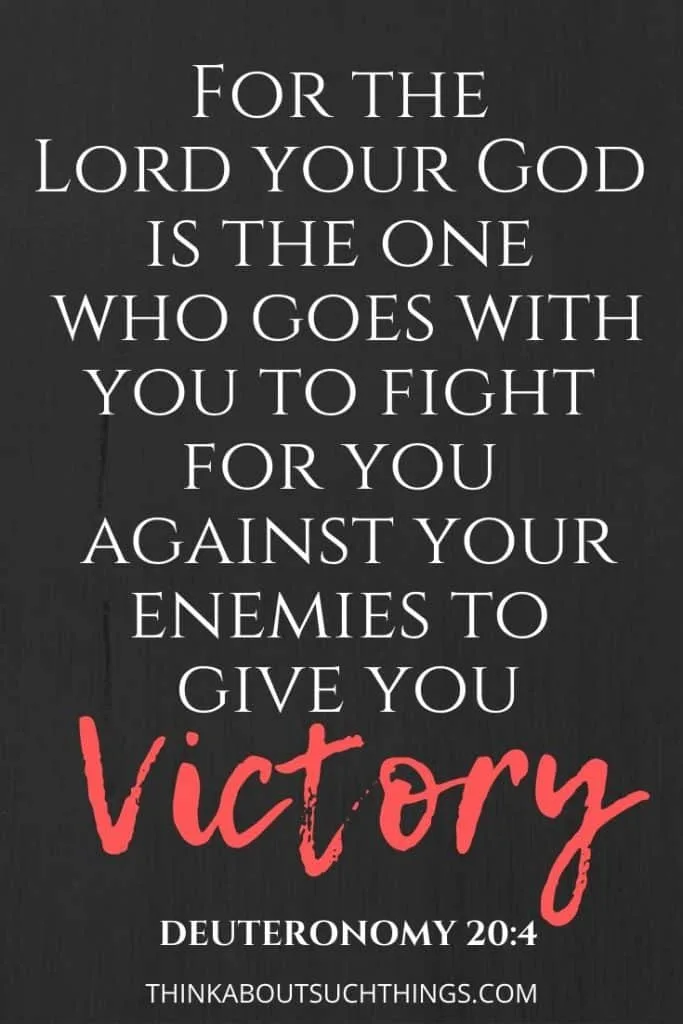 Isaiah 46:4 NKJV – 4 Even to [your] old age, I [am] He, And [even] to gray hairs I will carry [you]! I have made, and I will bear; Even I will carry, and will deliver [you].
Isaiah 41:10-12 NKJV – 10 Fear not, for I [am] with you; Be not dismayed, for I [am] your God. I will strengthen you, Yes, I will help you, I will uphold you with My righteous right hand.' 11 "Behold, all those who were incensed against you Shall be ashamed and disgraced; They shall be as nothing, And those who strive with you shall perish. 12 You shall seek them and not find them–Those who contended with you. Those who war against you Shall be as nothing, As a nonexistent thing.
Deuteronomy 20:4 NKJV – 4 'for the LORD your God [is] He who goes with you, to fight for you against your enemies, to save you.'
Romans 8:31 NKJV – 31 What then shall we say to these things? If God [is] for us, who [can be] against us?
2 Corinthians 4:8-9 NKJV – 8 [We are] hard-pressed on every side, yet not crushed; [we are] perplexed, but not in despair; 9 persecuted, but not forsaken; struck down, but not destroyed–
Hebrews 13:6 NKJV – 6 So we may boldly say: "The LORD [is] my helper; I will not fear. What can man do to me?"
Zephaniah 3:17 NKJV – 17 The LORD your God in your midst, The Mighty One, will save; He will rejoice over you with gladness, He will quiet [you] with His love, He will rejoice over you with singing."
Proverbs 2:7-8 NKJV – 7 He stores up sound wisdom for the upright; [He is] a shield to those who walk uprightly; 8 He guards the paths of justice, And preserves the way of His saints.
Ephesians 6:10-15 NKJV – 10 Finally, my brethren, be strong in the Lord and in the power of His might. 11 Put on the whole armor of God, that you may be able to stand against the wiles of the devil. 12 For we do not wrestle against flesh and blood, but against principalities, against powers, against the rulers of the darkness of this age, against spiritual [hosts] of wickedness in the heavenly [places]. 13 Therefore take up the whole armor of God, that you may be able to withstand in the evil day, and having done all, to stand. 14 Stand therefore, having girded your waist with truth, having put on the breastplate of righteousness, 15 and having shod your feet with the preparation of the gospel of peace;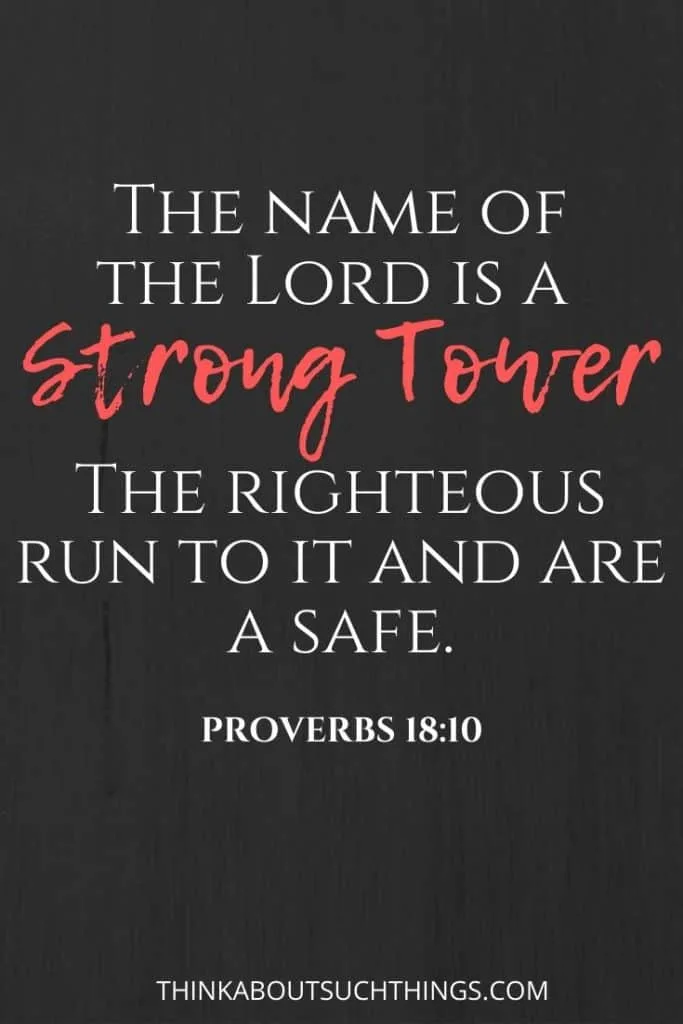 2 Samuel 22:3-4 NKJV – 3 The God of my strength, in whom I will trust; My shield and the horn of my salvation, My stronghold and my refuge; My Savior, You save me from violence. 4 I will call upon the LORD, [who is worthy] to be praised; So shall I be saved from my enemies.
John 10:28-30 NKJV – 28 "And I give them eternal life, and they shall never perish; neither shall anyone snatch them out of My hand. 29 "My Father, who has given [them] to Me, is greater than all; and no one is able to snatch [them] out of My Father's hand. 30 "I and [My] Father are one."
Nahum 1:7 NKJV – 7 The LORD [is] good, A stronghold in the day of trouble; And He knows those who trust in Him.
2 Timothy 4:18 NKJV – 18 And the Lord will deliver me from every evil work and preserve [me] for His heavenly kingdom. To Him [be] glory forever and ever. Amen!
Proverbs 18:10-12 NKJV – 10 The name of the LORD [is] a strong tower; The righteous run to it and are safe. 11 The rich man's wealth [is] his strong city, And like a high wall in his own esteem. 12 Before destruction the heart of a man is haughty, And before honor [is] humility.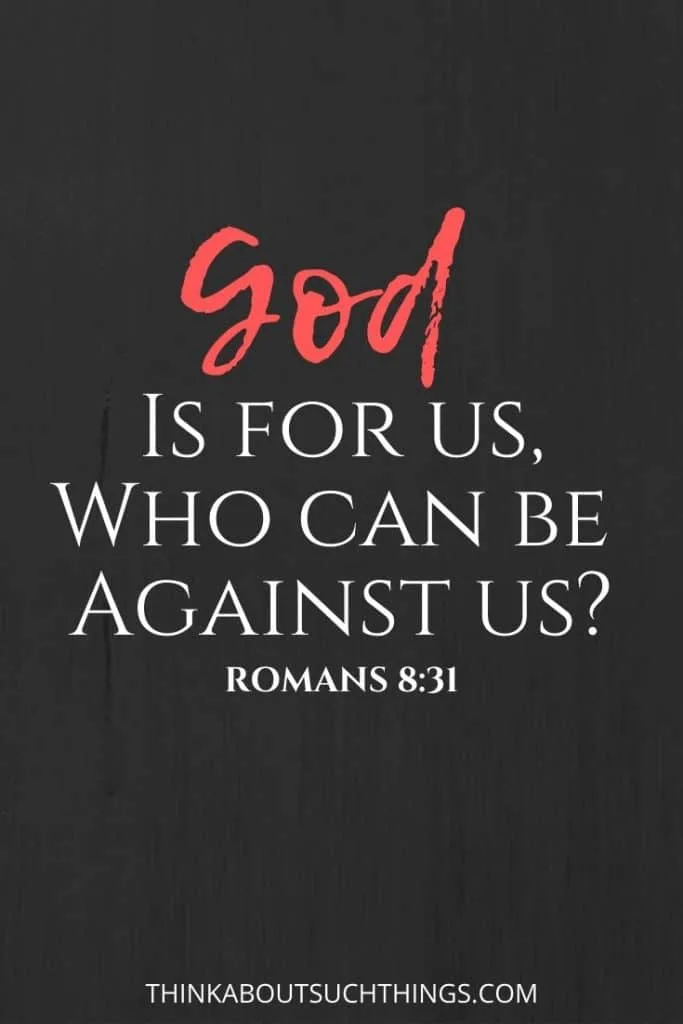 Psalms about Protection
The psalms are full of beautiful verses about God's protection and some are completely dedicated to it. For example, Psalm 91 is one of the hallmark psalms on protection.
---
Psalm 32:7 NKJV – 7 You [are] my hiding place; You shall preserve me from trouble; You shall surround me with songs of deliverance. Selah
Psalm 23:1-6 NKJV – 1 A Psalm of David. The LORD [is] my shepherd; I shall not want. 2 He makes me to lie down in green pastures; He leads me beside the still waters. 3 He restores my soul; He leads me in the paths of righteousness For His name's sake. 4 Yea, though I walk through the valley of the shadow of death, I will fear no evil; For You [are] with me; Your rod and Your staff, they comfort me. 5 You prepare a table before me in the presence of my enemies; You anoint my head with oil; My cup runs over. 6 Surely goodness and mercy shall follow me All the days of my life; And I will dwell in the house of the LORD Forever.
Psalm 17:7-10 NKJV – 7 Show Your marvelous lovingkindness by Your right hand, O You who save those who trust [in You] From those who rise up [against them]. 8 Keep me as the apple of Your eye; Hide me under the shadow of Your wings, 9 From the wicked who oppress me, [From] my deadly enemies who surround me. 10 They have closed up their fat [hearts]; With their mouths they speak proudly.
Psalm 121:1-8 NKJV – 1 A Song of Ascents. I will lift up my eyes to the hills–From whence comes my help? 2 My help [comes] from the LORD, Who made heaven and earth. 3 He will not allow your foot to be moved; He who keeps you will not slumber. 4 Behold, He who keeps Israel Shall neither slumber nor sleep. 5 The LORD [is] your keeper; The LORD [is] your shade at your right hand. 6 The sun shall not strike you by day, Nor the moon by night. 7 The LORD shall preserve you from all evil; He shall preserve your soul. 8 The LORD shall preserve your going out and your coming in From this time forth, and even forevermore.
Psalm 34:19 NKJV – 19 Many [are] the afflictions of the righteous, But the LORD delivers him out of them all.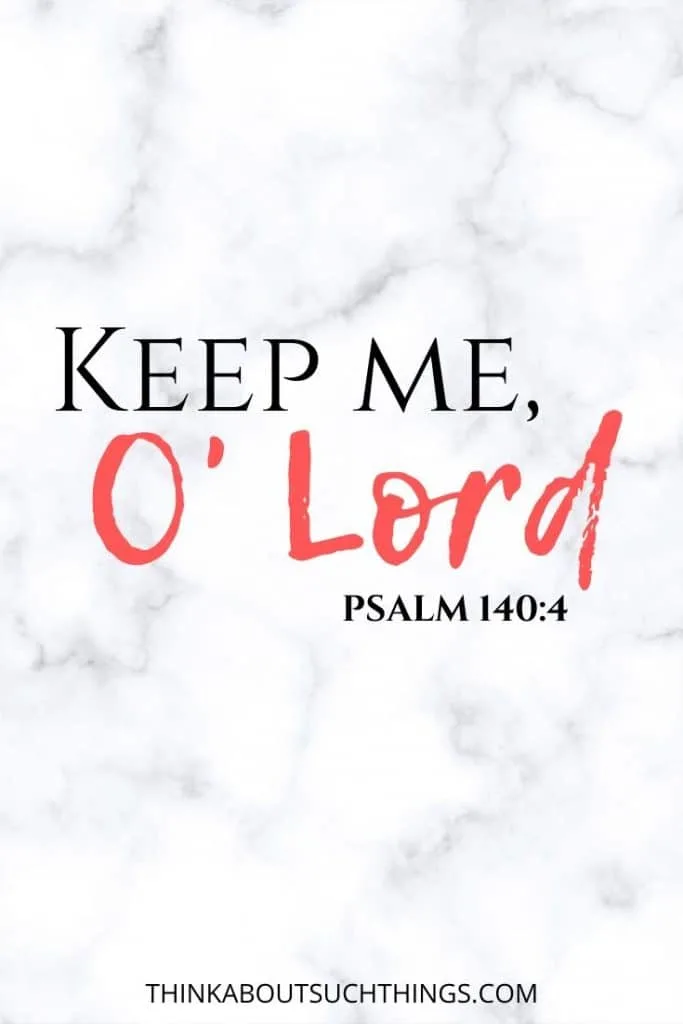 Psalm 46:1 NKJV – 1 To the Chief Musician. [A Psalm] of the sons of Korah. A Song for Alamoth. God [is] our refuge and strength, A very present help in trouble.
Psalm 57:1 NKJV – 1 To the Chief Musician. Set to "Do Not Destroy." A Michtam of David when he fled from Saul into the cave. Be merciful to me, O God, be merciful to me! For my soul trusts in You; And in the shadow of Your wings I will make my refuge, Until [these] calamities have passed by.
Psalm 119:114 NKJV – 114 You [are] my hiding place and my shield; I hope in Your word.
Psalm 34:7-9 NKJV – 7 The angel of the LORD encamps all around those who fear Him, And delivers them. 8 Oh, taste and see that the LORD [is] good; Blessed [is] the man [who] trusts in Him! 9 Oh, fear the LORD, you His saints! [There is] no want to those who fear Him.
Psalm 16:1 NKJV – 1 A Michtam of David. Preserve me, O God, for in You I put my trust.
Psalm 145:19 NKJV – 19 He will fulfill the desire of those who fear Him; He also will hear their cry and save them.
Psalm 3:3-5 NKJV – 3 But You, O LORD, [are] a shield for me, My glory and the One who lifts up my head. 4 I cried to the LORD with my voice, And He heard me from His holy hill. Selah 5 I lay down and slept; I awoke, for the LORD sustained me.
Psalm 91:1-16 NKJV – 1 He who dwells in the secret place of the Most High Shall abide under the shadow of the Almighty. 2 I will say of the LORD, "[He is] my refuge and my fortress; My God, in Him I will trust." 3 Surely He shall deliver you from the snare of the fowler [And] from the perilous pestilence. 4 He shall cover you with His feathers, And under His wings you shall take refuge; His truth [shall be your] shield and buckler. 5 You shall not be afraid of the terror by night, [Nor] of the arrow [that] flies by day, 6 [Nor] of the pestilence [that] walks in darkness, [Nor] of the destruction [that] lays waste at noonday. 7 A thousand may fall at your side, And ten thousand at your right hand; [But] it shall not come near you. 8 Only with your eyes shall you look, And see the reward of the wicked. 9 Because you have made the LORD, [who is] my refuge, [Even] the Most High, your dwelling place, 10 No evil shall befall you, Nor shall any plague come near your dwelling; 11 For He shall give His angels charge over you, To keep you in all your ways. 12 In [their] hands they shall bear you up, Lest you dash your foot against a stone. 13 You shall tread upon the lion and the cobra, The young lion and the serpent you shall trample underfoot. 14 "Because he has set his love upon Me, therefore I will deliver him; I will set him on high, because he has known My name. 15 He shall call upon Me, and I will answer him; I [will be] with him in trouble; I will deliver him and honor him. 16 With long life I will satisfy him, And show him My salvation."
Psalm 18:35-36 NKJV – 35 You have also given me the shield of Your salvation; Your right hand has held me up, Your gentleness has made me great. 36 You enlarged my path under me, So my feet did not slip.
Psalm 5:11 NKJV – 11 But let all those rejoice who put their trust in You; Let them ever shout for joy, because You defend them; Let those also who love Your name Be joyful in You.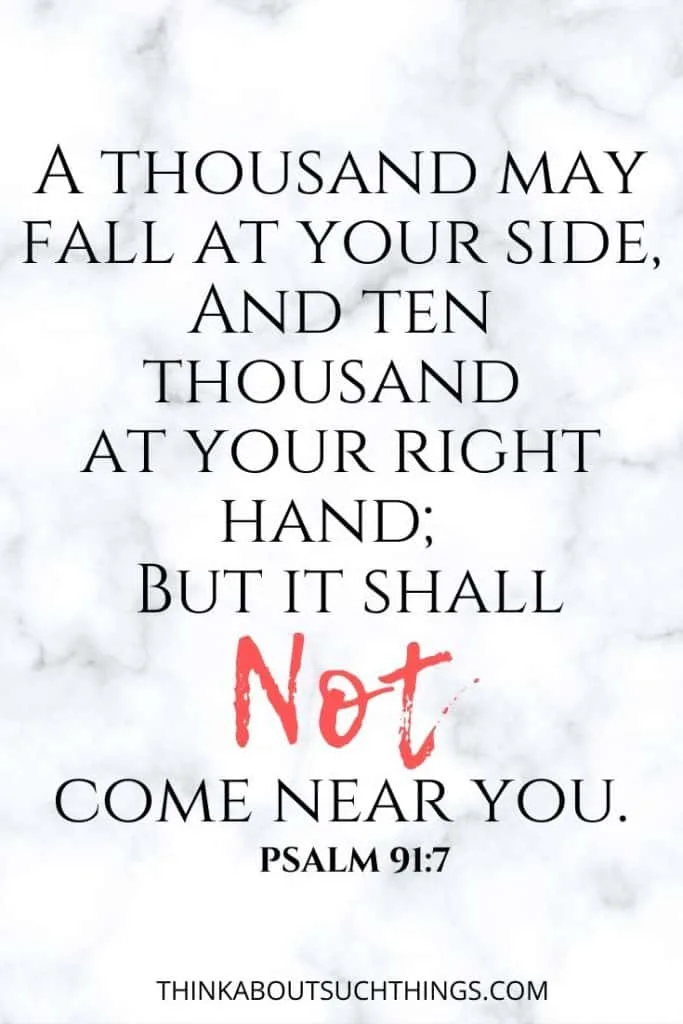 Psalm 12:5 NKJV – 5 "For the oppression of the poor, for the sighing of the needy, Now I will arise," says the LORD; "I will set [him] in the safety for which he yearns."
Psalm 20:1 NKJV – 1 To the Chief Musician. A Psalm of David. May the LORD answer you in the day of trouble; May the name of the God of Jacob defend you;
Psalm 59:1 NKJV – 1 To the Chief Musician. Set to "Do Not Destroy." A Michtam of David when Saul sent men, and they watched the house in order to kill him. Deliver me from my enemies, O my God; Defend me from those who rise up against me.
Psalm 138:7 NKJV – 7 Though I walk in the midst of trouble, You will revive me; You will stretch out Your hand Against the wrath of my enemies, And Your right hand will save me.
Psalm 140:4 NKJV – 4 Keep me, O LORD, from the hands of the wicked; Preserve me from violent men, Who have purposed to make my steps stumble.
Quick Reference List of Scriptures on Bible Verses and Psalms about Protection
Like I do with all my topical Bible verses here is a simple reference list of Bible verses about light. I hope this makes it easy for you to jot down these verses in your journal or Bible for future use or study.
List of Protection Bible Verses
Isaiah 43:2
1 Corinthians 10:13
2 Thessalonians 3:3-5
Deuteronomy 31:6
Proverbs 2:11
Isaiah 54:17
Exodus 14: 13-14
Proverbs 4:6
1 Thessalonians 5:23-24
Isaiah 46:4
Isaiah 41:10-12
Deuteronomy 20:4
Romans 8:31
2 Corinthians 4:8-9
Hebrews 13:6
Zephaniah 3:17
Proverbs 2:7-8
Ephesians 6:10-15
2 Samuel 22:3-4
John 10:28-30
Nahum 1:7
2 Timothy 4:18
Proverbs 18:10-12
List of Protection Psalms
Psalm 32:7
Psalm 23
Psalm 17:7-10
Psalm 121
Psalm 34:19
Psalm 46:1
Psalm 57:1
Psalm 119:114
Psalm 34:7-9
Psalm 16:1
Psalm 145:19
Psalm 3:3-5
Psalm 91
Psalm 18:35-36
Psalm 5:11
Psalm 12:5
Psalm 20:1
Psalm 59:1
Psalm 138:7
Psalm 140:4
---
I pray that these verses and psalms have strengthened you and brought you comfort in your time of need. And if you are here for the purpose of just studying the topic of God's protection. Then I hope this was helpful and brought you a deeper revelation of God's love for you. And if you would like to learn more about the Psalms check out some of the posts below!
Feel free to drop me a comment below! I would love what God is doing in your life!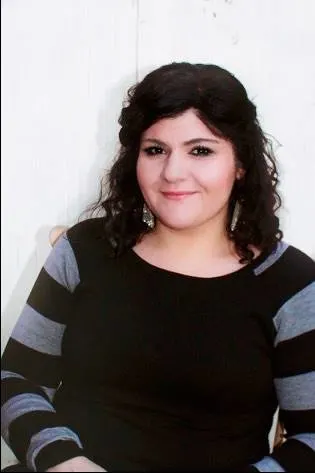 Melissa is a passionate minister, speaker and an ongoing learner of the Bible. She has been involved in church and vocational ministry for over 18 years. And is the founder of Think About Such Things. She has the heart to equip the saints by helping them get into the Word of God and fall more in love with Jesus. She also enjoys family, cooking, and reading.
She has spoken in churches in California, Oregon, Texas, and Mexico and has been featured in Guidepost Magazine and All Recipes Magazine. Read More…