This post may contain affiliate links. Please read my disclosure policy for more info.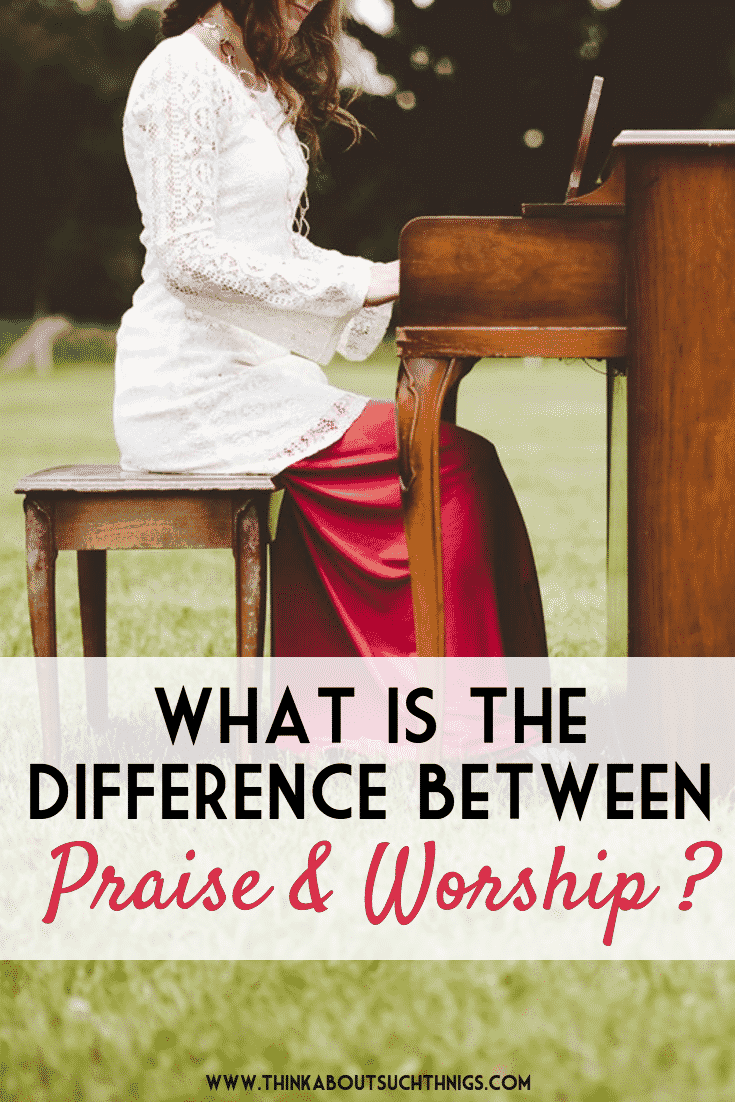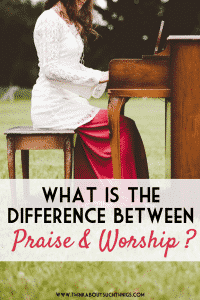 Have you ever wondered what the difference is between praise and worship? Or have you always thought they meant the same thing? Is it just that time during service where the band comes out and we sing to Jesus?
To really understand what praise and worship are we need to crack open our Bibles. In this post, I will briefly touch on the topic of worship. This is because worship is a huge thing, and would need a few posts on its own. It's also something that is more widely taught about in church. Praise, on the other hand, isn't.
Just to make sure we have some kind of foundation. Worship in its simplest essence is a heart act towards God. It is fully spiritual in nature. Jesus said "God is Spirit, and those who worship Him must worship in spirit and truth" You can't fake worship because it comes out of a deep place of love and devotion.
Both praise and worship have their similarities and when you praise you are worshiping God, but what does it mean to praise? First off praise is a physical act you do before God.
The word "praise" is actually translated into 7 Hebrew words. These words are all different actions that we can do to glorify God. So, let crack open our Strong's concordances (an awesome BIG book with every Hebrew and Greek word from the Bible)
The 7 Hebrew Words For Praise
HALLAL is a primary Hebrew root word for praise. Strong # H1984

This is where we get our word "hallelujah."

It means "to shine, to boast, show, to rave, celebrate, to be clamorously foolish."

I love how one part of the meaning of halal means to " act madly, act like a madman." Paints the picture of David beautifully when he danced before the Lord and his people undignified. 

Psalm 113:1-3 Praise (hallal) ye the Lord, praise (hallal) o ye servants of the Lord, praise (hallal) the name of the Lord

Other references for Hallal: Judges 16:24; 2 Samuel 14:25; Psalm 113:1-3; 2 Chronicles 7:6; Ezra 3:10-11; Psalms 18:3, 56:4, 63:5, 150:2-4; Nehemiah 5:13 Isaiah 62:9; Jeremiah 20:13; Joel 2:26

YADAH means, "the extended hand, to throw out the hand, therefore to worship with extended hand, to lift the hands."  Strong's #H3034

Psalm 107:15 Oh that men would praise (yadah) the Lord for His goodness, and for His wonderful works to the children of men.

Other references for yadah: Psalm 63:1; Genesis 29:35, 49:8;  2 Chronicles 20:21; 2 Chronicles 7:3,6; Psalms 67:3, 108:3; Isaiah 12:1,4; Jeremiah 33:11

TOWDAH comes from a similar root word as yadah, but is used more specifically. Towdah literally means, "an extension of the hand in adoration, avowal (an open statement of affirmation; frank acknowledgment or admission.), or acceptance." Strong's #H8426

In the Psalms and elsewhere it is used for thanking God for "things not yet received" as well as things already at hand.

I love this quote from, Tom Inglis from The Worshiping Church, "Enter into His gates with thanksgiving (Towdah), And into His courts with praise. Be thankful to Him, and bless His name (Psalm 100:4). Towdah is a praise-filled confession that God's word is infallible and working in your circumstances."

Another verse using the word, "praise" instead of thanksgiving:

Psalm 50:14 Offer unto God praise (towdah) and pay thy vows unto the Most High."

Other references for towdah: Psalms 42:4, 56:12; Jeremiah 17:26; Jeremiah 33:11 Sound 2011: Seven Hebrew Words for Praise Page 2

SHABACH  is pretty simple to grasp. It means, "to shout, to address in a loud tone, to command, to triumph." Strong's #H7623

Psalm 145:4 One generation shall praise (shabach) Thy works to another and declare Thy mighty acts.

Other references for shabach: Psalm 47:1; Psalms 63:3, 117:1, 145:4; Ecclesiastes 4:2; Isaiah 12:6

BARAK means "to kneel down, to bless God as an act of adoration, to salute." Strong's #H1288

Psalm 34:1 I will bless (barak) the Lord at all times; His praise shall continually be in my mouth.

Other references for barak: Psalm 95:6; 1Chronicles 29:20; Judges 5:2; Psalms 72:15, 96:2, 103:1-2

ZAMAR means "to pluck the strings of an instrument, to sing, to praise; a musical word which is largely involved with joyful expressions of music with musical instruments.

This is usually the way praise is led in churches all around the world. Strong's #H2167

Psalm 21:13 Be exalted O Lord, in Thine own strength, so will we sing and praise (zamar) Thy power.

Other references for Zamar: 1 Chronicles 16:9; Psalm 57:8-9; Judges 5:3; 2 Samuel 22:50; Psalms 61:8, 147:1

TEHILLAH is derived from the word halal and means "the singing of halals, to sing or to laud; perceived to involve music, especially singing; hymns of the Spirit or praise."  Strong's #H8416

Isaiah 61:3 To grant to those who mourn in Zion, Giving them a garland instead of ashes, The oil of gladness instead of mourning, The mantle of praise (tehillah) instead of the spirit of fainting, So they shall be called oaks of righteousness, The planting of the Lord, that He may be glorified.

Other references for tehillah: Exodus 15:11; Psalm 22:3; Deuteronomy 10:21; Nehemiah 9:5; Psalms 9:14, 22:25; Jeremiah 48:2
So, now you know what the difference is between praise and worship! Next time you are at church try praising God in some of these ways. It will truly bring Him glory.
Drop me a comment below and share your thoughts on this topic. I would love to hear how the Lord has been speaking to you about praise and worship.
If you liked this post check out: 7 HOPE BOOSTING TOOLS TO STRENGTHEN YOUR FAITH