In this article, we will explore various Bible verses for singles to help encourage you, and bring you strength.
Being a Christian single isn't always the easiest especially when you have a deep desire for marriage and family. I know this first hand being 37 and still single. So, what are you to do during this season of waiting?? Well, I want to say the first thing you should be doing is be on a path of constantly growing your relationship with God, and second you should be praying for your spouse.
But there is times we need a little encouragement. And one way we can do that is by holding fast to God's Word and meditating on it. This is why I have come up with a list of Bible verses for singles to use. I have broken them down into different sections:
About Being Single – These are Bible verses about singleness or being unequally yoked.

Hope – These Bible verses are to bring you hope during times of feeling discouraged, lonely, or sad about being single. (Check out 7 tools to increase your hope here)

Strength – These verses are meant to give you strength when you feel weak in waiting. We all face moments when we fee; like we can't wait anymore and want to give up. (More verses on strength here)

Patience – Let's face it…some people marry quickly, some marry young, but some have a long wait. I don't know why that is. But I do one thing we need more of and that is patience! So, these verses focus on patience during your season of singleness. (Check out prayers for patience here)
Also, sometimes it's good to have a laugh at being single. The reality is yes it's hard, but it's a beautiful season where we can pursue things we couldn't if we were married. So, if you need a laugh please check out my post…35 Single Memes To Bring Joy To Your Lonely Heart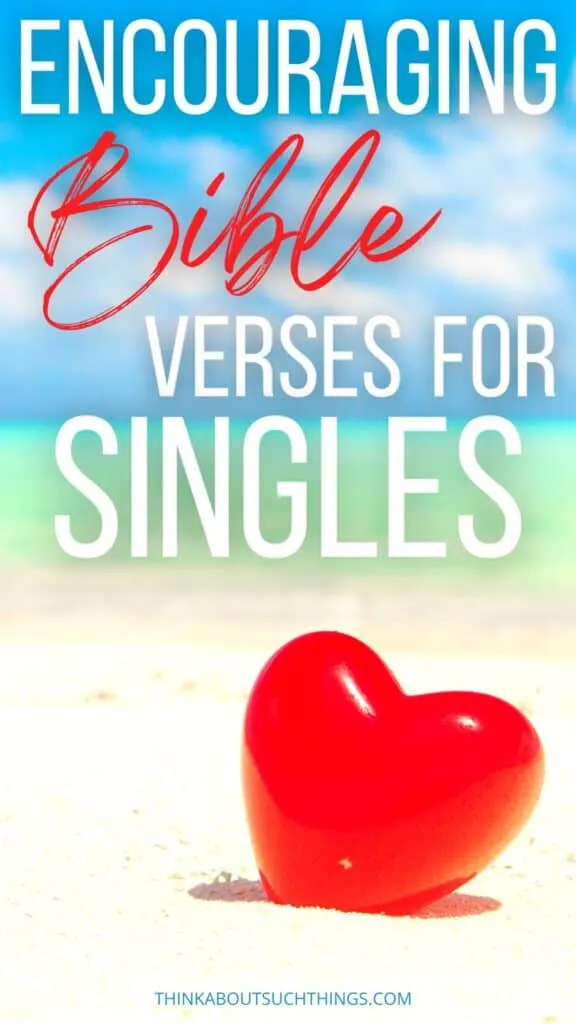 Bible Verses for Singles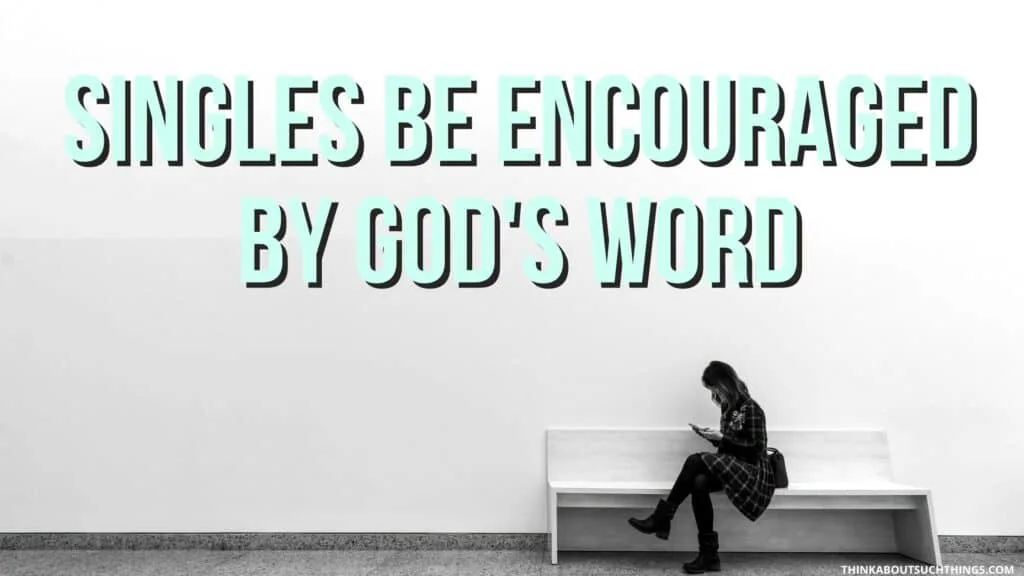 Bible Verses about Being Single
[1 Corinthians 7:32-35 NIV] 32 I would like you to be free from concern. An unmarried man is concerned about the Lord's affairs–how he can please the Lord. 33 But a married man is concerned about the affairs of this world–how he can please his wife–

34 and his interests are divided. An unmarried woman or virgin is concerned about the Lord's affairs: Her aim is to be devoted to the Lord in both body and spirit. But a married woman is concerned about the affairs of this world–how she can please her husband. 35 I am saying this for your own good, not to restrict you, but that you may live in a right way in undivided devotion to the Lord.
[2 Corinthians 6:14-15 NIV] 14 Do not be yoked together with unbelievers. For what do righteousness and wickedness have in common? Or what fellowship can light have with darkness? 15 What harmony is there between Christ and Belial? Or what does a believer have in common with an unbeliever?
Singles Bibles Verses for Hope During This Season
[Psalm 18:22 NIV] He who finds a wife finds what is good and receives favor from the Lord.
[Ecclesiastes 3:1-8 NIV] 1 There is a time for everything, and a season for every activity under the heavens: 2 a time to be born and a time to die, a time to plant and a time to uproot, 3 a time to kill and a time to heal, a time to tear down and a time to build, 4 a time to weep and a time to laugh, a time to mourn and a time to dance,

5 a time to scatter stones and a time to gather them, a time to embrace and a time to refrain from embracing, 6 a time to search and a time to give up, a time to keep and a time to throw away, 7 a time to tear and a time to mend, a time to be silent and a time to speak, 8 a time to love and a time to hate, a time for war and a time for peace.
[Hosea 2:19-20 NIV] 19 I will betroth you to me forever; I will betroth you in righteousness and justice, in love and compassion. 20 I will betroth you in faithfulness, and you will acknowledge the LORD.
[John 15:16-17 NIV] 16 You did not choose me, but I chose you and appointed you so that you might go and bear fruit–fruit that will last–and so that whatever you ask in my name the Father will give you. 17 This is my command: Love each other.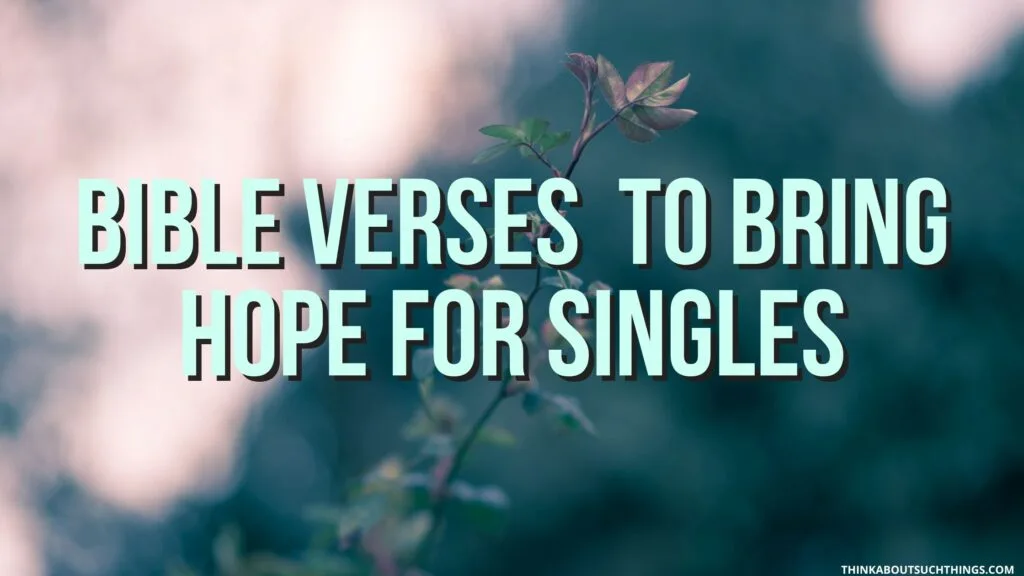 [Isaiah 54:5 NIV] 5 For your Maker is your husband–the LORD Almighty is his name–the Holy One of Israel is your Redeemer; he is called the God of all the earth.
[Matthew 6:33 NIV] 33 But seek first his kingdom and his righteousness, and all these things will be given to you as well.
[Isaiah 30:18 NIV] 18 Yet the LORD longs to be gracious to you; therefore he will rise up to show you compassion. For the LORD is a God of justice. Blessed are all who wait for him!
[Hosea 2:19-20 NIV] 19 I will betroth you to me forever; I will betroth you in righteousness and justice, in love and compassion. 20 I will betroth you in faithfulness, and you will acknowledge the LORD.
Verses for Singles When You Need Strength
[Psalm 34:18 NIV] 18 The LORD is close to the brokenhearted and saves those who are crushed in spirit.
[Isaiah 41:10 NIV] 10 So do not fear, for I am with you; do not be dismayed, for I am your God. I will strengthen you and help you; I will uphold you with my righteous right hand.
[Lamentations 3:22-23 NIV] 22 Because of the LORD's great love we are not consumed, for his compassions never fail. 23 They are new every morning; great is your faithfulness.
[1 Corinthians 7:17 NIV] 17 Nevertheless, each person should live as a believer in whatever situation the Lord has assigned to them, just as God has called them. This is the rule I lay down in all the churches.
Patience Bible Verses for Singles
[Galatians 6:9 NIV] 9 Let us not become weary in doing good, for at the proper time we will reap a harvest if we do not give up.
[Psalm 27:14 NIV] 14 Wait for the LORD; be strong and take heart and wait for the LORD.
[Psalm 5:3 NIV] 3 In the morning, LORD, you hear my voice; in the morning I lay my requests before you and wait expectantly.
[1 Corinthians 13:4-5 NIV] 4 Love is patient, love is kind. It does not envy, it does not boast, it is not proud. 5 It does not dishonor others, it is not self-seeking, it is not easily angered, it keeps no record of wrongs.
[Romans 12:12 NIV] 12 Be joyful in hope, patient in affliction, faithful in prayer.
---
I hope these Bible verses for singles has encouraged you and given you a new sense of hope during this season. Trust God to help you through this time and remember He is faithful to see you through! I pray all fear, loneliness, and hopelessness, and
If you would like to leave me a comment you can do so below. I would love to hear from my readers and hear how God is using you.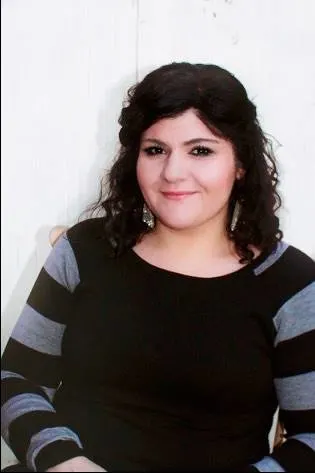 Melissa is a passionate minister, speaker and an ongoing learner of the Bible. She has been involved in church and vocational ministry for over 18 years. And is the founder of Think About Such Things. She has the heart to equip the saints by helping them get into the Word of God and fall more in love with Jesus. She also enjoys family, cooking, and reading.
She has spoken in churches in California, Oregon, Texas, and Mexico and has been featured in Guidepost Magazine and All Recipes Magazine. Read More…