A collection of some of the best missionary books for Christians to read. Be inspired by these great biographies.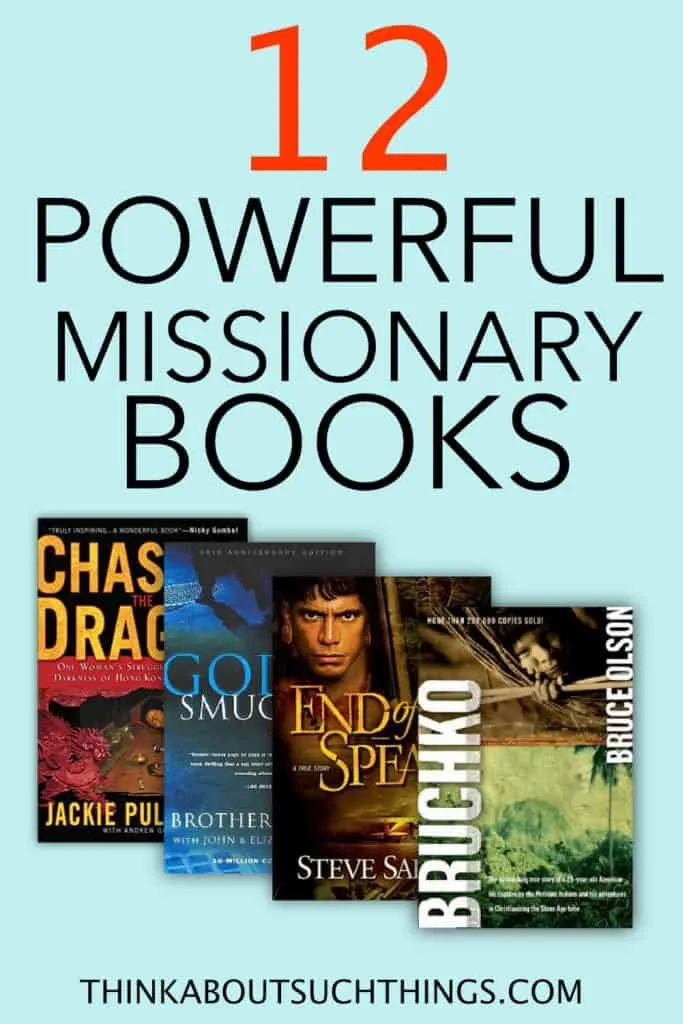 I remember the first missionary book I read. It was Bruchko, and Bruce Olson's story was incredible. It led me to read many other missionary books. These books opened my eyes and stirred up my faith.
That's why I want to share them with you! These incredible life stories will bless you tremendously.
Christian Missionary Books
12 Missionary Books
Each missionary book below shares a blurb from the publisher.
What happens when a nineteen-year-old boy leaves home and heads into the jungles to evangelize a murderous tribe of South American Indians?
For Bruce Olson, it meant capture, disease, terror, loneliness, and torture. But what he discovered by trial and error has revolutionized then world of missions.
Inside of Hong Kong was the infamous Walled City. Strangers were not welcome there. Police hesitated to enter. It was a haven of filth, crime and sin. Prostitution, pornography and drug addiction flourished. Jackie Pullinger had grown up believing that if she put her trust in God, He would lead her. When she was 20 years old, God called her to the Walled City. She obeyed. And as she spoke of Jesus Christ, brutal hoods were converted, prostitutes retired from their trade and heroin junkies found new power that freed them from the bondage of drug addiction.
Steve Saint was only five years old when his father was brutally killed by Waodani warriors, men from the most savage culture ever known. But in a story almost too amazing to be true, Steve eventually comes to know—and even love—the very ones who drove the spears into his father's body.
Decades after their lives were changed by learning to walk God's trail, the Waodani asked Steve to return to the jungle with his family to live among them again and teach them how to interact with the encroaching outside world. Striving to mesh his two very different worlds, Steve must face the tragic events of his past and learn to fully trust God through terrible danger, great loss, and remarkable joy
As a boy he dreamed of being a spy undercover behind enemy lines. As a man he found himself undercover for God. Brother Andrew was his name and for decades his life story, recounted in God's Smuggler, has awed and inspired millions. The bestseller tells of the young Dutch factory worker's incredible efforts to transport Bibles across closed borders-and the miraculous ways in which God provided for him every step of the way.
This is the true story of a young American missionary woman's courage and triumph of faith in the jungles of New Guinea and her four years in a notorious Japanese prison camp. Never to see her husband again, she was forced to sign a confession to a crime she did not commit and face the executioner's sword, only to be miraculously spared.
God Will Not Fail You is the inspiring life story of Samuel Doctorian, a poor Armenian boy from Jerusalem who grew up to bring dramatic revival to the Muslim world. Read the gripping account of miraculous healings, daring escapes, earth-shaking revivals, supernatural provision, and angelic visitations that will stir your faith. Samuel has led revivals in some of the countries most closed to Christianity in the world: Iraq, Syria, Egypt, Jordan and Indonesia.
Every year, he travels to hundreds of countries, preaching and seeing God move supernaturally in response to the needs of His people. Samuel has preached to kings, heads of state and the British Parliament. This book reads like a modern-day version of the Book of Acts. It is for everyone who is hungry to know that miracles still happen today.
In 1956, five young men, including Elliot's husband, Jim, traveled into the jungles of Ecuador to establish communication with the fierce Huaorani Tribe, a people whose only previous response to the outside world has been to attack all strangers. The men's mission combined modern technology with innate ingenuity, sparked by a passionate determination to get the gospel to those without Christ. In a nearby village, their wives waited to hear from them.
The news they received - all five missionaries had been murdered - changed lives around the world forever. Written while she was still a missionary in South America and at the request of the men's families, Through Gates of Splendor was Elisabeth Elliot's personal account of the final mission of these five courageous men
Without formal education or a missionary organization to back her, Gladys raised her own finances for the overland trip that would bring her to the country and people that God had etched so deeply on her heart...China!
What follows is an amazing adventure of faith and determination. Gladys Aylward, a housemaid from England, dared to trust God in the face of dire and seemingly hopeless circumstances. Her life is one of the truly great missionary stories of our era.
The tortured face of a young killer, one of seven boys on trial for a brutal murder, started country preacher David Wilkerson on his lonely crusade to the most dangerous streets in the world.Violent gangs ruled by warlords, drug pushers and pimps held the streets of New York's ghettoes in an iron grip. It was into this world that David Wilkerson stepped, armed only with the simple message of God's love and the promise of the Holy Spirit's power.Then the miracles began to happen…
The dramatic autobiography of one of China's dedicated, courageous, and intensely persecuted house church leaders. This is the gripping story of how God took a young, half-starved boy from a poor village in Henan province and placed him on the front line for Jesus, in the face of impossible odds. Instead of focusing on the many miracles or experiences of suffering, however, Yun prefers to focus on the character and beauty of Jesus.
On February 29, 1948, Richard Wurmbrand was arrested by the secret police. His crimes? Leading Christian worship and witnessing—both of which were illegal under the atheistic Communist regime of Romania.
Richard spent fourteen years in prison. He was tortured, beaten, and locked into a solitary confinement cell. Sabina Wurmbrand spent three years in a labor camp, nearly freezing to death as she and other prisoners worked on the Danube Canal. She was repeatedly told her husband had died behind bars.
But Richard and Sabina Wurmbrand had an unshakeable faith in Christ. Neither of them gave up hope, and neither of them would stop talking about Jesus.
This is history at its best. From Jerusalem to Irian Jaya is readable, informative, gripping, and above all honest. From Jerusalem to Irian Jaya helps readers understand the life and role of a missionary through real life examples of missionaries throughout history. We see these men and women as fallible and human in their failures as well as their successes. These great leaders of missions are presented as real people, and not super-saints.
I hope one or more of these books has stood out for your next read. I know for sure it will bless you.
And if you want to check out more books on different subjects…here are a few posts I have written:
If you are looking for more books to read then check out some of these great Intercession and Prayer books.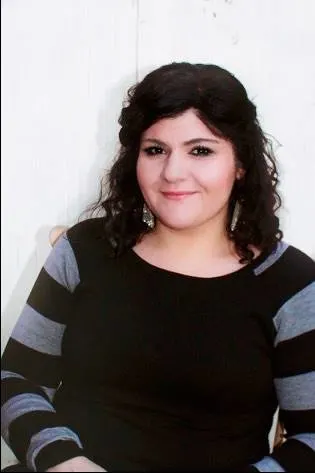 Melissa is a passionate minister, speaker and an ongoing learner of the Bible. She has been involved in church and vocational ministry for over 18 years. And is the founder of Think About Such Things. She has the heart to equip the saints by helping them get into the Word of God and fall more in love with Jesus. She also enjoys family, cooking, and reading.
She has spoken in churches in California, Oregon, Texas, and Mexico and has been featured in Guidepost Magazine and All Recipes Magazine. Read More…