Discover 7 books on intercessory prayer. They will help you grow in your alone time with God and understand the spiritual art of prayer. These books on prayer and intercession would also, make a great gift for a loved one that has the heart to deepen their faith.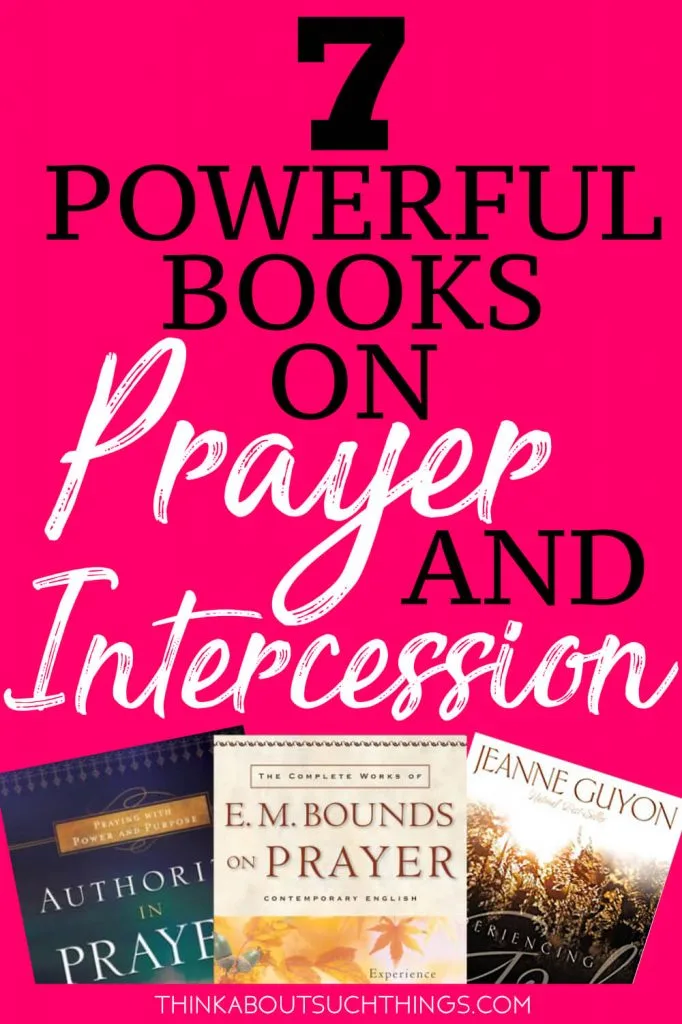 I love discovering new books and today I want to share some of my favorite books on prayer and intercession.
It's a topic that I believe all Christians should grow continually in.
Prayer has the ability to shift and change things in our personal lives, in the lives of others, and in the world. You would like to learn more on prayer you find articles on the topic in my Christain Posts.
Not to mention when we spend time in God's presence and communicate with Him our spiritual ears and gifts become heightened.
These are all books I have personally read or that a good friend of mine has read and said it was excellent. Some of these books on prayer will be considered Christian classics, but some will be more recent publications.
With each book is a little snippet of what they are about. I hope these books bless you as they have blessed me.
Books on Prayer and Intercessory Prayer
Check out the video below if you would like a quick view of each book.
I'm a huge fan of the minister and author Dutch Sheets. These are 2 of his books that have really impacted my prayer life.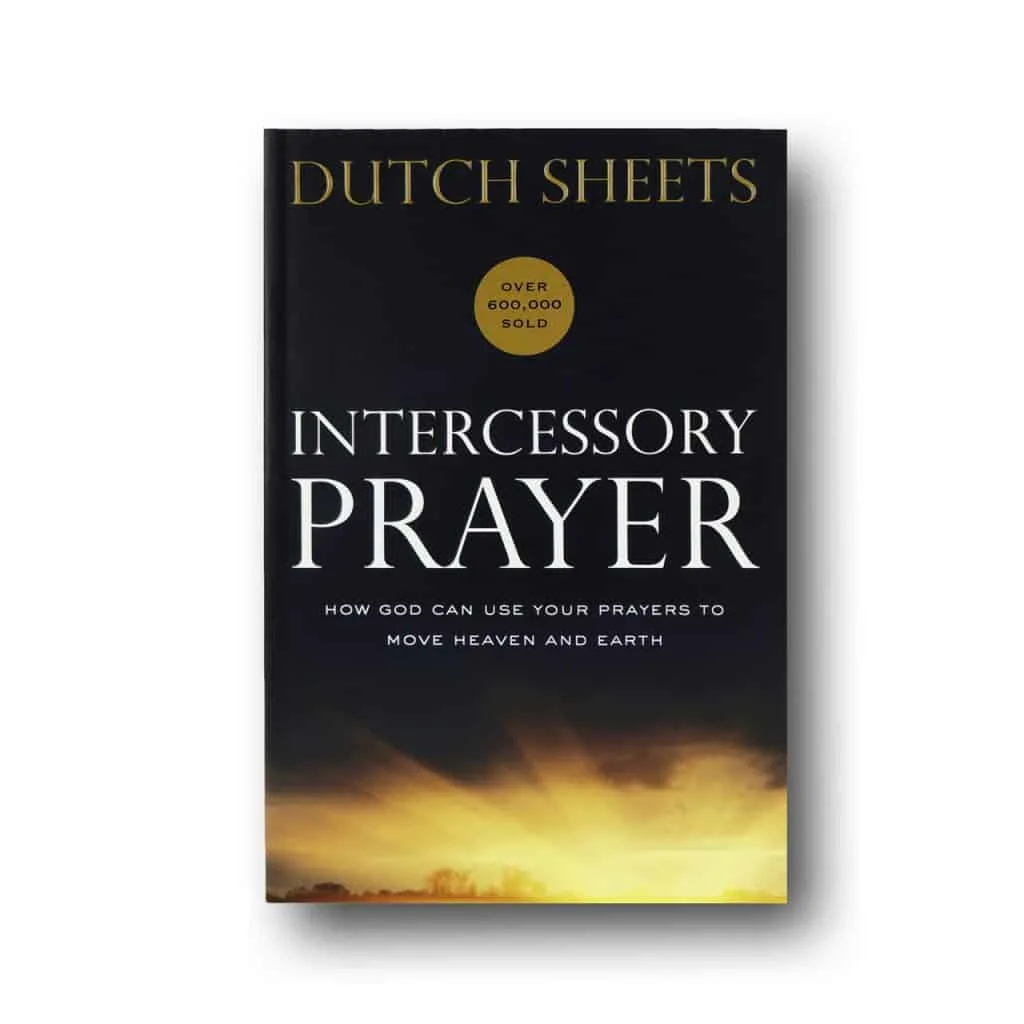 "If God is all-powerful, why does He need us to pray? If we pray and nothing happens, does this mean that God isn't listening? If you've ever felt that your prayers don't count, Intercessory Prayer will show you just how vital your prayers are.
In this book, pastor and teacher Dutch Sheets explains the nuts and bolts of prayer with wisdom, gentleness, and humor. This book will inspire you, give you the courage to pray for the "impossible" and help you find the persistence to see your prayers to completion.
Discover your role as a prayer warrior. "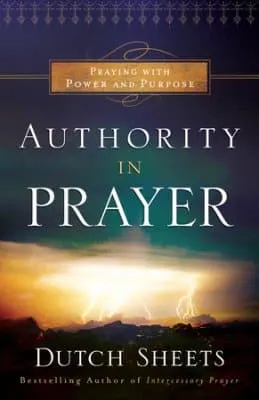 "Beginning with your private world–your thoughts, body, actions, and ultimately your God-ordained destiny–you can take charge. Authority is yours for the taking.
Then, because God established and so honors the principle of authority, He will back you as you walk in the government He has delegated to you concerning your extended world–your home, family, business, and possessions.
Finally, God's plan is for you to partner with Him on the earth in broader realms of influence and authority–your universal world. Jesus, the sovereign King over the earth, wants to rule institutions, cultures, societies, and governments through you and your prayers.
Authority in Prayer will show you how to take hold of God's promises and pray with the authority He wants you to have. God needs you. Are you ready to use your God-given authority to further His kingdom?"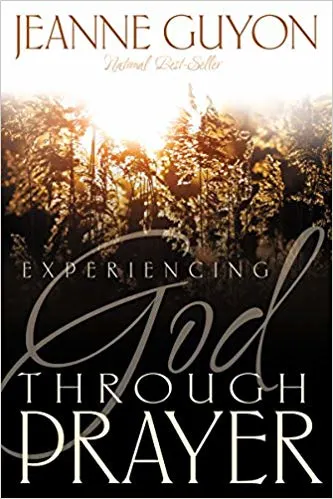 "Jeanne Guyon discovers the great difference between praying to God and experiencing God through prayer. In this inspirational book, she shares secrets of this higher plane of fellowship with God. In addition, she shows you how to enjoy God's presence, grow in your knowledge of the Word, experience rest from worry, and gain wisdom and understanding. You will discover the joy of a quiet heart and mind, learn how to survive your "dry" periods of prayer, and become content where God has placed you."
*Since Jeanne Guyon (Madame Guyon to some) was born in 1648. Most of her work has been updated for clearer understanding. I highly recommend picking up a modern version of her work to make it easier to read and understand.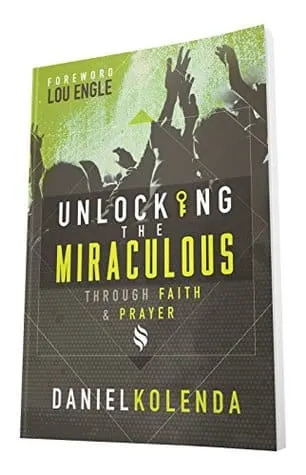 "Unlocking the Miraculous through faith and prayer binds the burning heart of an evangelist with the burdened heart of an intercessor. From cover to cover, it is a fast moving, hard hitting, prophetic challenge to the people of God to answer the call of intercession and faith in the most urgent hour of history.
Unlocking the Miraculous contains power-filled chapters such as Prayer that Opens Doors, Praying Under an Open Heaven and Prayer that Releases the Miraculous and much more. It is studded with spiritual truths and the insights of a man who knows that there are no limits to what God can do if we, his children, come before him in prayer. For the author, the only thing worse than prayer-less-ness is prayer without expectation. Intercession is not a human invention; it is God s idea. He has called us to partner with him in prayer believing in faith. This book is for those who desire to enter into this divine partnership and join the prayer revolution."
*Just a little note that this book is on the small side making it a great quick read for trips or when you have a little time to read.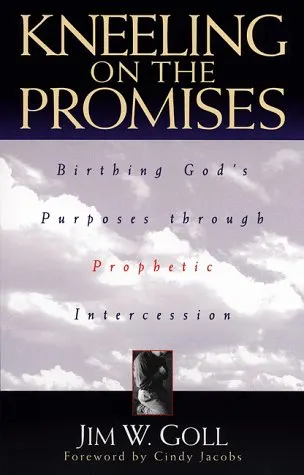 "Teaches readers to be prophetic intercessory prayer warriors- to pray God's promises back to him to effect change and gain new fruitfulness in personal and even international concerns"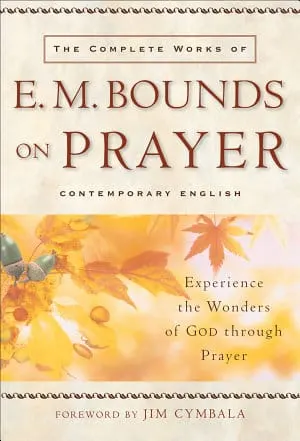 "Learn the secrets of effective prayer for every need. The Complete Works of E. M. Bounds on Prayer is the definitive Bounds collection in modern English. Eight classic explorations cover every aspect of prayer in a readable way. Included in this volume are 120 entries on what this great pastoral leader taught about the essentials, necessity, possibilities, power, purpose, reality, and weapon of prayer.
Because Bounds so diligently practiced what he preached, he was able to capture the essence of prayer and his works live on to call today's Christians to higher discipleship and more energetic prayer lives."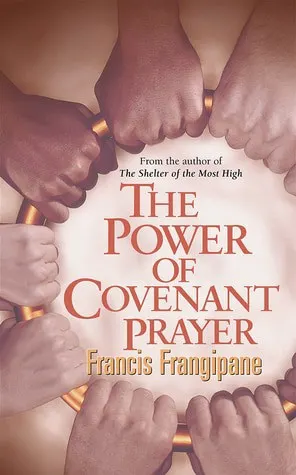 "What is the difference between prayer and covenant prayer? A covenant with God takes you further into your goal of Christlikeness. When you make this commitment to consistently communicate with the Father above in prayer, you will begin to see the power of God's grace actively at work in your life and in the lives of those around you.
Through this awesome power of covenant prayer, God creates within you a life that He can use extraordinarily in the process of divine redemption. It's time for you to make this covenant with God as you mature from being simply a believer in prayer to becoming a living sacrifice full of the power of covenant prayer."
---
Want to find a way to grab these awesome books? I highly recommend amazon or eBay! You can also see other places I grab books for cheap here: 8 Bargain Places to Find Books.
If you would like to learn more on the topic of prayer and intercession. Please take a look at these articles.
Drop me a line below and share with me some of your favorite books on prayer and intercession! I would love to discover even more great books on the subjects.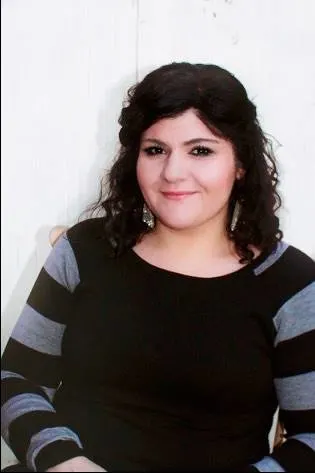 Melissa is a passionate minister, speaker and an ongoing learner of the Bible. She has been involved in church and vocational ministry for over 18 years. And is the founder of Think About Such Things. She has the heart to equip the saints by helping them get into the Word of God and fall more in love with Jesus. She also enjoys family, cooking, and reading.
She has spoken in churches in California, Oregon, Texas, and Mexico and has been featured in Guidepost Magazine and All Recipes Magazine. Read More…