In this post we will take a look at a collection of inspirational Good Morning God Quotes. You will be able to celebrate your mornings with these beautiful saying and images. So, let's start this morning out right…
Mornings are a special time, both in the natural and spiritual realm. It's the time when we start our day. And we can either start it by connecting with God, or connecting with busy.
To me a good morning is a morning when we start our day saying, "Good, morning, God !" Giving Him our day changes everything and helps us to stay anchored throughout the day.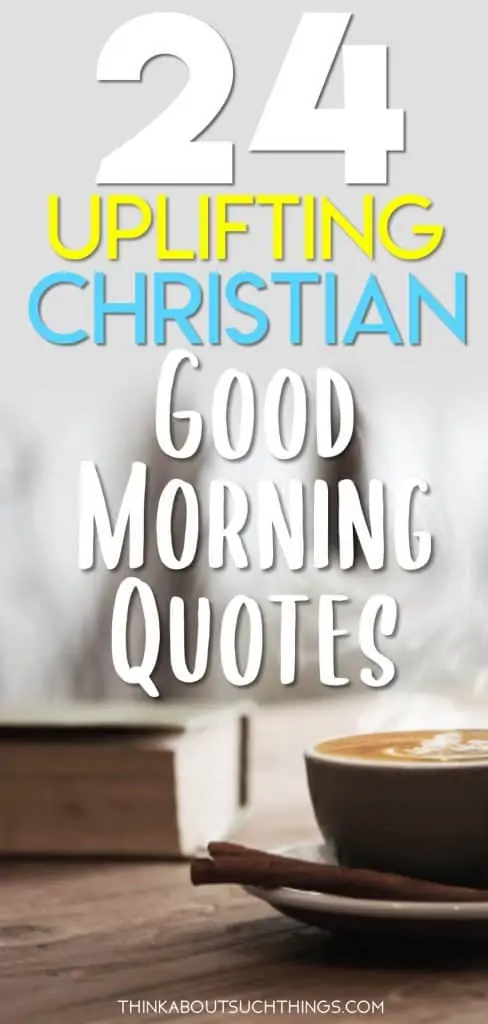 With that said, I thought it would be nice to share some powerful Christian good morning God quotes. They share the power and importance of prayers in the morning are to the Christian life.
Christian Good Morning Quotes with God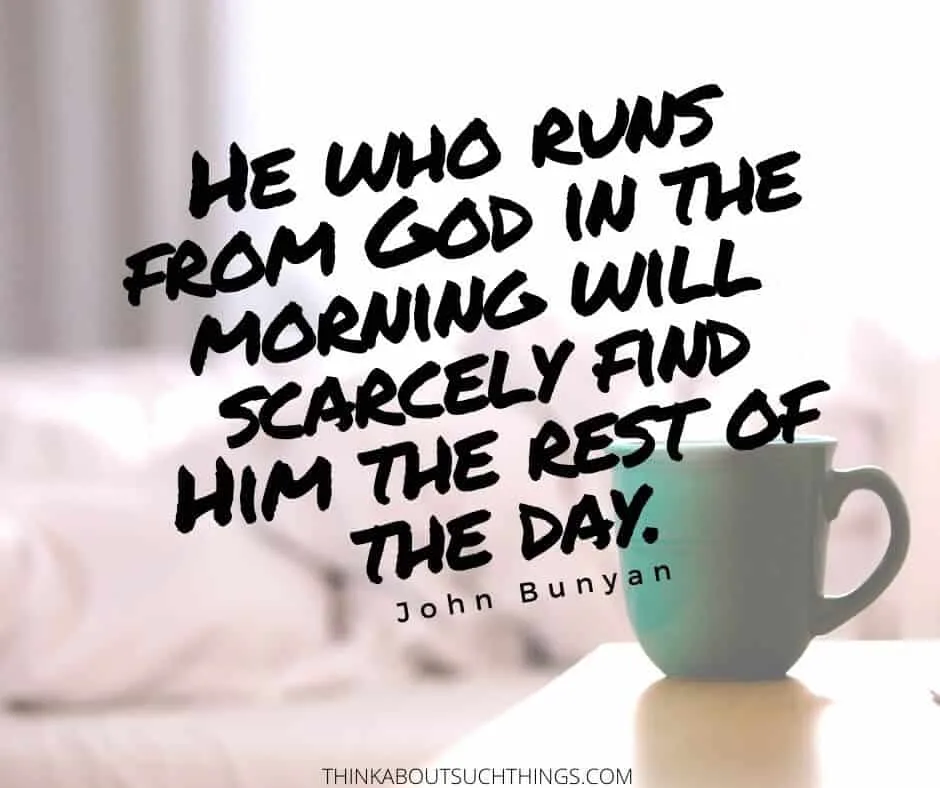 God's mercies are new every morning. Receive them. – Max Lucado
In the morning, when I rise, give me Jesus – Old Hymn
I never get out of bed in the morning without having communion with God in the Spirit. – Smith Wigglesworth
Make up your spiritual accounts daily; see how matters stand between God and your souls (Psalm 77:6). Often reckonings keep God and conscience friends. Do with your hearts as you do with your watches, wind them up every morning by prayer, and at night examine whether your hearts have gone true all that day, whether the wheels of your affections have moved swiftly toward heaven. – Thomas Watson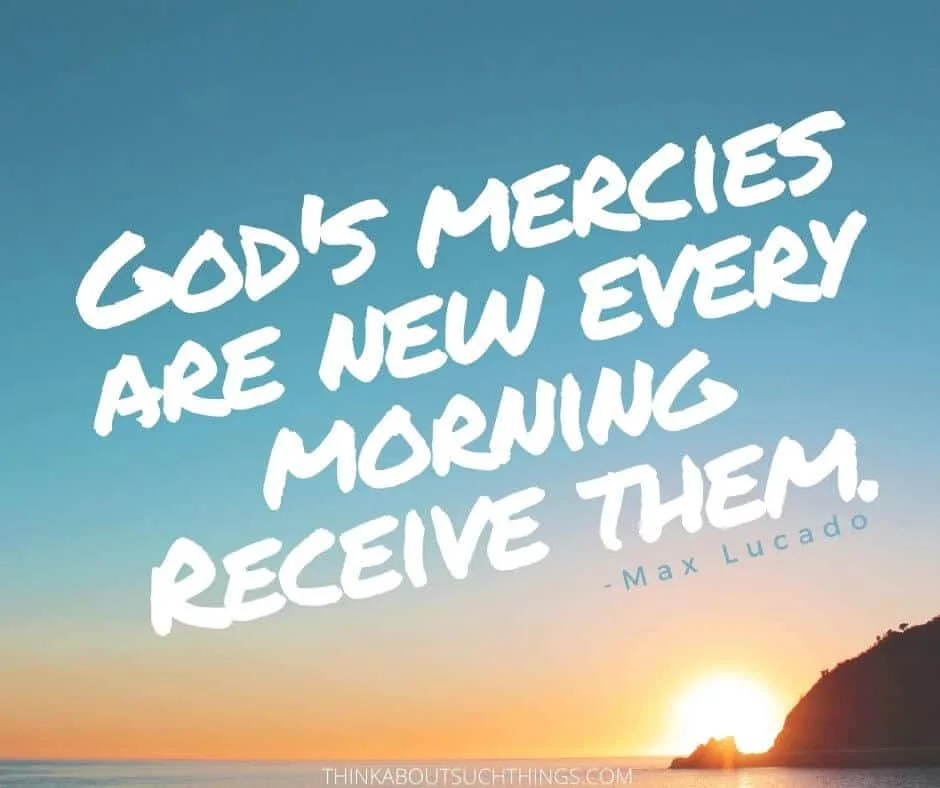 From morning to night keep Jesus in thy heart, long for nothing, desire nothing, hope for nothing but to have all that is within thee changed into the spirit and temper of the holy Jesus. – William Law
We ought to see the face of God every morning before we see the face of man. – D.L. Moody
The prayer offered to God in the morning during your quiet time is the key that unlocks the door of the day. Any athlete knows that it is the start that ensures a good finish. – Adrian Rogers
We should ever aim at coming into contact with God in the morning, so that hearing His voice we may be made conscious of His presence, and know the inspiration that comes from such a meeting. – Duncan Campbell
The men who have done the most for God in this world have been early on their knees. He who fritters away the early morning, its opportunity and freshness, in other pursuits than seeking God will make poor headway seeking Him the rest of the day. If God is not first in our thoughts and efforts in the morning, He will be in the last place the remainder of the day. – E.M. Bounds
He who runs from God in the morning will scarcely find Him the rest of the day. – John Bunyan
When you get up in the morning have something that's on God's agenda, and do that. – John Hagee
Thank God for the battle verses in the Bible. We go into the unknown every day of our lives, and especially every Monday morning, for the week is sure to be a battlefield, outwardly and inwardly in the unseen life of the spirit, which is often by far the sternest battlefield for souls. Either way, the Lord your God goes before you, He shall fight for you! – Amy Carmichael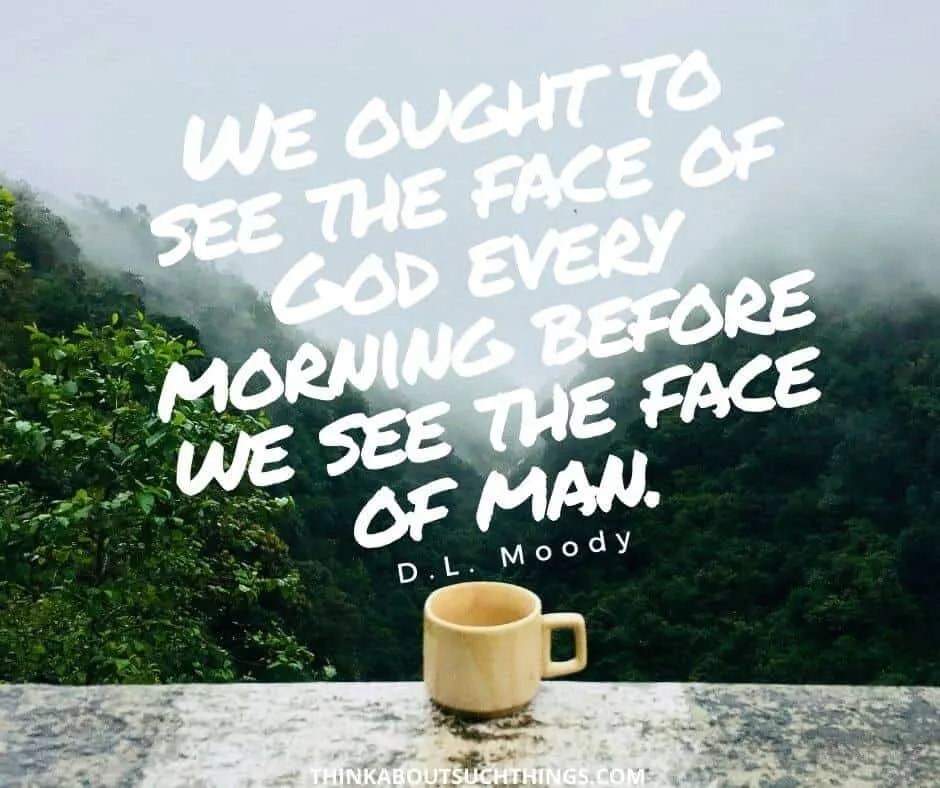 Thank God every morning when you get up that you have something to do which must be done, whether you like it or not. – Charles Kingsley
It is a good rule never to look into the face of a man in the morning till you have looked into the face of God. – Charles Spurgeon
The entire day receives order and discipline when it acquires unity. This unity must be sought and found in morning prayer. The morning prayer determines the day. – Dietrich Bonhoeffer
Good Morning Bible Quotes
Now, what about some good Biblical morning quotes!? Well, here are Yup 10 beautiful Bible verses that will bless and encourage you to spend time with Jesus in the morning.
For a extensive list of bible verses about mornings visit:
25 Uplifting Bible Verses for a Good Morning
Psalm 5:3 NIV – 3 In the morning, LORD, you hear my voice; in the morning I lay my requests before you and wait expectantly.
Psalm 57:8 NIV – 8 Awake, my soul! Awake, harp and lyre! I will awaken the dawn.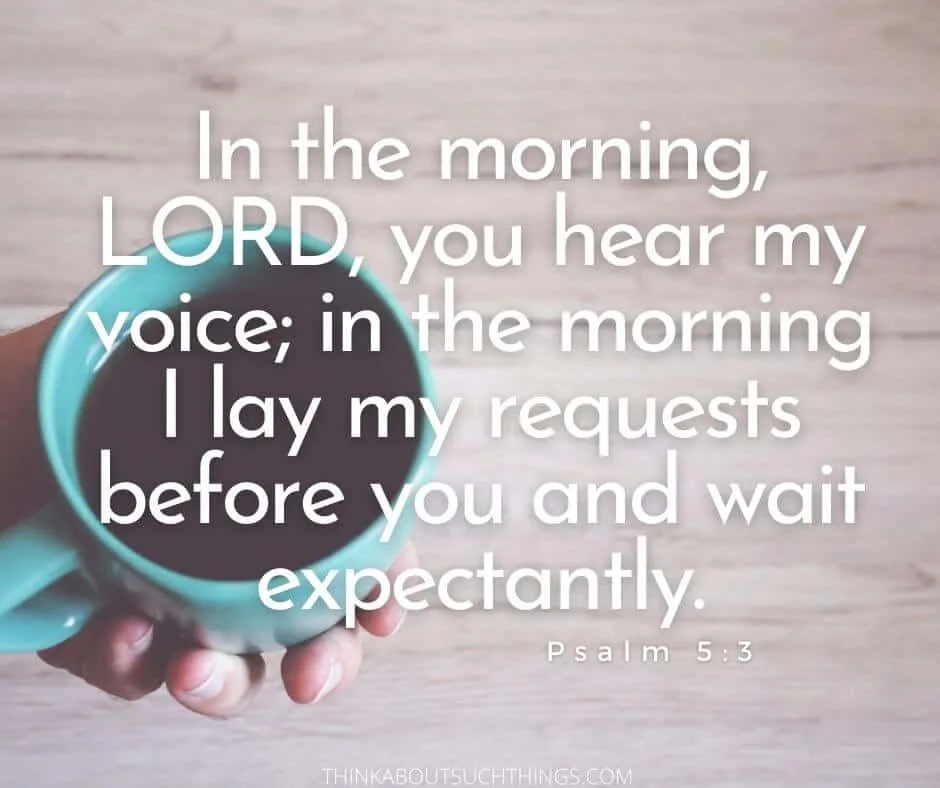 Psalm 143:8 NIV – 8 Let the morning bring me word of your unfailing love, for I have put my trust in you. Show me the way I should go, for to you I entrust my life.
Psalm 90:14 NIV – 14 Satisfy us in the morning with your unfailing love, that we may sing for joy and be glad all our days.
Psalm 139:17-18 NIV – 17 How precious to me are your thoughts, God! How vast is the sum of them! 18 Were I to count them, they would outnumber the grains of sand–when I awake, I am still with you.
Isaiah 50:4 NIV – 4 The Sovereign LORD has given me a well-instructed tongue, to know the word that sustains the weary. He wakens me morning by morning, wakens my ear to listen like one being instructed.
Luke 1:78 NIV – 78 because of the tender mercy of our God, by which the rising sun will come to us from heaven
Psalm 30:5 NIV – 5 For his anger lasts only a moment, but his favor lasts a lifetime; weeping may stay for the night, but rejoicing comes in the morning.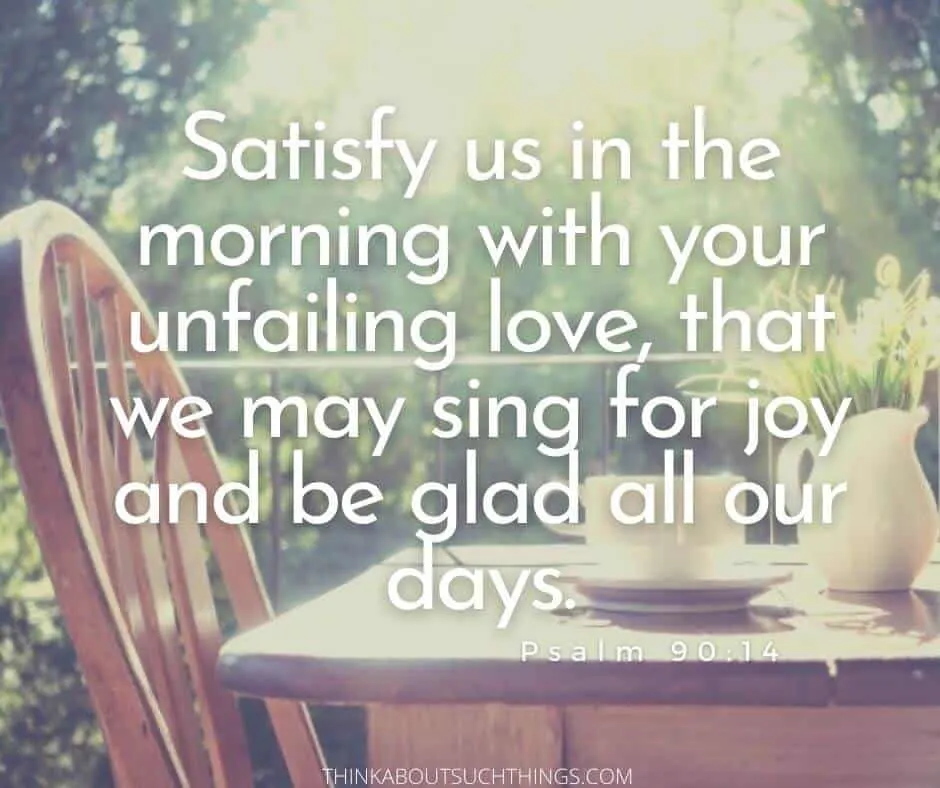 Lamentations 3:23 NIV – 23 They are new every morning; great is your faithfulness.
Psalm 59:16 NIV – 16 But I will sing of your strength, in the morning I will sing of your love; for you are my fortress, my refuge in times of trouble.
Powerful Message About Mornings
I love this message shared about God being first and I think it's really important when it comes to what we do in our mornings. The two speakers are Robert Morris and Dr. Charles Stanley.
More On Mornings with God
If you would like to deepen your experience and time with the Lord in the Morning. Then you are in luck! I have several articles that will help you on your morning time with God. You can find them all below.
---
I sure hope that these good morning, God quotes and have encouraged you to meet with God at the start of the day. It truly does make a huge difference on how your day progresses.
If you would like to leave me a comment, feel free to drop me one below. I would love to hear from you and what you are learning from your morning times with God.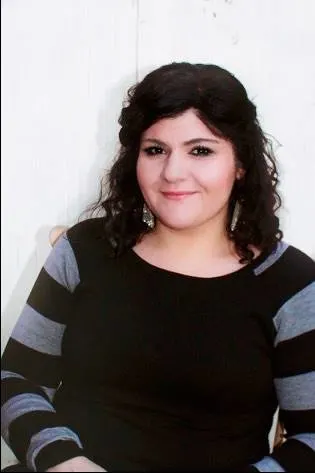 Melissa is a passionate minister, speaker and an ongoing learner of the Bible. She has been involved in church and vocational ministry for over 18 years. And is the founder of Think About Such Things. She has the heart to equip the saints by helping them get into the Word of God and fall more in love with Jesus. She also enjoys family, cooking, and reading.
She has spoken in churches in California, Oregon, Texas, and Mexico and has been featured in Guidepost Magazine and All Recipes Magazine. Read More…