In this article, we will look at several prayers for parents we can use during our devotional time or even in a group setting.
Prayer is a powerful tool that Christians can use to intercede on behalf of others. When we pray for our parents, we ask God to bless them, protect them, and give them wisdom. Parents go through a lot in their lives, from raising us kids to dealing with finances, hardships, health issues, and more. I know my parents had some ups and downs in life.
And as they age and get older, it's important to cover them in prayer. So I thought it would be nice to share some prayers we can use in our prayer time. But before we get to them, let's look at how we can pray for them!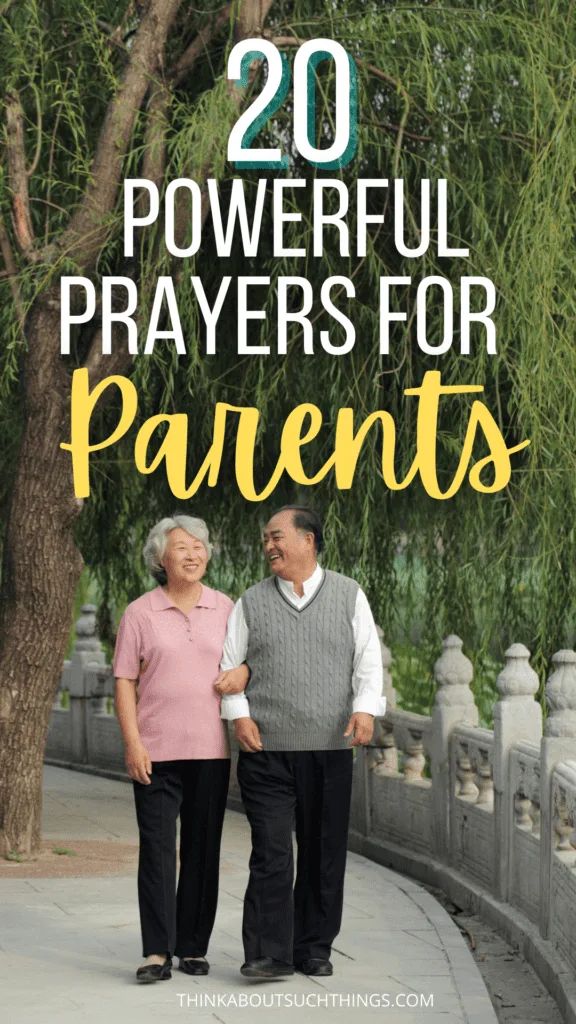 How to Pray for Your Parents: Prayers for Parents You Can Pray
Sometimes we have the greatest intentions to pray for our parents or other loved ones, but then get stuck on what we should be praying for. So, I thought it would be helpful to go over 12 areas you can pray for your parents and share a short prayer that goes with it. You can look at them as prayer points. I have also added a Bible verse for each prayer point that you can use while praying.
I would encourage you as you go through these prayers to personalize them for your specific parents. You can easily do this by mentioning their needs, situations, and circumstances. These will help you make these prayers your own. God loves to hear your heart and not just the prayers that have been written. So, share your heart as you pray!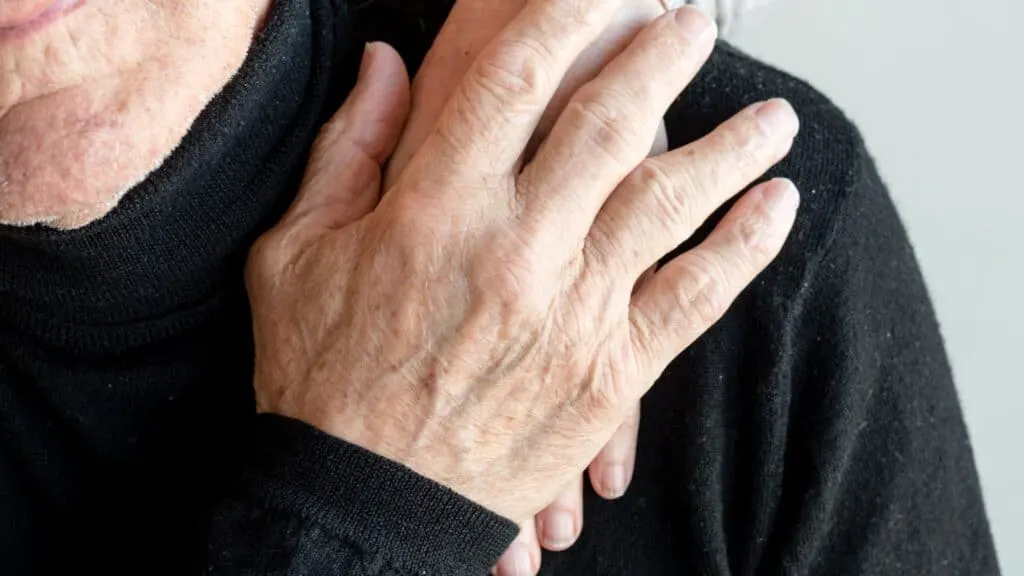 You can find other versions of the Bible verses at Biblegateway.org. And if you are looking for specific prayers for a certain parent please check out these posts: 12 Mighty Powerful Prayers for Mom and 12 Powerful Prayers for Dad You Can Pray
1. Pray for your parents' physical health and protection:
"He himself bore our sins" in his body on the cross, so that we might die to sins and live for righteousness; "by his wounds you have been healed." – 1 Peter 2:24
Lord, I pray for my parents' physical well-being. Please protect them from disease, sickness, and harm. Give them the energy and strength to carry out their daily tasks with joy and peace in their hearts. In Jesus' name, amen.
2. Pray for your parents' financial stability:
You will be blessed when you come in and blessed when you go out. – Deuteronomy 28:6
Father, I ask that you provide for my parents financially so they can live comfortably and free of stress or worry. May they always have enough money to cover all their basic needs and beyond. Bless them, Lord, and let them experience You as Jehovah Jireh. In Jesus' name, amen.
3. Pray for your parents' emotional needs:
Do not be anxious about anything, but in everything by prayer and supplication with thanksgiving let your requests be made known to God. And the peace of God, which surpasses all understanding, will guard your hearts and your minds in Christ Jesus. – Philippians 4:6-7
Heavenly Father, I pray that you fill my parents' hearts with peace and love. Help them to heal from any emotional struggles they may have and give them strength to overcome any worry or anxiety. I pray that they can put their trust in You. In Jesus' name, amen.
4. Pray for your parents' spiritual growth:
But grow in the grace and knowledge of our Lord and Savior Jesus Christ. To him be the glory both now and to the day of eternity. Amen. – 2 Peter 3:18
Lord, I ask that you guide my parents on their spiritual journey. Give them wisdom and understanding as they seek to know more about you daily. May their faith in You continually grow stronger and deeper. In Jesus' name, amen.
5. Pray for your parents' marriage:
Love is patient and kind; love does not envy or boast; it is not arrogant or rude. It does not insist on its own way; it is not irritable or resentful; it does not rejoice at wrongdoing but rejoices with the truth. Love bears all things, believes all things, hopes all things, endures all things. – 1 Corinthians 13:4-7
God, please bless my parents' marriage and keep it strong throughout the years. Strengthen their bond and give them the grace to love one another unconditionally. Let both of them walk in unity with each other and with You. So, that their marriage would be a Godly example to younger couples. In Jesus' name, amen."
6. Pray for your parents' safety:
The name of the Lord is a strong tower; the righteous man runs into it and is safe. – Proverbs 18:10
Heavenly Father, I pray that you keep my parents safe from any harm or danger they may face. Protect them as they go about their daily lives and give them strength to persevere through tough times. I ask that You would put Your angels on assignment to watch over both of them. In Jesus' name, amen.
7. Pray for your parents' mental health:
Why are you cast down, O my soul, and why are you in turmoil within me? Hope in God; for I shall again praise him, my salvation and my God. – Psalm 43:5
God, I ask that you help my parents maintain good mental health throughout their lives. Provide them with peace of mind and clarity of thought to make wise decisions for themselves and our family. As they age protect their minds from memory loss and focus. Thank You for my parents, Lord. Bless them greatly, in the mighty name of Jesus' name. Amen.
8. Pray for your parents' relationships:
Above all, keep loving one another earnestly, since love covers a multitude of sins. – 1 Peter 4:8
Lord, I pray that my parents' relationships with their family and friends are healthy and lasting. May they form meaningful connections, find understanding, and develop a sense of belonging in each relationship. And Lord I ask that You would bring forth new friendships into their lives that would cause them to draw closer to You. In Jesus' name. Amen."
9. Pray for your parents' work life:
Whatever you do, work heartily, as for the Lord and not for men, – Colossians 3:23
God, I ask that You bless my parents with success at work and provide them with opportunities to use their talents to the fullest potential. Help them to find fulfillment and joy in what they do every day so they can make an impact on the lives of others. In Jesus' name, amen.
10. Pray for your parents' overall peace and joy:
May the God of hope fill you with all joy and peace in believing, so that by the power of the Holy Spirit you may abound in hope. – Romans 15:13
Heavenly Father, I pray that You bless my parents with a life of peace and joy. Let their days be filled with contentment and love from those around them. Help them to remember that You are always by their side, guiding and protecting them. In Jesus' name, amen.
11. Pray for your parents' spiritual guidance:
But seek first the kingdom of God and his righteousness, and all these things will be added to you. – Matthew 6:33
Lord, I ask that you grant my parents spiritual discernment as they make important decisions in life. Let them be able to hear Your voice clearly so they can follow Your leading. And help them to trust Your will for their lives so they can walk in the path You have set out for them. In Jesus' name, Amen.
12. Pray for God's favor over your parents' lives:
And my God will supply every need of yours according to his riches in glory in Christ Jesus. – Philippians 4:19
Father, I ask that You shower my parents with Your favor, goodness, and abundance. May they always be aware of the amazing grace You have on their lives and give thanks for all You have provided them. Bless them abundantly, Lord, and let Your presence rest on them. In Jesus' name, amen.
---
These prayers can help to bring comfort, peace, and joy into your parents' lives as you seek God's will for them. No matter the situation, pray confidently, knowing that God is the ultimate source of strength and hope for your mom and dad. Pray with faith and trust that He will answer your prayers according to His perfect will. Amen!
May God bless you as you continue to lift up your parents in prayer!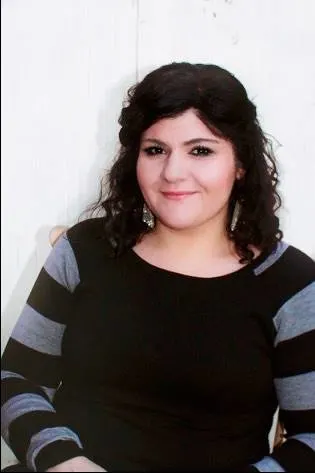 Melissa is a passionate minister, speaker and an ongoing learner of the Bible. She has been involved in church and vocational ministry for over 18 years. And is the founder of Think About Such Things. She has the heart to equip the saints by helping them get into the Word of God and fall more in love with Jesus. She also enjoys family, cooking, and reading.
She has spoken in churches in California, Oregon, Texas, and Mexico and has been featured in Guidepost Magazine and All Recipes Magazine. Read More…